A restaurant that feels like a dinner party
Plus, our first event of 2020!
Hi friends,
Yesterday, it was 65 degrees in New York. It felt good to feel some sunshine and very wrong at the same time.
Anyway, I am thrilled to invite you all to the first This Needs Hot Sauce event of the decade! It's a happy hour at Coast and Valley in Greenpoint on Tuesday, January 21st at 6:30 p.m. Coast and Valley is a wine bar that specializes in wines from California and we're going to have a special tasting session/happy hour (they serve all the wines by the glass and even do mini pours so you can try a bunch of things). I'm really excited to see you all! I know many of you want to learn more about wine and I thought this would be a fun way to start! As always, bring friends and please come even if we haven't met in person yet! RSVP by replying to this email so I can give the venue a headcount!
Now, let's dive in.
Something to cook:
I was barely home this week but the one night I was, I baked a purple sweet potato and ate it with tahini yogurt sauce inspired by Mollie Chen. The sauce is just greek yogurt, tahini, a little bit of cumin, and salt. I ate this with steamed broccoli, which I love.
For a late breakfast yesterday, I made a broccoli sweet potato hash of sort with my leftovers. I let everything get nice and crispy with some salt and paprika and then topped it with a fried egg. Serve with a little bit of ketchup for diner vibes.
My second cooking moment came Sunday night when I had grand plans of making lentil soup. The bag of red lentils, which I thought contained at least a cup, contained merely a 1/4 cup. I looked at the pantry and made a pivot to #thestew, of viral fame. I had some collards and spinach and only one can each of chickpeas and coconut milk. It was a total disaster and I wound up throwing out the nearly completed dish. The tumeric was overpowering and bitter and I'm not quite sure what else went wrong.
For lunches this week, I recovered with a farro salad. I cooked the farro with the pasta method and stirred in cannellini beans, sautéed mushrooms, steamed collard greens, toasted pumpkin seeds, and a miso lime dressing. I'll probably add some avocado and hot sauce as I eat it. Hurrah for random things you find in the fridge/cabinets.
And, if you're at Whole Foods this week, look for the sumo citrus! It's finally the season for these expensive but delicious oranges. They peel super easily and taste better than emergenc!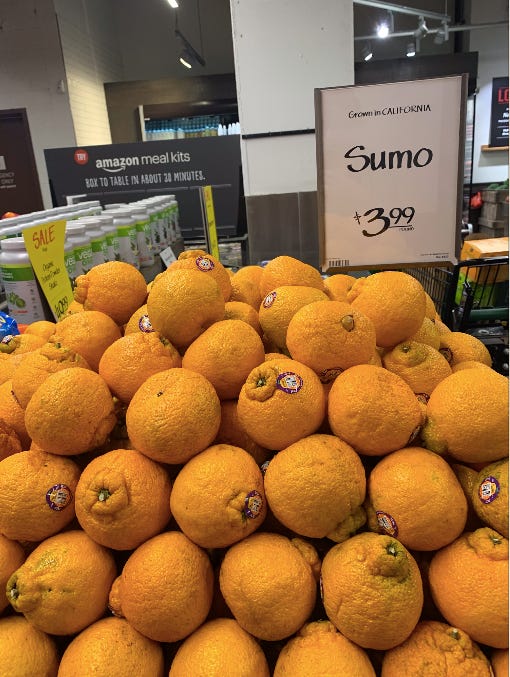 Something to order:
I had an unusually busy restaurant week, thanks to a cat sitting stint in Tribeca. I don't spend much time there so it was fun to try some new spots. I loved the tzatziki and gigante beans from The Greek, and the humita (corn) empanadas and Malbec at Estancia 460 (they also serve the bread warm with chimichurri).
Kaffe 1668 is sheep themed and had great coffee, plus wifi and a full food menu if you want to hang and work. Also on the cafe front, there's a new Maman at Hudson and Canal for cookies and fancy salads.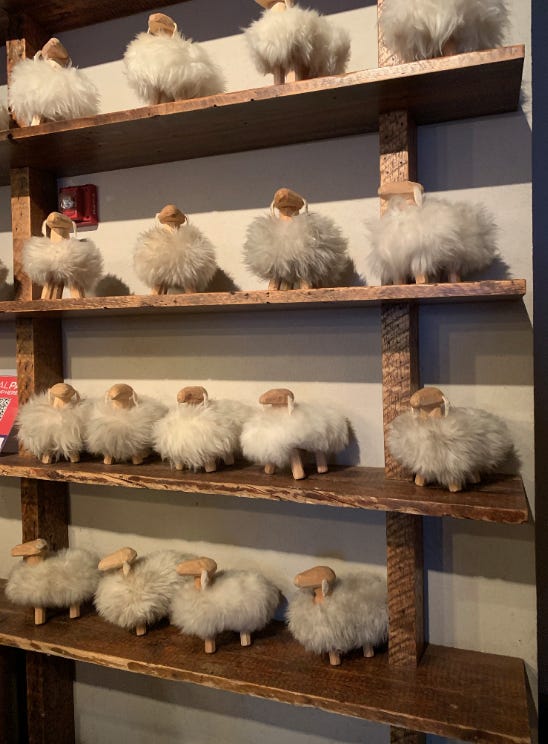 Melissa and I checked out the new Soho Diner, which has the retro touches down and is open 24 hours. In true 2020 fashion, my favorite dish was the kale caesar, served in a mixing bowl.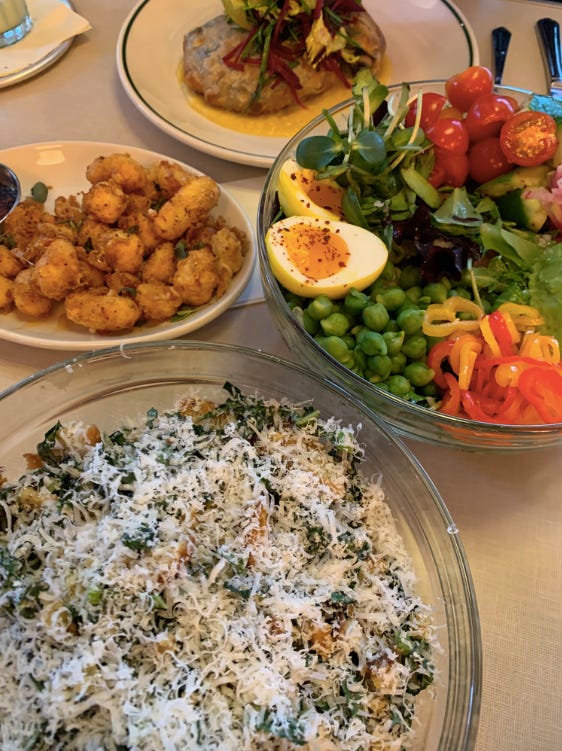 San Marzano is known for cheap pasta and cheap wine, it delivers every time. I especially love their pesto and the ability to match your favorite sauce and shape.
On Friday, I went to Niche Niche with my family. In short, I'm obsessed. Niche Niche is a dinner party concept where the menu changes every night. Hosts from the wine industry take over and pick their favorite wines to pour. The kitchen designs a four-course menu around those wines and the party goes from there. Best of all, it's only $80 for food and lots of wine. The space feels like a living room and only seats 40, so it's a friendly, festive environment. They post each month's schedule online and you can book on Resy. We went to Tira Johnson's dinner (she's a friend of mine and I wrote about her last year) and she picked the coolest wines, including two volcanic ones. The food was really good too, a cheese plate with housemade focaccia, mushroom pasta with breadcrumbs and a nutty cake for dessert. You can also stop by after the dinners and hang out at the bar. Don't leave without visiting the bathroom. I will definitely be back!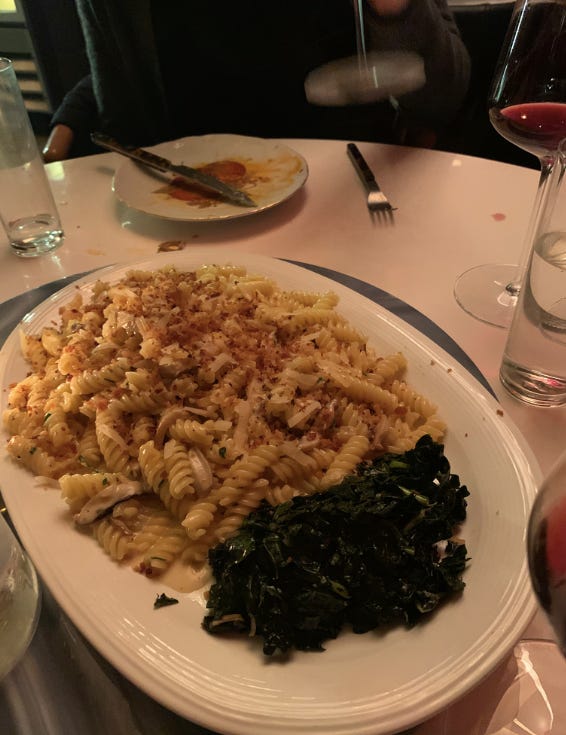 Dale and I got brunch at the Ainslie (I hosted a happy hour there last fall) and it's so cute during the day. They just launched bottomless brunch for only $28, including an entree, and it's perfect for groups. I got the arugula pizza which was really good and Dale finished his french toast before I could even request a bite.
Julianne has long recommended Tikka Grill and Julia and I finally tried it on Saturday. It's byo Indian and the food is so good. The saag paneer had a nice spice to it and the chana masala is so hearty. They have four locations in Brooklyn and Queens.
Sunday was ice cream weather! Leah and I took a walk to Gelateria Gentile, which feels very Italian (they have a location in Bari as well). You can have two flavors in a small and I recommend the stracciatella.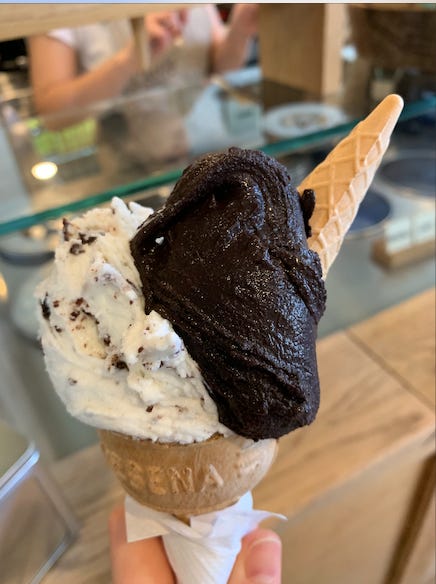 Something to read:
What are the best plate start ups?
Chain restaurants are often a great training ground for high-end chefs.
Excited for Jamila Robinson, Philly's newest food editor.
I'm in Austen Tosone's career newsletter this week, talking about freelancing and what I do all day!
Three words: pita chip salad!
I'm a big Jasmine Guillory fan and her characters are always eating! She shares a lot of her personal cooking on Instagram.
This essay is intense and a must-read: Trapped in while dining out: When white people make me part of their show
---
Now, let's talk tacos! I got some great suggestions.
Clare's 2020 plan is making her way through this LA list
Alicia and I are on the same page: I really love a breakfast taco/some vegetarian variation. 
Lizzi's past life sounds dreamy: In a past life I spent a summer working on a farm to table taco truck and we made the best veggie tacos - my fave was charred summer squash with a spicy aioli and pickled onions. There were also these carrot tacos we made that mark Bittman fangirled on 
Paige puts new taco spots to the test: My test to see if a taco place meets the mark is always to order one al pastor and one carnitas. It shouldn't have anything more than diced onion, cilantro, maybe one salsa, and lime on it. Best tacos in Boston (I will defend it to the death) up until very recently was Tenóch, but Taqueria El Barrio, which opened a few months ago, is giving them a run for their money.
---
This week, I want to know what time you eat lunch during the week. I read this article about eating lunch at 11:30 and was not convinced. I usually try to wait till at least 12:30 but sometimes give in and eat earlier. What's your approach/schedule? Reply to this on your lunch break and let me know!
I hope to see you next week at Coast and Valley! Remember to RSVP and feel free to bring friends!
Happy eating and thanks for reading.
xo, Abigail