An Oasis on the Hudson
Tips for a trip upstate and our February event!
Hi friends,
We made it to February. I can't believe it. I began the month in Hudson with Julia, where we had a very fun and productive weekend working on our creative project. I started to feel sick partway through it and am still under the weather, but hopefully on the upswing. Pardon any typos :)
I also wanted to fill you in on February's event on February 29th (note the new date)! It's going to be a yoga class at Swan's Nest at 10 a.m. followed by a brunch at Win Son at 11:30 a.m.! This will be a ticketed event, so you'll pay in advance for the yoga class and brunch (family style). I'll be sure to share the ticket link here and on Instagram as soon as it's live, so be on the lookout for that in the next few days.
Now, let's dive in.
Something to cook:
Julia and I cooked a bit in Hudson and loved exploring the local food stores. There's no big grocery store on the main strip so the selection was very fancy (think Dean and DeLuca of yesteryear). On Friday night, we put together a snack spread with lemon crackers, rosemary manchego, castelvetrano olives, almonds, and some Portuguese wine from Hudson Wine Merchants. Having new dishes and a new kitchen to play with was a lot of fun.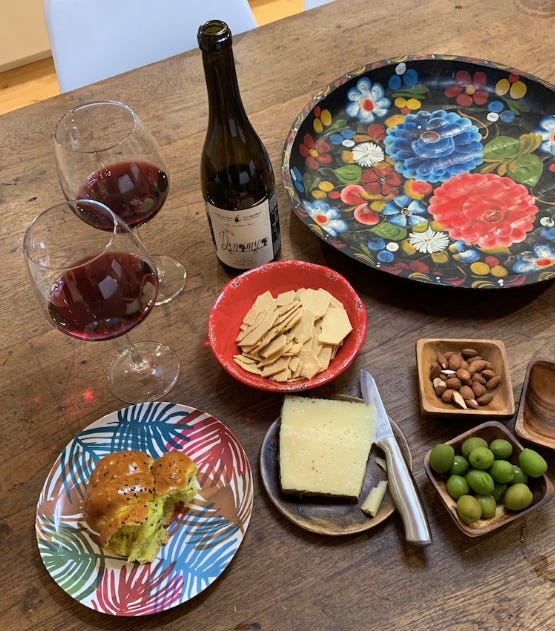 For lunch on Saturday, we made avocado toasts on challah. Zaro's is doing a collaboration with different restaurants and food companies and last week's special was turmeric and miso challah with sesame seeds from La Boite. It was the perfect base for toast with avocado, tomato, and fried eggs from a local farm (the yolks were so yellow). The only thing missing was hot sauce and I'm kicking myself for not bringing any.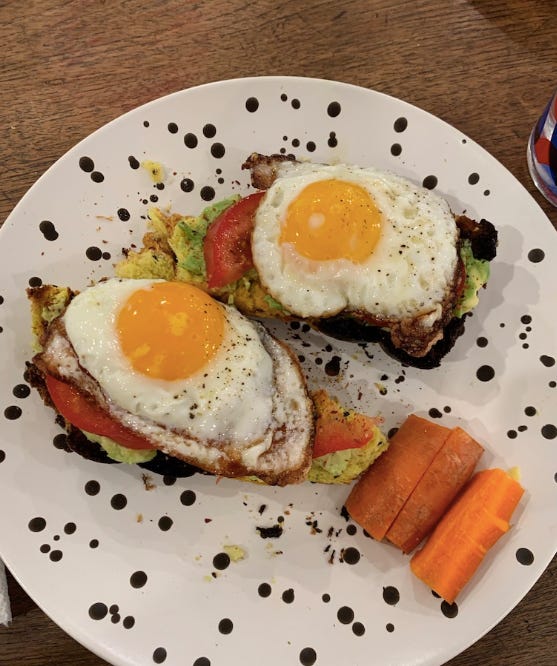 While I've been busy/sick, I've made a lot simple pasta, like cauliflower gnocchi with pesto and rigatoni with Vero Gusto Sauces (these are made by Barilla and really good, especially the spicy one).
Something to order:
Leah and I got a chance to dine at Casa Ora last week. I loved meeting the team last year and it was great to try the food. Some highlights were the arepitas, the pickled mussels (kind of a ceviche vibe with a homemade cracker), the guacamole served with plantain chips, and even the kale salad. I want to go back for brunch and to try more of their cocktails.
You know I love Philly, and I was thrilled to be a part of a dinner at the James Beard House cooked by chefs from there. The house is really cool—when James Beard died, a number of food luminaries including Julia Child fundraised to buy it. Now, it's an events space that very much still feels like a party house (Beard had mirrors on his bedroom ceiling and they're still there).
Dale and I balked at the wait at St. Anslem and instead headed to El Almacen, a cozy Argentine restaurant right off the Bedford stop. I loved the spinach empanadas and the cocktail program is pretty good as well.
Now, for some details on Hudson (save this if you're planning a visit)
We stayed at a beautiful Airbnb on the main street, a short walk from the train. The Amtrak is a 2-hour ride from Penn Station. I'm including the listing here and would 100% recommend it. There are very few ubers in Hudson so it's best to walk everywhere if you don't have a car with you. Most places are within a 15 minutes walk.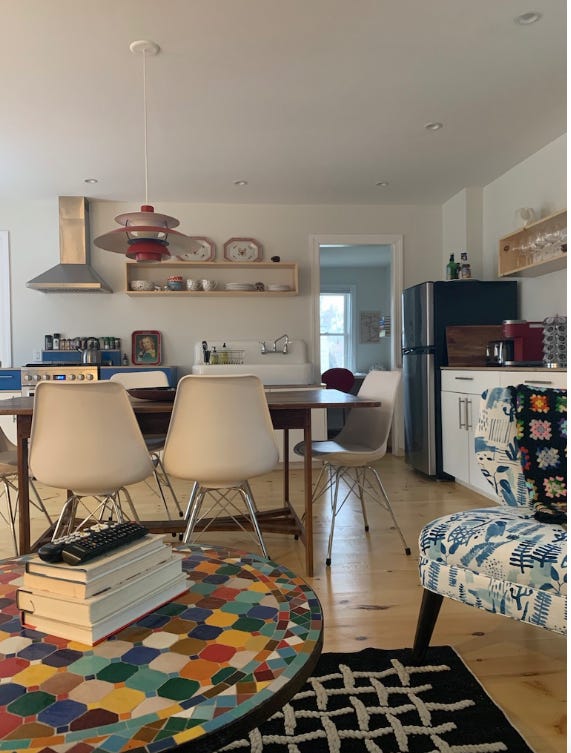 Our best meal of the weekend was at Lil Deb's Oasis, a colorful paradise of a restaurant run by queer artists. The staff is absolutely amazing and the wine list is pure poetry (the descriptions are free association poems that will crack you up). There's usually a wait on weekends, but it's worth it. Definitely get the fried plantains with cilantro sauce to start with a salad. I got their vegetarian plate, Julia got octopus, and we shared the chocolate mousse, which is vegan thanks to creamy coconut. If you're in Hudson, have dinner here. It feels like a real oasis and you'll have a very fun night.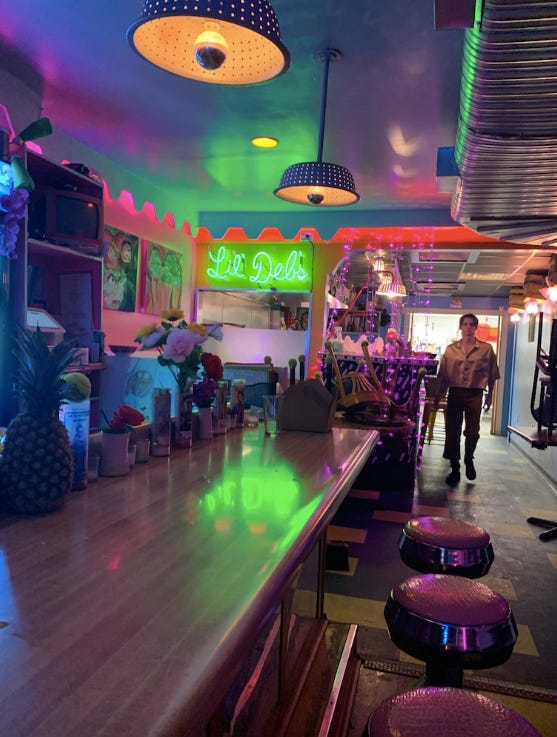 While we waited for a table at Lil Deb's, we got a drink at Rivertown Tavern, at our waiter's suggestion. It's a beautiful space and the food looked good as well. We had great service at the bar (the chairs are actually comfortable) and the pet nat was the perfect way to celebrate a day of writing. Rivertown Tavern is connected to Rivertown Lodge, a hotel that used to be a movie theater, so the whole property is worth peeking at.
Le Perche is on every Hudson List (just last weekend, Kate Winslet and Jennifer Lawrence were spotted there). I got breakfast there and it was very good, a classic French omelet with farmer's cheese and an excellent side salad. They're definitely known for their bread and pastries as well. It's not a super unique place but it's very good and the staff was really nice.
If you need a bottle of wine, stop by Hudson Wine Merchants (they have tastings on Friday events). The coffee was good at Super Natural Coffee and I wish we had grabbed a cookie at Talbot and Arding. Backbar is supposed to be great in the summer when the garden is open. In the winter, it was nice, but not a must-visit.
A lil pricing note: Hudson is a very expensive town and prices are Manhattan level (even though it's full of Brooklyn ex-pats, it's easier to find a sub $15 cocktail in Brooklyn than in Hudson). If you're going with a car, stop by the Aldi outside of the downtown and stock up on reasonably priced groceries. Or just go in knowing you'll spend as much as a weekend in the city and lean into the fancy grocery stores that don't even have prices on their cheese…it's a mini vacation.
Something to read:
How to care for a friend in need with food
The struggles of operating a zero-waste restaurant
I wish I had written this article about pizza places stepping up their wine lists. Scarrs got a shoutout.
It me: Woman just taking a walk somehow going to spend $17
Attention City Bakery fans: Maury Rubin is back with a hot chocolate pop up. I wish it included cookies.
"No One Suspected Me": Life as a woman food critic
Helpful advice if you're trying to cook at home more.
A fun article on the owners of Coast and Valley Wine Bar, where we held our January event.
I'm a negroni lover and I'm excited to check this amaro bar out.
Alicia Kennedy's review of Lekka burger pushes it higher on my list. Hoping I can go next week!
---
Now, let's talk about dream restaurants. You all have some great ideas!
Bernadette's dessert menu sounds perfect: One of my dream restaurants did exist for a moment-a local really good pizza place applied for a full-service restaurant permit, were denied, did it anyway, but now are back to counter service/takeout. (they still seem to own the expanded space but can't serve in it) The dream menu would be really good salads, their pizzas, and a large dessert menu featuring a brownie sundae. 
Lily's restaurant aesthetic is on point: My dream restaurant is all soft pink walls, tables and chairs inside with lots of green plants and big windows. It only serves breakfast and pierogies and pickles. Also egg creams. Basically Veselka if it got super Instagrammy. 
Hillary's dream restaurant actually exists: I was thinking about this "dream restaurant" idea recently because I went to Bestia when I was in LA and it was the kind of place I'd love to open: amazing pasta (although my version would have larger portions), beautiful space, 2000s hip-hop blasting on the speakers, felt like a party even on a Wednesday at 9pm, and the cute bartender gave me three generous wine tastings when deciding which glass I wanted to get (not even a bottle!). It was amazing.
---
This week, let's talk about getaways. Going away for the weekend can be so refreshing and I want to start doing it more. What have been your favorite weekend trips? What's on your travel list now? Reply to this email with your hit lists! February is definitely a time to dream about travel.
Happy eating and thanks for reading!
xo, Abigail