Apple Bottom Jeans
A lovely fall weekend and some sad news about one of my favorite cookies
Hi friends,
Welcome to This Needs Hot Sauce, a newsletter by Abigail Koffler about cooking, dining, out and making the most of it. This week is an exciting one as a paid version of This Needs Hot Sauce launches on Wednesday! Get a preview of what paid subscribers will receive here (this newsletter will always be free). And if you're free next Thursday, there are a few more spots at the Cheese Party!
Now, let's dive in.
Something to cook:
I went apple picking this weekend, at Melick's Town Farm in New Jersey. It's been a family favorite since I was a kid and we always go with close family friends and eat dinner together after. Jill and Pramod made a beautiful Indian dinner and it was so great to catch up with Kira, Manish, and Auntie Mitu. One highlight was sundal, chickpeas with toasted spices, ginger, and herbs. We also made apple crisp, topped with vanilla ice cream (a requirement).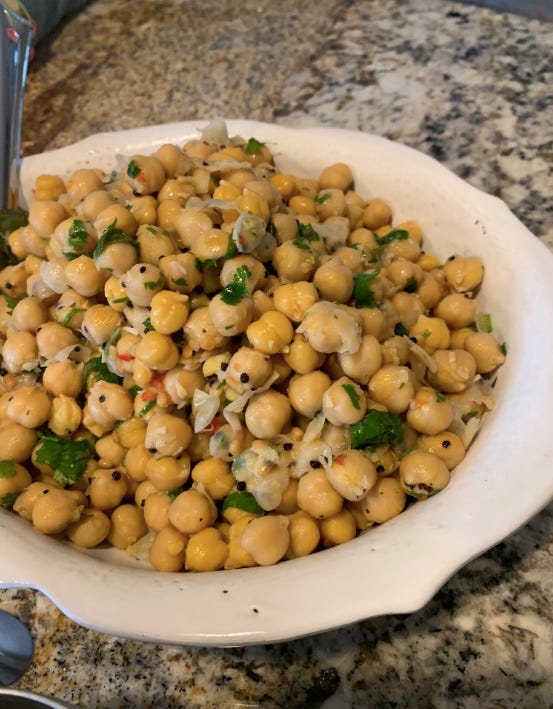 Our apple crisp recipe is not really a recipe, it's a method. As Jill pointed out, you can make apple crisp for 2 people or 10 depending on your pan and how many apples you use. Slice your unpeeled apples and toss them in a bowl with lemon juice, cinnamon and other spices (I like ground ginger and nutmeg), some brown sugar and a little salt. Put the apples in your baking dish and make sure it's about 3/4 full. For the topping, combine oats, cut up butter, brown sugar, a little bit of flour, some more cinnamon, and salt in a bowl. Combine with your fingers until you have a crumbly texture (you need the butter to be cold to start). Cover the fruit with the topping and bake at 350 for an hour. To give an idea of the amounts, we used one stick of butter and about 2 cups of oats for a 9 x 13 baking pan. If you like it sweeter, add more sugar. You can also use orange juice instead of lemon juice. If you want specific amounts, this recipe is pretty similar.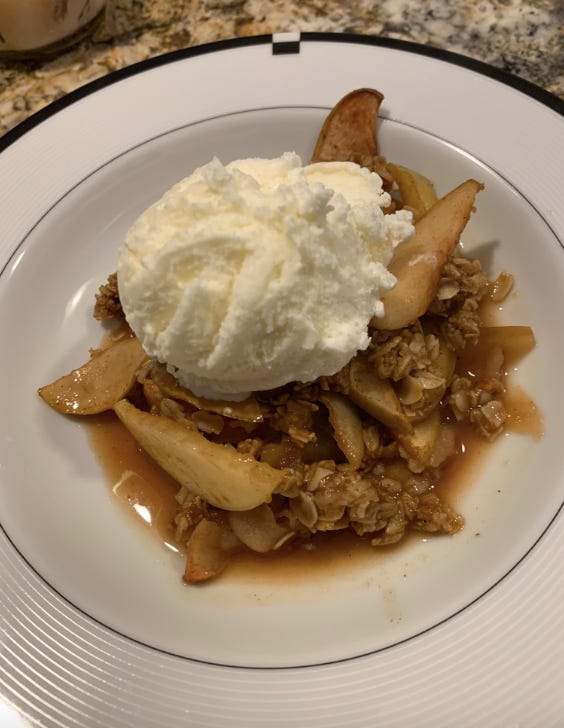 I now have so many apples in my apartment and am looking for ideas to use them. I'll make more crisp for sure and also made apple cinnamon oatmeal with Julianne and Julia. Cook the apples in salted butter with brown sugar and some flakey salt. You want them to be softened but not mushy. The mixture is great on top of oatmeal with some nuts and all the fall spices.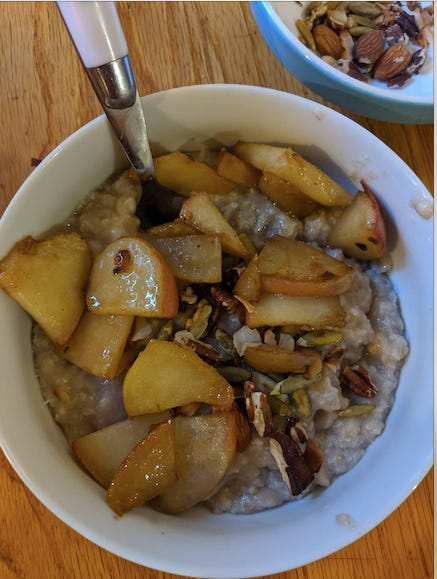 Last week was also Yom Kippur. I'm used to fasting but it's still a challenge. Luckily, our neighbors Marcia and Rory prepare a beautiful breakfast that featured this crazy nutella challah. It was insane.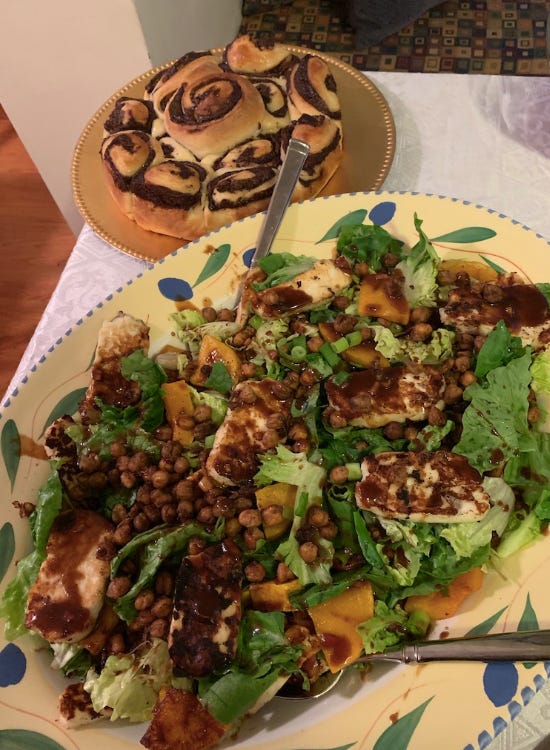 This week, my schedule is less hectic and I'm excited to cook some low key dinners including this butternut squash salad that combines all my favorite ingredients (chickpeas! tahini! squash!) and this crispy mushroom dish.
Something to order:
Julianne and I got to check out the new Black Seed Bagels in Chelsea Market (it's on the lower level, which is about a year old). The real draw is the cream cheese! They have so many good flavors including furikake, halvah, and even lobster (delicious and not at all kosher). If you're at Chelsea Market, don't leave without a taco from Los Tacos No. 1. So good.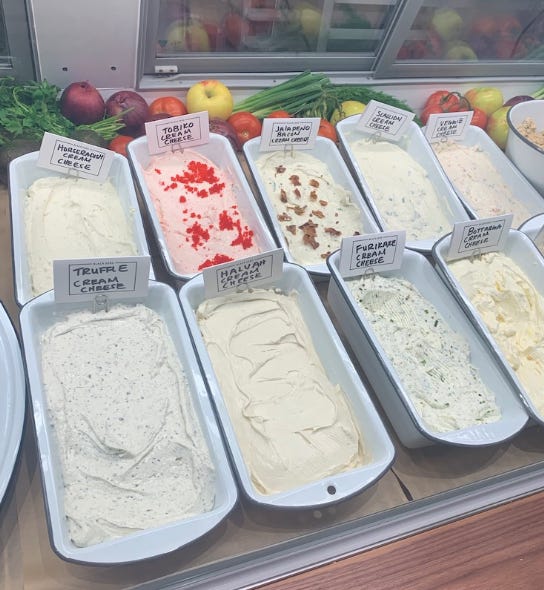 Speaking of tacos, I got to try one of my parents' favorite Forest Hills restaurants, Metro Taco. It was really good and their appetizer selection is strong with sweet potato taquitos and a nacho tower. Good margaritas too.
Win Son Bakery has been packed in the mornings but it's still pretty low key at night (the liquor license is coming very soon, which I expect will change that). Dale and I swung by to pick up dinner, their eggplant parm with caesar salad for me and the fried chicken box for him. Winners all around.
Portable breakfasts are valuable on long car rides and Leah and I got breakfast burritos from Jessi's for the ride to apple picking. Get the Jessi's burrito with extra green salsa, it's only $6 and so filling. There's a chorizo version Julia loves and the veggie one has avocado.
Something to read:
FYI, there will be fewer links in this section going forward (subscribers will get a few extras later in the week)
This is so moving: 'I Know the Struggle': Why a Pizza Mogul Left Pies at Memorials to 4 Homeless Men
Online, no one knows you're poor. Really related to the part about working online versus offline.
The real-life diet of Pat Kiernan, who has the craziest sleep schedule AND doesn't drink coffee.
City Bakery is likely closing soon and I am bummed. They make one of my favorite chocolate chip cookies and it's a lovely place to hang out around Union Square. I visited Friday and you should stop by soon (there are no details about closing dates yet).
Antoni's list of favorite things is predictably fun, stylish, and ridiculous.
---
First, I wanted to share your compost thoughts based on Friday's bonus edition.
Sarah had a great suggestion: Have you ever saved your veggie scraps to make veggie stock? I do the same thing, put them in a ziploc in the freezer. I make the veggie stock and then compost the scraps after. Something to try if you haven't!
Erica agrees that more visits to the farmer's market are a plus: I'm also fresh on my composting journey and kinda loving the excuse to get to the farmers market more regularly. 
And Frida is committed to the cause:
Now, let's talk about apples. I really need suggestions for ways to use them. What's your favorite kind of apple? What are your favorite cakes, salads, crisps, etc? Do you make applesauce (does anyone like applesauce)? Or do you eat them on their own with peanut butter (one of my favorite snacks). Have you seen SNL's apple picking sketch?
I'll be back shortly with more on This Needs Hot Sauce's paid edition!
Happy eating and thank you for reading!
xo, Abigail
If a friend forwarded you this email, sign up below and follow us on Instagram for more!