At least we have pizza
Plus, a double dose of Win Son (is anyone surprised?)
Hi friends,
I can't believe it's March! I'm ready for daylight savings and hopefully some warmer weather this week. Remember to save March 19th for our next happy hour, I'll be announcing the location next week (or earlier on Instagram).
Now, let's dive in.
Something to cook:
I tried something new and made almond butter in my Vitamix! I used about 2 cups of roasted and salted almonds from Trader Joe's and processed them on 10 for about 3 minutes, stopping once to scrape down the sides. Some of the recipes I looked at suggested adding oil, but I didn't bother. The final butter is pretty thick. If you want a more spreadable butter, add a tablespoon or two of coconut oil towards the end of blending. If you start with unsalted nuts, add salt. The real tip: to help clean your blender, make a smoothie after you transfer most of the butter to a jar.
I made dinner on Tuesday hoping to have leftovers. This Cookie and Kate recipe is a heartier version of her cabbage wraps and takes about the same amount of time to prepare. I baked the tofu, which was easy and hands-off, and we used Trader Joe's microwavable rice which Dale always has on hand. The leftovers the next day were great, just keep the peanut sauce in a separate container until you're ready to eat.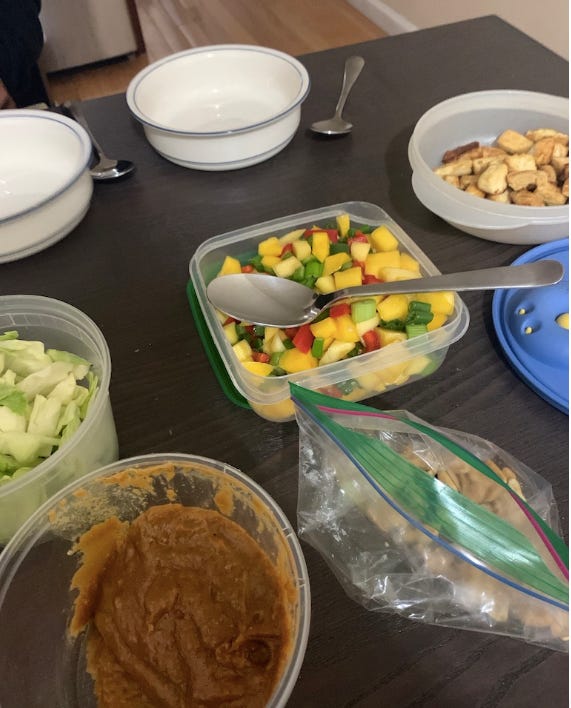 Speaking of leftovers, leftover chili is the best thing to come home to after a long day. Julianne sent me home with homemade chips and some avocado and lime so I was able to recreate our delicious dinner. ICYMI, we riffed on this recipe, more details here.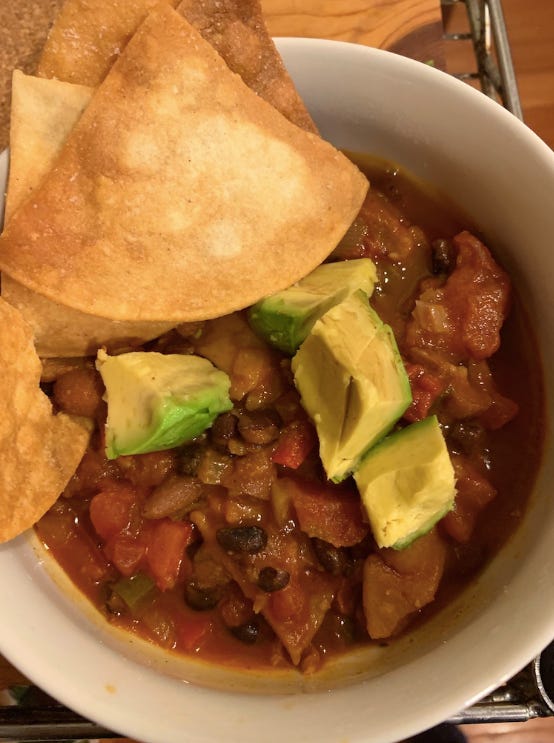 Lastly, a cooking question: I have two unopened bags of almond flour and no clue what to do with them. My cousin is moving so I helped her clean out her kitchen. What would you make?
Something to order:
We had a great brunch at Win Son after yoga (see highlight here). Going for brunch usually means a shorter wait and some special dishes (and you can make a reservation if your group is 5 or more). Split the usual favorites: cucumbers, pea shoots, pork buns if you eat meat, and then dive into the brunch items, like a dan bing, noodles with an egg on top, and the excellent hash brown. I tried a new menu item, the scallion noodles, which are also available at night sans egg. They're so delicious and simple, with a wide noodle that's so comforting. It was great to meet so many neighborhood friends (we all like yoga and Win Son, which is a pretty good start).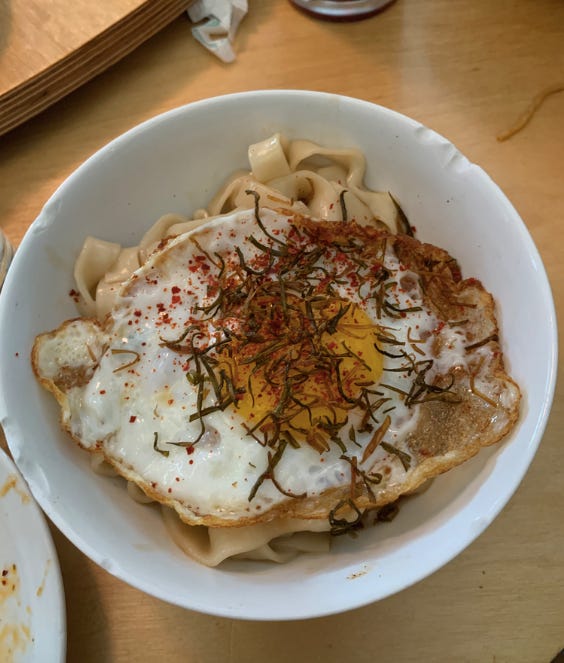 Natalie and I celebrated making it to Friday with snacks and drinks at Shelter, which is right across the street from the Wing. We split the baba ghanoush and made it just in time for $6 happy hour wine (it ends at 7). The bar is super cozy, with multiple fireplaces and some serious cabin vibes.
Okay, who can relate to this situation? You go to an evening event hoping there will be snacks. There is not a good selection of snacks. You have a nibble to tide you over while plotting what you'll grab afterward. This happened to me last week and thankfully I was only a few blocks from a Joe's Pizza outpost. I made a beeline there and had the perfect dinner of two slices. Moments like these are why I could never leave New York.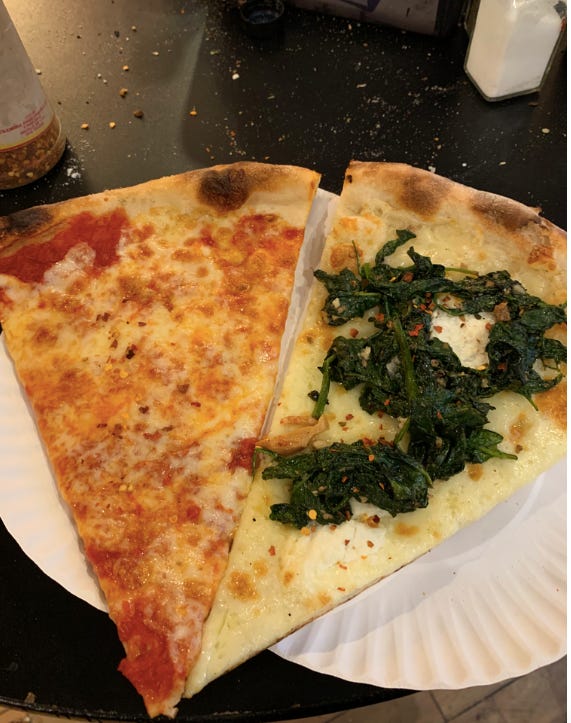 I've been trying to fill a void since City Bakery closed and got to check out owner Maury Rubin's new project this week. I wrote all about it here, so check it out and let me know if you try the hot chocolate.
Dale's finally recovered from a cold so we decided to do dinner at Mesa Coyoacan on Saturday. We go there all the time for brunch and it was fun to switch it up. They have a great cocktail menu and I love their huitlacoche tacos. They don't take reservations but we showed up a little before 8 and only had to wait for 15 minutes or so.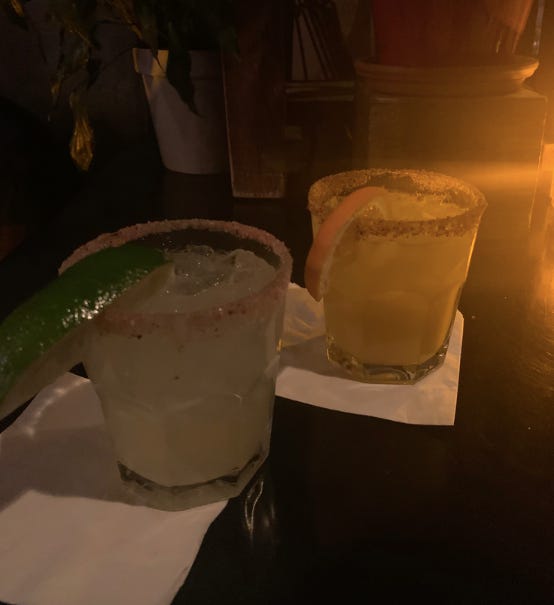 After dinner, Lizzi and I got a drink at Win Son (yes, it was my second visit that day). She was hungry after work and I just love being at Win Son.
Yesterday, my parents visited Brooklyn to see the new JR exhibit at Domino Park. It's so cool, definitely worth a visit. Afterward, we grabbed coffee with Lizzi at Mekelburg's. We also split slices of babka. I actually preferred the cinnamon one, which shocked me as well.
Something to read:
A very heartfelt interview with Samin Nosrat.
RIP to Trader Joe, the founder of an iconic grocery store.
I tried making Mike Bloomberg's meatball recipe and it doesn't make sense.
This from Alicia Kennedy, about how food media ignores politics, is very important.
Camilla Marcus is doing things very differently at westbourne.
Loved this story about diverting food waste from photoshoots, events, and more.
On my March agenda: trying this new wine bar on the Lower East Side
Most food conferences are kind of the same, but resistance served is absolutely different. Read a recap here.
A non vegan's guide to creating a vegan dinner party menu
How the kitchen aid mixer became an essential (and a status symbol). Mine was a hand me down and I love it so much.
And one correction from last week: If you're interested in joining me for a panel on Jewish Food at the Brooklyn Historical Society, use code BHSHOTSAUCE for $5 off your ticket. Very excited for the event!
---
Now, we can talk about breakfast sandwiches.
Frida supports personal frittatas (did you know you can make a frittata sandwich?): personal frittatas, lol! love this concept, bc I love frittatas but haven't made one in over a year bc it feels like too much work (even tho it's not!)
My sister Leah knows bagel shops come in tiers: My favorite breakfast sandwich is an everything bagel with scallion cream cheese, lox, onion and tomato from a top tier bagel place. Unclear if this is a sandwich, but the veggie burrito from Jessi's doused in both their hot sauces is a close second. 
---
This week, let's talk about anxiety and racism. Chinese restaurants are really suffering (and media outlets are using pictures of Chinatowns across New York to discuss the new coronavirus case). Julianne has a great list of spots to check out to support Chinatown. I'd love to hear what you're doing to stay calm/stay prepared and support businesses that are negatively affected by the fear. Reply to this email so we can talk.
---
Happy eating and thanks for reading. Don't forget to wash your hands.
xo, Abigail