Black bean burgers and more bad actors
Plus, summer fruits and statement shirts
Hi friends,
Welcome back to This Needs Hot Sauce! As a heads up, there will be no newsletter next week because I'll be in Vermont for a highly anticipated getaway. We're taking lots of safety precautions: Dale and I got Covid tests last week and had results in fewer than 40 hours (see my highlight for more details, I recommend going to a hospital or center, not CityMD). and are in the middle of a one week self quarantine before driving up. I really enjoyed having a quick weekend, full of tomatoes, cheese plates, nectarines, books and TV time. And if you have any recs for Burlington, I'm all ears!
Now, let's dive in.
In the midst of last week's work on Win Son (don't miss the rundown of the situation and my Q&A with bartender Rafael Joson), I saw reports on Instagram from another local restaurant, Archie's, which had locations in Bushwick and Williamsburg. The general manager Diego Macias has been accused of sexual assault by over 20 women, many of whom he met at the restaurant and plied with free shots. This all began when a woman on Instagram posted her story on July 18th. She's since been tireless in sharing stories and also connecting former Archie's employees with job opportunities. People started DMing her with similar stories, and a pattern emerged, with allegations going back many years. Macias also worked at Dos Toros during this time, at the Williamsburg location.
Archie's closed unexpectedly last week and deleted its Instagram account, leaving many without jobs. The stories are deeply upsetting but they're a reminder of the patterns that persist in restaurants and the power of speaking up as a collective. The Bushwick restaurant community is tight knit and I hope other businesses will develop policies to keep their employees and customers safe after seeing this perpetrator operate for so long (this is one good example from Seawolf).
At this point, we have to acknowledge these issues are structural and we need to rethink hospitality, restaurants, and management structures going forward. I think we'll see more pop ups, more shared spaces, more worker cooperatives, and more grocery/cafe hybrid. I hope these lead to safer working conditions for hospitality professionals, farm workers and everyone in between.
Something to cook:
I made a recipe from one of my favorite Tiktok creators, Jeremy Scheck: black bean burgers (here's the video) and I'll definitely make them again. The ingredients are ones I usually have on hand and they held together easily which is always a worry. If you're gonna make veggie burgers, you have to commit to fixings. We got Martin's Potato Rolls and I sliced up avocado, tomatoes, lettuce, and cheddar cheese for the full effect. To season, I used Eric Rivera's sazón (which contains salt), plus some extra cumin and garlic powder.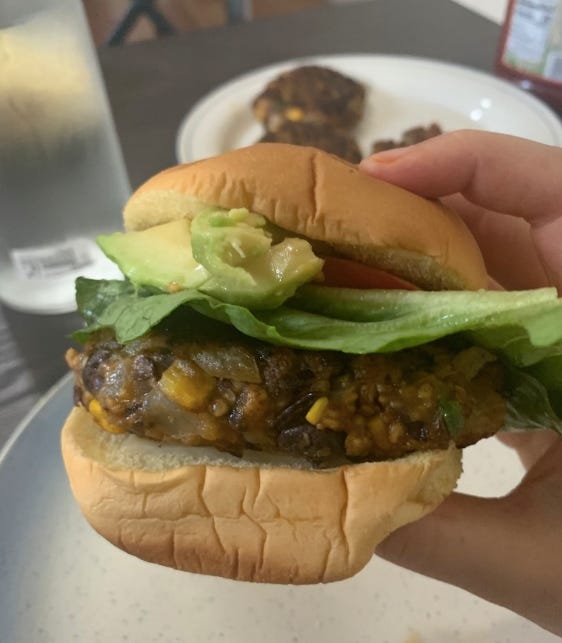 If you pass a bakery, pick up a couple croissants (go before closing and you might get them for a discount) for breakfast the next day. Thanks to my dad for suggesting this. I got some from 19 Café (Nick & Sons is also so good), sliced them, and reheated in the oven. We topped half with scrambled eggs, sharp cheddar, and heirloom tomatoes and half with strawberry jam. It was such a special breakfast and quite simple. I know Costco and Trader Joe's also sell frozen croissants so add those to your cart!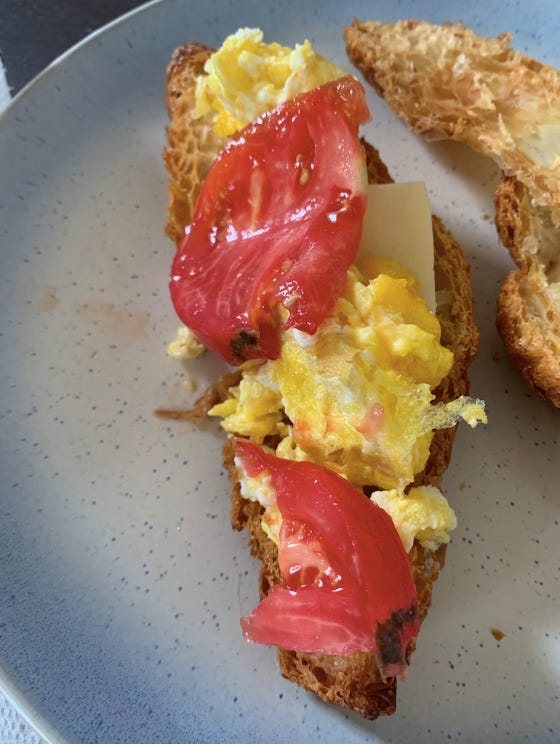 When I want a simple dinner, I can't beat a steamed sweet potato with broccoli and miso tahini dressing (I have a cheap metal steamer that works perfectly). I base mine on this recipe and adjust based on what I have and how thick I want it to be (I usually don't use oil because the tahini gets so creamy mixed with water). I finished the plate with some kimchi and avocado.
If you're still drowning in zucchini, make these parmesan coins. They're even better dipped in marinara sauce.
Something to order:
Cam and Molly both recommended Red Bay Coffee Roasters from Oakland and I've been drinking their Brazilian Cake Lady blend every morning. It's very good over ice.
If you need to replenish your wine supply, I can't recommend Bibber and Bell enough. They deliver for free locally, ship all over the country for very reasonable rates (starting around $10) and have a great rotating selection, including weekly red and white packages and a dozen. Sign up for their emails to get all the deals. If you're in Brooklyn, check out Vyneyard Wines, André Mack's wine shop which delivers for free in the borough (tip your driver).
I preordered this very cute tshirt to support community fridges in New York and LA. Let's match!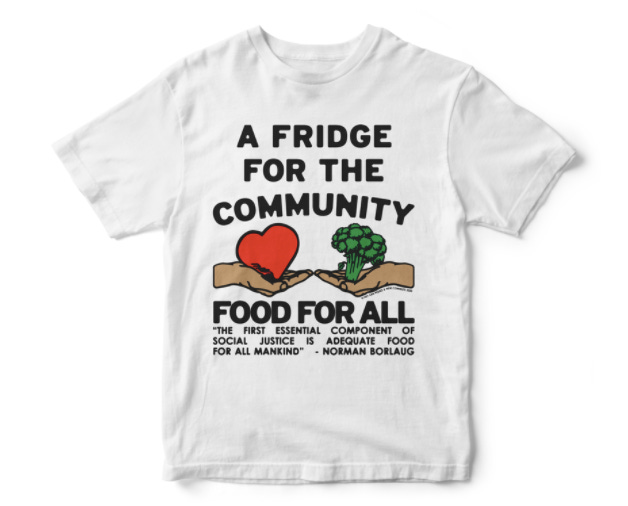 Something to read:
I really miss eavesdropping, a mainstay of working in coffeeshops.
The inside story of what went wrong at Sqirl.
Support Forest Hills Eateries is raising funds to deliver food to over 125 families in Corona, Queens in partnership with a local church.
Loved this interview about how Bryant Terry cooks for his family, which includes details about his next cookbook, an anthology on Black food.
Why restaurants didn't shut down in the previous pandemic
I love this Sifton parody from the Family Meal newsletter
Related: The New York Times is hiring for many food positions and I hope the new editors, reporters and recipe writers make huge, long needed changes to the section. If you think it's you, go apply here.
While you're at it, check out the new pitch guidelines for Bon Appetit and Epicurious below.
Zev Rovine, an importer specializing in natural wine, removed Valentina Passlacqua's wines from their portfolio after reports of underpaid labor at her father's vineyards came out in the Italian press (he's been arrested). Now, the reports do not come from her business but there's a huge amount of nepotism in winemaking (she learned winemaking from her father) and removing them seems to be the right step. Other importers like Jenny Francois said this was too harsh. Comments on Jenny's post really get to the root of the issue—many importers build portfolios around relationships and annual visits. It's very easy to have lunch and drink wine and walk a vineyard and have no sense of the labor practices, which are not large parts of the evaluation process. Personal relationships are no substitute for rigorous evaluation (this is true for any kind of workplace)— if anything they can cloud your judgement because you assume the best from someone you like. Ashtin Berry had an excellent post summarizing how natural wine is still built on Black and brown bodies and often has more concern for the purity of ingredients than the hands that picked the grapes.
This recession is disproportionately affecting women.
It's great to see Sohla cooking a road trip snack on the Food52 channel
A reminder from Christine that cheese is a seasonal product
Learn all about the cider boom in the US from the Points of Origin podcast.
LA, check out these Instagram pop ups.
Black women and the legacy of food and protest
Is anyone else checking the weather more than usual? Outdoor hangs (and outdoor dining) are a challenge with summer storms.
Eric Rivera on the Goya boycott and how he's growing his business at Addo.
Getting a recipe for rogan josh over Zoom
White food media and the commodification of resistance
The creators of Black Owned Brooklyn share their favorite things
---
Now, let's talk about your favorite summer fruits. When I asked this in summer 2018, peaches were the clear winner. But things have changed (in so many ways).
Julianne is an original supporter of This Needs Hot Sauce: So cute - I remember answering this question 2 summers ago, sharing photos of the best fruits I accumulated earlier that month in Southeast Asia. My summer is so different than that (no travel, and the fruit isn't as good outside of the tropics!! As a Floridian I can attest the tropics is the best for fruit!). But I went hiking with Ian and Bradlee 2 weeks ago, which turned into surprise wild blackberry picking, and I think blackberries have since become our official summer fruit  (although store-bought blackberries have nothing on wild blackberries!!). Can't wait to go berry picking with YOU!
Courtney's response inspired me to buy a a large box of blueberries: Blueberries! During the summer, half my body weight is blueberries. I don't leave the market without having stockpiled at least 4 or 5 pints. I think of them as fruit popcorn—they're crunchy, they pop in your mouth, and they're super sweet this time of year. It's the antioxidants, man. We need them now more than ever.
Hilary came through with the original favorite: peaches: Peaches!! Fresh/raw, thoroughly ripened, ideally non-refrigerated but as long as they're ripe I won't argue. 
In lieu of a question this week (always feel free to say hi!), I'd like to ask for a quick favor. We're super close to 1,000 subscribers here and I'd love to get over that line. If you could forward This Needs Hot Sauce to a friend who might enjoy it, I'd be so grateful. You can also share on social media (we're on Instagram and twitter)! And I hope you all are taking care of yourselves and resting a bit this summer.
---
Take care, wear a mask, get a Covid test, and take a break from doomscrolling, the term coined by Karen Ho.
xo, Abigail