Cheers to Three Years of This Needs Hot Sauce!
And 8 more days of voting!
Hi friends,
It's a special day here at This Needs Hot Sauce! It's our third birthday (technically it's Thursday but you know I stick to a publishing schedule). I started this newsletter as a weekend project back in 2017 (here's the first issue, which was originally published on Tinyletter). I announced it via an Instagram story and sent out the first issue to forty something people. At the time, I was working at a nonprofit and quite unhappy. Food was always something I loved and I sent lots of recommendations to friends and family via text and email. When I got laid off the following spring, I decided to give freelancing a try and used this very newsletter to get my first food writing clips (you can hear more about that in this podcast interview). Since then, I've launched paid subscriptions, written for places like Eater, Food & Wine, and Bustle, and led workshops on newsletter growth.
I look forward to writing This Needs Hot Sauce every week and you all have taught me so much over the years in your responses, suggestions, and Instagram DMs.
If you're reading this with an idea in the back of your mind, my advice is to do it! It might not work right away and it will be a lot of work, but you won't regret trying and I'm here cheering you on. If you need an extra bit of encouragement, you can always reply to this email and I'll give you a pep talk.
Thank you for being here and happy birthday to us! Hopefully next year, I can throw a big party!
Now, let's dive in.
Something to cook:
I gave my roasted squash a second life in a pasta, inspired by Em. Here's the method: In a wide skillet, cook 1/2 a thinly sliced white onion in olive oil over medium heat until it's slightly golden (about 15 minutes). While you're doing this, boil your water for the pasta. Season the onions with salt and add 2 cloves of minced garlic and cook for a minute over two.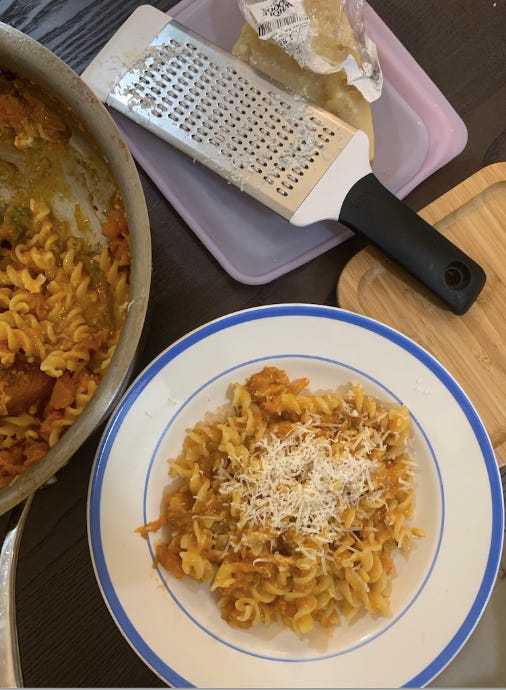 Drop your pasta and cook to al dente. Deglaze the pan with some white wine and add your roasted squash (remove the peel and cut it in small pieces). The squash is already cooked so you're just warming it through. Add some water or vegetable broth (about 1/2 cup) and mash some of the squash pieces with the back of a spatula so it becomes slightly saucier. Taste and season with red pepper flakes, salt, and dried thyme (or other herbs you have). Add the pasta to the pan with the squash along with pasta water and 1/2 cup of grated parmesan cheese. Cook together for a minute or two until everything comes together. Add more pasta water if needed and check for seasonings. Serve with more grated parmesan cheese on top.
I also made some fried rice with an important addition: ketchup! I was inspired by this recipe and added the ketchup with some soy sauce and garlic when I added the rice. In addition to kimchi, I used some broccoli and onion and mixed the egg in rather than putting it on top.
In an alternate universe, I was supposed to go to Germany this March for a press trip with German Wines USA. That of course did not happen but I did attend a virtual event with them last week, taught by Sarah Tracey. The theme was entertaining and we made a cocktail with Sekt, German sparkling wine that's usually made in the Charmant method. The cocktail is a fall spritz that would be perfect for Thanksgiving.
Here's how you make it: Put some ice in wine glass, add a tablespoon of ginger syrup (here's a recipe for that or you can buy it) and five dashes of cranberry bitters. Stir to combine, then add 5 ounces of sparkling wine and top with sparkling water. The color is fantastic and it's like a boozy cranberry ginger ale!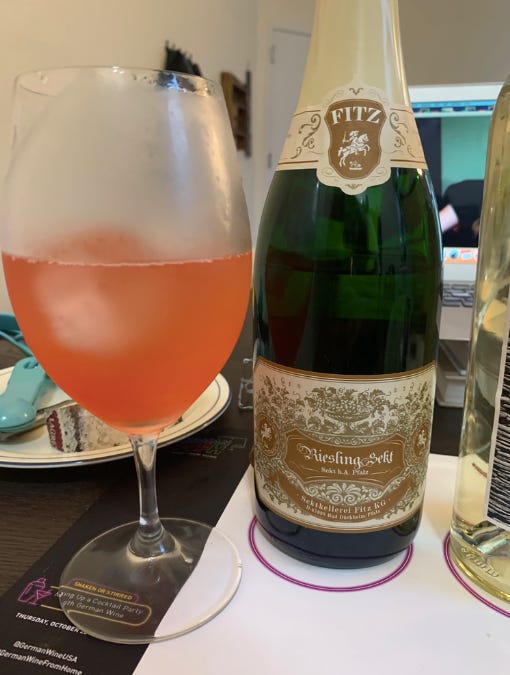 I used the leftover chips from our Mesa Coyoacan takeout to make a chilaquile-ish breakfast the next day. I coated them with salsa and let the chips soften a bit and warm up in a pan, then topped with with scrambled eggs (Dale doesn't like runny yolks) and some leftover mushrooms from my tacos. I added hot sauce after I took the picture, not to worry.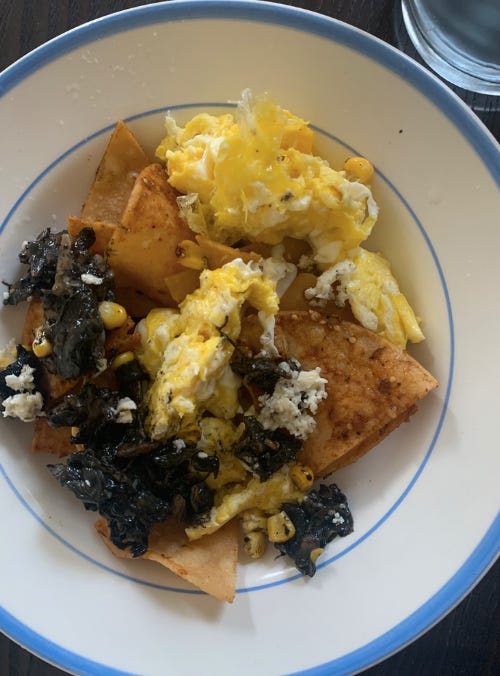 Something to order:
Julia and I got Los Tacos for the Bachelorette, which was the best!
Dale is eating more foods now so we could have Mesa Coyoacan again, hurrah. I love their huitlacoche tacos and thick, fresh, chips.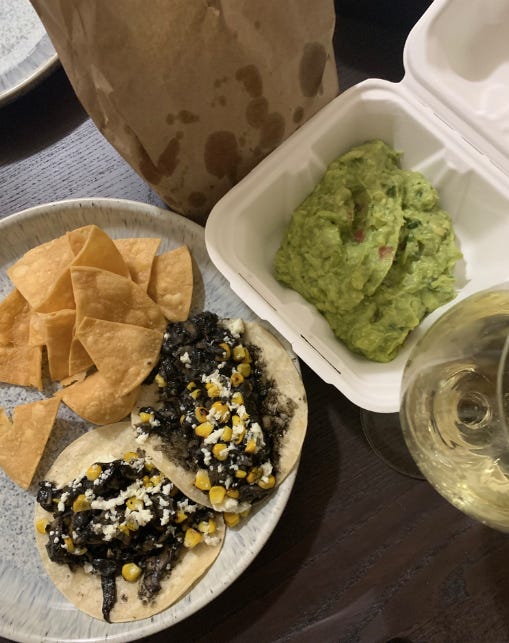 I went to Queens to see my parents and get all my winter clothes. We ate lunch outside from Paratha Wala. Their paratha wraps are perfect for lunch and the masala potato one is so flavorful and nicely spiced. The kale fritters are perfect to share.
Something to read:
As it gets colder, I've been asked more and more about indoor dining. My answer is still a firm no because it's not safe for workers.
Two artists in Mexico City started a bakery from home during quarantine and they're thriving.
How to dress for winter if you get cold easily and don't have a lot of money
What's the deal with those plastic outdoor dining tents?
A review of Dunkin Donuts' ghost pepper donut
Dale's mom makes such good jerk tofu (she's a vegan) and I loved learning more about the jerk tradition.
How to tell your family you're not going home for the holidays this year
Thanksgiving is going to look different this year, here are some ways to make it your own.
Related to thanksgiving, I found this safety turducken concept helpful
A Detroit native launches the city's first cider mill
Often Overlooked, Oregon's Latinx Wine Community Thrives
This sopa de fideo looks so cozy and has lots of history behind it
How Dan Pelosi aka @grossypelosi approaches entertaining.
Things you can do to support food workers
Cooking and speaking with the people visiting food pantries around the city.
Relationship tip: be a bodega Santa. It's crazy how much a simple gesture can brighten someone's day.
The McBride Sisters have an incredible story. They're sisters raised across the world and didn't know the other existed until they were teens. They share their story on the How I Built This Podcast. It's two parts and well worth the listen (I hope someone options it).
Where fast food political donations go (not hard to guess)
How Covid finally popularized digital menus, which may be here to stay.
Do I know anything about harissa at all?
Toni Tipton Martin won a well deserved book of the year award from the IACP
Claire Saffitz is the midst of book promo and it's a stark reminder that the events at Bon Appetit didn't register with most of her audience. She's gotten tons of press and the book is selling really well. I'm disappointed that no one is really asking about Sohla's unpaid role in these videos or Claire's silence this summer over the treatment of her POC colleagues (she went months without posting on Instagram and came back just in time to share her book trailer). Did she know they weren't getting paid for videos? This Taste story asked about it but readily accepted her answer that she was just like the audience and watching hopefully to see them improve. This is absurd because she was an employee and then contractor and is also deeply associated with the brand (hence, she had leverage). She also claims she never loved video, which I believe, but it's disingenuous to pretend that video didn't get her nearly a million IG followers and a two book deal with Clarkson Potter. Like come on. And she doesn't like social media but she's managed to use it just fine to promote her book. I'll have alternate cookbook recommendations in my gift guide!
---
Now, I want to share some very kind things you had to stay about This Needs Hot Sauce!
Zoe has been a day one reader (we used to work a block apart at jobs we both hated): Proud to see how far you've come! Your salad with the roasted grapes is so good! 
Julianne has been there every step of the way and we have so much fun hosting events together: My favorite memory was probably cohosting our Duck Duck Swan event together, second favorite was your Duck Duck first birthday 2! years ago this week! You made goodie bags and m&m popcorn for everyone, and probably some baked goods too. Love you and can't wait for you to have your own hot sauce line one day! 
Erica and I met through TNHS and have become great friends: Beyond our friendship, an actual memory I have is of feeling excited to take the subway (remember taking the subway without a sense of existential dread?!) knowing I'd opened all the links from your "something to read" section on my phone.
Tina and I also met through TNHS (Zeke, thank you for spreading the word): My favorite This Needs Hot Sauce memory: trying the burrata at Lighthouse after hearing about it from you. Wow! I'd lived in the neighborhood for 3 years before setting foot in Lighthouse, and now it's one of my favorite spots (and the burrata is still beyond compare). Aside from the great restaurant and recipe recs, This Needs Hot Sauce has encouraged me to be better about supporting my community and a better world by being more critical of who I buy from, read, or follow. Thanks for this, and congrats again on 3 years!!!
Isa has been such a supporter from afar and I look forward to any meals we eat together: So many TNHH memories. I'm going to go a little rogue and talk about the super early breakfast we had at a greasy spoon diner in 2017 when you told me you were starting a food newsletter. You were so nervous and excited - and I was too! Fast forward three years and you've grown that newsletter into an incredible community and give me something to truly look forward to every Monday.  Also, the slow roasted sweet potatoes were a revelation. 
---
This week, I'd love to hear your voting plan! Early voting is open in New York till November 1st (get all the details here) and you can also drop off your mail in ballots at voting sites (don't risk them not arriving in time). If you're voting on election day, polls open at 6 am and close at 9 pm. I'll be voting this week (either tomorrow or Thursday) and can't wait.
And keep your eyes out for my gift guide, which will be released after the election! I've thought about it a lot and want to give space to the urgency of voting during this season. We can do our shopping afterwards and still have time for things to arrive. If you have any category requests or hard to shop for people, let me know!
---
xo, Abigail
P.S. Follow me on Instagram to see a real life photo from my third birthday later this week.