Food media's failures
Graphic design won't solve racism
Hi friends,
Welcome back to This Needs Hot Sauce.
I'll get right to it. While the structures of white supremacy and racism are nothing new in this country, I've never seen so many people openly discuss their privilege, educate themselves, and commit to change going forward. I hope it lasts and leads to real, overdue change. It's frustrating that it took such tragedy for all of this to happen (how is stop. But we need to keep examining ourselves, our government, the companies we support and work for, our country's history, and lots more.
As far as this space, I've been thinking a lot about my role and what I can offer. I'll continue speaking out, especially as it comes to the topics of food and history (I've been reading a lot about Reconstruction and the way the progress achieved during that time was squashed and minimized). I'm thinking about Breonna Taylor, who is my age, and never got to celebrate her 27th birthday.
---
In my professional life, I'm also committing to asking PR reps if events have guest lists that are diverse and inclusive as I don't want to sit through another all white wine dinner or breakfast. There are no in person events right now, but I know they'll be back. As a writer, I'm also recommitting myself to centering Black sources in my stories, no matter what the subject (I got assigned a profile of a white women for later this year, but will be committing to this for stories I pitch). Julia Coney, who I've long admired, has been sharing so many Black wine professionals and I'm bookmarking all of these lists. I rarely have guest contributors here, but I loved doing one with Angely and I'm going to set up Q&As with Black people in food to keep that feature going. I also am always available to speak with any BIPOC writers looking to start a newsletter about what I've learned in the process. Reply to this email and we'll set up a time.
There are a ton of Black owned restaurant lists/Black owned food business (I ordered coffee from BLK & Bold)/hot sauces/beauty products/bookstores/businesses going around (I won't link to the Bon Appetit one because Adam Rappoport has got to go). These are helpful, they bring up many issues, and they won't save us. First, the restaurant ones are incredible demonstrations of segregation and gentrification, even in major cities (look up the history of redlining in your hometown). LA lists have very few options on the West Side and New York's are concentrated in Bed Stuy and Harlem, with few options in Williamsburg (Sweet Science and Action Burger are two exceptions). Second, the obstacles that Black business owners face in this country are insane. It's harder for them (and especially for Black women) to receive VC funding, business loans, and get press coverage (media's overwhelming whiteness contributes to this). The wealth gap (caused by white people stealing and destroying Black wealth) also makes it harder to raise money from friends and family, which is a first step for many white founders. The founder of Golde, a wellness and skincare brand, wrote about this strange time to be a Black owned business, finally recognized in a moment of trauma. These products were not designed to assuage our white guilt.
In our capitalist society, it's important to vote with your dollars and as a consumer, it's fun to discover new businesses with missions you believe in. If you're a lifestyle blogger or work as a commerce editor, it's obviously more important. Shopping is only one piece of the puzzle and there are layers to it. Avoid Amazon (please!) and be patient if things are backordered. If your city has curfews, don't order takeout late and put your delivery person at risk. The way I'm approaching it is trying to replace items once I'm finished with them with a Black owned product. I'm also going to be consulting these lists when it's time to buy birthday gifts.
---
I've talked about food media's shortcomings before, but I've always held back a little since this is not explicitly a media newsletter. But this week, I hit a breaking point. The way that food media responded was unacceptable, and frankly their lack of diversity, particularly in leadership, has long been unacceptable. I used to discuss this with friends or favorite a tweet here and there, but never publicly, probably because I someday hoped to have bylines there.
But the New York Times Cooking Section failed (pretty sure the food team is all white) with vague emails and an Instagram post full of protestors, as did Bon Appetit. Bon Appetit staffers are speaking out about the treatment of BIPOC (they aren't paid extra to appear in videos, diversity initiatives go nowhere, etc) as they call for the Editor in Chief's resignation after photos of him and his wife in brown face surfaced. New York Times staffers broke their company's social media policy after the Tom Cotton op ed got published and that editor, who didn't even read the piece, is gone! Food52 released a super vague statement (they've addressed diversity before and changed nothing). Serious Eats revealed they've never had a Black editor. The Infatuation donated a measly $15K and admitted they lack diversity in both the editorial and leadership teams (don't forget about their racist review of a Chinese restaurant). Food and Wine has done the best job, centering Black writers and admitting their shortcomings. Some bloggers posted recipes as if nothing was happening. Similar things are happening in every industry and I'm glad that no one is taking these statements at face value. A company's record, staff, and past actions say way more than a graphic about equality and I hope to see more leaders replaced in the coming days and weeks. Resigning can be an act of leadership (this resignation letter from Osayi Endolyn is amazing). And looking to the future, 16 year old Rahanna Bisseret Martinez has some great ideas on how to fix food media.
I know this may seem niche or insidery, but these publications occupy a huge amount of space in our food culture. For those of us who love food, we look to them for recipes, inspiration, and ideas of what to make next. We need to hold them accountable and support those who are doing better. Staffers have few protections for speaking out, especially without unions in the climate of a global pandemic and mass layoffs across media. Publicly supporting them is the least we can do.
Other publications to support:
Klancy Miller, who I first read on Cup of Jo and have since heard speak a few times, is launching For the Culture magazine, a food magazine by and for Black women. You should also read her obituary for Georgia Gillmore. She crowdfunded a few months ago and is working on the first issue now. I can't wait to read it.
Another great magazine is Whetstone, which did that video on Georgian wine that I shared a while back. Founder Stephen Satterfield is an industry leader and a great follow.
---
Many of us (myself included) have been on following sprees. Don't follow people because you feel bad or shamed, follow people, who happen to be Black, who share stuff you like, whether it's food, fashion, activism, memes, whatever (if you need suggestions, especially in food, feel free to DM). Curate a feed that you can learn from and engage with. Rushing to follow a full list of Black people is tokenism. And realize that it might be overwhelming to suddenly have a bunch of new followers for such a loaded reason.
Get used to changing your mind and get ready for the long haul. For people who are new to speaking up on these issues, there's a fear of saying the wrong thing. We should normalize changing your mind after learning new information. It's a beautiful thing. If you post something that you then realized was off, take it down and explain why. Apologize. Model growth for your family and friends. This is a long road. Many activists I've heard talk about working for change beyond their own lifetimes or being a good ancestor (Layla Saad hosts a podcast with this name). That's a very different framework than many of us are used to. Make the things you're doing now habits, and set check ins with yourself. Burn out is real. Listen to Black voices on these issues and do not center yourself. Go to a protest (they work). Get involved on a local level (Trump is nowhere near the beginning or end of this).
Next week, I'm going to start sharing recipes again (Tbh, I haven't been making much beyond quesadillas, crispy chickpeas, pasta, and breakfast). But I'm not going to stop working and speaking up and neither should you.
---
Some more things to read:
What is qualified immunity?
Qualified immunity is one of the many structural factors that make it difficult to hold police officers accountable for wrong doing. What can we do to change this? Representatives Pressley and Amash introduced a bill calling for the end of qualified immunity that is gaining support in Congress and Senators Markey and Warren also introduced a similar Senate resolution.
America, this is your chance (from the author of the New Jim Crow)
An obituary for David Mcatee, killed by the police in Lousville (also read this account from the local paper)
Some podcasts I've listened to: Call Your Girlfriend on Police Abolition, the Sporkful on when white people say "Plantation."
Stephanie Shih's GrubStreet Diet documents a week of protesting
Baking sweet potato pies for protestors in Minneapolis
Much needed history: Black communities have always used food as protest
Race affected America's response to epidemics in 1918 as well.
JJ Johnson talks about his own experiences with discrimination and calls for more support of Black owned restaurants (I'm long overdue for a trip to Harlem).
Tinder stops banning people who are using the platform to fundraise for Black lives matter
Black food justice and sovereignty groups to support. This East Oakland collective is inspiring
Devita Davison on food apartheid (formerly known as food desserts) and her work in Detroit
Action items for New Yorkers // Ways we can defund the NYPD
Order Jerrelle Guy's cookbook Black Girl Baking, it's backordered but worth the wait (I wrote about her a few years ago).
And if you need to shake things out, try an arm workout with a side of Celine Dion (I wrote this a few weeks back and it's a great 8 minute break).
I also wrote about community cookbooks, which have long existed in Black communities and often thrive in times of crisis!
I'll leave you with this refreshing vodka strawberry lemonade, which I got from Sweet Science for a long walk with Dale yesterday. I also found this guide to rest and recovery helpful.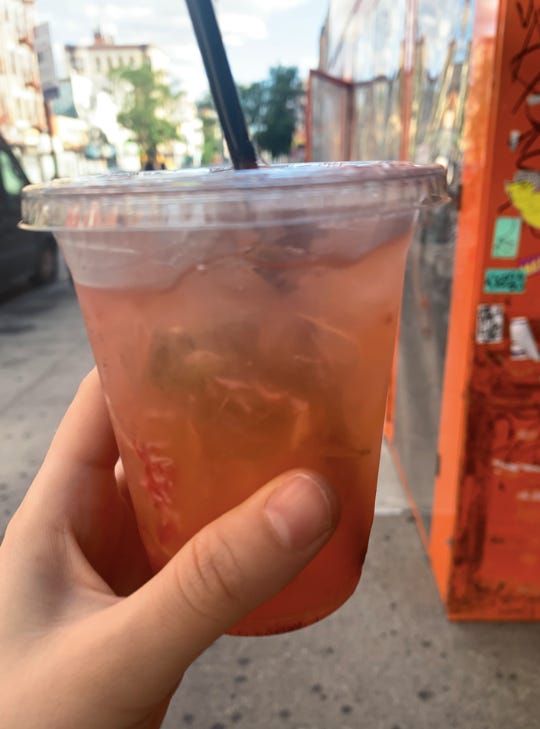 Take care and we'll talk soon! I'll be sharing more on Instagram stories throughout the week.
xo, Abigail