Get Off The Subway And You'll Swear You're On Vacation
Have You Visited Rockaway Beach Yet? Plus, Freezer Desserts and Arepas
Hi friends,
Welcome to This Needs Hot Sauce! It was such a treat to hang out with so many of you at happy hour and I'm excited for a good week ahead. Let's dive in.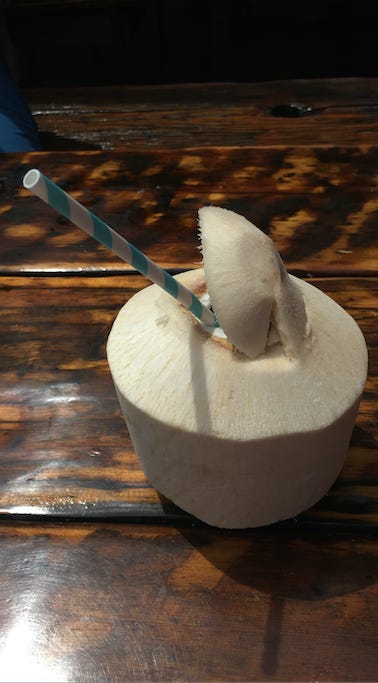 Something to cook:
I made this Cauliflower Pomegranate Chaat* from Meera Sodha's book Fresh India. *I improvised a bit and used dates instead of pomegranates but the spice blend of coriander, ginger, cinnamon, and pepper was so good. I served it with a kale salad for a few lunches last week.
Freezer desserts are important, especially in the summer. We usually have some cookie dough (this recipe) ready to bake, and last week I made these chocolate covered peanut butter banana bonbons. It's a very messy process and you'll need to clear out some freezer space but they're so delicious. Perhaps my bananas were small but there was lots of leftover chocolate at the end, so I'd start with less and melt more if you run out while dipping.
Really want to make a batch of hummus this week, using my new Soom Tahini. Peeling the chickpeas is worth it.
Tilden and I made a version of this Bon Appetit sabich and it was so good. My other favorite Sabich is at Taim in Nolita.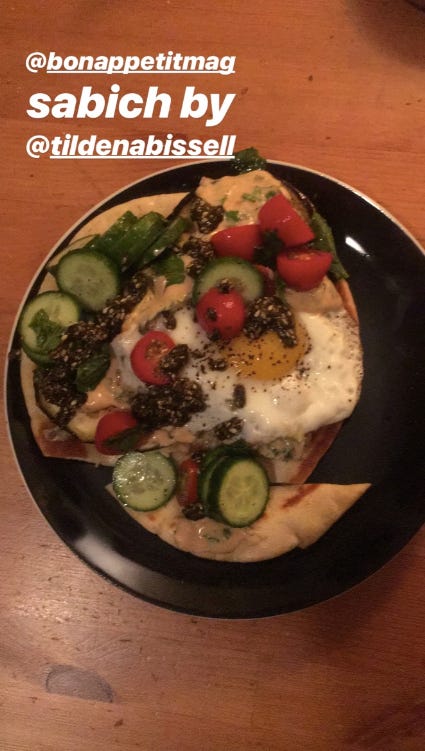 I walked by Sahaldi's while running an errand last week and decided to stop in. It's a treasure trove of a market with really well priced dried fruits, nuts, and tons of international foods. I picked up a $2 tube of harissa paste and will be back for more.
Bradlee and Amy hosted a lovely dinner party on Friday. Among the highlights was homemade ice cream, which Amy confessed she made without an ice cream maker. It's this roasted strawberry cardamom kulfi and it was SO good.
A good Prospect Park snack: really ripe cherries and Castelvetrano olives (the olive even olive haters like) from United Meat Market, which has the best Italian subs and cheap and delicious olives.
Something to order:
Yesterday, I drank a fresh coconut topped off with rum and it felt like a vacation. And it's only a subway ride away. Julianne, Ian, Julia, Dale, and I took the long subway ride to Rockaway Beach yesterday and it is so worth it, a vacation without airport delays. Parts of the beach are closed this summer for erosion repair but there's still lots to choose from – we were able to swim and hang around 103rd Street. We started at Tacaway Beach at Rockaway Beach Surf Club, which has the aforementioned coconuts, a full bar, tacos, plantain chips, elote, and handy spots to refill your water bottle. The fish tacos and black bean plantain tacos were crowd favorites and you should ask for all the salsas: there's a roasted tomato one that comes with the chips, a tomatillo one that complements the guac, and a hot sauce that's just perfect. It's cash only and there is a long line but they have an ATM and we all ate for $10 a person. Drinks and coconuts are sold at separate counters so you can refresh yourself from the subway ride before braving the food line. Divide and conquer.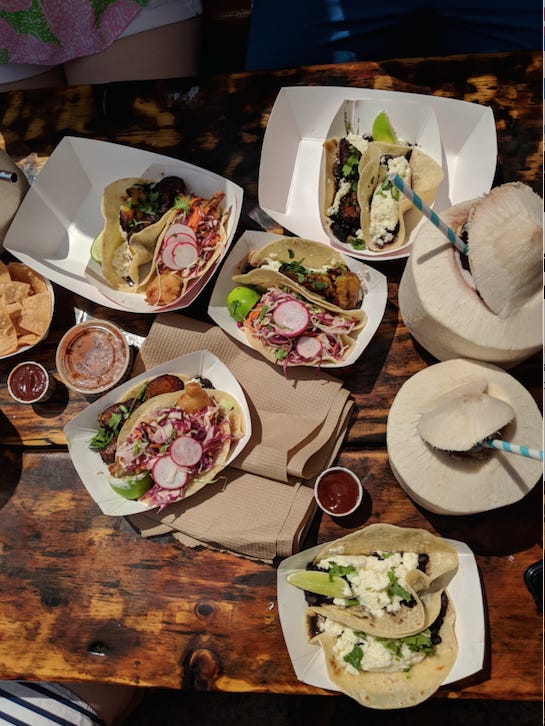 Other Rockaway favorites: Megan recommended the Rockaway Beach Bakery which has a backyard and a pastry happy hour! I love the very homey Cuisine by Claudette for hummus or acai bowls. Caracas also has an arepa location right on the boardwalk with very long lines. Or bring food (how about a cheese plate?) Don't forget the sunscreen and be careful of rip tides.
Lighthouse is one of my favorite restaurants and Dale and I went back this weekend. Their wine by the glass selection is always really good and the burrata comes in a bowl because it's that creamy. I tried the farro salad with mushrooms and jalapeño, which is entree sized even though it's in the "small" section. They don't have much AC here but I somehow don't mind.
Try the dip trio (the pistachio edamame one is so good) and grilled watermelon salad at Ousia in far West midtown (my mom called it New Jersey) before seeing a show at Lincoln Center. Greek wine is also really good.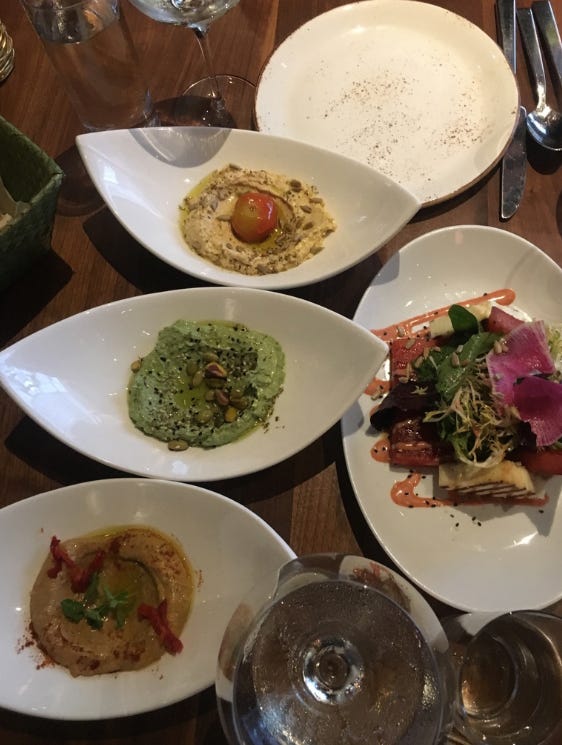 Always looking for new arepas and really enjoyed Arepa Guacuco in Bushwick. They have multiple vegetarian options, three homemade sauces and it's super casual. I got the one with plantains, beans and cheese, an always excellent combo. Start with the tostones, made from green plantains. Arepas may look small but they're always filling. My fourth grade Spanish teacher made us arepas one day in class and I swear I've never looked back.
The Bushwick Daily Crew met at Bunna this week. We ordered the feast for 3 for 4 and it's so filling and affordable. Get the full lowdown here.
I first tried Archie's (the Best of Bushwick) very late at night after a party Emma had but can confirm it's very good pizza even if you are sober. The pies are huge with a medium crust and they cut them into mini slices of all shapes and sizes, which is fun for sharing. Ask for some chili oil and get the mushroom (they're definitely not canned mushrooms).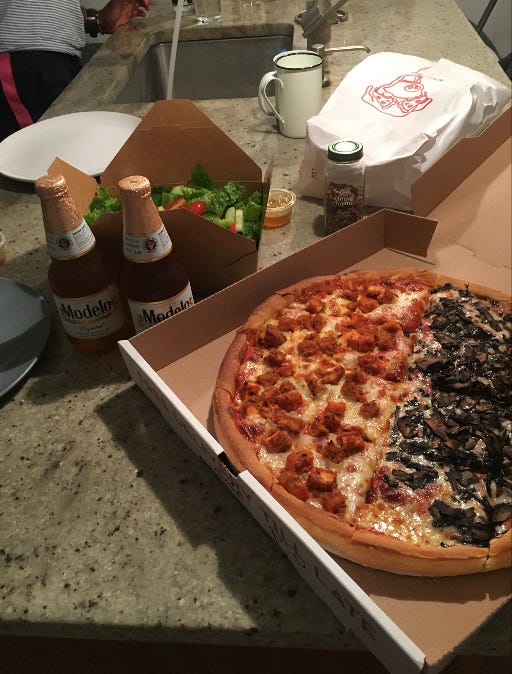 Coffeeshop Update:
The Stumptown flagship on West 8th Street is a really nice place to work. I don't like Stumptown drip but really like their espresso. As expected, the food (from Lalito) is $$$ so pack snacks! There are indoor and outdoor seating options.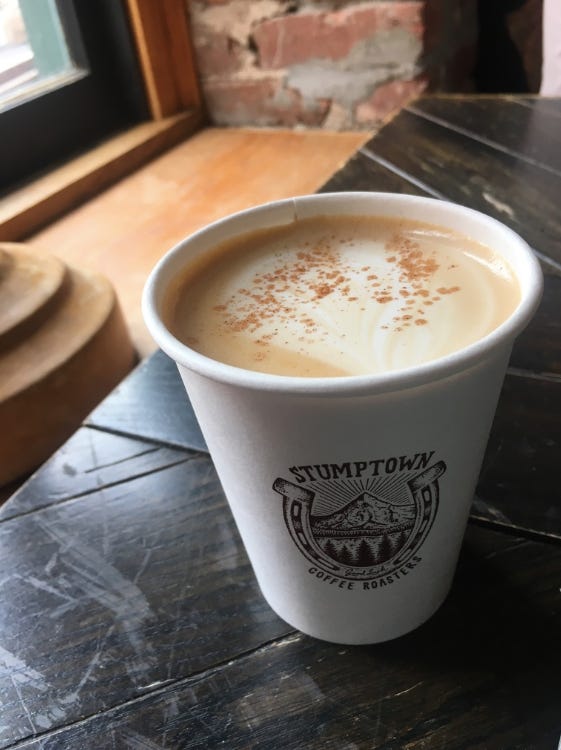 Still working on my punchcard for the West and finally got to try their avocado toast, which has a little bit of goat cheese and a thin slice of cucumber for crunch. Yum.
The Cafe Grumpy on 39th Street is very chill considering its proximity to Times Square. There's no Wifi but it's good for a meetup. They also made me a half caf drink without making fun of the order, so thank you to them.
Finally, a major thank you to Brooklyn Cider House for hosting our July Happy Hour! The space was perfect: an outdoor patio with attentive servers and jenga, delicious cider ($2 off during happy hour), $1 wings, and so many wonderful guests. Thanks especially to Susan who let us do some cider catching straight from the barrels. I've never been a big cider drinker but Brooklyn Cider House makes a whole different style. I love the half sour and you can also do a flight to sample a few before committing to a full glass.
If you attended, please consider making a donation to support kids separated at the border (this link splits your gift among 14 organizations) and look out for news about an August event soon (it's also my birthday soon so lots to celebrate!)
Something to read:
Granny sent me this: Immigrants are moving to New York and then to Philadelphia, a wonderful place
An inspiration for women everywhere: Alexis Ohanian flew Serena Williams to Italy for Dinner. They were already in London so this makes more sense in terms of mealtimes.
A promising new model for restaurant funding: Big names supporting young talent coming from their kitchens.
Antoni's opening his restaurant very soon!
Who needs the L train when we'll have a second restaurant focused on Taiwanese breakfast from the Win Son Crew?
Learned a lot about Snapple's innovative marketing and the Snapple Lady in this piece. Did you know they had someone personally responding to fan mail? Reading this also made me crave a diet peach iced tea, made from the best stuff on earth.
Taffy on GP: a must read, full of steamed clams and brilliant observations on today's wellness culture and the pressures of being a woman.
An update:

Important update on this Ask Eater about meeting up w/an ex: She went to LUDLOW HOUSE (too sexy!!!), and they did not hook up but he was "touchy" lmao https://t.co/OlyQZ4q03o
July 24, 2018
Stories I wrote:
For Forbes, I interviewed Molly Yeh about her new Food Network show and why she's so excited about video.
For Bushwick Daily, I wrote about the sad state of public transit in Bushwick: only five stations are handicap accessible on the JM and L lines. e
More coming soon!
Now, some more cooking mishaps. Thanks so much for sharing your disasters. Next week, we're discussing favorite summer fruits so reply with yours!
-From my Dad: Soon after you were born (early), Mom saw a distinctive red-haired woman she knew from pregercise (it was the '90s) class walk by our house pushing a stroller.  Corinne also had her daughter early.  That led to a friendship which led to Corinne giving us the recipe for her delicious chocolate chip pumpkin bread recipe.  When I made the recipe for the first time, it was a dry, crumbly, inedible mess.  I was a practiced non-yeast baker and could follow a recipe.  I didn't know what happened and couldn't understand what I did wrong.  Turns out, she forget to list the two eggs when hand copying (again, it was the '90s) the recipe.  I've since made hundreds (literally) of loaves, usually in a double batch.  Young Leah used to defend her loaf without nuts (she's since converted to original version) against marauding guests and neither she nor I were above hiding the last piece in the freezer on occasion.  We've mailed or delivered loaves to across the country and have widely shared the recipe.  Our PDF version definitely includes the eggs.
-From Leslie: One time I thought I had the best idea ever to use an electric kettle to boil broth and keep it warm while making risotto. Genius, right? It kept the broth warm and was so easy to pour. After happily eating my mushroom risotto I forgot to clean out the kettle…and the next day there was a giant fight on my roommate text chain which ended by someone yelling in all caps NEVER PUT ANYTHING BUT WATER IN MY KETTLE. EVER. 
Have a great week and thanks for supporting This Needs Hot Sauce (follow on instagram for more). I appreciate it so much.
Happy eating and thanks for reading.
xo,
Abigail