Get the fan tuan
Plus, six stellar ideas for weekend getaways
Hi friends,
Happy Monday! I'm feeling so much better than last week and excited to be back.
Tickets are on sale for this month's event on February 29th at 10:00 a.m. It's a yoga class at Swan's Nest (all levels vinyasa, mats provided) followed by brunch at Win Son. Your ticket (scroll down to the second event) will cover the cost of yoga and reserve your spot at brunch, which you'll pay for on the day of. We switched the ticket structure to make it more affordable and I expect brunch to cost about $40. Please only register if you can make both brunch and yoga! I hope you can come to experience these neighborhood favorites and let me know if you have any questions! Here's a preview of what's in store via Instagram.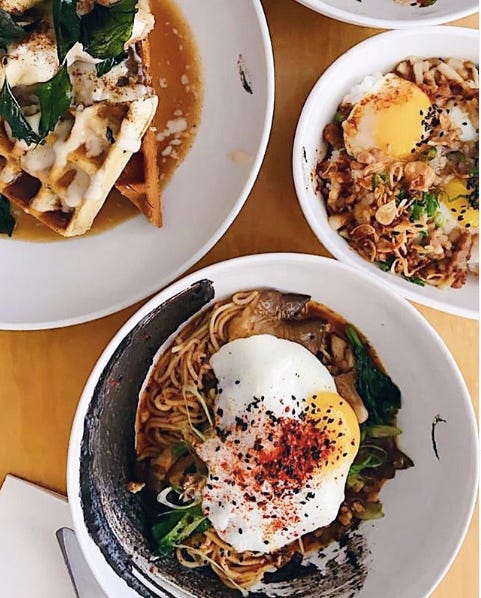 Now, let's dive in.
Something to cook:
I was on appetizer duty for a family dinner with Teal and Nicholas this Saturday and made some cannellini bean hummus. It was a timesaver to not have to peel chickpeas and the miso added a little extra flavor. I also made homemade pita chips (just cut pita, brush it with olive oil, sprinkle it with salt and paprika or garlic powder and bake for about 10 minutes at 350) and brought some crudites. Next time I'm asked to bring an appetizer, I want to make this.
For lunch one day, I also made a really simple kimchi scramble based on what I had in the fridge. I sauteed some ginger and garlic before adding the kimchi and eggs. Scallions would have been great as well. Sriracha is a perfect topping.
Leah made these chocolate chip cookies for fam dinner and they were really good, though browning the butter is an extra step. I need to make another batch of these tahini cookies soon.
Something to order:
I can always tell I'm feeling better when I start to get stir crazy. Last Wednesday, I got out of the house for lunch at Win Son Bakery: a fan tuan and a mochi donut. Truly the perfect combo. The fan tuan (read more about them here) is so delicious and fun to eat, with crunch and umami from the crispy radish and the sauce. They've updated the spices on the mochi donut and it still has a great texture. Big fan.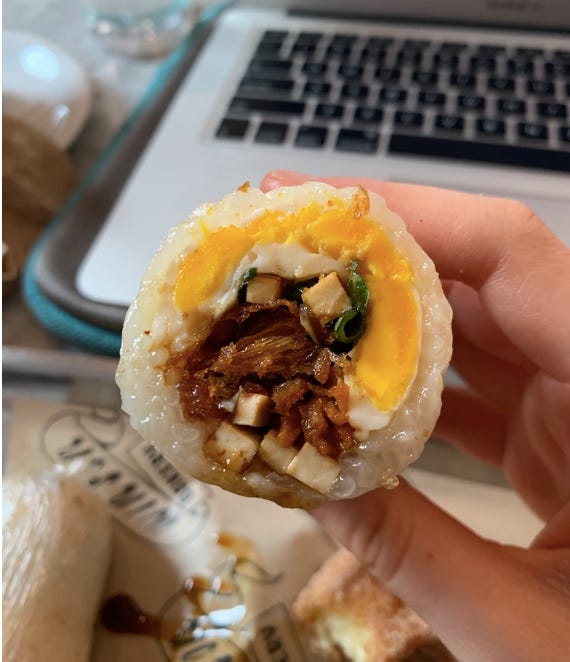 Apparently, yesterday was national pizza day (read this great story on fake food holidays), and Dale and I unwittingly celebrated with brunch at Roberta's. There was no wait at noon and we even got a new salad (I am very loyal to this salad) with cucumbers and it was very good. Also, the bee sting is excellent with an egg on it.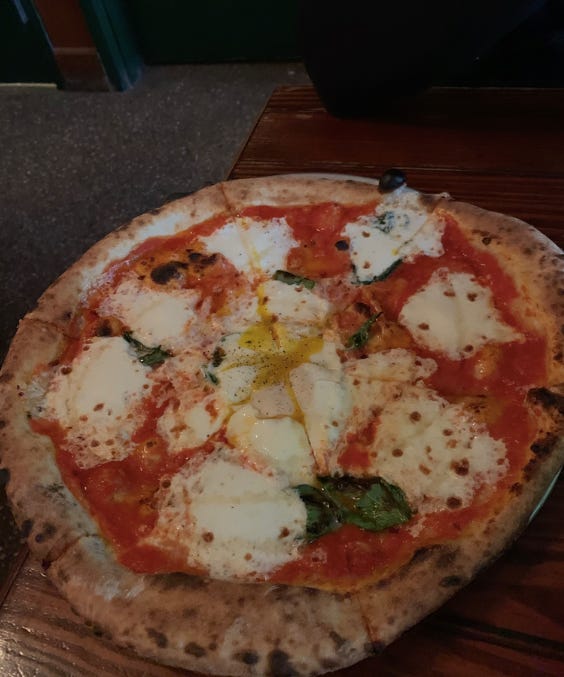 I'm writing about Masti, a new Indian restaurant in Williamsburg and it's very good (and byob). More soon, get some chaat if you go.
If you're looking for a late-night dinner spot near Lincoln Center, Atlantic Grill fits the bill. Get the kale caesar, some oysters, and some wine. We went to celebrate For Life, which premieres tomorrow on ABC (it will also be on Hulu if you don't have cable)! It's based on a true story of someone given a life sentence for a crime he didn't commit. He became a lawyer while in prison to help others and get himself out. You should watch it and can read more here.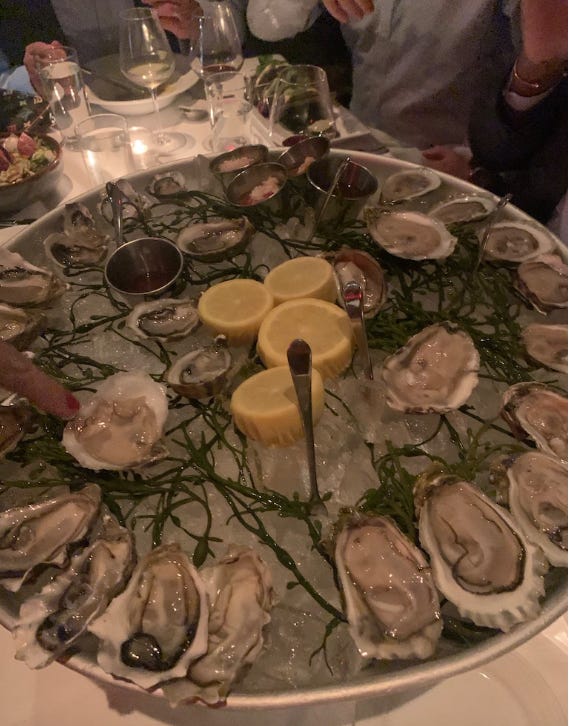 Something to read:
Why I took myself on a date after watching Shrill
Trader Joe's reviews are back for 2020!
Chef Ashley Christensen had the most delicious-sounding wedding.
Melissa shared the best cheap eats in Paris (take me back).
Also in Paris, a Black history tour.
If you haven't read this story on cooking at nude resorts, you are in for a treat!
A virtual potluck for Black History month
And 6 Unsung Black Food Hereos (all of these were new to me)
Unsurprisingly, AOC knows her way around a bodega
---
Now, I'm excited to share your suggestions for weekend getaways. We have options on both coasts and the ideas are downright inspiring.
If you're in the Bay Area, Isa suggests Carmel: Our favorite weekend getaway is to go down to Carmel and stay in a beautiful hotel in the Carmel Valley (which we can only afford thanks to a friends & family rate). Even if it's just for a night, we're transported to this peaceful oasis surrounded by lush green hills and a quick drive to the coast. Our trip is never complete without a visit to Refuge: a hydro spa that has hot pools, cold pools, saunas, fire pits, and relaxation/nap rooms. You can spend the entire day rotating through the hot/cold cycles (though I skip the cold) and reading by the fire pits - it's an electronic-free silent situation. We always go to Vesuvio for dinner - they have great truffled gnocchi and penne a la vodka, but steer clear of the sushi they recently added to the menu (smh). I can't wait to plan our next trip down!
Hilary had the best situation in Vermont: One of the greatest and most memorable weekend getaways was a post-Thanksgiving weekend to the small town near Quechee, Vermont. Besides a cute town and proximity to skiing, what made it particularly incredible was that our group had the entire bed and breakfast! Our friend owns the large former bed and breakfast and so we just had an enormous place to take over plus the large kitchen and dining room, living rooms, etc. (Sadly they have now sold it and it is a B&B again.) On my travel wish list is Mexico City!! Perhaps at least as a long weekend.
Sarah knows ocean air is crucial for a getaway: I've been dreaming about a little weekend getaway. I'm loving the idea of renting a car (or borrowing my parents lol) and driving out to a cabin in the woods somewhere, or maybe to the ocean for a chilly weekend with a salty breeze.
Julianne got outdoorsy upstate: I loved going away for a camping trip with Ian in the fall! We rented a car but (it felt like) we spent half the weekend stuck in traffic at the NY/NJ border. Nonetheless, I learned that camping is relaxing (not gross or stressful, as per my instinct) and only cooked one meal (not hot dogs, as you may expect, but a burst tomato pasta over the fire!) Instead we went to Selena's Diner 3! times! in 2 days! It was that good. On our way back, we also stopped at the trolley museum near Poughkeepsie and loved seeing all the old subway cars, buses, and trolleys (plus you get a waterfront trolley ride!). Would recommend all of this! Although Abigail notably hates nature and is currently eyerolling this. (Ed note: I am the opposite of an outdoorsy person but I love diners and museums.)
Jamie has the weekend trip down: A weekend (or day) in New Paltz is a great short trip from the NYC area!! Great food, activities, and people. Longer weekend trips (about 5-6 hrs away) are Ithaca, NY, Portland, Maine and Harper's Ferry, West Virginia, all amazingly beautiful fun historic towns! My next short wknd trip is to Connecticut, specifically to visit Bloodroot, the feminist vegetarian restaurant and bookstore! Also planning to visit Kingston and Hamilton in upstate NY someday soon.
Leslie's ideal weekend can happen outside of almost any city: My favorite kind of weekend getaway is to rent a cabin, buy a ton of groceries and spend the whole weekend cooking and reading. I did that for my birthday this January and we made a feast from the Indian-ish cookbook, drank my new favorite wine (Le Roselle Valpolicella) and then ended the weekend with fresh pasta. 
---
This week, I want to talk about fear in the kitchen (thanks to my mom for suggesting this topic). Whether you cook all the time or rarely, what are you scared of? Is it cooking meat, baking something complicated, getting hurt, or picking a good recipe? Let's work through it together!
Have a great week and I hope to see you at brunch in a few weeks!
xo, Abigail
P.S. New this week, the comments section is open to everyone! Feel free to leave a comment about a weekend getaway, your cooking triumphs or anything else that's on your mind :)