Hammock time, applesauce cake, and all the soups
Plus, what really counts as outdoor dining?
Hi friends,
Welcome back to This Needs Hot Sauce!
It's mid October and things are getting chilly in New York. Restaurants are struggling to adapt and some of them are cutting corners. Yesterday, we tried to go to an Italian restaurant in the East Village after spending the day at Governor's Island. They had no open tables in the street and offered us seats indoors. I told the host we were only comfortable with outdoor dining and she nodded and paused for a second. Then she said, "follow me", and led me through a half full dining room to another room with four walls, a heater, and an open ceiling, pointing upwards, "the ceiling is open." It felt off and as soon as my friends joined, we all agreed it was functionally inside and went to eat somewhere else. Julianne told me that outdoor dining set ups are required to have at least 50% of the sides open (which is tough for backyards and of course unevenly enforced), which this definitely didn't.
I share this to remind you that staying safe can be uncomfortable and that we have to trust our guts. I don't entirely blame restaurants for bending the rules, though I wish they wouldn't. They're in a really tough position and want to survive, which sometimes means putting people (staff and customers) at risk, but indoor dining is completely legal right now, at limited capacity. And there are tons of costs and challenges to cold weather outdoor dining. I have no bow to tie this up with, but last minute plans are much tougher these days, outside of my own neighborhood, as you don't know what the set up will be. When I can, I always look at a restaurant's instagram/website or call to ask questions. If you've experienced anything similar with outdoor dining, I'm always here to talk about it.
Now, let's dive in.
Something to cook:
I hosted a Sukkot workshop for kids and we made this applesauce cake with cream cheese frosting. I kept the frosting on the side to use as a spread since Dale is still avoiding dairy. This one bowl cake is so good and easy and perfect for breakfast, snacking, or a not too sweet dessert.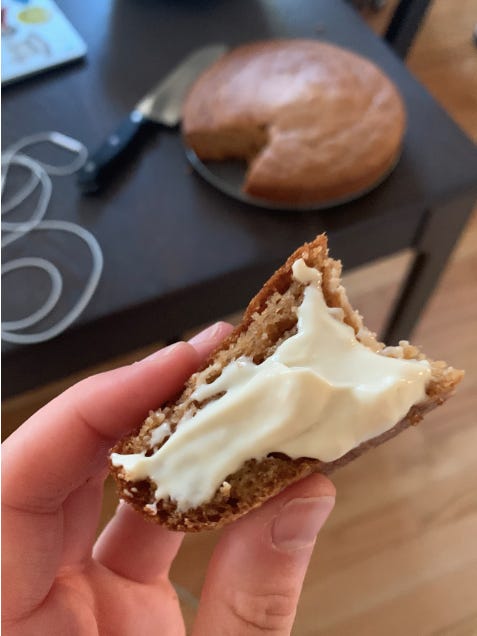 This broccoli and white beans sheet pan roast is such a reliable lunch and I almost always have the ingredients on hand.
Making tahini dressing in a jar was a good choice. I had enough for all my lunches and it's very low effort. I whisked tahini, minced garlic (could use powder), cold water, cumin, salt, and a little red pepper flakes in a jar with tiny bit of vinegar (could use lemon juice too). The ratios are all too taste but start with a small amount of water so it's not too runny.
Fried rice is my go to when I have leftover rice. I follow this method and used broccoli, kimchi, and carrot for the veggies.
Something to order:
I had my poll worker training class last week and was so hungry afterwards—I'm definitely going to bring lots of shelf stable snacks for election day. I refueled with a Paris Sandwich from 19 Cafe, it's their version of a bahn mi and I love the tofu one. Their avocado egg sandwich is another favorite around here.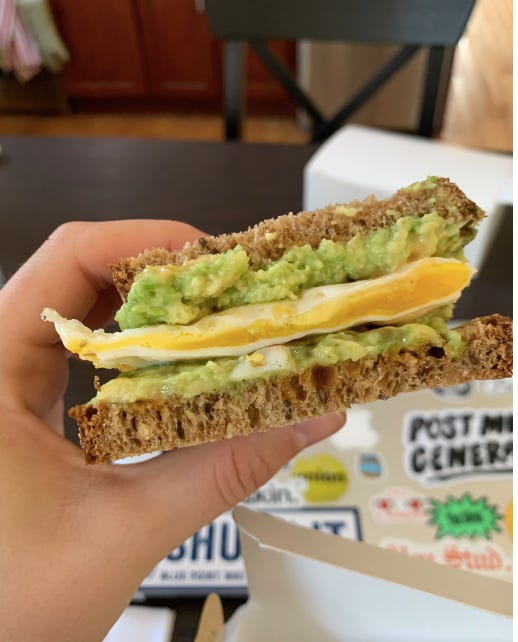 Tilden and I met up after a long day for drinks outdoors in Williamsburg. We started at OTB, which has a cute set up on Broadway for cocktails and fries and then moved to Caracas, which has a great backyard with dividers between tables and heaters for arepas and margaritas. We wanted to try Sauced, a newish wine bar with a backyard, but it was full. Something to look forward to next time.
I was running an errand in Greenpoint on Saturday and realized I was near Cafe Rivera, a Polish bakery I had saved years ago. I got an iced coffee and an almond twist (it was called an almond pretzel but it was a pretzel in shape only). It was very flakey and tasty to eat in McCarren Park.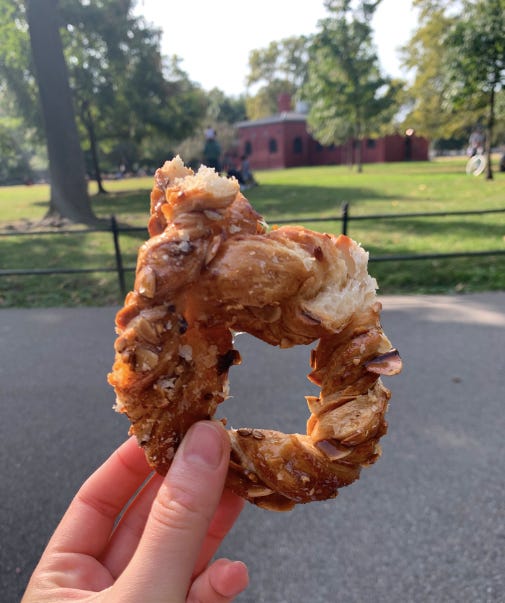 Dale and I went to see his mom in Westchester. She let us borrow the car after and we drove up to Rye for dinner at Watermoon, an Asian bistro. The main street was closed to cars and we did lots of people watching over sushi and dumplings.
Julianne is a huge Governor's Island fan and we kept trying to find a time to go before it closes for the season after November 1st. She reserved ferry tickets and then couldn't go at the last minute because Ian was recovering from wisdom teeth surgery. Julia and I made our way there anyway, met up with Hillary and had so much fun (though we missed Julianne). I had heard great things about it but assumed it would be complicated. It's not, so I'll share the process and itinerary here in case you'd like to visit soon (or next year).
Reserve your ferry tickets a few days in advance (they're $3 a person and free before noon) and head to the departure area downtown (there's another ferry that leaves from Red Hook). It's a short walk from the Broad Street J and a gorgeous old building. Line up and get your tickets scanned then board the ferry. It's a very short ride (like 5 minutes). Right at the dock are two food options, Island Oyster and TacoVista. As you go further, there's a historic fort that was a prison and housed war recruits, a display with the island's history— it was called Nut Island by the Lenape because of the number of acorn trees and more. There's an area with food trucks, a lookout point with views of the Status of Liberty, bike rentals (you can also bring your own), and a glamping site.
What did we do all day? We mostly just hung out, soaked in the views and the change of scenery. We ate lunch at Island Oyster (delicious oysters and lobster sandwiches), spent a good hour in hammock grove, which is just a lawn full of hammocks, and looked at Lady Liberty from very comfy Adirondack chairs. The Island closes at 7 and they're not strict with ferry times on the way back, so it's fine to go early or late. You can also have a more active day but it's a lovely place to relax. Wear comfortable shoes as you'll do a lot of walking.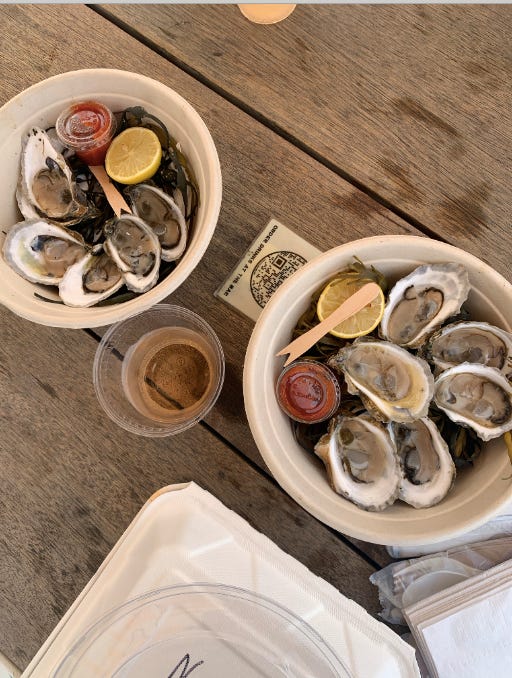 After we got back to Manhattan, we met up with Julianne for dinner outside at Spaghetti Incident, which was very good and simple. Their homemade pasta is great and they have wine by the liter, which is great for groups.
Something to read:
How to pair wine with quesadillas, a very useful guide
Important CDC guidelines on how to celebrate Thanksgiving safely this year
Cookbook author Andrea Nguyen on imposter syndrome and the demons that keep us from cooking
Why pasta is an essential part of Indian regional cuisine
Julia Bainbridge talks about her new book, Good Drinks, about non alcoholic drinks
What modern brands can learn from Haagen Dazs (the first Haagen Dazs is in Brooklyn Heights and the name means absolutely nothing).
Why I'm not voting by mail. FYI: If you're planning to vote early in NY, your polling place is likely different than your election day one. Check here.
The growing appeal of desserts that are not too sweet
I'm so happy for the Lakers and so impressed by the NBA bubbles. So many people worked together to make a safe environment. This chef certainly did her part.
Fast casual chains and food appropriation
Tiktok is very obsessed with Le Creuset
A helpful trick to test your oven for hot spots
When corporations attempt mutual aid
The BU Food Studies program has a few free online lectures. I signed up for two!
Make sure you know what's on your ballot (besides President). This site is very helpful.
Even though I'm about to share a soup round up, Alicia Kennedy's newsletter about heat is so important. Fall (and all weather events) are not universal and these months mean spring for an entire hemisphere.
A Mexico City tortilla shop provides free wifi for kids attending virtual school
---
Now, let's share some soups! Even if you're not personally ready for soup, it's a great dish to freeze so make a double batch for a future night when you don't feel like cooking. Thanks for sharing your favorites here and on Instagram.
Jamie's lentil soup is easy and comforting: I make this red lentil soup probably once every 2 weeks or so. I sort of made it up but it works. I sauté a few garlic cloves and about 1 white onion in a large pot until they're golden. Then I add about 1.5 cups of red lentils into the same pot, and 2 boxes of vegetable broth, and once the lentils are cooked it's done. Sometimes I blend it with an immersion blender but sometimes I'm too lazy and it still tastes great chunky. (add salt/pepper to taste) I eat it for lunch, I eat it for dinner, I eat it as a snack, it's great!
Amber also loves red lentil soup: NYT Red Lentil Soup with Lemon. It's so easy and I normally have all the ingredients at home.
Gracie loves squash soup: Butternut squash soup! The Civilized Caveman recipe (but my mom changes some of it).
Alex makes pozole vegetarian: Vegetarian pozole verde from a very old Everyday with Martha Stewart magazine.
Julia loves this soup (and freezes it often): Cup of Jo Taco soup!! Soo good and hearty and you just dump it all in a pot.
Sandra is repping Russia: COLD BORSCHT! With fresh sliced cukes, diced hard-boiled eggs, sour cream & dill. (It's not a winter soup but I love it year-round, sorry!)
Zoe's favorite involves peanut butter, one of my favorite foods: Pinch of Yum's spicy peanut butter soup with sweet potato and kale! :)
---
This week, I'd love to hear about something you enjoyed cooking or eating when you were younger. My parents sent over this picture after listening to my podcast episode. Jenn asked me when I got into food and I responded that I always have been. I don't know what we were making in this picture, besides a mess, but I always loved making challah, sugar cookies, chocolate chip cookies, and more. And a big thank you to my Grandma who made the custom chef's hat.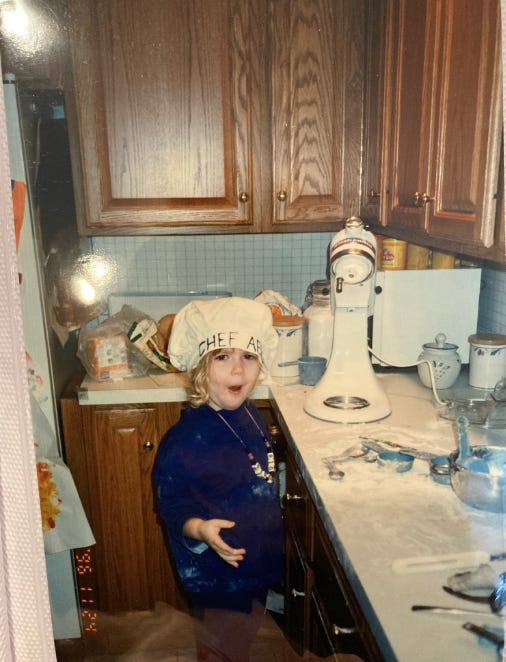 ---
This Needs Hot Sauce turns three very soon(!!!) and I have a lot planned for the next few months, including our first ever gift guide, a pandemic Thanksgiving round up and more tips to get us through this winter. If you have a friend who might enjoy any of that, forward them this email! I really appreciate you and your support.
xo, Abigail