Let the rain fall down
Outdoor dining in a storm, Goya alternatives, and welcome home smoothies
Hi friends,
Welcome back to This Needs Hot Sauce! Thank you for all the support in the past week, from tuning into my Substack workshop to supporting the Hattie Carthan Community Market (if you donated, let me know so I can calculate our final tally).
If you're looking for some art, check out Art for RCWF, which supports restaurant workers. Maya Meredith and friends have some gorgeous well priced pieces (I love the Tuscan kale one, of course.)
Now, let's dive in.
---
I attended a panel from Black Book, a global representation platform for Black and non-white people, led by Zoe Adjonyoh, about cooking shows and on screen representation. Alejandra Ramos, who regularly contributes to the Today Show, described the struggles of cooking Puerto Rican food. Every time she uses a plantain, she has to stop and explain what it is and how it's prepared, because it's outside the mainstream for the audience. Other panelists agreed with this, wanting to add context to their recipes but also wanting the freedom to cook other things, and wanting to host things without a white host "discovering" the cuisine.
The panel affirmed my feelings about the NYTimes Cooking newsletter, which has proceeded as normal. The Black Book panel easily touched on identity, representation, and colonialism as well as stereotypes around African, Caribbean, and Latin American food (it's not all spicy and there are many types of spice). A newsletter from a leading newspaper would naturally engage with these issues in featuring recipes from different contributors and cuisines. Avoiding doing so is a choice (made by a white male editor leading a largely white department) that reveals a lot about their (luxury) audience and what it wants.
Something to cook:
A new summer issue is park dehydration. I've been doing lots of distanced hangs at parks, where I usually drink alcohol and not enough water due to the unreliable bathroom situations. There's always a walk home (at least 30 minutes) and by the time I walk in the door, I need to shower and drink lots of water. One solution: a welcome home smoothie. Dale had been wanting to try the smoothie recipe on the side of his coconut water bottle and we gave it a go. It's so good and didn't need ice thanks to the frozen fruit. The silken tofu made it nice and thick. Thanks to Vitamix for sending the fancy stainless steel straws (they have a new stainless steel blender)!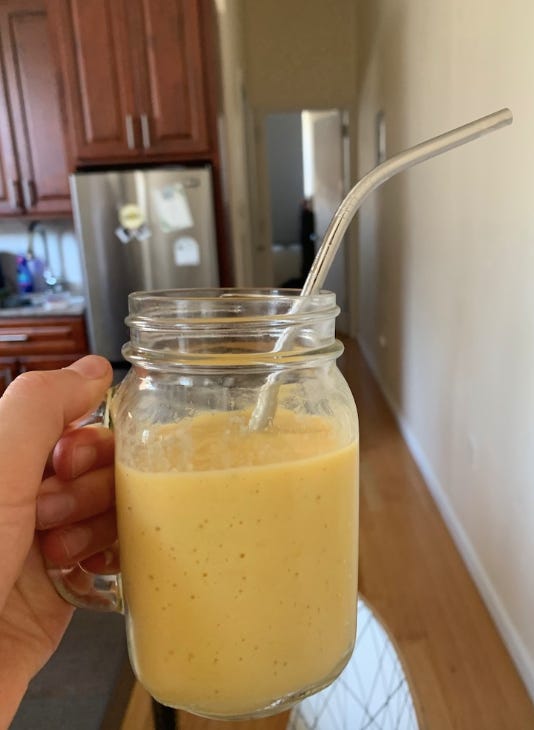 For our cooking class, I made homemade pita chips with chopped salad over hummus. I love plating it like this (inspired by Deb) and my mom made the point that it would be great for socially distant entertaining, if you have outdoor space. Each household could get a bowl to safely double dip.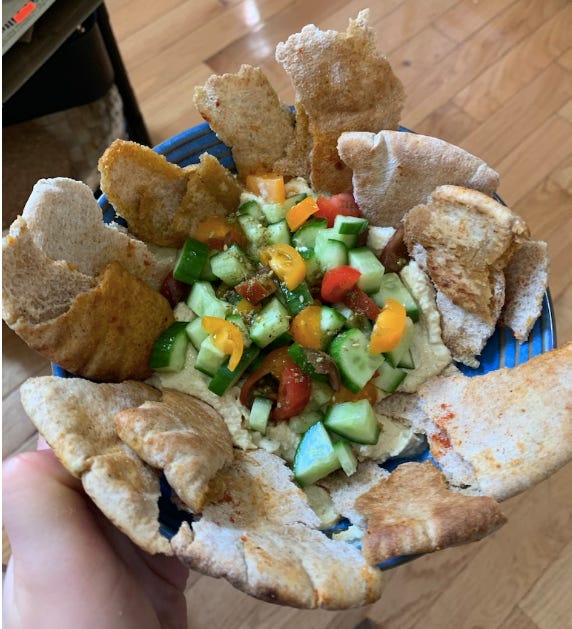 Once again, I had some wilted kale and turned to Lukas Volger's marinated greens (I also threw in some zucchini), which were a great side dish to mushroom risotto topped with a fried egg.
We also made a batch of cookie dough and baked off a few each day. The dough gets better after a day or two in the fridge and after that, I freeze it in individual balls for safety. Remember to sprinkle them with flakey salt before baking.
Something to order:
Duck Duck reopened and Julia, Julianne and I went to support. They've brought the indoor furniture outside so it feels very familiar (bring cash). The service is more like takeout: you order at the door and bring drinks to your table and a staff member cleans tables between parties. They still have cheese balls and gin and sonics (a gin and tonic with half soda, half tonic). This hybrid model has been popping up a lot and feels safer as it limits interaction between staff and diners (check out the Reopening convo on Instagram for more).
Lizzi is headed west for law school and we had a goodbye dinner that I'll never forget: she ordered both Ops and Roberta's to McCarren Park and we got caught in the rain. I wouldn't call the dining conditions ideal, but we made the best of it with a rain themed playlist, a towel turned tablecloth, lots of umbrellas, and rosé. The pizzas were of course delicious, and I got to have my favorite Roberta's salad. On a more serious note, rain adversely affected businesses, who either had to close service for the day or stop mid service and quickly wrap things up. Building out rain proof set ups with umbrellas is expensive and time consuming.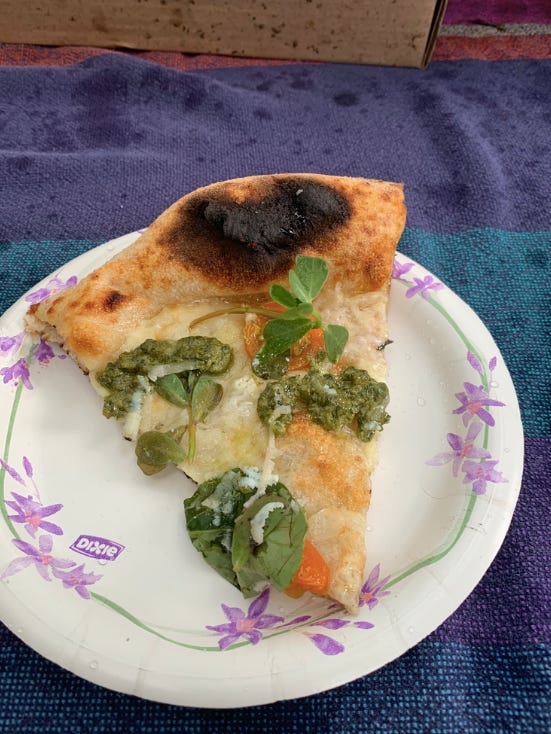 Dale and I got to go cocktails at Sweet Science and their strawberry vodka lemonade is officially the only vodka cocktail I like. So refreshing with the fresh mint and basil.
Isa, Delia, Julia and I brought bagels to the park for a long overdue hang. We picked up bagels at Broadway Bagels and they were so good: fresh (no toasting required), and not too dense.
Now, Goya. The CEO of Goya, which is owned by a Spanish family, spoke at the White House, praising Trump's leadership. This led to customer boycotts and a scramble for alternatives. For sazón, adobo, and more, try Eric Rivera's Addo, which is based in Seattle and ships nationwide. I ordered sazón, trail mix, and hot sauce. Loisa also sells these blends and has very clear politics. On a mass level, Badía and La Flor are options and AOC shared a recipe. For beans, A Dozen Cousins has seasoned beans and Rancho Gordo sells dried ones. I also like Ducal refried beans, but don't know their politics. There are other companies like Amy's Organic, Progresso, La Costeña, Trader Joe's store brand, and others mentioned here. Eden Organics made headlines for not wanting to cover birth control for female employees so I'd avoid them.
Here's the thing: there's no ethical consumption under capitalism. Is it better to buy a small company's products at Whole Foods, which is owned by Amazon, or to buy from another multinational corporation whose CEO hasn't made a public show of his politics (yet)? That's a personal choice and one that's influenced by our financial situations, access, and dietary needs.
Something to read:
It took years of searching to get a chocolate pie we all deserve.
The restaurant world is in a much needed moment of truth telling and it's messy. In Portland, Maya Lovelace started sharing worker stories of abuse from owners and management and quickly had to confront stories from her own former employees. It also calls into question who should be collecting and sharing these stories and what context is needed.
Composting food waste is an act of resistance. My local compost site is closed and I miss it so much (here's how I got started).
The NBA bubble is fascinating and this interview with Patrick Patterson touches on the food situation, which looks worse than it is.
Salt and Spine is doing a month long podcast series about food media and last week's episode included Tammie Teclemariam and Joseph Hernandez, who shared some of the work they're doing internally at BA to revise and update recipes.
How the people's bodega fed protestors and those in need, for free.
A beautiful piece on Toni Tipton Martin and her next chapter in Baltimore.
Deeply personal from Kat Kinsman: I'm too anxious to eat in restaurants right now.
How La Morada in the Bronx is protecting and serving undocumented immigrants.
My father taught me about Black food and identity. Now that he's gone, cookbooks fill the gap.
Patrice's Peck's newsletter on centering Afro Latino experiences with Covid is a must read.
Is it ethical to dine in at a restaurant now? (NO)
This piece on Savannah's pleasures and prohibitions is beautifully written.
Loved learning about the history of Black mixology clubs in DC.
What happens when a sommelier loses her sense of smell
The images in this are gross, but I have to share the reports of mold in Sqirl jam, which I've consumed many times. The practice is alarming because jam is not supposed to have mold (unlike cheese, cured meat, etc) and employees in the jam area had to hid in a dark room with a garbage bag covering the window when inspectors came. They would scrape off the mold and sell the jam. Food safety guidelines recommend against this, obviously, and many say the mold was caused by poor sterilization practices (no boiling) and a low sugar recipe which is the basis for owner Jessica Koslow's upcoming jam cookbook (sugar is a preservative in this case).
If you want to make jam at home, you can make a quick jam that will not be preserved and eat it within a few weeks or you can follow a guide to sterilizing jars to fully can and preserve the product.
Simultaneously, past employees have been coming forward about the environment Koslow created and the ways she took credit for their contributions. It seems a fair rule of thumb that violations of food safety go hand in hand with a lack of consideration for worker safety. I hope after the pandemic all of us can be more critical of owners, even when we love their food. The adoration obscures terrible practices.
---
Switching gears, let's share some non moldy ways you're using summer fruits and vegetables!
Gemma is grilling it up: For July I'm at a house with a GRILL! So will be learning to grill peaches, tomatoes, zucchini, corn, eggplant, portobellos etc etc 
Raeanne has an in house ice cream parlor: I recently got the ice cream maker attachment for my stand mixer and it is Amazing! I'm making ice cream and sorbets from all the fresh fruit at our local markets. So good! (Also a shout out to David Lebovitz's book Perfect Scoop for great recipes).
Becky's meals sound so good (check out her newsletter): As for summer produce, I've done zucchini fries in the air fryer, and just a simple roast in the oven with olive oil and salt until they get nice and brown. Berries have become sorbet, and I'm dying to get my hands on some nectarines!
Alicia made (safe) jam: I made strawberry jam for the first time, which was way easier and WAY less intimidating that I thought. Also made Smitten Kitchen's strawberry rhubarb syrup which I have been loving. I just used it for soda and a delicious cocktail where its syrup, soda, gin and a bit of rosemary. Was a real hit for our low key 4th cookout (it was outside, distanced, and just our pod).
Julianne has the right idea, and inspired my lunch: Caprese salad forever!!! And I'm on a parfait kick (thanks to my awesome granola batch) so I am eating all the berries these days. 
---
Related, this week I'd love to know how you're keeping cool. Smoothies, iced coffee, or lots of ice cream? I'm into any and all solutions, so reply to this email with your best!
Have a great week, support workers, and wear a mask!
xo, Abigail