Make nachos, Make challah, Make do
The meals are coming from inside the house
Hi friends,
We're still here, inside, and we're going to be here for a while. It's hard to process and there have been many ups and downs. One thing I know is that we'll need to work together to get through this.
I absolutely loved our virtual happy hour last week! We had guests from all over the country and it felt almost like the real thing. I'm going to host my next virtual happy hour on April 2nd (sooner than usual, but I think we can switch things up in these trying times). Mark your calendars!!
Enter here at 7 p.m. EST. Meeting ID: 470 041 417 Password: 043648
Now, let's dive in.
Something to cook:
One thing I've been trying to do is make weekends feel different from weekdays. Since I can't go out to a restaurant, that means it's time to cook something exciting or order in.
To end the week, I made challah following this recipe. I know yeast has been hard to find lately but if you can get some (check smaller grocery stores or ask any neighbors if they have some to spare), this is a delightful project. The recipe makes two loaves (you can split it in half or give a loaf to a friend, which is what I did via contactless delivery).
Read the recipe all the way through and start in the afternoon, as the three rises take some time. I grew up making challah with my mom and have a few tricks. First, the most important step is the first one: checking if your yeast is alive and then making sure your dough is smooth and not too wet or dry (it should form a ball). When I made it on Friday, I used less than 8 cups of flour and a little more water than the recipe called for. At first, the dough looked a little dry and wasn't absorbing all the flour, so I stopped adding all of it and got it to the right texture. I did this by hand, so you definitely don't need a mixer. Second, don't be too precise about rising times. I set timers to remind myself but if you let it go an extra ten minutes, nothing bad will happen. Bread has been made for thousands of years, in conditions far worse than our current one. You can do it and it's really fun to play with dough! If it feels silly to make a whole loaf of bread for one or two people, freeze some of it or use the leftovers for challah french toast or a delicious sandwich or toast.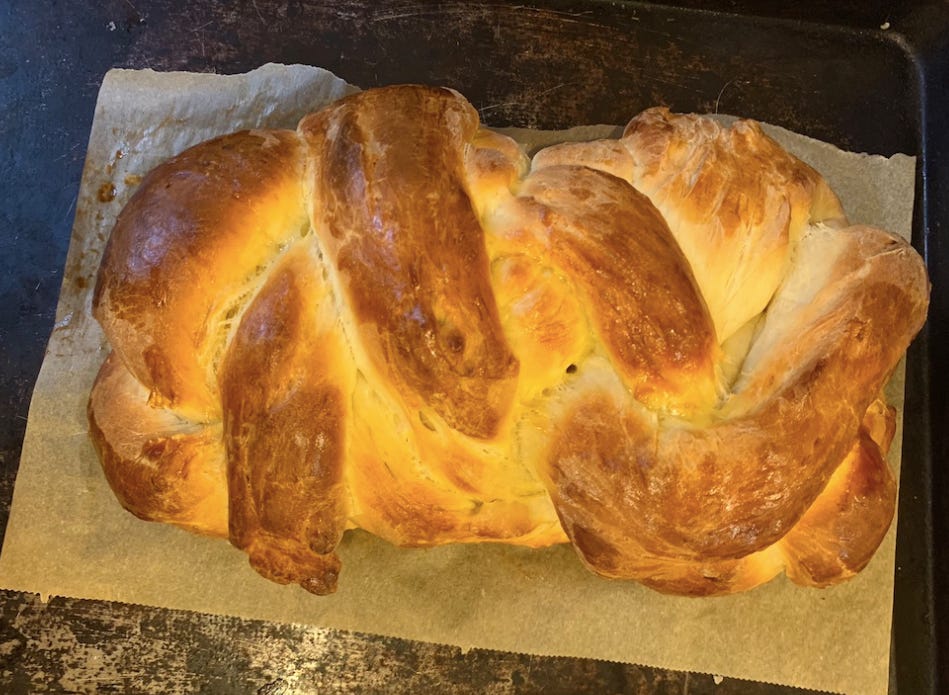 For dinner on Saturday, Julia and I made nachos with homemade tortilla chips (a contactless delivery from Julianne and Ian). We used the recipe as a baseline and substituted what we had: skipped the corn, used tomatoes instead of peppers, greek yogurt instead of sour cream, and of course, we added some hot sauce. Eating nachos for dinner isn't something I'd normally do, but why not? We also caught up on Riverdale (there's no better time).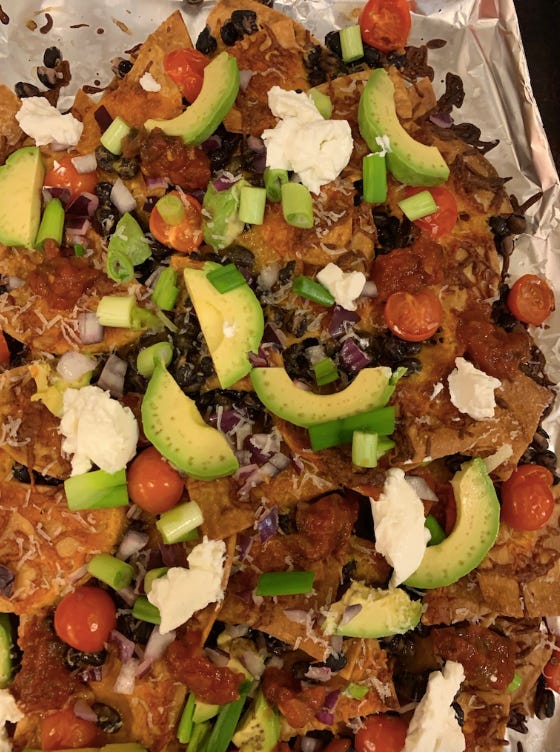 Other things I've cooked: quesadillas, breakfast tacos, crispy egg tacos with greens, brownies with no nuts. I also made a kale salad with red onion, carrot, cheddar cheese, and a garlic-apple cider vinegar-maple dressing. This week, I'm planning to make marinated greens with some wilting kale, hummus, and either shakshuka or chana masala (maybe both…).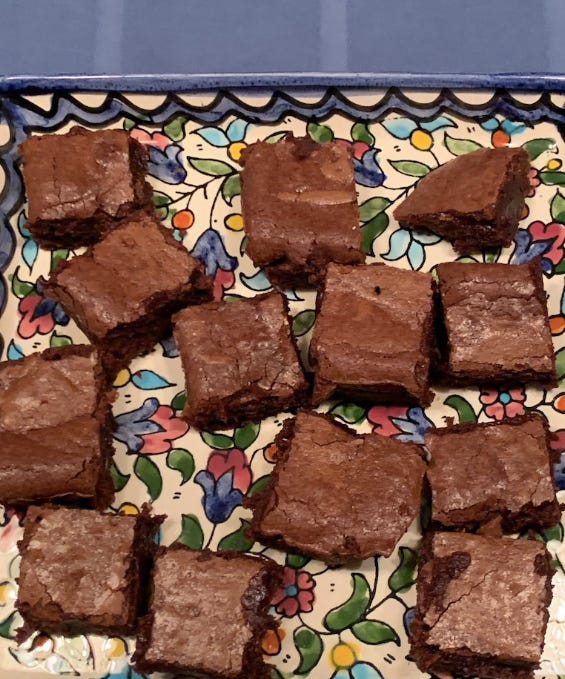 Something to order:
Restaurants are closed for dining in so I wanted to share some recent spots I've ordered from and ways to support the industry. TIP WELL and in cash, please!
I ordered from Emmy Squared with Dale and Julia on Friday and it felt great to eat something I hadn't cooked. We got two pizzas and a caesar salad and drank rosé and swapped random stories from college. Truly an escape.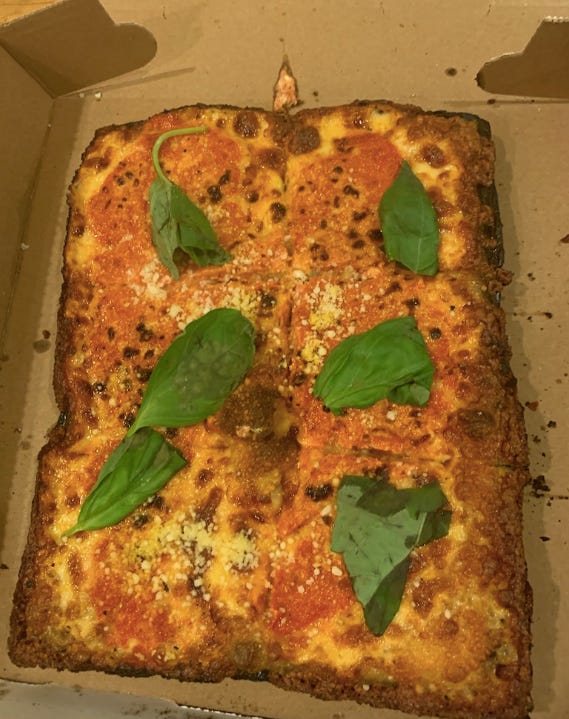 Last night, Dale and I got tacos from Mesa Coyoacan. It wasn't quite the same as brunch but still tasted good (and was a great way to support them).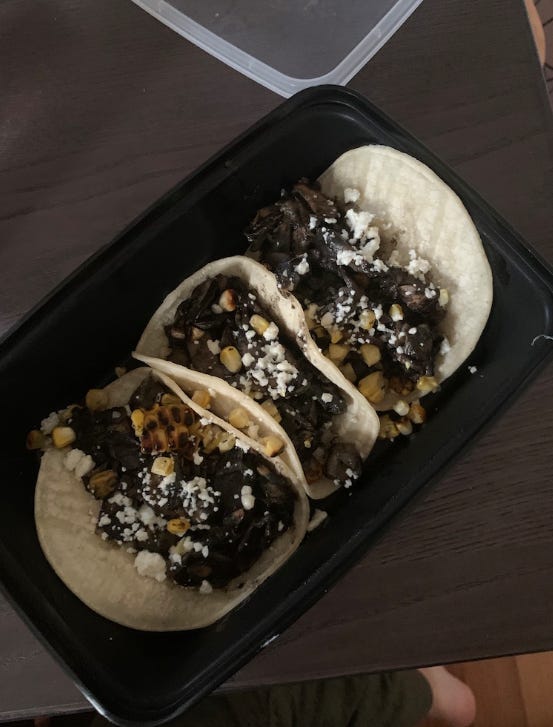 Irving Bottle Shop is now closed but I placed a delivery order with them last Monday. I don't have a buzzer in my apartment so it's tough to get contactless deliveries. I'm limiting it, but definitely grateful to have it on the weekends.
If you live in Williamsburg, Bibber and Bell and Spirit Animal are still doing wine delivery and Lighthouse, Tikka Indian Grill (they have locations in Queens & South Brooklyn as well), Sage, Casa Ora, and Samesa are also offering delivery (Samesa is also offering free meals for the food insecure). I've tried to call restaurants directly and twice been directed to Caviar (which makes sense because answering the phone takes a lot of work with limited staff and Caviar easily lets you add and remove menu items as you sell out) . Instagram has been the best source for accurate menus/hours so far.
The tough thing about deliveries and pickups and lines to buy out restaurant wine cellars or grab to-go cocktails is the lack of social distancing. All of us underestimate what 6 feet apart looks like (this diagram is helpful) and things can get crowded. While I understand the appeal and want to support restaurants, I'm personally avoiding it and instead donating to employee funds and ordering delivery in moderation (ideally to Dale's apartment where we have a buzzer and can set up a contactless drop). If you live somewhere you can drive to do pickups, you might feel differently.
Something to read:
Gary He's photos from the front lines of cocktail delivery are amazing.
A simple idea if you live with another person: make coffee for someone today.
If the stress of all this is affecting your appetite: some foods to eat when you have no appetite.
The promise of restaurant giftcards and what the restaurant industry needs.
Alicia spoke to restaurant workers about mass layoffs.
Eater's coverage of this crisis and its effects on the restaurant industry has been best in class.
I was worried Grub Street would stop the diets but instead they published an absolutely heartbreaking one.
Some non Corona related reads:
The 10 best breads in the world (do you agree?)
The African origins of horchata
Angely's essay on her gentrifying neighborhood in Queens is worth a read.
Bon Appetit still has new videos! They've also sent cameras and tripods to their scattered Test Kitchen team and I am very much looking forward to seeing the results.
Two final plugs:
Check out last week's pantry recipe list if you need cooking ideas or shopping trips. I'm aiming to buy food every week or so and am keeping a running list in the meantime.
There's also a great thread from last month with your favorite recipe sites.
I'll be back later this week with more (remember there is no paywalled content at this time, but you can still subscribe and support my work during this crazy time). It's just $5 a month or $50 a year.
---
In the meantime, I want to ask you the same question I asked during our happy hour last week. What are you eating or drinking right now and what's one thing that's bringing you at least moderate amounts of joy? Reply to this email and let me know.
I'm drinking coffee and listening to Rihanna's Talk that Talk as I write to you (release the album, plz). It's raining outside and I'm finding some joy in this Monday ritual of writing to you all.
Happy eating and thanks for reading. Remember to stay inside and wash your hands.
xo, Abigail