May Q&A: What knives should I buy? and other reader questions
Hi friends,
Happy Friday! I'm here with the second installment of our Q+A series (read the last one here). I'm planning to do this monthly so send questions anytime and I'll save them for the next one.
I hope you all have a great (long) weekend—last night's happy was a fitting tribute to long weekends past and future. I also announced cooking classes yesterday! The first one will only be open to paid subscribers and I'll share rates and a schedule soon!
---
Do you have any cake recipes you really like that don't require a mixer?
Yes! I was just talking about this the other night, but cake is not my favorite dessert. Especially not a layer cake. The cakes I do like aren't too sweet and can work for an afternoon snack or breakfast and they tend to be really simple.
This yogurt cake absolutely fits the bill. It's rich and tangy with a little bit of fruit (you don't need fresh fruit, though) and it keeps really well wrapped in plastic. It's from Julia Turshen's excellent Now & Again cookbook, but I typed it up with my tweaks because I've recommended it to so many people.
In general, an oil based cake is usually easy to make without a mixer because you don't need cream butter and sugar. The yogurt cake has some butter but it's melted, which means it will be easier to mix by hand.
Other good options:
This vegan chocolate cake that's perfect with ice cream
An applesauce cake with cream cheese frosting
Olive oil cake (so good with whipped cream or jam or berries on top)
I'm interested in salad dressings! Kind of tired of my old stand-by -- Trader Joe's Citrus Champagne vinegar, olive oil, a couple of red pepper flakes. Want some that are creamier/heartier, for example, something garlicky and creamy like the dressing used for the kale salad at Dig Inn.  And your all time best light, french vinaigrette.  And perhaps a lemon-centric dressing. Would love a short list of your favorite salad dressings. Extra love to you if I don't have to put anything in a blender!
Love this question! Here are a few of my favorites and some recs for what to put them on.
I make a lot of Israeli salads and the dressing for that is super simple: olive oil and lemon juice with lots of salt and pepper. I like it very lemony so I use a ratio of 1 part lemon to 2 parts olive oil (many vinaigrettes use a 1:3 ratio). Whisk it with a fork and pour over vegetables. I like this a lot in lettuce free salads since it absorbs really well. I like something thicker for lettuce.
For a kale salad, I like this mustardy dressing, which came with The Salad, an early This Needs Hot Sauce hit.
1 minced garlic clove
2 tablespoons grated parmesan
1/4 cup olive oil
1 teaspoon honey
1 tablespoon dijon mustard
1 tablespoon apple cider vinegar
1/4 teaspoon paprika
Salt & Pepper
Stir to emulsify and massage into kale. I like to put half of it on at least an hour before serving and then the rest right before we eat.
I also love a creamy tahini dressing, which does not require a blender and is great on kale, a green salad, or a grain bowl. For a large batch, combine 2 tablespoons of lemon juice, 3 tablespoons of tahini, and one grated garlic clove. Then slowly add in about a 1/4 cup of water, stirring constantly so the mixture gets lighter in color and creamy. I sometimes add a little more water depending on how thick I'd like the dressing. Season with salt to taste. This is really good with a little za'atar or paprika sprinkled in.
And if you do want to turn on a blender, this caesar dupe is really good.
Do you have any knife recommendations?
Yes! Having a good knife is so important for cooking safely. You're less likely to cut yourself with a sharp blade since you'll use less pressure. They're an investment, but good knives last for many years.
Avoid knife sets and instead spend on a good chef's knife. They're expensive and you should treat them well: don't put them in the dishwasher, dry them when you're done washing them, and sharpen them regularly when there's not a pandemic happening (you can get a stone for this or many farmer's markets have booths for it. Williams Sonoma also offers this).
Chef's knives come in varying sizes so you'll want one that makes sense for your hand size. A 6 inch knife will work for smaller hands and larger handed people will want an 8 inch version (got this very smart tip from What's Gaby Cooking). Japanese knives are usually very well made and lightweight. Global is a good brand and I have this one. As you're looking at product descriptions, take note of the weight. Some people prefer a heavier knife while others want something more lightweight and easy to maneuver.
A chef's knife will cover most of your kitchen needs. I also have a small paring knife that's $2 from target and a serrated knife I almost never use (but you'll want one if you slice a lot of bread). I know I said no sets, but this two piece set is a really good deal and on sale now.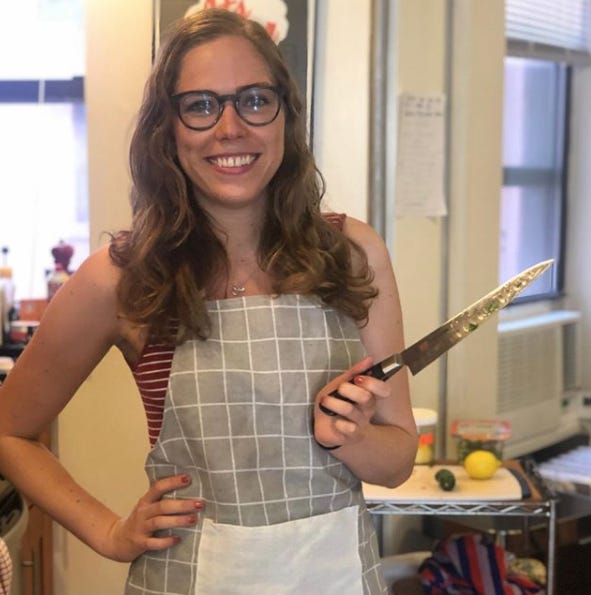 What should I make if all that's left in my fridge is two eggs and some vegetables?
The end of the fridge feeling is one we've all come across lately! If your fridge is bare, turn to your pantry. Make some quinoa, rice, or farro and use the veggies to make a grain salad. Depending on what kind they are, I'd roast them or sauté with some garlic. Add some frozen peas for extra freshness. You can throw some chickpeas or white beans in there, too. Make a dressing with lemon juice and zest (or vinegar), olive oil, and some mustard and add any hard cheese you have (parmesan cheese, cheddar, feta) and some toasted nuts or seeds for crunch.
For the eggs, I'd either eat them fried in olive oil or soft boiled (for 7 minutes) over a piece of toast or salad. Scrambling eggs always makes them look smaller, but egg tacos are another great idea if you have tortillas and some hot sauce or salsa. The ones below were clearly made when I was out of avocado and salsa, but scallions and hot sauce and cheese are not a bad combo.
Here's the thing: summer is not over! On the east coast, it will be warm through September so don't despair. The back to school energy is real (why am I thinking about buying a coat?) but I'm trying to stay in the moment which means eating colorful food and spending lots of time outside. I've been enjoying peaches in my oatmeal, tomatoes in every format, and rosé with dinner. How are you making the most of the rest of summer?
#lovesummerhateeverythingelse
---
That's all for this month! I'll see you on Tuesday.
xo, Abigail