Pizza, French Toast, and Cheese Snowstorms
& more sustenance for rough times
Hi there,
I'll be honest—it's been a really hard week and I'm trying to reset today (Substack had a site outage yesterday so I'm here on a Tuesday). Amidst all the highs I'm excited to share with you, there were lows as well, in personal, professional, and public ways. I'm a lifelong Lakers fan and so upset by Sunday's news. In times of trouble, good food and good company can be a great comfort.
So, let's dive in.
Something to cook:
Julianne is finally back in town after nearly a month of travel. Julia and I welcomed her back with a mushroom and caramelized onion pasta from Start Simple. The recipe used broken lasagna noodles and was topped with pesto ricotta (just mix a little bit of pesto into a 1/4 cup of ricotta). This topping would be good on any pasta, so give it a shot. The recipe isn't online but this is somewhat similar minus the onion.
Leah and I also made a very low effort weeknight meal with butternut squash, broccoli rabe, and whole wheat spaghetti. Roasting the butternut squash ahead of time made it very quick (I just cut the squash in half lengthwise and roasted it cut side down, another trick from the Start Simple cookbook).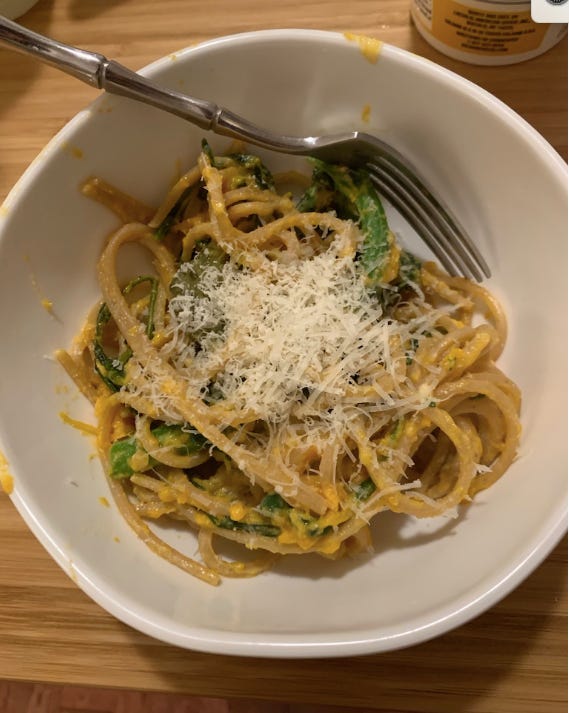 A few weeks ago, my mom made this chickpea stew for a family dinner. She sent me home with leftovers, which I stuck in the freezer. I'm so glad to have it for lunch this week.
Something to order:
Our first event of 2020 was a blast!! Coast and Valley could not have been a better host and we had a great time sipping on wine flights and snacking on cheese plates. All of their wines are available by the glass or the half glass, so it's a great spot to try new things. They also offer wine classes on weekends and the space is so bright and sunny feeling, perfect for a winter evening. Save February 22nd for our next event, more details coming soon!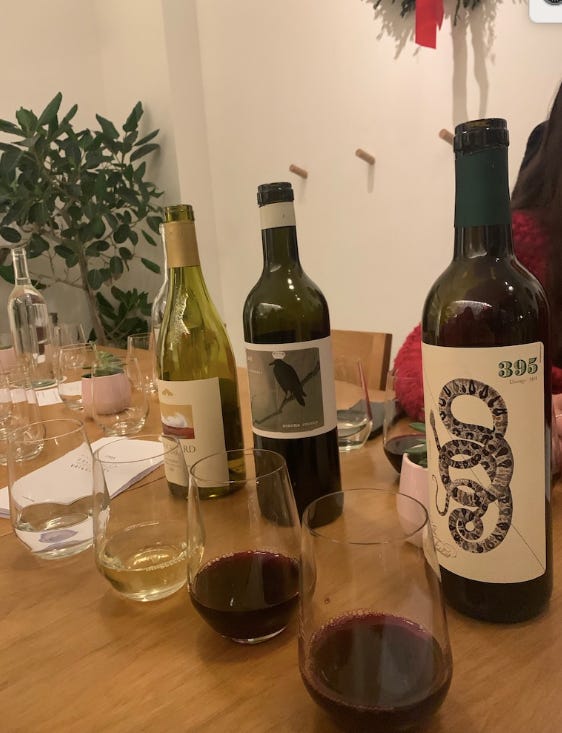 After the event, Lizzi, Sarah, Julia and I ended the night at Torst, a beer bar from the owners of Evil Twin. I had a rhubarb saison that was really good (and tasted like wine) and they also have a good snack menu.
I had several DM convos last week about how Cava is the best fast-casual spot. If you haven't been to the Soho one, it's very spacious and has a patio for warmer months.
Sarah and I did some work at Hunky Dory, which uses the proper amount of cheese on a side salad.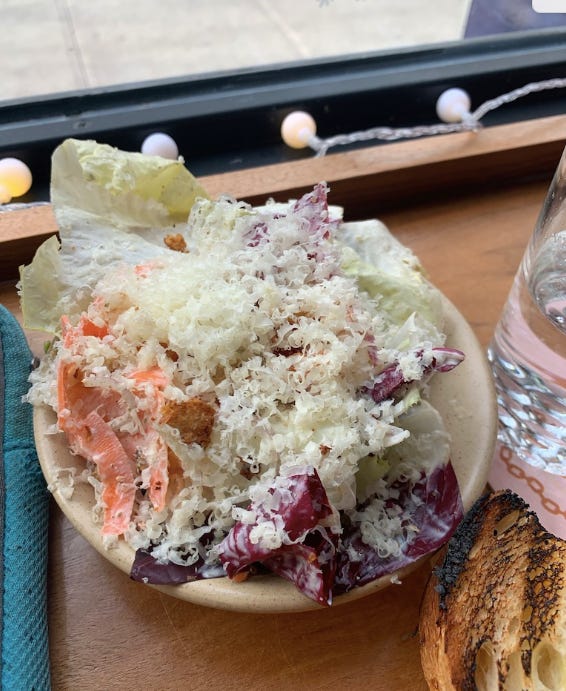 I went to Win Son/Win Son Bakery three nights in a row: first for the inaugural Win Son Bakery comedy night (super fun, they're going to do them monthly), next for dinner at Win Son with Leah, Miranda, and Lizzi (perfection, I live for the eggplant and cucumbers), and finally for a nightcap with Lizzi on Saturday (the staff is amazing and they know how to pick wines). If you're on your way to Win Son and don't know what to order, please reach out!
We had a family brunch with Miranda at Shuka in Soho. They take reservations and the tables actually have some space between them. Everything was really good especially the babka french toast (share it as a brunch dessert), the shakshuka, and the whipped feta with pistachio.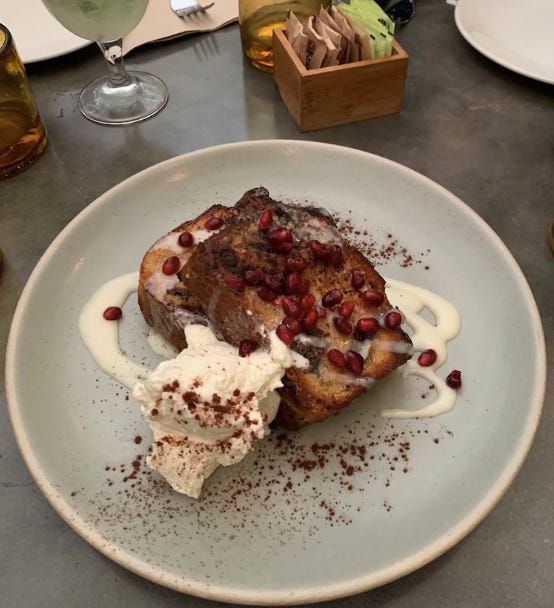 Dale and I went out to get pizza at Scarrs. It's a pizza spot that mills its own flour and uses top ingredients, with the atmosphere of a classic slice shop. Dale went last week with a friend and immediately planned for us to go together. It was SO good. There's usually a wait for seating but they let you order when you put your name down and then will time the food based on your wait time (a genius hospitality move). We waited about 20 minutes for seats and got our salad pretty quickly once we sat down (it's a vegan caesar and it's good, very Lalito vibes). The pizza itself has a pretty thin crust and tons of flavor. Anyway, you should eat there, get a glass of wine (they're all natural) and order enough for leftovers (which we did).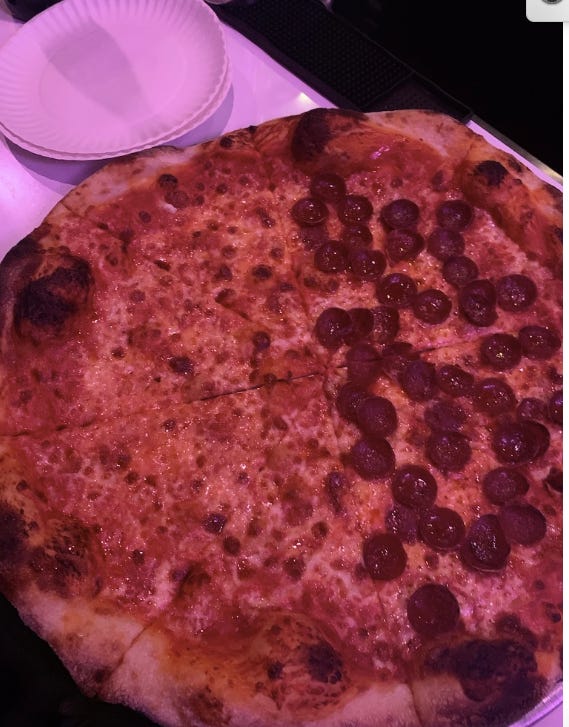 Sunday truly called for comfort food so we went to Old Town Bar near Union Square. It's been open since 1892 and they have the bar food down to a science (and the city's oldest urinal). Sometimes a veggie burger with all the fixings and a mozzarella stick does the trick. Dale is a wing connoisseur and he says the wings here are some of the best in the city.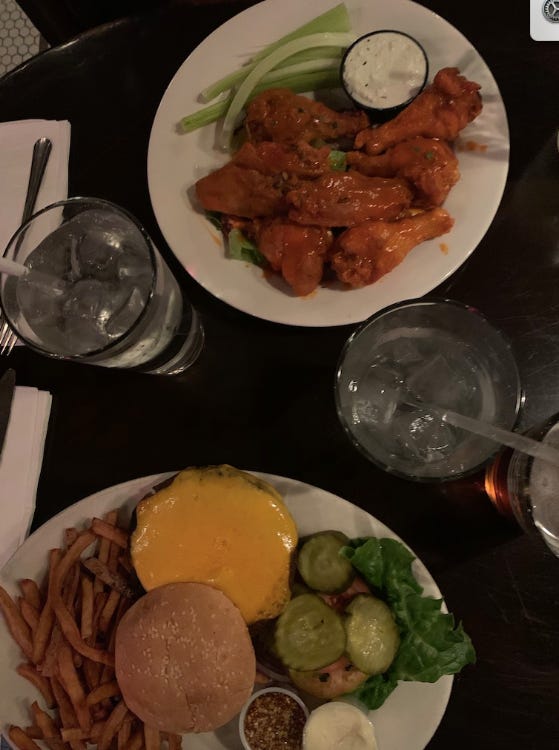 Something to read:
Are bagels the perfect party favor?
The restaurants replacing shift drinks with running clubs
Is making hummus at home worth it? (I'd say yes but I use canned chickpeas and this recipe)
This story about a dream restaurant (it literally came to him in a dream) made me laugh
The Chinese roots of plant-based meat
Speaking of, I need to try these new veggie burgers next time I'm in Tribeca.
Very intrigued by Gjetost, a Norwegian cheese treat that I first heard about on Is This a Brie, a cheese podcast!
For those looking to eat less meat, what is the spiritual equivalent of a skinless boneless chicken breast?
What Kia Damon, Cherry Bombe's culinary director, wears to work
For Bklyner, I wrote about Start Simple, Lukas Volger's new cookbook. It comes out in a few weeks and I really recommend it. I've made three things so far and love the approach.
---
Now, let's talk about TV snacks. I have been watching a Netflix show called Virgin River and I'm pretty sure I'm the only one (I get *crickets* whenever I bring it up). If you're also watching/invested, please let's discuss it!
Julianne and Ian have their popcorn game down pat: TV snacks: Ian and I are huge on stovetop popcorn! We have really mastered it to perfection (the perfect amount of salt + butter) and it's our staple for any moment we have together to watch some Netflix on the couch (pulled out, of course, because we are peak cozy).
Hayley has snack and show suggestions (I agree about You): I'm actually obsessed with Snyder's Honey Mustard and Onion pretzel pieces. They are salty and sweet and I could down a whole bag if I didn't portion them out into ramekins. If it's post-dinner TV watching, I love popcorn with hot tamales mixed in. Sounds weird, but trust me it works. As for shows I'm currently loving, I binged Cheer and the second season of Sex Education this week. Also the second season of You was fantastic IMHO. 
This week, let's talk about our dream restaurants. I would love to have a place that serves diner level grilled cheese and bougie American restaurant-level salads under one roof. And the playlist would be a mixture of early 2000s pop and the Dixie Chicks. Feel free to get detailed about lighting, decor, hours, etc. We all need a little escape.
---
Wishing you a good week! I never say this (and probably should) but if you're an editor, restaurant owner, or marketer reading this, I'm available for new opportunities and would love to chat!
Happy eating and thanks for reading.
xo, Abigail