Staying in vs. Going Out
And why I hope you'll come to a happy hour
Hi friends,
Though it's the definition of a nonessential gathering, I'm still planning to have our March happy hour next week. If you feel healthy/comfortable, please join us at Skin Contact, a new wine bar in the Lower East Side at 6:30 on March 19th. Around 8, we'll walk to get dumplings at China North Dumpling (bring cash). Support Chinatown, see friends and drink some wine. As a reminder, everyone is welcome! Bring friends/coworkers/boo thangs and don't worry if we've never met in person before.
Let me know if you're coming so we have a headcount for the venue. I thought about skipping this event, but I think we need something to look forward to and want to support the restaurant industry and Chinatown.
Now, let's dive in.
Something to cook:
Julia did a lot of quarantine shopping (read her story about love in the time of the coronavirus) and I used some of the ingredients to make sweet potato tacos with black beans and purple cabbage slaw. Top your tacos with a squeeze of lime and some Valentina hot sauce.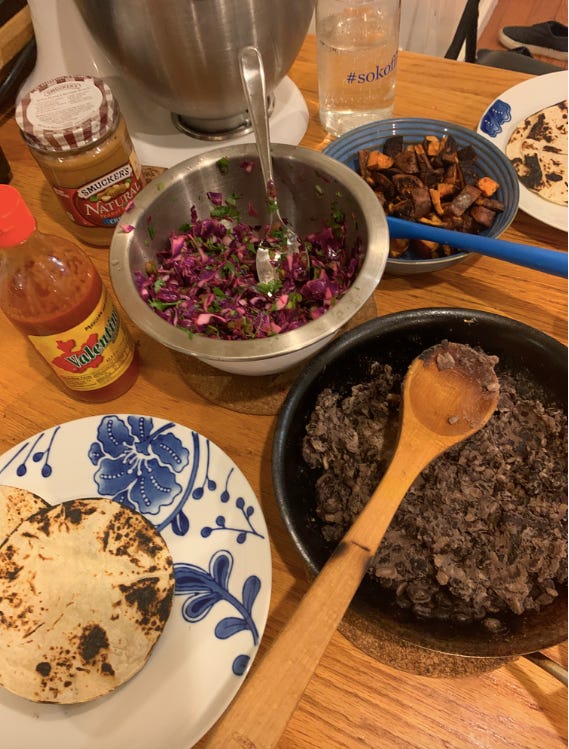 Tilden came over and we made lentils and greens on top of fried bread. The toast is the real star here, she got good bread from Eataly and fried in olive oil and butter. We rubbed the slices with a garlic clove before serving.
One of my favorite simple dinners is roasted sweet potato with broccoli and a yogurt tahini sauce. Combine 1 part tahini to 3 parts yogurt and add some lemon juice, salt, and spices, if you want (I like za'atar or cumin).
Dale and I had Julianne and Ian over for dinner last night. We divided responsibilities and made a cheese plate and salad, while Ian made the main course: fusilli with vodka sauce, based on the Jon and Vinny's recipe. It was our first time hosting a full meal and we quickly realized we need some more kitchen tools (like a can opener). Even so, we pulled it off and the pasta was delicious! Definitely don't skip the basil on top and know you'll be fighting for the last bites (Tilden has also made this with dairy-free milk and said it was still great).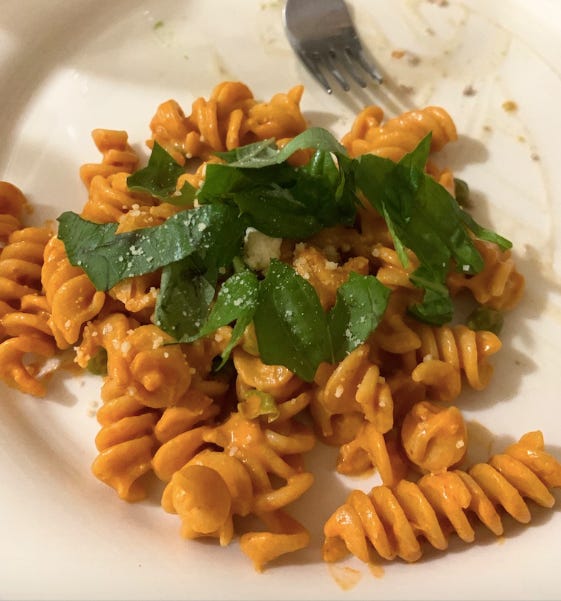 I appreciated all of your almond flour suggestions! Julia used a good chunk of our supply to make these banana almond muffins with chocolate chips. We froze most of them and I still have a few cups to play with.
Something to order:
I've been working my way through the options at the Perch, the Wing's cafe. The khichdi at the Soho location, a comforting lentil, and rice dish, is a big favorite when you want something warm instead of the excellent fattoush.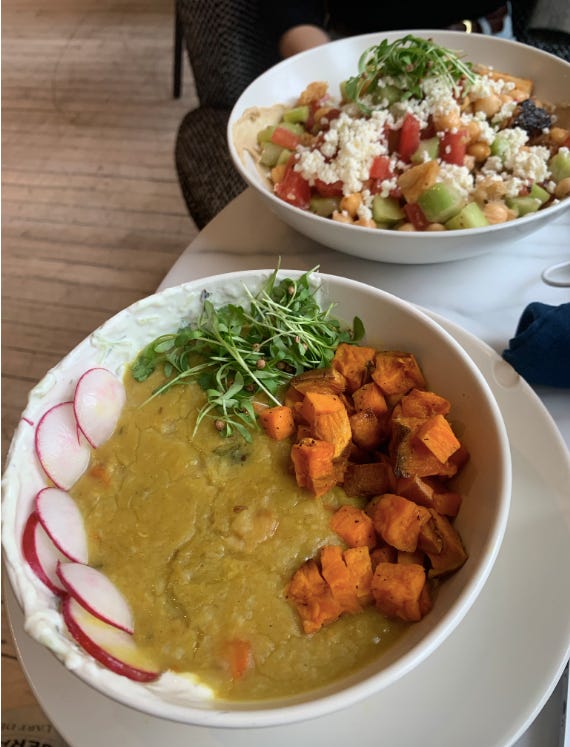 Margie, Lizzi and I grabbed breakfast at Little Collins, which makes great avocado toast. All their espresso drinks come with a mini cookie as well (should be standard practice).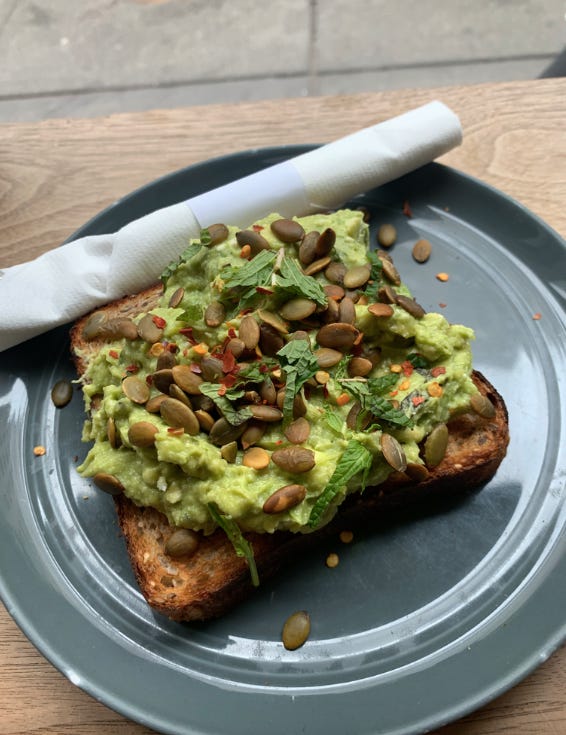 I spent lots of time in Ridgewood last week for an upcoming story and can emphatically recommend both Rudy's, a bakery with great cookies and iced coffee and While in Kathmandu, a Nepalese restaurant with excellent vegetarian options.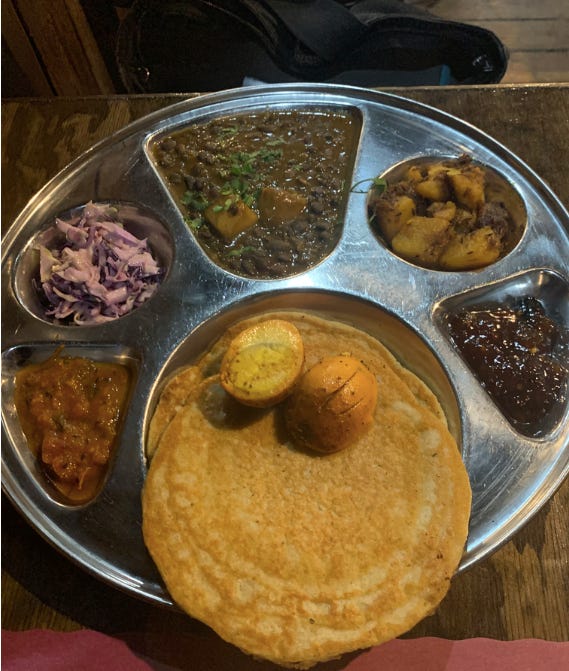 You know how much I love Union Square Cafe's happy hour (go if you're ever out of work early) so I was thrilled to attend a dinner there for Sonoma County Winegrowers. I visited in 2018, which feels SO long ago, and hope to be back soon. The region is really focused on sustainability (with actual data-backed standards for the word) and they make great wine.
Princeton in Latin America Alumni had a great reunion dinner at La Contenta. The highlights were the nachos and the chile relleno, which is huge. I ate the leftovers for breakfast on Sunday. If you're looking for a centrally located spot for a group dinner, La Contenta Oeste was easy to work with and helped us set up a prix fixe menu in a semi-private room. Very handy.
Natalie, Oset and I grabbed brunch at the creative and delicious Meme's Diner in Prospect Heights. We waited for about 45 minutes at the coffee shop across the street and were rewarded for our patience with a free everything bagel babka, only available on weekends. It had cream cheese in between the layers and a heavy dose of the requisite seasonings. A strong start. There were no wrong orders at brunch. I got the eggs in chile oil with greens and yogurt and Natalie shared some of her frito migas and Oset's buffalo chicken salad looked beautiful.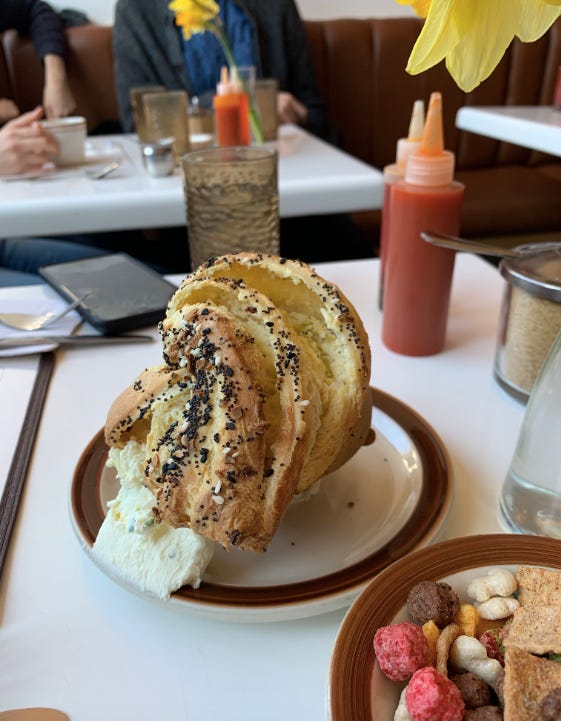 My parents came to Brooklyn yesterday to drop off hand sanitizer and hamantaschen and we all got coffee at Lella Alimentari, which is so lovely. They were out of pastries by the late afternoon so we had some bread and jam and Leah and Lizzi got piadine, Italian flatbread sandwiches that are made to order.
Something to read:
Staying in vs. going out is something I think about a lot. This newsletter, which questions that one is inherently better and reminds us that either option can contain surprises and lessons, is a good read.
Roxane Gay's compelling case for a stand mixer.
Chinatown needs your love more than ever right now (includes an extensive list of spots to support).
Is freshly ground pepper classy or passé?
Love seeing Deb of Smitten Kitchen on Cup of Jo.
Morning rush hour at a very trendy La Columbe
This is from Toronto but it's relevant everywhere: three people who opened up restaurants without backers. Doing so is increasingly difficult, but it offers a rare sense of control.
How preparing for coronavirus should be a community effort.
Wine is very confusing for many reasons but it's also very enjoyable and fun to learn about as long as you're not with a bunch of snobs who shame you for your knowledge level.
---
Now, I wanted to share your thoughts from last week. I know we're all in different parts of the world and the news is changing by the hour.
Sarah focused on supporting Brooklyn's Chinatown: A few friends and I hit up Bamboo Garden in Sunset Park for a midday Saturday dim sum feast. YUM! Then we went to the market across the street, where I very happily adopted a bamboo plant and a betta fish named Patti Smith. Fish mom. Anyway - Sunset Park is a huge rec!!! Also way less touristy and crowded than Manhattan's Chinatown. 
Julianne's post continued to spread: Oh hey thanks for sharing my post!! :) As you saw, I'm combating racism by putting money (and Chinese food) where my mouth is. It only more problems could be solved (or at least helped) by eating amazing food! Also: check in with your Chinese friends and offer any support! It's really not a good time and it's pretty unfair, so if there's more we can do, would love to hear!
Frida's cashier at Trader Joe's said the news is... making things worse, referring to the panic that has people waiting in line for hours.
---
This week, I want to know what are you shopping for? A directive to purchase a month or two week's worth of food feels so abstract. I can't picture that in terms of quantities or nonperishables since I typically purchase food several times a week, in small quantities, for my small kitchen. Mass purchasing also disrupts our supply chain and makes it harder for some people to get access to necessary supplies (the shortage of hand sanitizer comes to mind). I know people want something to do in the face of so much uncertainty and I definitely plan to grab a few extra cans of chickpeas and some coffee beans. I'm coming into this situation with great privilege, as my parents live a few miles from me and have a well-stocked home. I'm curious to hear how your shopping is going and how the grocery stores have been (I haven't encountered any unusual lines, but have noticed depleted freezers).
On the other hand, are you prioritizing going out to eat? Hourly workers need your support and rent doesn't stop in the face of a threat. I ate out a bunch this week and encountered normal crowds. That felt good, from a social perspective, and I hope it continues as long as it's safe. If you're not sick and no one has told you to stay indoors, supporting businesses in your area is a great way to stay sane and do some good. Just remember to wash your hands.
Looking forward to talking this through and seeing some of you in person next week!
Happy eating and thank you for reading.
xo, Abigail