Summer Pasta and Cheap Eats
How bad can that be?
Hi friends,
Welcome to This Needs Hot Sauce. I'm back from the Jersey Shore and excited for September. Rosh Hashana is next week which means it's time for challah baking, reflecting, and all the summer fruit we can muster.
Let's dive in.
Something to cook:
I used the leftovers from my party to make a small batch Aperol Grapefruit Margarita and yup, they're still delicious. Pairs well with Insecure's latest episode.
Frida came over for dinner and I made us a massive vegetable stirfry, without a recipe. If stirfrys have confounded you in the past, try my go-to method next time you want a hearty dose of vegetables/need to clean out your fridge:
Chop all your vegetables ahead of time (I used white onion, broccoli, carrot, kale, red bell pepper). Make sure to use ginger and garlic (also chopped ahead). Mix up your sauce: I use a combination of soy sauce, rice vinegar, miso, hoisin sauce and sesame oil.
The mistake I usually make is using a very thick sauce —since you want the sauce to coat the vegetables and cook with them a bit, opt for something thinner. Add a little extra soy sauce or rice vinegar if it's too thick and taste for flavor. When you're ready to cook, heat your large non stick pan to be very hot with some oil, then add the vegetables in batches. I did the onions and peppers first, then the garlic and ginger, then the broccoli, carrot and kale. Once everything had softened and has a little color, I added the sauce and let it cook together for a few minutes. Garnishes are key: I used chopped scallions, chopped peanuts, and chili oil. You can serve this over rice, top it with a fried egg, you do you.
Roasted chickpeas are an extremely useful snack/component of a "I have nothing in the house" dinner.
I didn't cook a ton at our shore house, but I did make several batches of guacamole. My recipe is super simple: avocados (buy more than you need in case they're too hard or bruised), lime juice, salt, red onion, and jalapeño. Taste as you go and and mash it with a fork. Very useful for winning friends and influencing people.
Last night, I made us pasta for dinner after a long, hot day of travel back to the city. I wanted to use local tomatoes to capture some summer but my grocery store only had lil grape ones from Mexico. Dinner still turned out to be delicious: spaghetti with sun gold/cherry/grape/lil tomato sauce.

Sorry for the steam in this picture — you'll also want to eat this the second it's ready.
Some notes on the recipe: It calls for 3/4 pound of pasta so don't throw in the whole box or you won't have a good sauce ratio. I used red grape tomatoes instead of sun gold and skipped the anise and tarragon. I also cooked the sauce for way longer than 15 minutes so all the tomatoes burst and got sauce-y —it took close to a half hour. I threw in some white wine to deglaze the pan and added about a cup of the pasta water. Toppings are very important: fresh basil, parmesan cheese, and yes, a little hot sauce. I can't wait to eat the leftovers for lunch and highly suggest you try this with either farm fresh or slightly mediocre tomatoes. The results are magic and I barely had time to take pictures before we ate.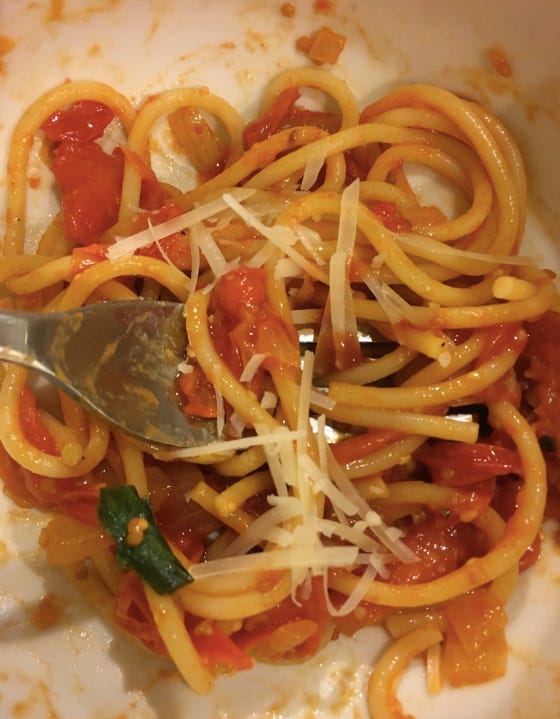 Something to Order:
Tacos at Calabrije's are always a good idea. On Tuesdays (hello, today is tuesday), they're 2 for 1, meaning you get 2 tacos for $4. Their chorizo ones are very popular and I love the veggie one with mushrooms and nopales. If you're there, you'll need a margarita and they have 21 flavors. Try the spicy pineapple or passionfruit.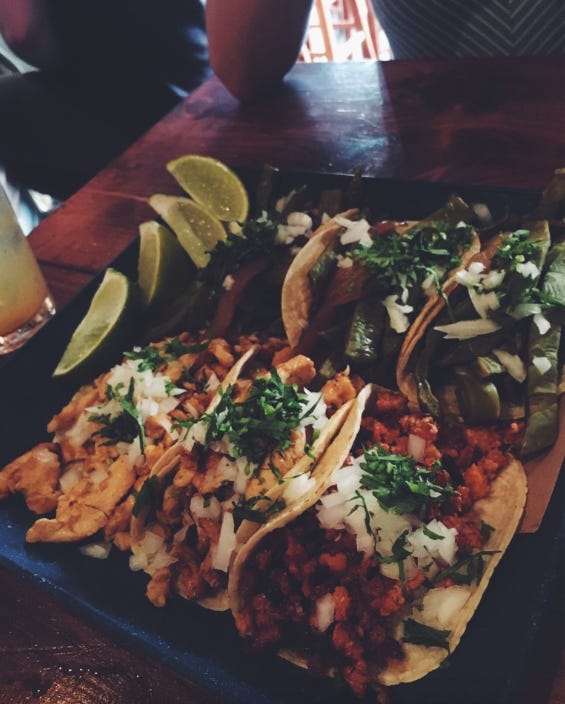 Dig Inn's sweet potato wedges are so good and I'm desperate to recreate them at home. The top is nicely charred in this way I can't figure out. Send help/suggestions!
If you too spent most of the summer listening to the Mamma Mia 2 Soundtrack, you ought to visit Souvlaki GR on the Lower East Side. There's a Greek island vibe with flowers, blue doors, white walls, and dips for days. Get the tzatziki and a bottle of Assyrtiko.

My my, how could I resist you?
Coffee shop dispatches:
Toby's Estate cold brew should come with a warning since I was shaking an hour after drinking it. Will be sticking to their espresso or drip coffee, both of which I really like.
Northerly in South Williamsburg has only a few tables, but most of them turn over quickly. It reminds me of OST Cafe in that everyone seems to know each other. There's wifi and good coffee for a short work session but no bathroom. They used to have food but don't anymore (it may be coming back sometime this fall).
I started the long weekend right on Friday with a visit to Butler Bakeshop in South Williamsburg before a yoga class. The space is gorgeous and the baked goods looked and smelled incredible. I read a book and enjoyed a mini yogurt parfait with the most delicious berries and granola and a perfectly made Intelligentsia latte. They have wifi so I'll come back to work but it definitely felt great not to.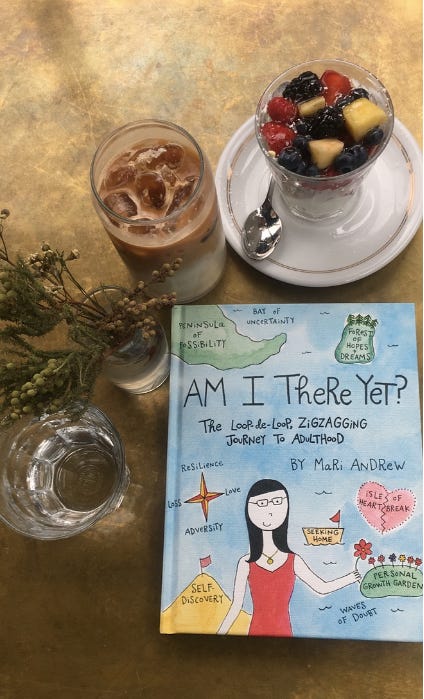 Down the Shore:
I had a great time explore New Jersey's beaches and the overall "scene." I won't list all the random bars we visited (though please email me if you're going) but I wanted to share the two best things I ate:
-A Graviola fruit bowl from the brand new-still doesn't have a website Amazonfruit Bowls in Point Pleasant. It's on Arnold Avenue between Richmond and Cincinnati. The Brazilian owners of this shop get fruit delivered straight from Brazil for some of the freshest smoothie bowls I've ever had. Alongside acai (plain or blending with strawberries or bananas) and pitaya, they had two unfamiliar fruits: Cupuacu, which is in the cacao family with a tangy aftertaste and Graviola, which was deliciously creamy [I just googled this and graviola is the Brazilian name for Guanabana/soursop which I first tried on a trip to Mexico in the 8th grade]. Dale and I each got graviola bowls with granola, fruit, and peanut butter and they hit the spot after a few days of beer and chips. If you're down the shore and craving vitamins and tropical fruits, pay these guys a visit. The staff was so nice and let us sample all the base flavors before deciding. I'm rooting for them (get a website please) and will be on the lookout for graviola, which has lots of health benefits, in New York.

The white fruit is the graviola/soursop/guanabana and it was so creamy and not too sweet.
-This bagel snob was very impressed by the bagel at Beach Bagel Trattoria, also on Arthur Avenue. They were fresh and not too thick and doughy, perfect for either cream cheese or a nice egg sandwich. Whole wheat everything is the move.

Bagels in a backyard cancel out any number of beers the night before.
Something to read:
Read about a Colorado family of mushroom farmers that immigrated from Guatemala.
Missy Robbins of Lilia has a new pasta restaurant and it opens Saturday! There's a strong chance I'll be there opening night.
Excited to try this new Senegalese restaurant opening in Harlem.
How cooking helped me navigate being alone after a divorce.
The Queens Night Market is back at the end of this month and I need to go!
How to make your home and kitchen feel luxurious on a budget (involves chocolate and champagne)
This instagram from a food blogger about cooking for your kids made me laugh out loud. (LMAO)
The Ruby is a very cool coworking space in SF centered around food and founded by Goodbye Vitamin Author Rachel Khong.
Great story on lowering (some) food prices at MLB stadiums.
A roundtable on fixing toxic restaurant culture.
A podcast rec: I just started listening to FOH, a podcast about the hospitality industry and I can't get enough. The hosts are hilarious and share such great details about their day to day.
Stories I wrote:
Cheap eats are very important to me and I put together a list of 40+ Bushwick spots where you can eat for $10 or less. Let me know if you try any of them!
If you're heading back to school or trying to hop back on the meal prep train, check out my guide on packing lunch for She Spends.
Last week, I asked about your go to lunches as a kid. Some serious nostalgia coming your way…
-My lunch taste has been Jewish AF since day one, and I brought in chopped liver or whitefish salad sandwiches (on potato bread, always) all the time in elementary school. Sadly, I went to a pretty un-Jewish school and kids made fun of my weird lunch, so I'd fold up the tin foil like a little wall to hide it :(  - Julia
-Preschool was defined by tuna on an ET bagel, but as far back as I can remember, every single packed lunch came with a Publix chocolate chip cookie (#blessed!!! Thanks Mom!). If you haven't had a Publix chocolate chip cookie yet (have you even visited Florida?), I feel bad for you. -Julianne repping her home state
-My favorite school lunch: My mom would take a giant ciabatta, add mozzarella, olive tapenade, basil, and sundried tomatoes, and cut it into sandwiches for the whole fam. Delicious and efficient! -Nicole (this sounds so good, wow)
This week, I'm taking questions and feedback! What do you want to see more (or less) of in This Needs Hot Sauce? What kind of recipes? What parts do you always skip? Reply to this email with your thoughts! I'm all ears and sincerely appreciate any honest feedback to improve each week!
Happy eating and thanks for reading.
xo,
Abigail