Thankful for you (and for vegetables)
Salads you can make for Thanksgiving and longreads for when you need a break
Hi friends,
Welcome to This Needs Hot Sauce, a newsletter by Abigail Koffler about cooking, dining out, and making the most of it. If you've gotten something out of this newsletter (a new favorite recipe, a restaurant you love, a great article, or a fun evening at a happy hour), you can support my work by becoming a paid subscriber for just $5 a month.
On a personal note, I just got my stitches out! Thank you for all of your kind words last week. My finger is still healing but at least I'm onto the next step in the process.
Now, let's dive in.
Something to cook:
This weekend was peak Friendsgiving (the subway was full of people toting Tupperware which was very sweet). For Emma and Jesse's Friendsgiving, I made a tahini caesar salad with this dressing, Tuscan kale, shaved parmesan (I got a fancy one on sale at Whole Foods and it 100% made a difference), avocado, toasted walnuts, sliced cucumber, and everything but the bagel seasoning (this salad was my inspiration). When making kale salads ahead of time, I always put some of the dressing on in advance to soften the kale and then add the rest once you reach your destination. Croutons would be great in this, but I figured the meal would have lots of bread anyway.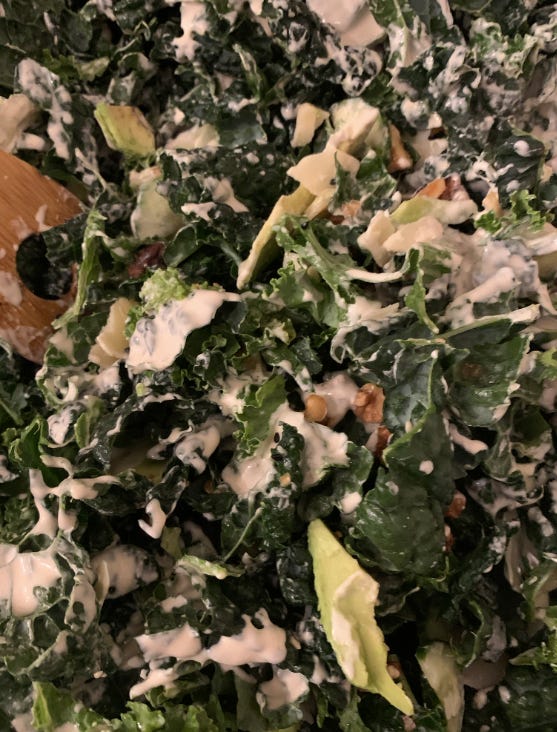 Also, Emma and Jesse made a great rosemary grapefruit cocktail, served in a drink dispenser (a party essential, imho).
Other great thanksgiving salad options if you're looking: The Salad with roasted grapes and butternut squash (Julia just made it for a Friendsgiving), this brussels sprout salad, and this fall farmer's market salad.
I was a little nervous to get back in the kitchen after my injury, so I mostly made easy dishes that don't require a lot of chopping, like a lunch of #thechickpeas without zucchini.
Julia and Julianne and I made the chickpea pasta for dinner last night with a great salad. It was a mish-mash of things we had in our fridges: kale, avocado, shaved parmesan cheese (I don't own a box grater so I always do this with a vegetable peeler), red onion, toasted walnuts, and mint. We dressed it with olive oil, lemon juice, salt, pepper, and red pepper flakes. Yum.
Something to order:
Cooking was hard last week so I ate a lot of lunches out, which was quite a nice treat.
Julia and I went to Wafa's, a wonderful Lebanese spot near me (and originally from Forest Hills). Get the mujadara, the grape leaves, and the hummus and use the hot sauce (they also deliver).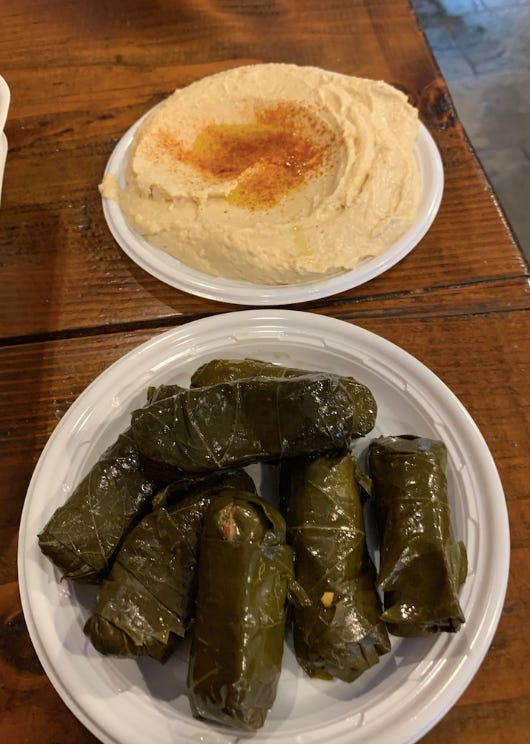 Lizzi and I had a working lunch at Lighthouse, which is a cafe with Wifi during the day. Their big salad is fantastic and they have great tartines, especially the burrata one (their burrata is my favorite and you can eat with a spoon).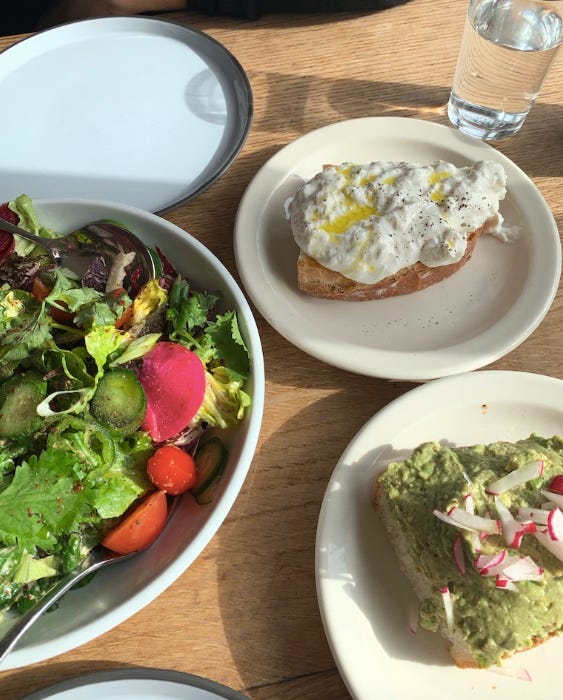 I had to get an early dinner before babysitting and stopped into Eisenberg's for a grilled cheese. It was just what I needed and the early sunset made me feel better about eating dinner at 4:30 p.m.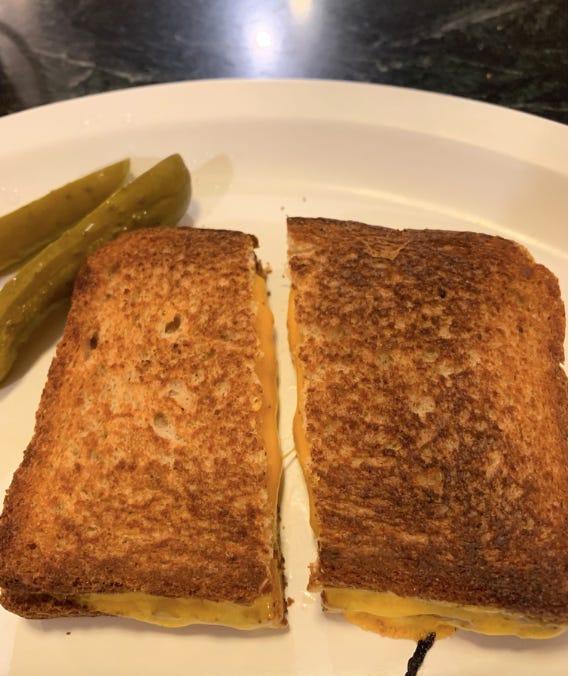 Sarah and I worked from Hunky Dory on Friday, which is very freelancer friendly. They even have outlets. I got their seasonal soup, made from honeynut squash and fennel. Served with chili oil and grilled bread, it was the perfect lunch with a side salad.
Dale and I got brunch at Claudia's and I'm obsessed. It's a Guatemalan restaurant! In my neighborhood! And they have a brunch prix fixe of one entree, coffee, and a cocktail for $24. The Desayuno Chapin is legit (though the tortillas are not perfect), the salsas are great, and the space is beautiful. I'm writing more about this spot soon so stay tuned.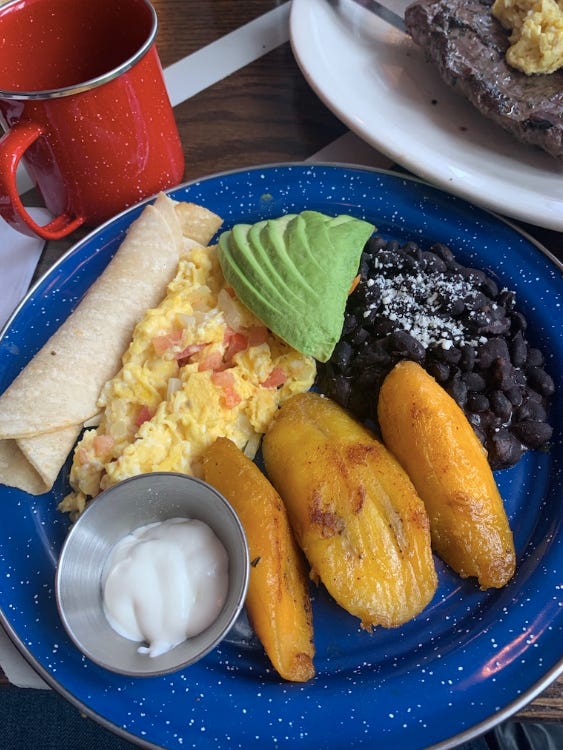 Finally, the highlight of my week was our happy hour at Win Son Bakery! It was one of the best we've ever had and I'm so glad you all came (we had over 30 people!). The food was incredible, especially the duck rice, the fried chicken, the scallion pancake and the caesar salad. I think the eggplant parm keeps getting and better and the wine on tap kept us all happy. My parents and Teal came as did readers I had never met (this is my favorite thing). I can't tell you how much it meant to have such a positive and fun night while I navigated a tough week and I can't wait for more events. There will be no December event because no one needs more obligations in December, but we'll be back in January!
Something to read: I'm including some longer options this week in case you have some airport/train/car time. Save them to pocket!
I read With the Fire on High by Elizabeth Acevedo and loved it. It's about a teen mother who dreams of being a chef and it takes place in Philly!
I wrote about Leo, a new all-day pizza spot from the owners of Ops for Bklyner.
For those traveling this week, here's some instant coffee that's actually good.
How Libby's created the definitive pumpkin pie recipe
A week of eating your childhood school lunch as an adult (mine was usually plain pasta, no sauce or cheese)
What are American foods? This feature examines how iconic dishes became part of the culinary jargon.
Cw: eating disorders. This essay discusses the nuances of recovery and how culturally specific food cultures are.
I was fascinated by this article about baby food and how babies are subjected to every food trend.
The invention of Thanksgiving is a necessary refresher on the true, violent origin of Thanksgiving.
I live on Canarsie and Lenape land and you live on Native land, too. Learn more here and consider supporting a Native American or Indigenous community while you celebrate the holiday.
---
On a lighter note, I'm excited to share some injury stories! These definitely lifted my mood last week.
Bernadette is dedicated to snacks: This spring, I broke my left pinky toe (confirmed with x rays-totally broken) by walking into a chair leg as I went to get more popcorn during a viewing of Space Jam. I had to wear a hard-soled shoe for weeks! 
Lily had a major chopping snafu: I once stabbed myself while slicing an avocado. I was holding half in my hand and making the little cuts so when I slid the knife around it they would slide out in gorgeous little slices and I didn't realize how soft the avocado was (or how sharp the knife was) and it went through the avocado and directly into my hand. : ) 
Jamie's apple injury led to family debate: In middle school, I cut my finger slicing an apple, which turned into a debate between my grandma and my dad over whether it's safer to use a dull knife or a sharp knife. My grandma thought a dull knife is safer because it won't cut you as badly, and my dad thought a sharp knife is safer because it's less likely to slip and cut you. I don't know if this is weird, but it has stuck with me for so long and I still wonder which kind of knife is safer. (A note from Abigail: a sharper knife is safer because you use less pressure when cutting with it.)
---
This week, I'd love to know what winter rituals and foods you're looking forward to (soup, gingerbread, mulled wine, cheesy movies…) I just read this article about how to stop dreading winter and it was very inspiring. After Thanksgiving, the winter really sets in and we are going to tackle it together!
Happy Thanksgiving and thank you for reading. If you need any last-minute help or recipe ideas, I'm available here or on Instagram! We can do it!
xo, Abigail