Thanksgiving Content for People Picky About Their Thanksgiving Content
Recipes you can make in advance and lug on the subway, plus our November Event
Hi friends,
Welcome to This Needs Hot Sauce, a newsletter by Abigail Koffler about cooking, dining out, and making the most of it. It's officially November and voting is on my mind.
This week, I'm sharing some of my favorite recipes for Thanksgiving, so save this for the next few weeks (if you open this in your browser, you'll be able to add to your bookmarks or star the email). I've also included regular dinner ideas (and details about our November potluck), because I believe cooking and community is just as important the other 51 weeks of the year.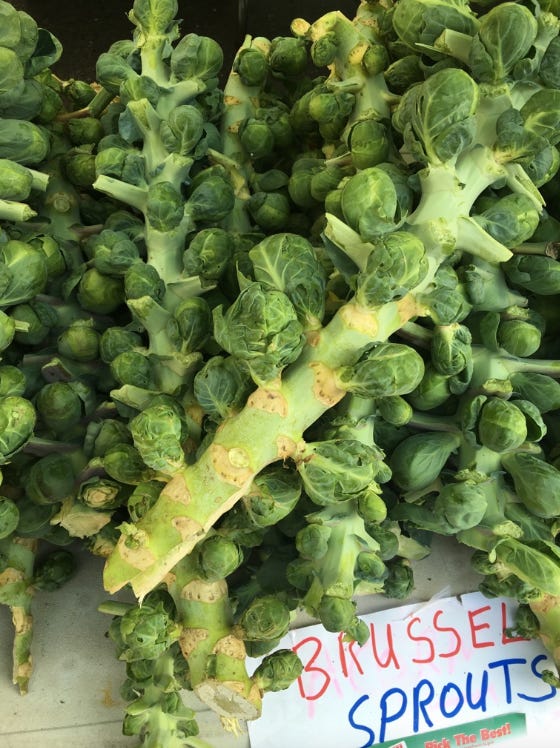 Something to Cook:
Hosting a full Thanksgiving is likely decades away for me, but I love the way our generation handles the holiday. Friendsgivings offer the chance to blend traditions, celebrate with friends, and try new things. When you need to bring one or two items, it's a lot easier, more affordable, and more fun. You can double recipes depending on your event size, but remember people won't be eating full portions so there's no need to go crazy.
Most of these are easy to transport (ziplocs, foil, and tupperware are your friends), can be served at room temperature and are vegetarian. Owning fancy serving platters is not a requirement to host Thanksgiving. No turkey advice here, friends, but I don't think you'll feel deprived.
Appetizers: For when people are running late, the turkey isn't quite done, and you need some nibbles with the first bottle of wine.
Last year my dad and I made Tortilla Española, which we cut into little squares. The recipe is a little intense but I definitely recommend it, especially if you have time, a great playlist, and a cast iron. We bought some Spanish red pepper sauce to serve with it and there were no leftovers.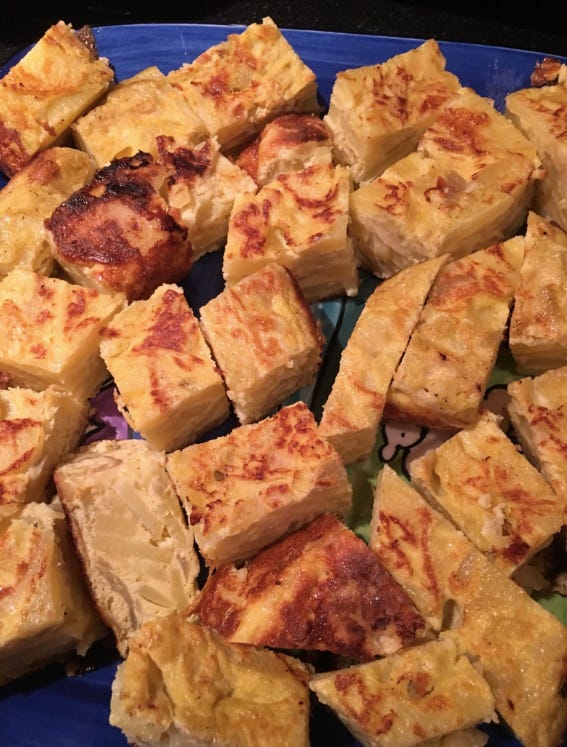 Baked brie wrapped in puff pastry is another failsafe appetizer as long as there's oven space (ask in advance). Julia makes this a lot and her recipe is one wheel of brie topped with jam (I like peach or raspberry) wrapped in puff pastry and then topped with fresh raspberries. Bake at 400 degrees for 35-40 minutes and let it cool for a second if you can. Get some sturdy crackers since any flimsy ones will break in the brie.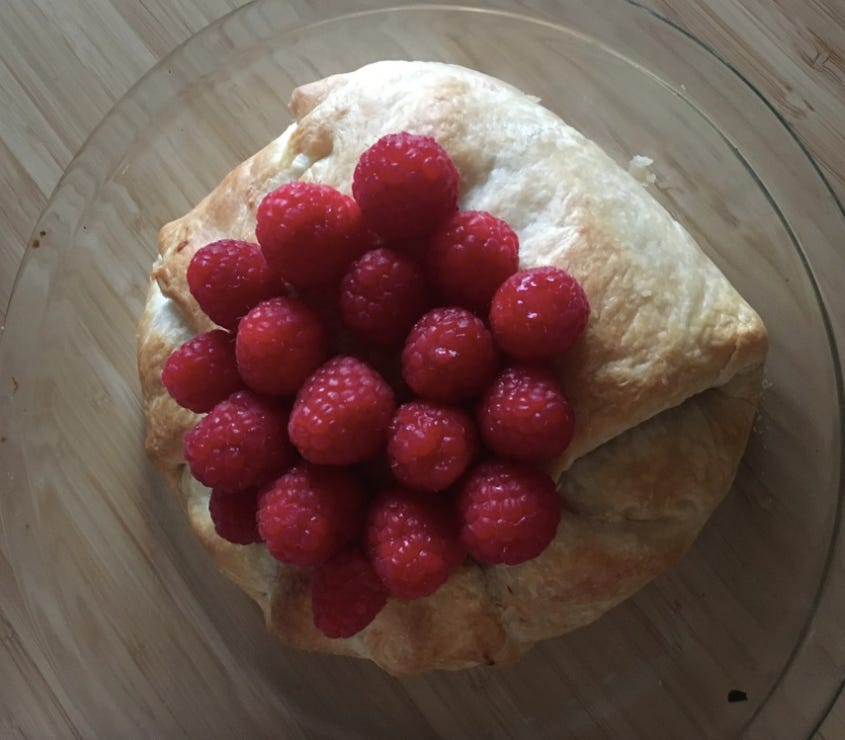 Frida brought these seedy oat crackers to Thanksgiving last year and they were a hit. They're so crunchy and very different from the typical thanksgiving food. If you're buying seeds for these, hit up the bulk bins to save some $. You can serve this with hummus (this recipe, or storebought) or some cheese.
Hillary recommended this holiday monkey bread which looks insane. She says her family sometimes eats it before guests even arrive.
The Main Events: Salads and Sides Welcome at Any Table
My family swears by this kale and carmelized onion stuffing. It's served hot, but you can make it advance and rewarm it once you get there to make the kitchen smell amazing. If there are leftovers, eat them for breakfast the next day with a fried or poached egg on top.
I often bring salads to Thanksgiving and think they're a great opportunity to get some brightness and acidity on the plate. Plus, fall vegetables are great.
I first made my now signature salad last year for thanksgiving and you need to try it. The roasted grapes are so good.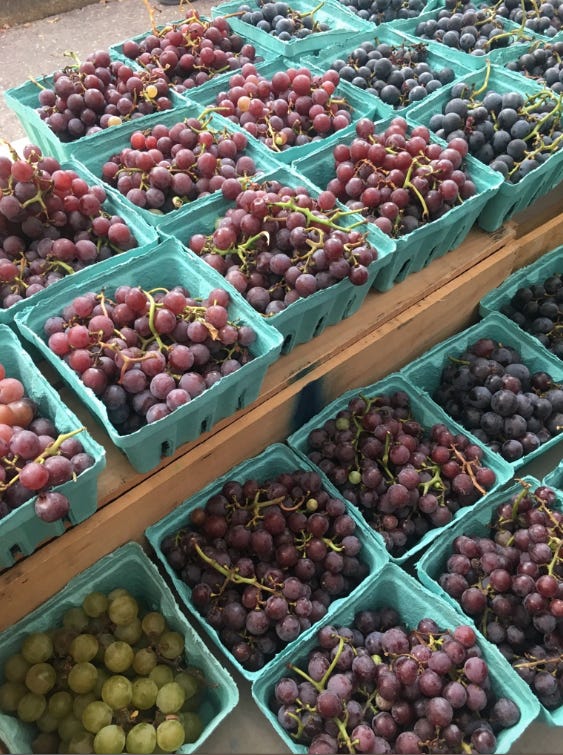 I love this kale and brussels sprout salad as an alternative to roasted vegetables.
A grain salad is really nice to have if there are any vegetarians present and Bethany loves this one, with fall persimmons. Farro is sturdy enough to handle transportation.
Cranberry sauce is another great thing to bring as a guest since you can make it ahead of time and it doesn't need to be hot. My family's favorite recipe always gets rave reviews.
Sandra's family makes quince sauce instead of apple or cranberry sauce and this recipe looks like a good hybrid if you want to try something new.
If you want to bring a non salad vegetable, ask about oven space. Roasted vegetables are best right out of the oven so ask if you can bring a baking sheet, the pre chopped veggies and whatever else you need. I always like the veggies to be simple and bright like the best broccoli of your life.
Desserts: You'll Make Room for These
Confession here: I'm not a pie person and my favorite Thanksgiving desserts are the same ones I always love: cookies, chocolate, etc.
But I trust you guys: Bethany swears by this cranberry curd tart and it's a double recipe because when you strain the filling, you'll have cranberry syrup for the tart and cranberry sauce for the meal.
The best chocolate chip cookies are so perfect for Thanksgiving. Bring the cookie dough and bake them there, topped with flaky Maldon salt. I try to make the dough a day ahead so it can rest.
As you read Thanksgiving content in the next few weeks, remember that food magazines are not at all representative of the average American (#foodmediasowhite) and we all live on Native land. I think the most beautiful and memorable meals incorporate dishes from the diner's cultures and families. So if you're asking yourself, does X belong at Thanksgiving, the answer is, if you want it there, it absolutely belongs. This means jerk chicken or tamales or kimchi fried rice or Russian dumplings are all welcome.
*Exhales*
Some other cooking ideas for the next few weeks: this soba noodle bowl with roasted cauliflower was a delicious lunch last week. I threw in some kale with the soba noodles and the leftovers kept well.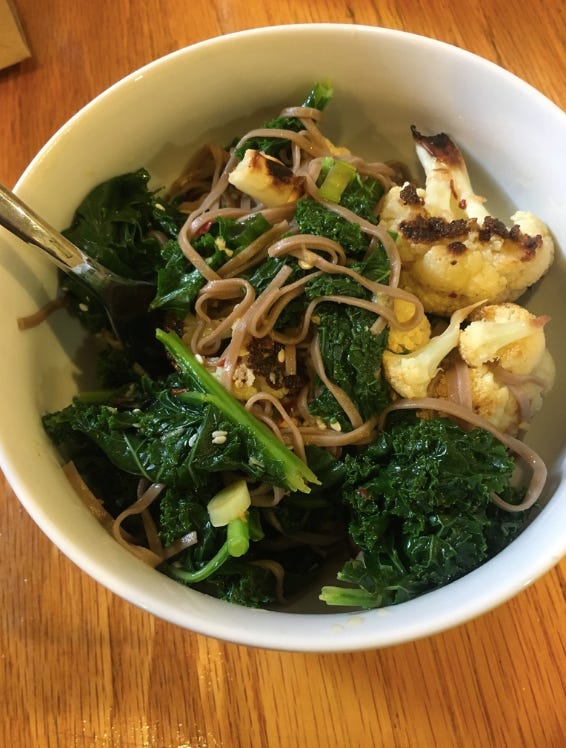 This lentil salad with butternut squash and goat cheese looks like everything I need.
Sandra's family hosted an incredible Russian dinner party (shoutout to the other guests reading this). I brought this greek yogurt cake to bring for dessert. It's so easy and it survived the G train.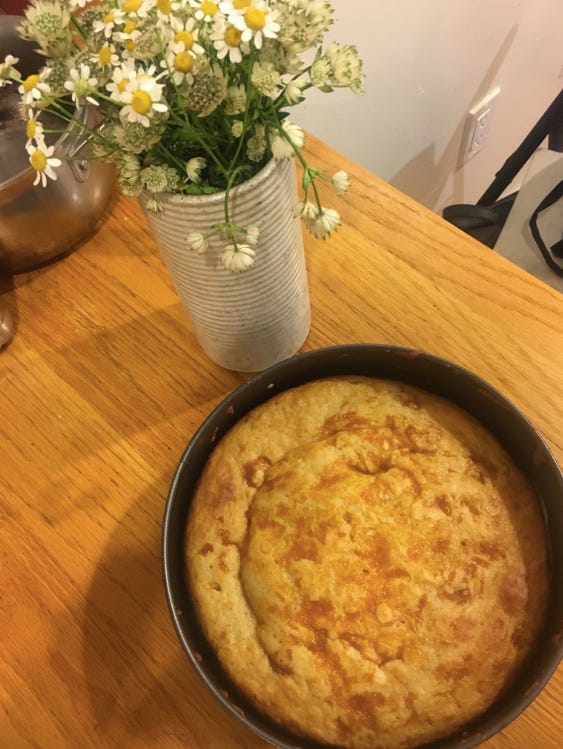 Over an opening shot of vodka, her mom explained that Russian food is really the food of many countries: Georgia, the Ukraine, and more. It was a feast. She made so many pickled vegetables I was in heaven, as well as savory babka, homemade dumplings with caramelized onions and sour cream, lamb pilaf with whole roasted garlic, and a whole array of salads. The meal made me want to explore Russian cooking. Maybe I'll start with this.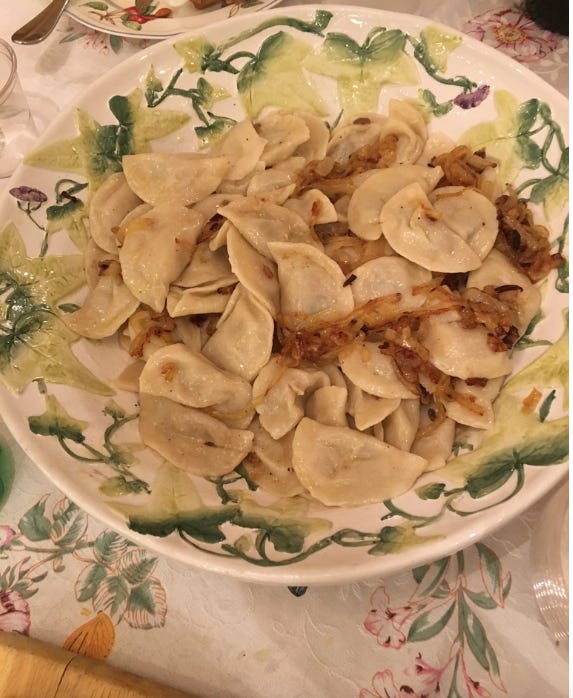 I'm also trying Hello Fresh (thanks to a promo code from Julianne and Ian) so will let you know what I think. Does anyone use it?
Something to Order:
Dale and I went to Lilia for his birthday and it was so good. Lilia's been open for a few years now and the team has really kept up the quality. You can call 30 days in advance at 10 am to make a reservation or I've had good luck being a walk in at the bar (and that way you get their peanuts and potato chips). Always order the pink peppercorn mafaldini and some bread (there was a foccacia special and it might be the best foccacia I've ever had). I'm not a huge fan of the honey agnolotti, but any other pasta is a sure bet. I also love the grilled clams and their soft serve, if you have room for dessert.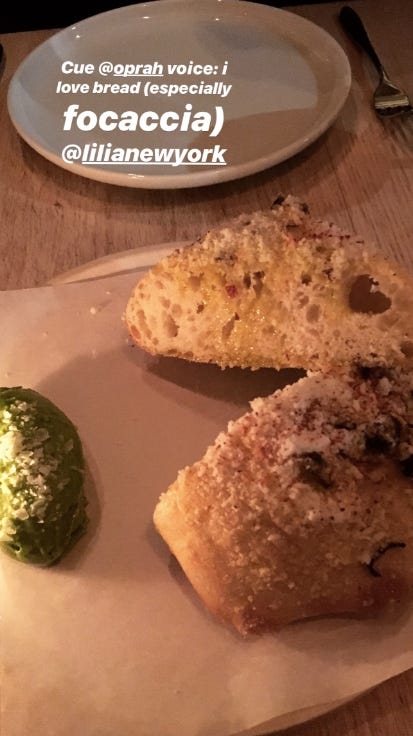 I attended Food Loves Tech for @EdibleManhattan and got to see some cool new food brands and say hi to favorite restaurants like Lighthouse. I always wish these events were more diverse, in terms of both panelists and products represented but I imagine exhibit space is not cheap (which is not an excuse). I'll be on the lookout for these products at local markets and bars: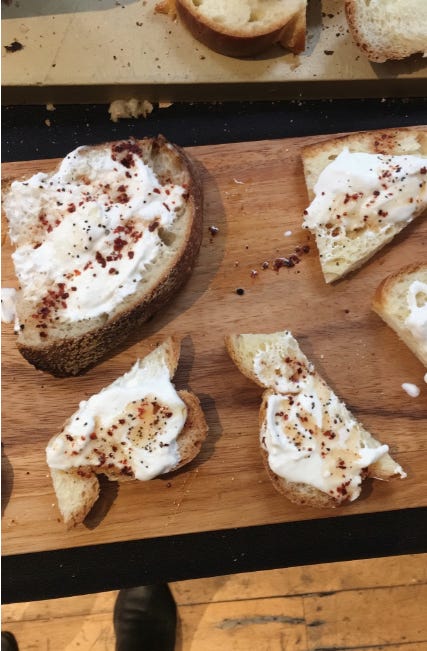 -Good Spoon Supernaise is a vegan mayo made from algae. It's soy free and founded by three french friends. Their herb flavor would be excellent on fries and I got a cayenne & chipotle one which I think would be great with carrots dipped in or on a sandwich or quesadilla.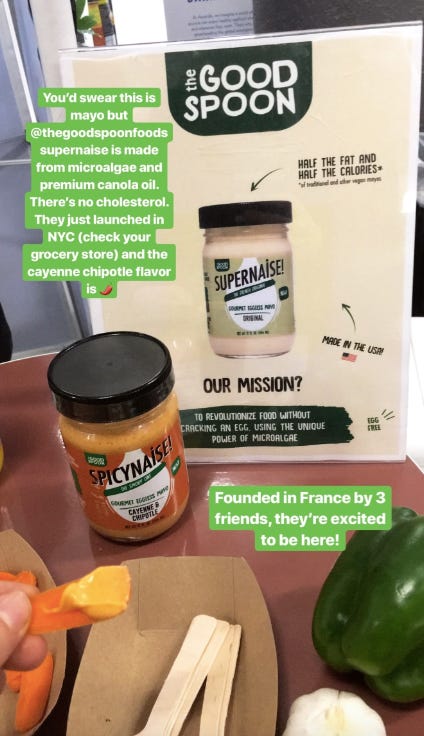 -Blue Point Brewing is a Long Island Brewery. They work with the billion oyster project to raise money to rebuild New York Harbors and even made a special election ale that encourages making election day a national holiday. You can sign each empty can and mail it to congress. Unlike many Brooklyn beers, these weren't super bitter IPAs but they all had some good salinity.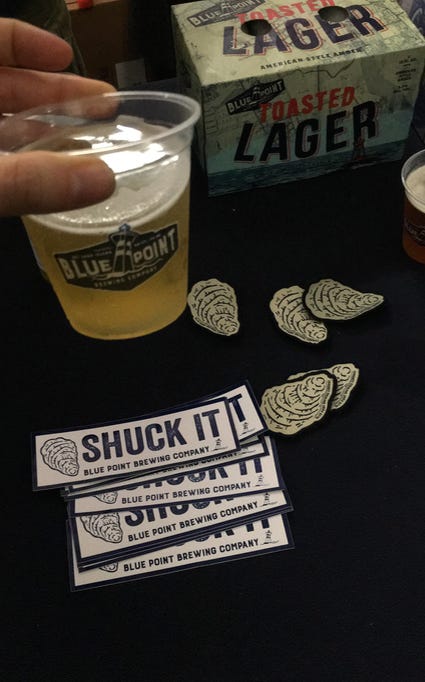 -Wanna Date is a date spread with only five ingredients. Their vanilla flavor would be so good on oatmeal and the dates add a rich caramel note that would be great on a cheeseboard.
-Oatly, the oat milk Brooklyn can't get enough of, was there too. They're expanding like crazy to meet demand and their US team is only 22 people (it was 6 when they launched here!). They're opening a new production facility in New Jersey soon, which should help with shortages.
-Ulli's Oil Mill makes seed oils from seeds grown in New York. They're all finishing oils inspired by the owner's home of Austria, where oils like pumpkin seed are common. These would be a great hostess gift, especially with a nice loaf of bread. The pumpkin seed, flax, and chili were my favorites.
No coffeeshop of the week since I didn't spend much time in them (gasp).
Something to Read:
How restaurant owners are helping employees make time to vote (PAY THEM, yes!)
I watched this video of Ina Garten and Carla Lalli Music making scones three times.
Samin Nosrat's beauty uniform on Cup of Jo. Love how candid she is about antidepressants and how complicated it is to feel beautiful.
Why are there food halls everywhere?
Loved this podcast with Kerry Diamond, the founder of CherryBombe.
A shakeup in the restaurant reservation wars: Resy buys Reserve.
A (necessary) word about holiday food guilt.
A crazy story about how topping ice cream with chili oil went viral in China. Also I think I need this chili crisp.
Stories I wrote:
For Forbes: How 23 Year Old Alvin Zhou Went From Stealing Nutella From Columbia's Dining Halls to Tasty's Youngest Producer. There's froyo involved.
A new Bushwick Restaurant is serving $8 ice.
The marathon may be over but it's not too late to carbo load.
I got some great questions about Thanksgiving that I wanted to share in case you're in a similar situation.
Q from Hilary: I've been assigned a cold or room temp Brussels sprouts dish since oven and stovetop space is crazy surge pricing when I arrive at the thanksgiving I'm attending. I tend to think brussels are best warm, too, or left out. Any inspiration for me?
A: Raw Brussels Sprouts can definitely be tricky but I really love this salad. I would say to make anything a few hours ahead so the sprouts can tenderize a little bit and the cheese is so good and a little special/fancy for the holiday. Here are a few other from a source I trust that I haven't personally tried: Maple tahini brussels and one with arugula.
Q from Alicia: My Fiancee and I are hosting a very small thanksgiving this year which I'm really looking forward to, but despite coming from a big food family, neither my fiancee nor I are bringing any particular thanksgiving traditions. Not to mention a lot of the traditional Thanksgiving food is not my favorite. So looking for menu items that are tasty but may be a bit unconventional. 
A: I'd encourage you guys to consider different flavor profiles - like a turkey with mole or a chipotle butternut squash soup if you want to spend some time in the kitchen and try something new. Maybe you went on a trip together and loved the food there, it's a great excuse to design a menu around that.
I don't know if you've watched the Netflix show Salt, Fat, Acid, Heat, but Samin's remarks that the "traditional american thanksgiving" is really lacking in acid (except for cranberry sauce) and it's true. It's so carby and heavy, so shaking it up is a great idea. Keep me posted!
I'm happy to be a one woman Thanksgiving hotline so email me if you have questions but thinking ahead, reply to this email with your favorite winter beverage! Is it hot chocolate, spiked cider, eggnog, something else? I'm so curious! 
One more thing: Our November event is a potluck with She Spends on November 29th at Greenwich Treehouse. This is not a Thanksgiving potluck so please bring any dish you'd like to share and we'll have some drinks and eat together. She Spends is a great resource for getting right with your money and advancing your career and I'm so excited to work with them. RSVP here and please invite your friends.
Happy eating and thanks for reading,
xo, Abigail
Like This Needs Hot Sauce? Forward to the people you're thankful for and follow us on Instagram.