Discover more from This Needs Hot Sauce
A newsletter and community by Abigail Koffler about cooking, dining out, and making the most of it.
Over 3,000 subscribers
The universe wants you to have a bagel
Plus, the magic of rest and panzanella
Hi friends,
Welcome to a special Tuesday edition of This Needs Hot Sauce.
A few weeks ago, I found The Nap Ministry on Instagram through Danielle Prescod. It's an Atlanta based organization, led by Tricia Hersey, devoted to the the liberating power of naps (read more here). They believe rest is a form of resistance and reparations that pushes back against white supremacy.
I've never been much of a napper (even in kindergarten, I would sit by the window so I could read during naptime), but their posts have helped me reexamine rest and remove some of the guilt around it, while thinking about the racial and political implications of who is allowed to rest.
I used to really struggle on weekends, especially when I first starting freelancing and was working six days a week. That left me with one day off, Sunday, that I never knew how to fill. Doing nothing felt like a waste so I'd try to make lots of plans. If my friends were busy (or just wanted a day to chill), I'd wind up walking around inventing errands for myself or sitting on the couch strictly monitoring my own TV consumption. It felt like one true day off would set off an inevitable slide towards laziness. After lots of therapy, I know that's not true and enjoy three day weekends, summer fridays, and moments of rest throughout the week. But a reminder can't hurt, especially in the midst of a global pandemic. As we head into fall, I hope we can all make space for rest.
Now, let's dive in.
Something to cook:
One day I'll take a picture of one of our favorite weeknight meals: crispy tofu with peanut sauce, rice, and roasted broccoli. I buy extra firm tofu, press it if I have time, then cube it and coat with cornstarch. I roast it in a 425 degree oven for about 30 minutes, flipping halfway through until nice and crispy (every oven is different, so check on it). The peanut sauce is super simple: a 1/4 cup of peanut butter, grated ginger and garlic (season with your heart), 2 tablespoons of soy sauce, 2 tablespoons of sesame oil, 1 tablespoon of rice vinegar, and a drizzle of honey or maple syrup. A fork or whisk helps get it smooth. Stir in a tablespoon of sesame seeds for texture. The order of operations is: get the tofu and broccoli in the oven (I roast the broccoli on a separate sheet pan with olive oil, a drizzle of soy sauce, red pepper flakes, and sesame seeds), make the rice on the stove and then make the sauce while everything cooks. You'll be done in about 40 minutes and I'm definitely going to make this tonight.
Julianne and I got tomatoes at the Bushwick Farmer's Market by Maria Hernandez Park and I had big plans for mine. I made panzanella for the first time, following Dan Pelosi's recipe (he's @grossypelosi on Instagram and a delight). I made croutons with sourdough from Lighthouse (order a loaf of bread when you're ordering dinner, it's huge and freezes well) and added tomatoes, kale, red bell pepper, fresh mozzarella and chickpeas (not traditional but I wanted it to be more of a main course and they soaked up the dressing well). He doesn't have a time for the croutons, but I kept mine in for 25 minutes, tossing twice.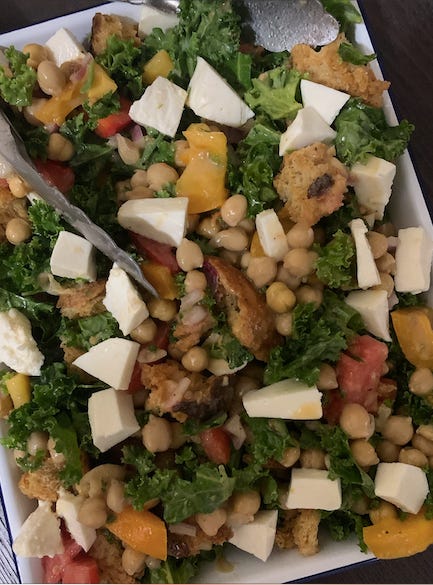 Julia and Julianne have both made this banana muffin recipe in the past few weeks and I have FOMO. Luckily, they share. The muffins are so good but wouldn't freeze well because of the crumble so you'll have to share with your neighbors :)
Fried rice is another weeknight go to. I used leftover rice and a truly sad selection of vegetables (a broccoli stem, some frozen kale, and onion). It still turned out great. I follow this method for any kind of fried rice and add chili oil at the end.
Something to order:
The power of social media came into focus on Saturday morning. I woke up and saw three friends enjoying bagels on Instagram stories. Then Julianne texted me to get bagels. Message, received. We walked to Knickerbocker Bagels and ate in the park. Their bagels are so good, the iced coffee is deli perfection and the line moves efficiently. My order is a whole wheat everything bagel with scallion cream cheese, red onion, and tomato.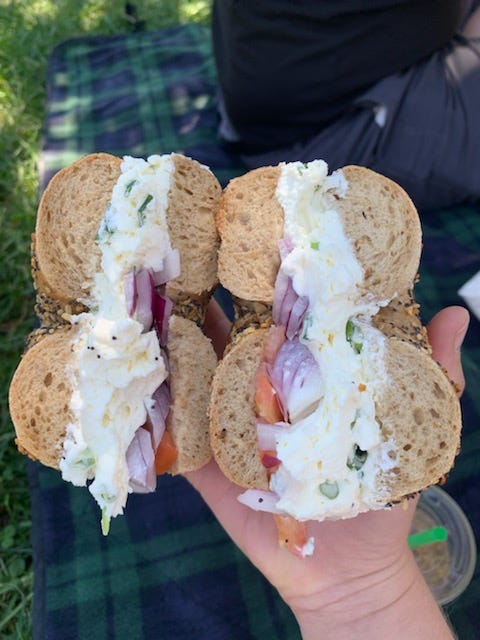 I had a belated birthday hang in the park on Friday and Addie brought profiteroles from Domi, a Chinatown bakery that combines Asian flavors with French techniques. The black sesame one was so good and not too sweet. Afterwards, Dale and I got cacio e pepe from the Ainslie, which hit the spot (they make their own pasta).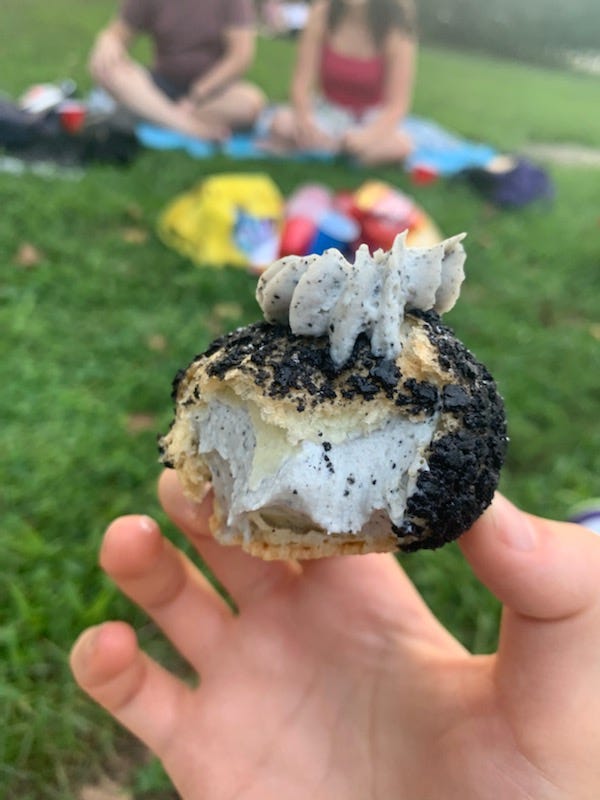 Sunday was a perfect beach day! We met up with LT, Jasmine, and her sister at Rippers. It was their first time in the Rockaways and it did not disappoint. Rippers is firing on all cylinders, the orders come out fast, the burgers are perfect, and their fries taste better on the beach. I'm already looking forward to next summer.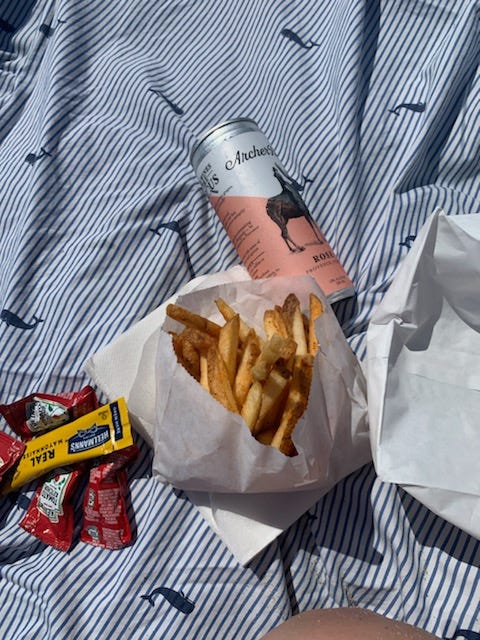 I don't know when I'll next get on an airplane, but I do feel spoiled to live near Nick + Sons Bakery. When they're open, the whole block smells like butter and their croissants are transportive. If you don't live in the neighborhood, you can preorder on their website and get everything you need.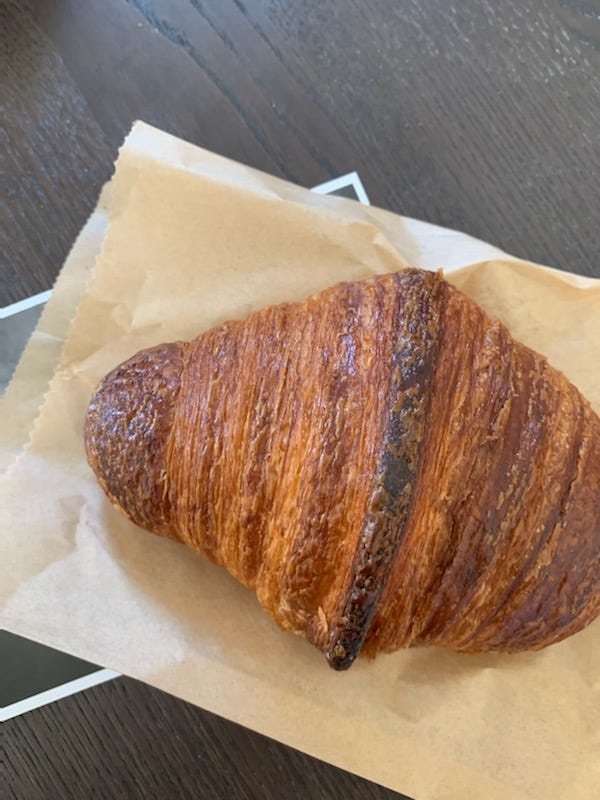 Something to read:
These Black women in wine are redefining the industry
Renting or borrowing a car? Here are some fun food destinations
An ode to boxed mix brownies (Ghirardelli mix brownies are the best brownies)
What does the future look like for the no tipping movement?
Kamala Harris is the the rare female politicians who openly talks about cooking, a fraught topic.
I just finished my bag of Red Bay Coffee and loved learning more about the owner and his goals for equity in the industry.
No one has a plan for indoor dining in New York City. And this is a horrible idea
Related: service workers describe rude customers, despite COVID
Not shocking and not great news: John T. Edge will remain the director of the Southern Foodways Alliance while the organization plans a more inclusive future. A change in leadership would have been a great start.
How moving back home changed the way I cook
A travel story from the before times about Spanish cider (made me miss Brooklyn Cider House)
A DC Food Hall opens with only ghost kitchens (thanks for sharing, Madison)
Why can't restaurants survive on takeout alone?
Camilla Marcus on closing westbourne, a delightful and communal spot in Soho
I haven't watched Netflix's Street Food but this commentary on the problematic Buenos Aires episode brought back lots of memories from studying abroad there.
What a quarantine project: a 12 year old started a mushroom farm in his basement
The God of Cookery is an Instagram account devoted to cooking Cantonese cuisine as an act of protest. They have a new free cookbook available for download.
Respect for the plate economy, which was led by Black women
An ode to trivets, because cute kitchen tools are nice.
A long, heavy read about how hunger persists in a country like the United States.
And finally, a deeply reported story on the life Breonna Taylor was building and how she was killed.
---
Thank you for your questions last week. I'll be answering all of them in a Q&A later this week (you can send more at anytime). In the meantime, we had a great discussion on IG about foods that taste better outside. Here are a few highlights…
-Hot dog, I do not make the rules
-Ice cream for sure
-Smores! Don't think you're allowed to eat them inside
-Oysters, rosé and french fries, all together
-Hamburgers, made with love at a family bbq
-Are cocktails a food?
-Margaritas! (that counts as a food, right?)
---
This week, I'd like to know what strong food opinions you have. An example from reader Sydnee who suggested this question, "I'm a die hard mayo gal and I will ride for Duke's mayonnaise until the day I die." Dale has similar feelings about Trader Joe's ketchup and actively avoids Heinz. So, lay them on me, all of your firm food beliefs! I'll share the answers next week.
As I look towards fall, I'm thinking about bringing back Zoom happy hours once park hangs become difficult. Let me know if you'd be interested!
---
Have a good (short) week and thanks for reading.
xo, Abigail