This weekend's fundraiser and a workshop recap
Plus, a podcast that will make you smile
Hi friends,
Welcome to quick bonus edition of This Needs Hot Sauce.
I have two things to share:
1) I'm hosting a cooking class/happy hour on Sunday afternoon at 5 p.m. for the Hattie Carthan Community Market in Bed Stuy. I found the garden through the Reparations project for Black-Indigenous Farmers map shared by Leah Penniman of Soul Fire Farm in this interview. Check it out to find a project in your area.
Here's part of their origin story: In 2009 community advocate Yonnette Fleming led gardeners to revitalize and reclaim an abandoned land parcel which was used to dump toxic materials for over twenty years.  In a matter of years, the lot adjacent to the Hattie Carthan Community Garden was to become the Community Market.  Thousands of volunteer hours helped us to convert that blighted property into a thriving farmers market which increases the neighborhood's limited access to fresh food and thus our overall community health.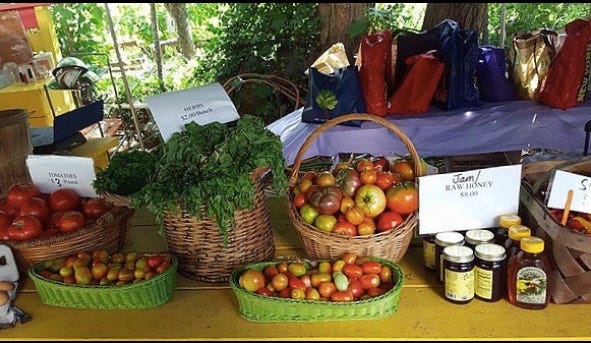 The event will be at 5 p.m. EST and we'll make a snack (homemade pita chips are involved), sip drinks and hang out. I'll share a little more about why I chose to support the Market and you can donate any amount directly or via venmo (@Abigail-Koffler).
To sign up, fill out this form and I'll send you the recipe and Zoom log in info (I know the extra step is annoying but it's for security).
2) A recording of my Substack workshop is available here if you missed it (it's the most recent event). Over 1,000 people attended, which I'm still processing. THANK YOU!
I talked about starting a newsletter without a huge audience to counter many of the stories you see of successful writers leaving huge jobs and building a six figure income within months. Spoiler alert, that's not what's happening here (but I am open to any and all opportunities).
Even so, writing this newsletter over the past several years has transformed my life in nearly all areas and also created an incredible community (I wrote a little more about this when I launched paid subscriptions last year). In the presentation, I shared ways I've grown (newsletter swaps, paid advertising, and yes, Facebook) and some outcomes starting a newsletter might lead to (creative freedom and ownership, for one). If you're inspired to start a newsletter, please reach out here or on Instagram so I can check it out!
---
Thank you for your support and I'm wishing you a safe and restful weekend. I recommend listening to the latest episode of the Home Cooking podcast with special guest Sam Sanders and making some cookies or strawberry spooncake. We're also discussing new models for outdoor dining on Instagram if you have thoughts!
xo, Abigail