This year, we eat more tacos
Are you ready?
Hi friends,
Welcome back and happy new year! I hope your Monday isn't too terrible and I'm excited about lots of fun newsletters and events this year! If you're in New York, save 1/21 for our next happy hour! It will involve wine.
Now, let's dive in.
Something to cook:
I stuck to my tradition of eating breakfast tacos on New Year's Day (usually at 2 p.m.) and it's really the way to go. Just buy the ingredients while you're picking up party supplies and you can avoid brunch crowds and eat in your pajamas. Our basic formula is soft scrambled eggs (with some cheese if you have it), jazzed up refried beans (reheated in a pan with sauteed onion and cumin), lots of hot sauce, tortillas charred over the burner. Serve with coconut water over ice with lime and you'll be feeling great in no time.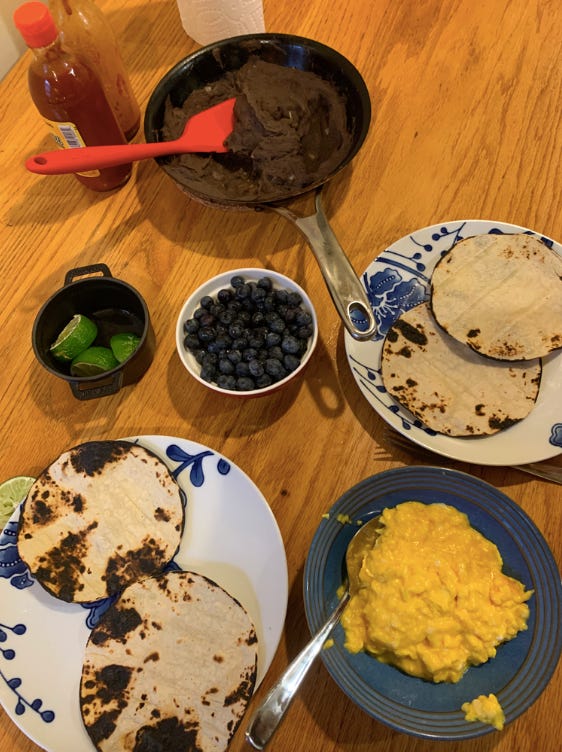 Thanks to the help of my brilliant Instagram followers, I found labneh at my local Whole Foods and made the dip, without cilantro because I didn't have it. It wasn't my favorite tbh but I do love having labneh around and have been using to top another bath of egg tacos, this broccoli white bean situation, and more. Labneh is also so delicious topped with olive oil, za'atar and some flakey salt.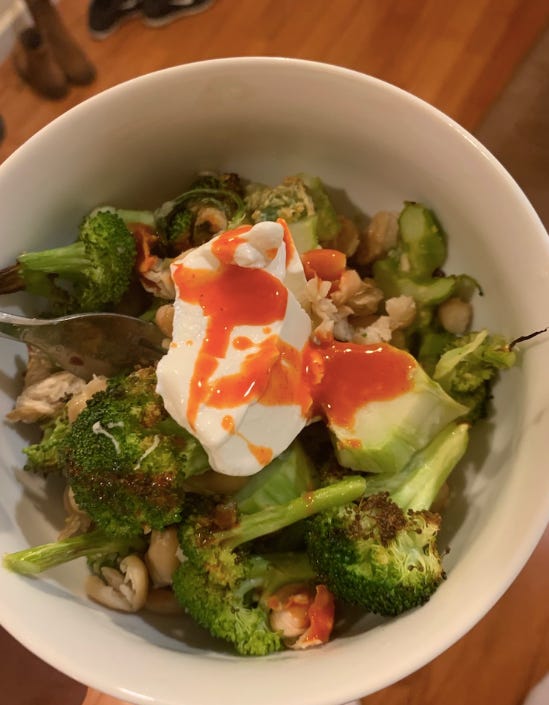 Julia and I hosted a New Year's party for the second year in a row! It was tons of fun, complete with a star backdrop, a festive cocktail (we used vodka instead of gin), and a few party games. We made some classic party snacks like our house chocolate chip cookie (we made the dough a few days before and froze the rolled out cookie balls), a retro spinach artichoke dip with pita chips, party nuts, and frozen pigs in a blanket. People nibbled, drank (I popped some of my fatcork Champagne and a Martha Stoumen sparkling zinfandel), and celebrated.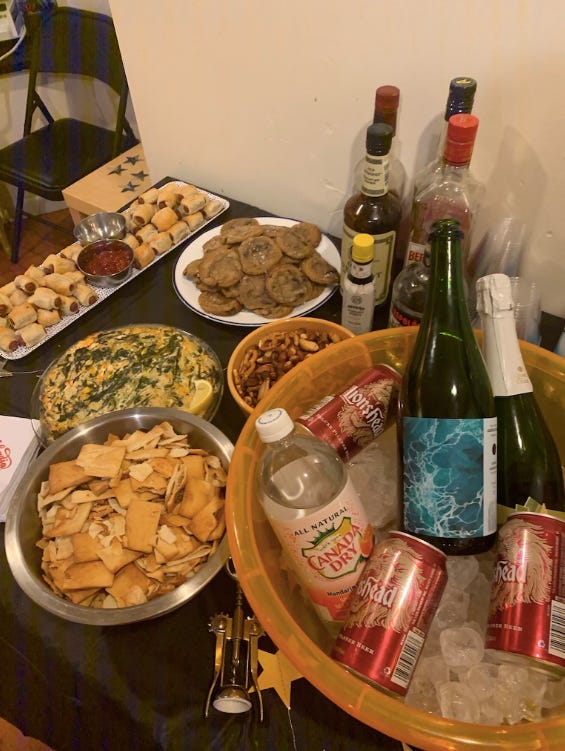 Something to order:
On New Year's Eve, Julia and I went to pilates before diving into party prep. We wanted to grab a coffee after and discovered the adorable Charlotte Patisserie, which has a ton of seating and a full breakfast menu. We split an almond croissant (so good) and sipped cappuccinos. This might be a frequent post Pilates stop for me!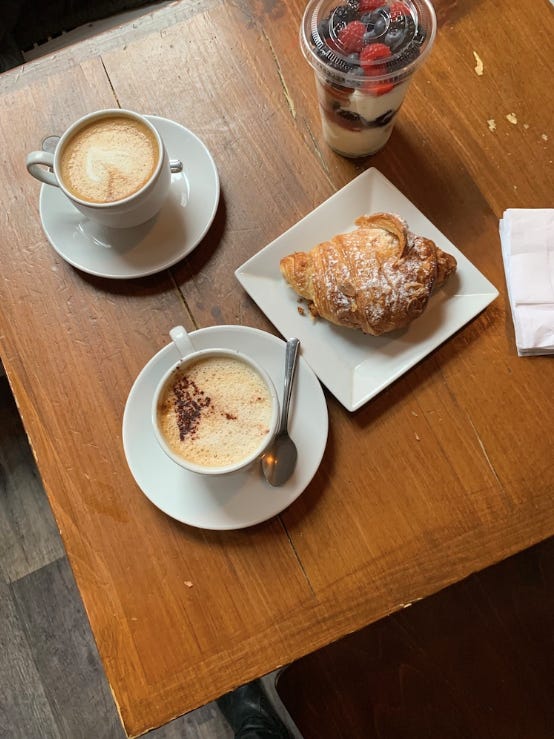 My first dinner of 2020 was pizza from Roberta's with Dale. We picked it up (along with my favorite salad) and I am still such a fan of the bee sting. If you live nearby, call ahead and walk over to pick it up.
In France, oysters are a common way to ring in the New Year. I wish we did that here (my dream is to throw a party where someone is shucking oysters on the spot, please let me know if you can help make that happen). Instead, I waited until January 3rd to have oysters at Pinkerton. The prices have gone up slightly, but it's $1.50 an oyster all day so you don't have to rush there for happy hour.
I've eaten tacos for so many meals this year. From breakfast tacos at home to a quesadilla at Los Tacos and a rajas taco at Taqueria Diana, which has great guac, I have no plans of stopping.
The fam celebrated Granny's birthday with lunch at Mozzarella & Vino near the Moma, which has very good cheese. My favorite dish was the farro salad with stracciatella.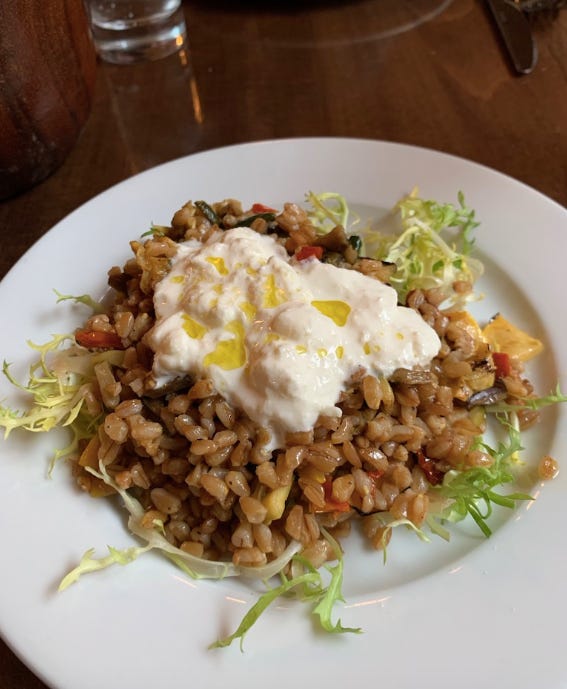 The Topaz is a lovely neighborhood bar with great cocktails. Leah and I met Manish there for a catch-up session and it was the perfect setting. I love their negronis.
Something to read:
How one pastry chef influenced a whole school of tarts.
Love Madeleine's ode to a superior Mexican beverage
8 pizzas that haunt my dreams from 2019
I wrote about Claudia's, a Guatemalan restaurant in East Williamsburg, for Edible Brooklyn.
This cartoon about a weekend breakfast ritual is so lovely.
Cumin makes most dishes so much better. Here for its renaissance.
Sometimes you need a Joan pour.
Why does everyone love soup now? (guilty)
I haven't been to the Nordstrom flagship yet, but I'll definitely get a drink when I do.
Nigella Lawson's reflections on turning 60 are worth a read.
---
This week, I wanted to share some more favorite meals of 2020 and some things Isa is looking forward to in 2020.
Emily's favorite meals (save these if you're headed to Philly soon)
1. Valentine's dinner at Musi. The menu, the service, and the food was excellent. Worth the trip out to the neighborhood in South Philly. 
2. Anniversary dinner at Zeppoli. This was some of the best Italian food I've had outside of Italy. The softest, creamiest gnocchi I've ever had. Get the zeppoli for dessert! I would drive to Collingswood any day for a repeat of this meal. 
3. Ben's birthday dinner at Pizzeria Beddia 2.0. The space is kind of cramped, loud and echo-y but the natural wine list, the tomato pie, and the pizzas (obviously) are impeccable. If the judion beans are on the menu, you must order them!!
Isa has big plans for 2020. Like her, I want to have more dinner parties this year! And eat more Georgian food. Save these recs if you live in or are visiting San Francisco.
Here's a list of things I'm looking forward to cooking, eating, and revisiting in 2020:
Making this spicy kimchi tofu stew on a cold, drizzly weekend in SF

Checking out the new outpost of Beit Reima (which specializes in Arabic comfort food) and recently opened a spot right on the subway home from my commute. 

Trying the Georgian wine list and Eastern European fare at Dear Inga. 

Whipping up a mid-week dinner of Bulgogi style eggplant over quinoa and other roasted veggies.

Cooking one recipe from my grandmother's hand-written recipe book a week. 

Treating myself to a late breakfast at the Tartine in the Inner Sunset. 

Hosting friends for dinner on Sunday evenings and cooking some of my all-time faves, like this baked orzo with eggplant and mozzarella.

Checking off all the restaurants on our SF list with Noah before we make moves in the fall. 

Moving to a new city (TBD) and immersing myself in a new food scene! 
---
Now, I want to know what your favorite taco is. I need to keep my taco consumption up. Do you prefer an al pastor, a mushroom taco, or a simple chicken version? Talk to me about salsas, a squeeze of lime, the whole enchilada. I'm always on the lookout for new spots in New York and will share all the responses next week. Reply to this email and let's talk!
Happy eating and thanks for reading.
xo, Abigail
P.S. If you're on the fence about a premium subscription, remember you'll get full access to the archives when you sign up. Recent topics include the best food-related books to read this year AND go-to weeknight dinners.