Bartering for Bagels
Plus, your grocery shopping tips and a scaled down cookie recipe
Hi friends,
We have a lot of new faces this week (welcome!) so I wanted to introduce myself. I'm Abigail Koffler, a freelance writer in Brooklyn and I started this newsletter in October 2017 as a distraction from a job I really disliked (more on that here). It's become a place to share recipes, restaurant recs, and lots more. We also host happy hours (IRL and digital, depending on the state of the world). You can reach out any time with questions or say hi on Instagram, I'd love to hear from you.
Some housekeeping:
On behalf of my family, thank you for all the warm wishes in response to my mom's story. I was nervous to hit send and we're all overwhelmed by the responses.
I'm going to be guest editing Garden Variety on Friday, May 1st and they'll be popping in here next week. Garden Variety is full of recs from all the best corners of the internet and I'm so excited to collab with them.
This Wednesday, April 29th, I'll be going live with She Spends at 8 p.m. EST to talk about food and money. I'll share some grocery shopping tips, favorite pantry staples, and answer questions. Alicia and I are really excited and I hope you'll tune in on Instagram.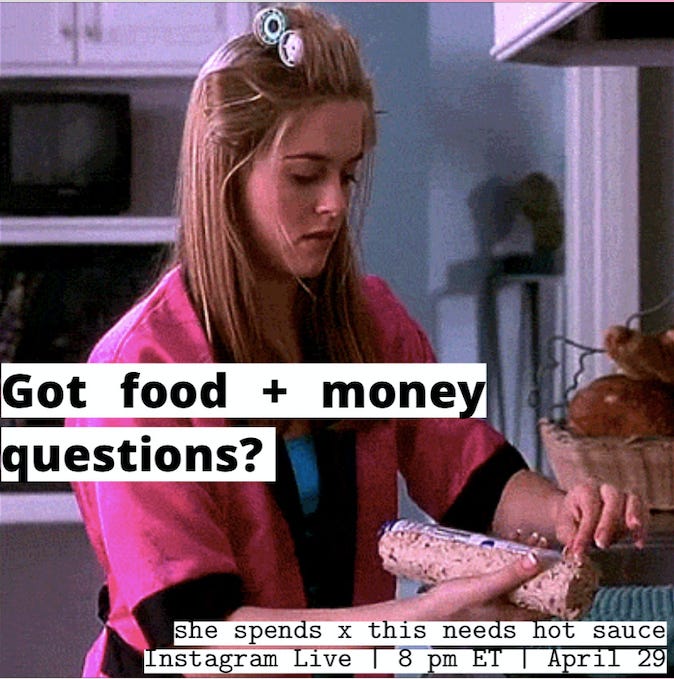 Now, let's dive in.
Something to cook:
I made another batch of Smitten Kitchen's two perfect cookies and I finally typed up the recipe and put it in a google doc. Make these a quarantine routine.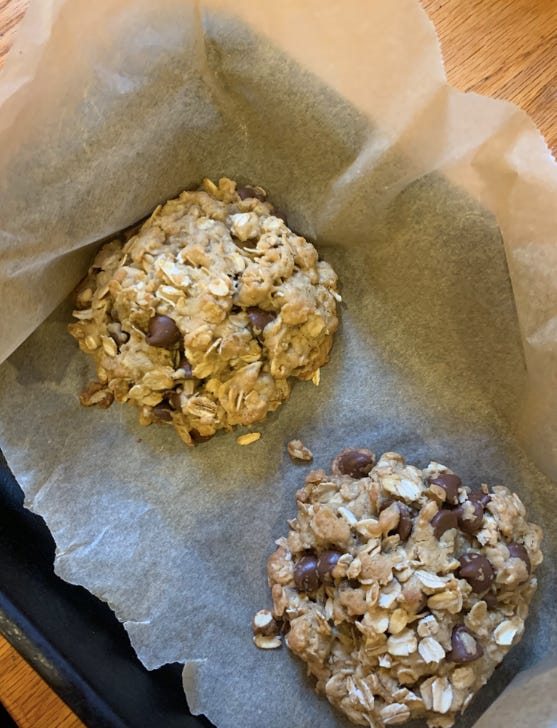 My lunches have been haphazard lately but last week, I made a big batch of grain bowls with eggplant and zucchini (thanks for the rec, Natalie). I stored the quinoa, veggies, and dressing in separate containers and assembled it each day, adding extras like hot sauce, spinach, and za'atar. The tahini dressing is really good—slowly add water instead of olive oil and it's a perfect consistency. This is another great grain salad, with farro, asparagus, and feta.
This hardly counts as cooking but Julia and I got microwave popcorn on our most recent grocery run (we made it over 2 weeks) and topped it with nutritional yeast. Popcorn + red wine always makes me feel like Olivia Pope and it was the perfect snack for our third virtual happy hour. I'll be announcing the next one soon!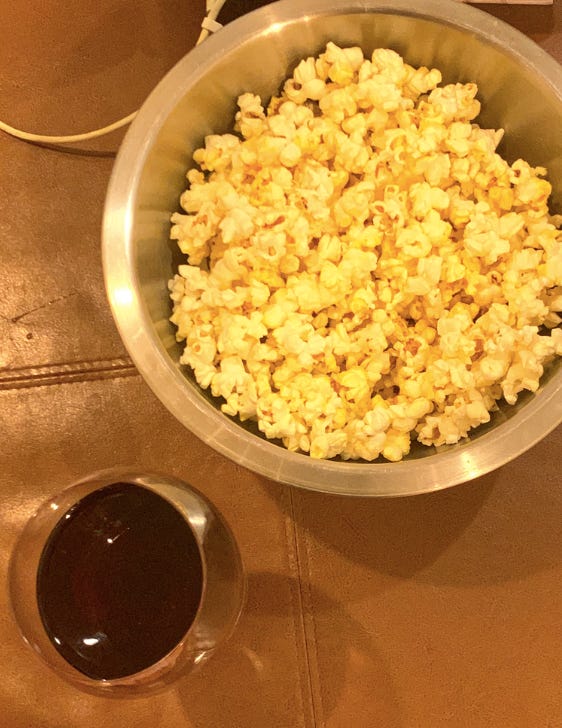 I'm so lucky to live near Leah and Lizzi, who spent much of the weekend making homemade bagels, which they generously shared. They made my Monday breakfast much more exciting. I sliced mine very unevenly so I decided to use two different toppings: cream cheese, onion, and everything but the bagel seasoning on one half and almond butter and jam on the other. Next up, we're going to bake banana bread to thank them (we're all about trades in our corner of Brooklyn).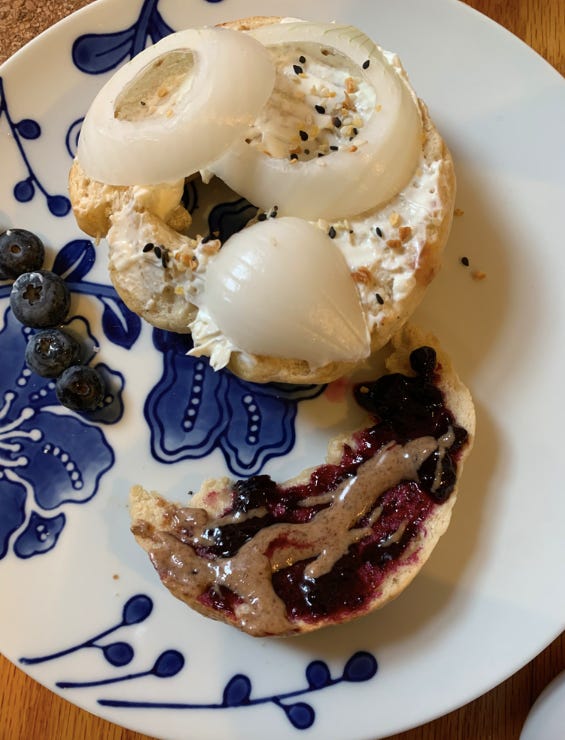 Julia found a new favorite soup this weekend that I wanted to share. It's creamy and savory and freezes well (she portions it out using a soup bowl) in individual ziplocs.
Something to order:
I was so excited when Win Son reopened for takeout and delivery on Caviar. We finally ordered it on Friday. They're getting slammed with orders, so make you place yours early and consider pick up if you live within walking distance. We ordered right at five and it was ready quickly. It was such a joy to eat Win Son again, even at home. We got sesame noodles, eggplant, cucumber, and a street salad, plus a batched cocktail. A perfect Friday night.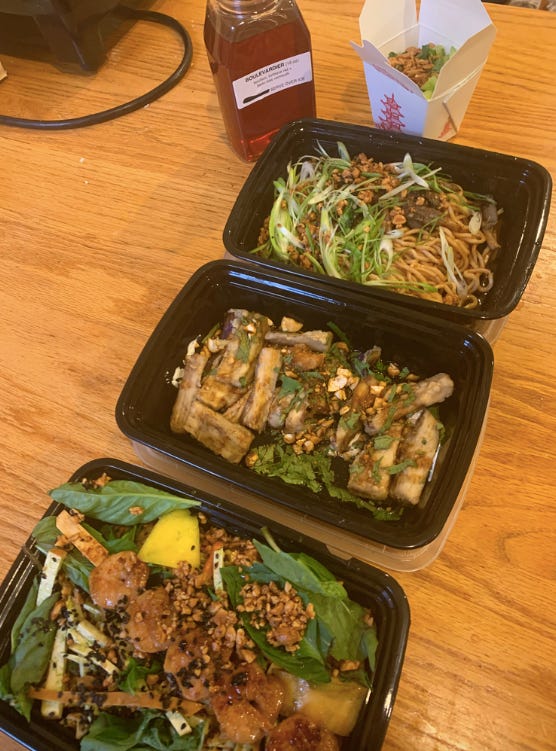 On Saturday, I took a really long walk for the first time in quarantine which felt great. Then Dale and I picked up Williamsburg Pizza. He suggested the margherita pie with fresh mozzarella, which was really good. And I suggested we watch Love and Basketball, which I had never seen. It's so good (reading this article moved it to the top of my list).
I just pre-ordered this cookbook, which supports ROAR and contains recipes from New York restaurants and authors (including Smitten Kitchen).
I took myself for a cappuccino at Dunwell to celebrate some good news on Wednesday. I spill constantly, so I never thought I would miss walking and drinking coffee, but I do. It still tasted good once I got home though.
Something to read:
If you live in Brooklyn, you can submit photos or other digital documents from this time to the Brooklyn Historical Society's Covid-19 project. We're living history after all.
Made me laugh: subscription boxes for consideration.
From Hong Kong, a preview at what eating out might look like when restaurants reopen.
A daughter remembers growing up in San Francisco during the AIDS crisis, when her mom's pot brownies became a lifeline for many. She even shares the recipe.
Such a fun challenge: Washington Post food staffers had famous chefs tell them what to cook from their pantries.
My first trip to Paris was defined by Rick Steves' walking tours and it's great to get his take on quarantine, learning to cook, and pausing his travel schedule.
Tabitha Brown's tiktoks spark joy and I love this interview with her.
Why are Israel's shuks closed while the supermarkets are open?
Good news: coffeeshops might just survive this
How the Bon Appetit test kitchen is creating content in isolation
The best wine subscription boxes (can personally vouch for fatcork for champagne)
Why we need to be supporting restaurant employees, not just famous chefs during this crisis.
Ottolenghi's test kitchen team transitions to recipe development at home
When coronavirus brings up lots of food anxiety
The trials of grocery shopping online—sometimes you get 10 bunches of bananas.
Longread: Gabrielle Hamilton wrote a beautiful piece about closing down her restaurant, Prune, and whether there will be a place for it in the future. Several things here: Gabrielle Hamilton and her wife tried to reopen the Spotted Pig to help out their friend Keith McNally (a noted bad dude). She doesn't really explain how she's taking care of her workers since she didn't get up a gofundme for them. There's a weird bit making fun of people who eat brunch, even though she makes lots of money from brunch and she has an odd dig at Amanda Cohen. She's a gifted writer (her memoir is beautiful), but she wouldn't be my choice to serve as the voice for restaurants everywhere.
I contributed a recipe to this fun pantry cooking project (they're still taking submissions if you want to share).
We got a grant! This Needs Hot Sauce was one of 44 Substack grant recipients and I'm so excited. Look out for some upgrades in the next month.
Angely interviewed me for her newsletter all about freelancing and I'll be featuring her in a future edition of TNHS.
---
Last week, I asked about grocery shopping strategies. We're still going in person, to a very well-stocked bodega/green grocer. We bring a paper list and wear a mask and gloves. Since we don't want to run back if we forget one thing, we keep a running list on the fridge and both have notes in our phones of past lists so we can review before shopping.
Alicia's spouse is very prepared: This one is especially my household's wheelhouse cause I have been low key been joking about how I married a prepper but it has been over a month since we've left the apartment. We had a CSA before the Pause (Local Roots is really great if you're in Brooklyn), and they do contactless delivery now, so the weekly fresh veggies have been a real lifesaver, on top of a stash of canned basics as well as things like easy mac and beefaroni. We do a rotating weekly grocery delivery (normally imperfect foods, but we've been hunting down alternatives because they- like most the world are having some supply chain issues) mostly restocking or just today we got cheese delivered which we left out of our original stocking up and has been seriously missed.
Julianne and Ian are team Hello Fresh: We receive weekly HelloFresh meal kit deliveries, and this week we actually upped our game to a 4th (!) meal instead of the average 3. It felt worth it to not stress about a meal! I also have been going to Orange Tree (the saving grace of our neighborhood, such a perfect little bodega) a bit to get ingredients if needed, although these quick trips for a handful of items seems less essential after Ian did a BIG grocery haul this weekend. He biked to Wegmans and his life seems to be changed forever lol. It makes such a difference to be able to buy more than you can carry on your own – he filled two large reusable bags in his bike basket and he wore a backpack. I feel like we're now stocked up for a month and he really enjoyed how well organized, sanitized, and stocked the store was!
Nikki can find most things except for one staple: The only thing I can't find anywhere is YEAST! Will trade other pantry staples for yeast. We're back to a barter economy it feels like.  (I've seen local bakeries and pizzerias selling yeast in Brooklyn. Call yours and see if they'll sell you some).
Erica's family is lucky to be isolating with her: I'm self-isolating with my parents, spouse, brother, and his girlfriend and I'm the designated shopper. I've been making a running list (mom wants more crackers, dad is out of horseradish pickles, Quentin needs half and half, etc.) and going alone to a grocery store once every 10 days or so. Going right at opening usually means lines are short or non-existent. And though most stores are taking measures to limit customers, the experience is still stressful! My cart is so full it's unwieldy by the end of each trip, but we're not wasting food— just feeding a lot of people and lucky to have to means to do so. We do meat through ButcherBox and have made a couple of trips to do curbside pick up from our local deli for things like cold cuts and condiments. The only thing I've had a lot of trouble finding is frozen veg— I even found yeast, flour, and toilet paper!!
---
This week, I'd love to know what you're drinking in quarantine, whether it's alcoholic or not. Have you tried dalgona coffee, mastered a new cocktail, or opened lots of wine? I'm deeply into seltzer as always and wake up excited to drink coffee. We're also enjoying our latest wine delivery from Bibber and Bell.
Reply to this email and let me know what's keeping you hydrated and happy. I'll share the responses next week.
---
Happy eating and thanks for reading.
xo, Abigail