Hi friends,
Today's special edition is a bit different. I haven't mentioned it before, but both of my parents, who live in Queens, had COVID-19 and are now mostly recovered. My mom had a pretty intense case and she offered to share her experience with all of you. Even though I was in touch with her during her illness, there were so many details she hadn't shared with my sister and me, probably to make us worry less (we were still very worried).
I'll be back on Monday with lots of recipes, articles, and more and will keep our generally light tone (I know many of you come here for a break from the news). If you're feeling up to it, I hope you'll take a few minutes and read my mom's story. Then call someone you love and see if there's a way you can help them today.
xo, Abigail
---
Here's How People Took Care of Me While I had COVID
I am a well-educated, affluent, middle-aged, married, white woman with health insurance and lots of friends and family members who are doctors. It matters.
I tried to prepare for being homebound. I stopped well short of hoarding, but I did do some shopping in advance of our "Pause." I bought pasta, cans of diced tomatoes, quinoa, and extra bags of dried beans. No list that we saw in print or online for preparation included the things that one needs if you actually get sick: a working thermometer, a pulse oximeter plus rubbing alcohol and cotton balls to clean these items. Frankly, several doctors asked me if we had a blood pressure cuff. No, we did not. Shocking. 
My husband got sick first. Thankfully, his case was relatively mild and quick. The onset of his illness began our total reliance on friends for anything outside of our home as we were both quarantined. 
Neil was well enough for us to work together from our separate zones in the house to discuss meal planning (we have been meal planners since we moved in together in 1988) and the ingredients we had on hand (Ed note: For weeks, my parents stayed apart from one another in their house, dividing the rooms and using separate bedrooms and bathrooms). Our friends took over procuring food for us. One couple texted us each Friday to remind us that they would be going to the store on Saturday. Some friends were able to snag Fresh Direct or Instacart deliveries, a competitive Olympic sport for which I believe our friend group deserves a gold medal. This was a huge help. One couple has a son who works on a farm upstate and is making deliveries to Queens every few weeks. Fresh broccoli rabe, anyone? Another friend had a few spare disposable masks through her husband's work.  When you have lived within one mile for over 30 years, your network is deep.
Text messages from family and friends were super helpful while Neil was sick. We learned to record his vitals twice a day and to start tracking mine from a cousin who is a doctor. By this point, we had secured working thermometers and a pulse oximeter. 
Despite our best efforts to self-isolate, I fell ill. Luckily, Neil was no longer acutely ill when I got sick, though he was not fully recovered. The kitchen changed hands and we otherwise stayed in our zones. My illness was acute for two weeks.
I had some scary days where my blood oxygen levels were not great, reaching numbers that we had previously been told would be worthy of a visit to a hospital. With hospitals in our vicinity overcrowded, several doctors told us to stay at home. At the same time, we were asking which hospitals were less slammed than others, just in case I deteriorated further. No one ever wants to go to the hospital (except for the birth of a child), but the thought of going to a NYC area hospital at this time was beyond terrifying.
My primary care doctor and a family friend who is an ER doctor prescribed me with medication that seemingly worked to manage my symptoms. We were to stay in touch and see how I progressed. Between my primary care doctor and our personal squad of doctors, I was checked on daily. Plus, each family friend doctor told us we could call at any time, night or day, and meant it. 
Two dear friends volunteered to collect said medication. One needed to go to two different drug stores--one for medication, another for the equipment--as Seder was starting. That night was rough. Neil worked so hard to lead Zoom Seder and make me feel included. I mustered up the strength to participate a little bit. Neil brought an entire Seder plate up to my room. Sadly, I couldn't reach him via text fast enough before he had prepared a gorgeous plate of food for me - I was full from the soup and one piece of gefilte fish. Later that night, I experienced a side effect (racing heart rate) from one of my medications. Yet another doctor friend responded to a late-night text message, providing a fix that could be implemented with a cold washcloth. 
Mother Nature also played a role in my recovery. As soon as Neil became ill, I relocated into Leah's room, which I now call the bird's nest. She has many windows in her corner room and I opened the blinds each day to enjoy the flowering trees from bed. The birds sang for me each morning, seemingly in my ear. 
While I was acutely ill, text messages and emails from literally all over the world (Israel, London, Vancouver, Canary Islands, LA, Ann Arbor, DC & Boston) were incredibly helpful. I'm not sure that my replies were always well crafted or made much sense, but I tried to reply when I could. Strength came from unexpected places. My cousins sang the Jewish prayer for healing and recorded it for me. I used some of the words as a mantra before I went to sleep each night: the renewal of body, the renewal of spirit. My pilates teacher simply told me that it wasn't my time to go and I chose to believe her. [Israeli women can be very convincing. Maybe it's the accent?] It sounds like nonsense, but I really was carried and supported by all the love, prayers, and good wishes that were sent in my direction. My name was on our temple's get well list plus one at a Greek Orthodox Church. I was and am grateful for all of it. 
For my extra dark moments, Neil, my sister, and one dear friend took the brunt of knowing my deepest fears. Their support during my spiraling moments was essential. When I confessed to being scared, people were very comforting, validating that feeling, not deflecting it away as being unwarranted. 
On a lighter note, food-wise, Neil never stopped preparing healthy and nutritious meals. Our strategy from the beginning of the "Pause" was to eat well and to try to resist the urge to stress bake. My appetite took a beating and I think I lost 7 or 8 lbs. One morning, I had a bite of matza and one strawberry for breakfast. Neil started to figure out how to portion out food for a doll and that worked better. I was lucky that I never lost my sense of smell or taste.
We had a few kind friends drop off homemade goodies. Given that everyone is busily cooking three meals a day and many of our friends have kids at home, the effort required to make extras for us really was something. We had biscuits delivered one weekend morning, za'atar babka another day, and an amazing container filled with a non-Jewish version of matza ball soup (pork might have been involved) that was delicious. 
The mask makers in our community appeared and left a few masks at our door. I believe that we are going to need masks in large numbers for the foreseeable future. Having a few masks in hand made it possible for us to leave the house when we received permission to do so. 
On April 13, our internal separation was declared over by my doctor. Being able to hug Neil was beyond comforting. We were declared to be fit enough for social distance living again by my doctor. Rational or not, I am not eager to go to the grocery store anytime soon. We have the luxury of getting food delivered because a second wave of friends found out that we had been ill. Food started coming from new sources. One person found a place to get fish. Another recommended a source for fruit and vegetables. Someone stopped at a farm stand on the North Fork. We then had a large box filled with eggplants, zucchini, tomatoes, etc. Yet another friend gave us first dibs on her Fresh Direct order, where the number of items per order is now limited.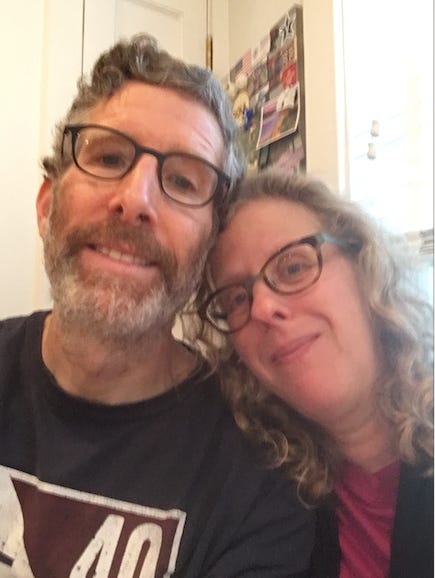 My parents reunited in their kitchen
At some point, we were able to be helpers and offer our friends access to a network of small farms upstate through our CSA. It was nice to be able to be the ones with a resource to help others stock up.
This second wave provided us with a huge opportunity to share some groceries with our daughters. The ability to parent a little bit was very gratifying. We have been able to do two quick sidewalk drop-offs. Seeing our girls in person was beyond joyous and more than anything, we can't wait to hug them and share a meal. 
Throughout it all, food, messages of love and support, plus a huge dose of medical care and good luck pulled me through. Frankly, it was overwhelming in the best possible way to know how many people cared about me, many of them checking in on a daily basis. Neil never wavered and provided me with loving and compassionate care every moment. He continues to take care of me, serving as my respiratory therapist under the guidance of my PT. 
We are on the other side, thankfully. In addition to procuring food and sharing any resources we can with our friends and girls now, my biggest joys are being able to check in on others and to try to resume my volunteer work with Immigrant Families Together. I am working with a small team of volunteers to help the mom in a family we work with make masks to sell. Focusing my attention outward is a nice feeling.
I hope everyone stays well and maintains some semblance of sanity. 
—Karen Koffler, Queens, NY (epicenter of COVID cases in NYC during the time of my illness)