How are you really doing?
Morning walks, outdoor udon, and Sohla's wisdom
Hi friends,
I woke up this morning in a bit of a mood. After scrolling through the internet for too long, I got out of bed and went on a walk. I've been taking daily walks since sometime in April, only skipping when it's really rainy, and they're so important to me. Today, I paired my walk with an episode of A Thing or Two Podcast from Of a Kind founders Claire Mazur and Erica Cerulo. The episode was a check in with one another, touching on issues like working from home, socializing, things they miss, small victories, and news consumption. Simple stuff, yes, but also big stuff. I'm very glad they shared their conversation (listen here) and I'm inspired to schedule some checkins with friends. I need updates and I want to know how we're doing. (I really want to know how you're doing so please let me know!).
Also on my walk, I stopped at Lella Alimentari for a cappuccino and frittata. After sunshine, a good listen, caffeine, a good breakfast, and some hugs from Dale, I feel a lot better.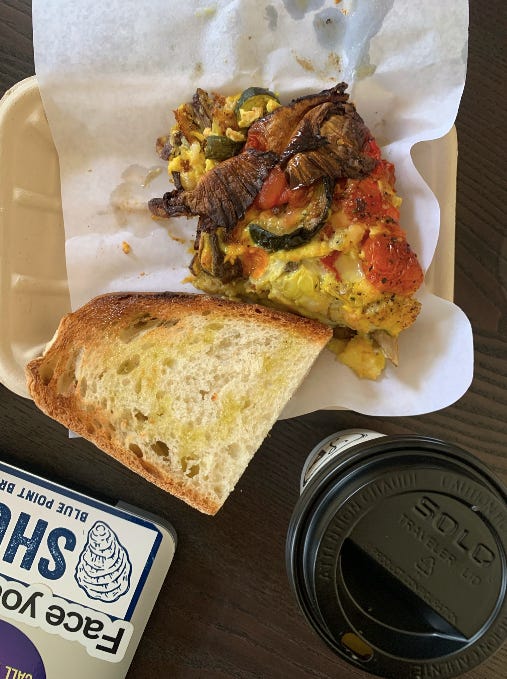 Switching gears a bit, Bon Appetit videos are back. I'll address them further down in the something to read section but TLDR: I won't be watching them going forward and I don't recommend you do.
Finally, a year ago, I officially launched paid subscriptions to This Needs Hot Sauce! I'm so grateful to everyone's who has supported me since and will have more goodies for you later this week. If you need to update anything with your subscription (like a new credit card), you can contact Substack support or check your subscriber dashboard. If you're having trouble, please let me know!
Now, let's dive in.
Something to cook:
Last night I roasted my honeynut squashes per Isa's instructions. Trim the ends, slice them in half lengthwise and remove the seeds, rub with olive oil and sprinkle with spices (I did salt, pepper, cumin, and red pepper flakes) and roast at 425 for about 40 minutes. The taste is similar to a butternut squash, but they're much easier to cut and you can eat the skin. I ate half of one with some chickpeas and spinach and a little lemon herb sour cream (sour cream + lemon juice + lemon pepper + dried thyme) and will use the rest this week in salads or pasta.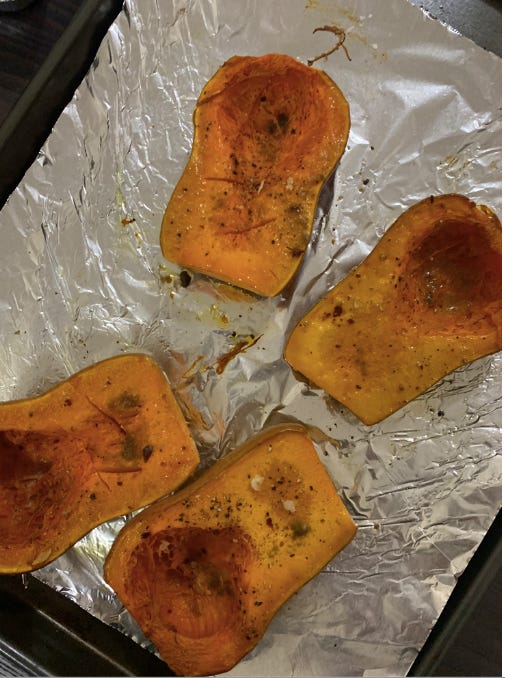 Martin's Potato rolls are good for more than just burgers. I made a bodega inspired breakfast yesterday with an egg over easy on a roll with salt, pepper, Valentina hot sauce, and ketchup. So good, especially when the yolk is still a little runny.
I'm a broken record but I did make more banana bread. The bananas were super ripe, with black peels, which did make the final bread a little better. So if you've been letting your bananas languish, sweet things are coming.
We got some quick cooking white rice from Wegman's that's ready in 5 minutes and it's my favorite thing. I've been making rice bowls with crispy baked tofu, quick pickled vegetables, and drizzles of soy sauce and chili crisp. And for comfort food, rice with soy sauce and butter is perfect.
Something to order:
I love any excuse to visit Fort Greene, and Cafe Paulette, plus the chance to see Oset and Erica, more than justified the quick G train ride. The French cafe is right by the park and has tons of outdoor seating and very cozy vibes. We just got wine and hummus but the food looks good too.
Julia and I are watching the Bachelorette this year and went all out for the premiere. By all out, I mean we drank rosé and ordered a margherita pie from Williamsburg Pizza. It was extra special with some hot honey from Red Clay, which they generously sent me to try.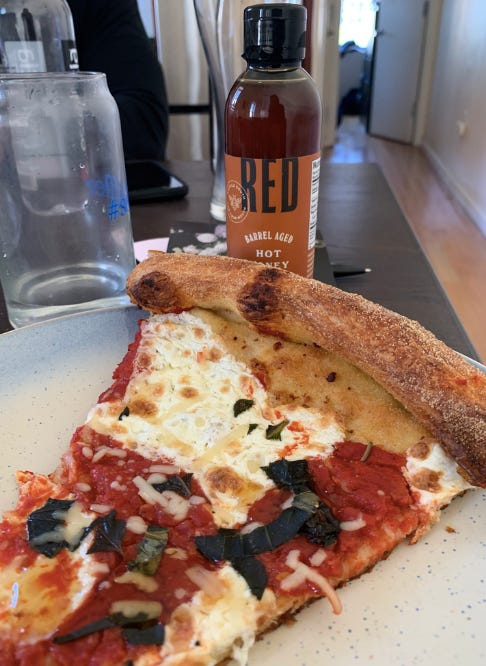 Outdoor dining has thus far been manageable with the cold. Eating hot foods definitely helps and udon is ideal. We went to Raku in Soho with Manny and Michelle and it was so good. They have a few locations but the Soho one is the biggest, on a stretch of MacDougal full of restaurants. They offer hot udon in broth, cold udon for dipping, and donburi. The hot udon is the move and they have a bunch of them with veggie broth. I got the sansai with mountain vegetables and maitake tempura. For appetizers, get the agedashi tofu and the fried chicken. I took home leftovers and it was just as delicious the next day. Will definitely be back. They don't take reservations, but we put our names down at 6:30 and got a table a little after 7 on Saturday.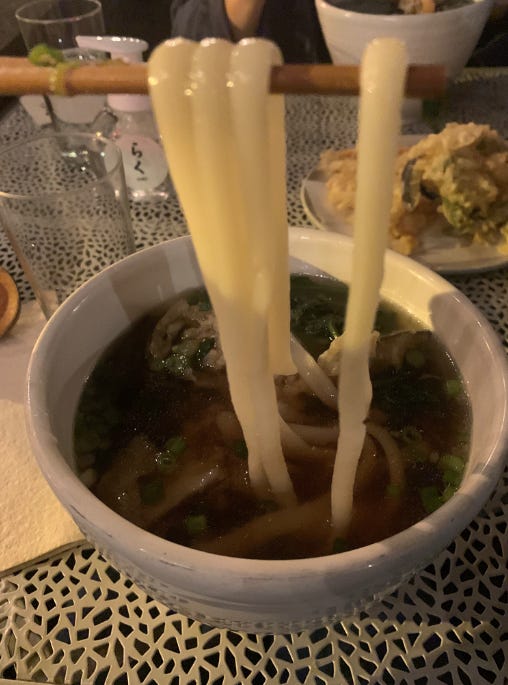 Something to read:
The uncertain promises of indoor dining in New York
Empanadas, rice and a dream built my family
Will restaurant reviews survive the pandemic?
How will you stay cheerful this winter?
I'm skeptical of a "perfect" cookie but definitely intrigued by this one.
There are so many new vegan and vegetarian restaurants in New York and I'm here for it. I really want to try Guevaras on Grand, a rec from Amber.
Cooking can be a super helpful (and fun) part of homeschooling/distance learning. Love these ideas.
"I want to blend in. But the truth is, I'm never going to blend in." Love this profile of Nadiya Hussain. Watch Time to Eat on Netflix if you haven't already.
Early voting starts so soon in New York (It's October 24-November 1st)! Look up your polling place (it might be different) here.
Alicia Kennedy's guide to San Juan is delightful.

Brunches at HBCU Homecomings are on, even though Homecoming is canceled.
Mildly offended I wasn't invited to participate in this round up of favorite hot sauces but enjoyed it anyway.
The new internet pantry (how many of these products have you tried?)
I attended an Eater panel called "Who gets to cook what?" featuring Sohla El-Waylly, Navneet Alang, who wrote this important piece after the Alison Roman controversy and Aaron Stewart, a Black Chef who owns a Mexican restaurant in Oakland. Sohla shone on the panel and spoke about the challenges of cooking professionally while Brown, "the food you grew up with isn't necessarily the food of what you look like, I'm brown but South Asian food is almost the food I feel least connected to, I grew up in LA eating Mexican food and Vietnamese food and I like hot dogs on the fourth of July."
All the panelists advocated for research and context when cooking and naming recipes. As Nanveet said, "add a few extra words!" Sometimes it can be that simple. Aaron did a ton of research prior to opening his restaurant and is purposely not trying elevate a cuisine, which implies a hierarchy. Sohla also encouraged the audience to challenge the notion that white men are the authority on everything with naming, research, "It's complicated, but you can learn." She's really brilliant and this profile is a must read (she had to deal with so much BS in food media).
A few days after this panel, Bon Appetit released a few new videos on their Youtube channel, for the first time in months. I watched the first one and a few minutes of the second and won't be watching further. Here's the issue: these videos don't address the pay disparities, racist workplace, and mistreatment of POC by management. They instead talk in glowing, vague terms about diversity, the cuisines of America, the beauty of food traditions, etc. It's a "fresh start" with no context. And the only people who still remain on the video team are men who didn't publicly stand with their coworkers (Chris Morocco got a promotion in the midst of this, Andy is urging empty positivity, and Brad is a lost cause). I don't want to reward Condé Nast with my eyeballs (ad metrics do not care if you're hate watching, you're still watching).
In addition to Sohla's new videos, I have been enjoying June's videos on Delish. She's done some great budget cooking challenges and her recent birthday cake was a triumph for under $5!
---
Now, let's take it back to childhood. I loved hearing about your food memories from youth.
Hilary's babysitter also brought the best snacks: A childhood recipe we made often- and only when a specific babysitter was over- was baked pretzels. We had it down after making it over and over but it took up lots of time as we decided and then finally shaped our third of the dough into shapes/letters du jour and then counted down till snack time. 
Jessica loves cookie dough (arguably the best part of baking): I used to love "helping" my mom make chocolate chip cookies. Sadly, that stopped after a salmonella outbreak linked to raw eggs made the nightly news and munching raw cookie dough (my main contribution to the baking process) was now seen as a safety hazard. 
Because it's a very small world, Watermoon was Erica's high school haunt: WATERMOON WAS MY HIGHSCHOOL HANG :D:D:D:D My group chat of highschool girlfriends and I still talk about the sesame chicken from Watermoon at least once weekly. HAH. I think this overly enthusiastic email about Watermoon also counts as an answer to your question about something I enjoyed eating when I was younger!
---
This week, I'd love to ask a favor. Next week, This Needs Hot Sauce turns 3 years old! I started it back in 2017 and sent it out every Sunday. It was my respite from a job that wasn't at all a fit and I had no idea what would come of it. As we mark three years, I'd love to hear any memories you have of This Needs Hot Sauce. Did you find a new favorite recipe, try a new restaurant, make a new friend at an event, or something else? I'd love to celebrate together and am so glad you're here.
And if you'd like to send a gift, please consider supporting the North Brooklyn Free Fridges. I just started volunteering and clean the fridge every Thursday with Julia. We're raising money to weatherproof the fridges for winter and you can read more below.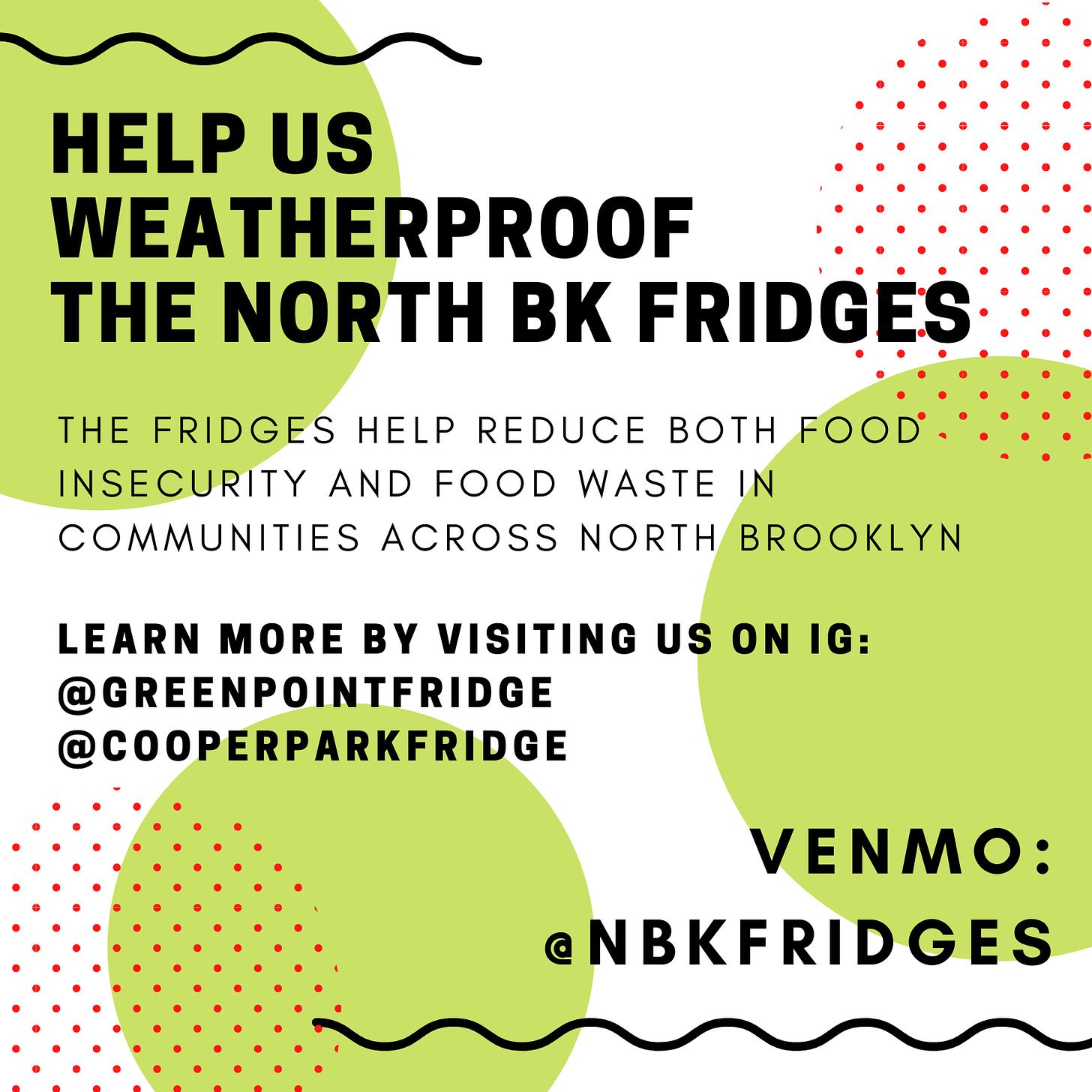 In a country that throws away upwards of 30% of its food supply, a community fridge helps get food into the hands of more people. Maintained daily by volunteers, the Cooper Park and Greenpoint Fridges work to fight food insecurity and work to eliminate food waste in the North Brooklyn community. We're raising money to build protective shelters to ensure the fridges keep functioning throughout the winter (and beyond.) We're also planning to build weather/animal-proof cabinets in order to distribute more dry goods and personal supplies. To help, please Venmo @NBkFridges or reach out to us at greenpointfridge@gmail.com.
---
xo, Abigail