Discover more from This Needs Hot Sauce
A newsletter and community by Abigail Koffler about cooking, dining out, and making the most of it.
Over 3,000 subscribers
If You Don't Have Your Own Leftovers, Store Bought Is Fine
Fried rice when you didn't plan ahead, plus a dessert institution and some soup talk
Hi friends,
Welcome to This Needs Hot Sauce, a weekly newsletter about cooking, dining out, and making the most of it! This week is going to be a fun one because we're having a happy hour this Thursday at Grimm Ales @ 6:30 p.m. RSVP here or just show up, and please feel free to bring a friend.
Now, let's dive in.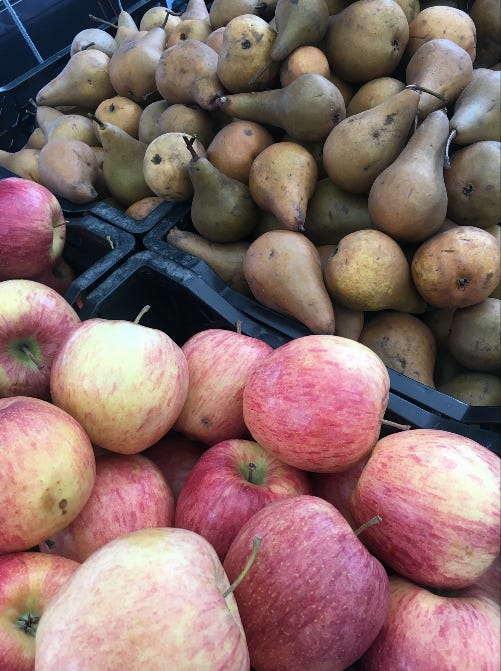 Something to Cook:
I spent the beginning of last week laid up with a cold and finally got back in the swing of things on Wednesday when Hillary, Zoe, and I celebrated Galentine's Day. I got appetizers from a fancy market, including pesto hummus (this is so good and I'll definitely recreate, you just swirl a little pesto on top of the hummus, without mixing the two completely), a delicious brie that was on sale, persian cucumbers, carrots, and water crackers.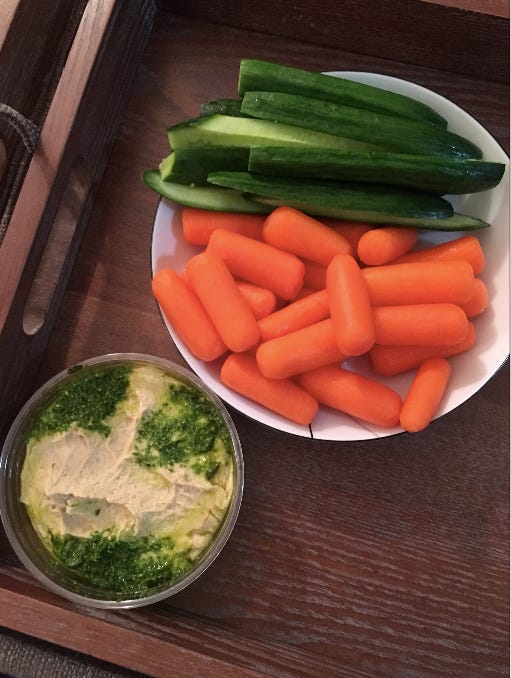 Hillary made these delicious winter squash pancakes using canned pumpkin and they were so good! We doubled the recipe to use the full can of pumpkin and she had some leftovers (they apparently freeze really well). I love a Smitten Kitchen pancake (the zucchini, cauliflower, and broccoli versions are very good). For toppings, we made a lemon garlic yogurt (greek yogurt with lemon zest and juice, grated garlic, salt and pepper) and caramelized onions, inspired by Latkes and Vodkas.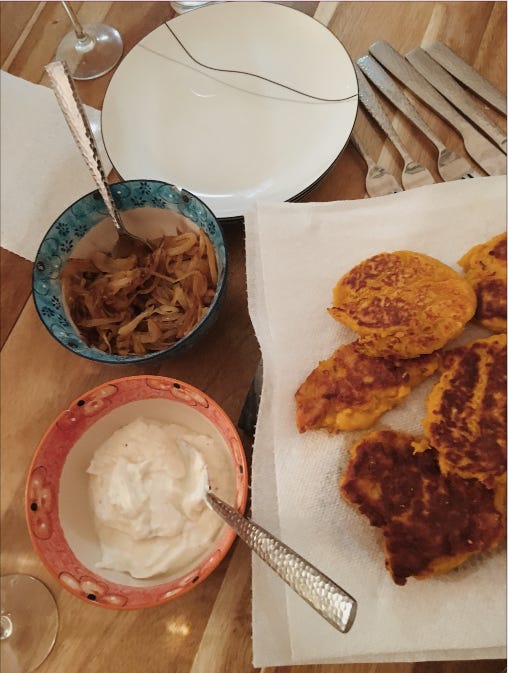 We ended the night with a key lime pie from Zoe that she made in her Instant pot! Impressive (and delicious, with a graham cracker crust).
On Saturday, Leah, Julia and I stayed in with broccoli fried rice. This recipe is a keeper and so easy to make at the last minute. We cheat by picking up white rice at the Chinese restaurant on the corner rather than waiting to have rice on hand. Channel Ina, store bought is fine. You'll have to cook the rice slightly longer for those crispy bits, but it's so worth it. Top with chili crisp and sriracha. This recipe always leaves us with leftovers so use your largest pan and fill it up.
While I was sick, I ate lots of long cooked sweet potatoes (cook a whole pricked sweet potato at 450 for an hour and fifteen minutes), scrambled eggs, steamed broccoli, and oatmeal. Extremely exciting stuff.
Something to Order:
Dale and I went to Molé for Valentine's Day and they had so many of my favorite Mexican dishes that are hard to find here, like quesadillas on corn tortillas with huitlacoche (a black corn mushroom) and nopales. The drinks were also really good, especially a pineapple margarita with molé bitters.
Julia and I went to Ops on Friday and it's really so good. We sat the bar and had their salad, which changes daily. The Friday edition had this pine nut dressing and some winter citrus. For pizzas, the margherita is perfect and I also love their onion covered pizza, which is maybe not for everyone but definitely for me, the girl who eats red onions straight.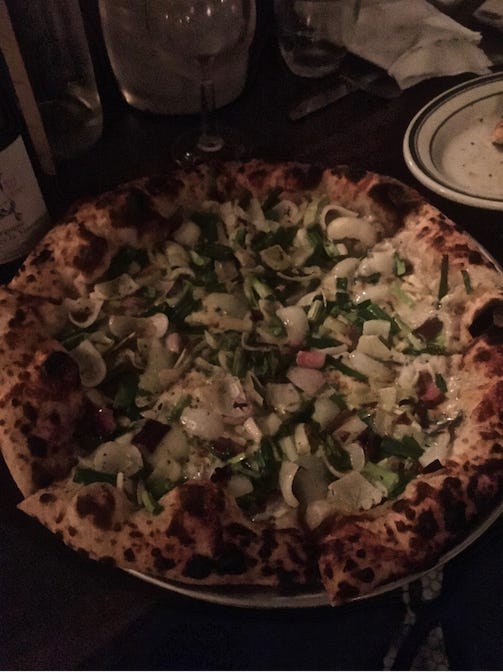 The perfect place to grab a drink after Ops is Old Stanley's, which looks an old dive bar, but is actually pretty new, because Bushwick.
Yesterday on a walk through Greenpoint, I visited Peter Pan Donuts for the first time. It's been open since 1953 and still draws crowds. The atmosphere is great and the donuts are fresh and cakey (we tried the sour cream and the red velvet, per Sandra's foursquare tip). Their iced coffee is also really good and they (proudly) do not have almond milk. The total for 2 donuts and a coffee was $4.85, so make sure you visit.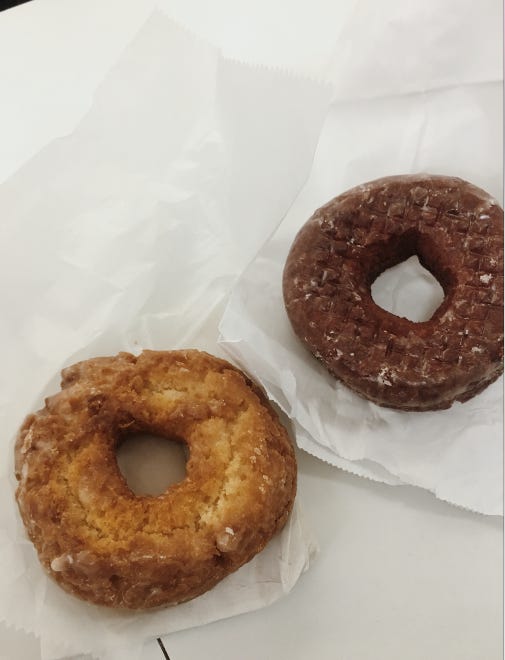 Finally, Julia and I had scallion pancakes at the bar at Win Son. It's one of my favorite places in the world and a great way to end the weekend.
Something to Read:
This new restaurant from the Hart's and Cervo's team looks so pretty but I always wonder what vegetarians are supposed to eat at a chicken shop.
How did a heart shaped box of chocolates become a Valentine's Day tradition?
An excerpt from Mary H.K. Choi's upcoming book set in a bodega
This longread on protein bars is eye opening to say the least
The photos from entrepreneur Ellen Bennett's Mexico City Wedding are the polar opposite of a grey day in February (the food! the flowers! the clothes!)
A taste test of Instagram friendly olive oil brands. I love Brightland's aesthetic and now really want to order a bottle.
After my recent visit to a Banya, I very much enjoyed this ode to Banya dining and the overall experience.
I remember when S'wells hit the market and I wanted one desperately. Why people love their luxury water bottles
One reporter tries to eat a super sustainable diet for a week. It's tricky.
Why did food media ignore the best selling cookbook of 2018?
Tejal Rao's gorgeous ode to classic Los Angeles restaurants
How restaurants can be good to solo diners.
From mustard to honey to hot sauce, every gourmet food product is getting its own sommeliers.
I love this Serious Eats story about two coworkers and their reluctant collaboration turned friendship.
Stories I wrote:
For Forbes, I profiled Hillary Reinsberg, the Editor in Chief of the Infatuation. She first connected with the co-founders over a two line email, so shoot your shot, writers!
For Bushwick Daily, I wrote about Grand Street Restaurant Week, which is actually two weeks. The lunches start at under $10 and a three course dinner is just $35.
For Eater, on the tools you need to make falafel at home. Reporting this made me very grateful that I can easily buy falafel, but I'd still like to give Deb's recipe a try. Has anyone ever made it at home?
Now, last week, we talked about cold remedies. The winner was soup of course (check our all about soup edition for more soup content).
From Isa: my go-to comfort food when I'm sick is caldo de pollo con arroz, ideally arroz a la Mexicana but white rice works too. My mom would always give that to me when I was sick growing up and it very much nourishes the soul.
From my Dad: As for favorite remedies, they aren't vegetarian friendly—chicken soup, Udon soup (with plenty of the spices), or chicken tortilla soup. 
From Hannah: Manti is my ultimate comfort food. It's Armenian/Turkish/Azeri/Russian/whoever in that area in the world claims owns it depending on who is making it. They're tiny meat dumplings filled with either beef or lamb (I prefer lamb) in broth. Super comforting, filling, and and tastes so good. Here is a recipe but if there is a Russian restaurant/market anywhere near by, they'll definitely have it.
This week, I want to know your favorite beer (I'm prepping for Thursday's happy hour). If you have a few faves, tell me when you drink one or the other. If you hate beer, what do you order when everyone else is having one? Have you ever made beer? I'm curious to hear, so reply to this email and let me know.
Happy eating and thanks for reading. See you Thursday, I can't wait!
xo, Abigail
P.S. I'm planning events for future months so this is a great time to forward this to a friend and also to send suggestions/requests! Do you want classes/food crawls/daytime events or something else? Also, follow us on Instagram for cooking videos and more recommendations.