Discover more from This Needs Hot Sauce
A newsletter and community by Abigail Koffler about cooking, dining out, and making the most of it.
Over 3,000 subscribers
Scallion Pancakes At The Bar, Plus Some Kitchen Disasters
A new way to make eggs and two trips to my favorite restaurant
Hi friends,
Welcome to This Needs Hot Sauce. Pulitzer Prize Winning Critic Jonathan Gold died this weekend (read the LA Times Obit here) which is a huge loss for the city of Los Angeles and writers and eaters everywhere. Gustavo Arellano's advice applies to the whole country, "The best way we can honor his legacy is by living in the Southern California he wanted all of America to know: a big ol', multihued, ever-delicious bowl of stew. Or plate of fessenjoon. Or giant taco. So eat."
Let's dive in.
Something to cook:
Jolie made a cheese plate in the park! Get more cheese plate inspo here and here.

"A lovely day of wine and cheese in Central Park! Fairway baguette was a huge hit and so was the jam (we bought the cheapest one and it added phenomenal flavors!) already looking forward to next cheese filled picnic."
I make fried eggs all the time, as a quick dinner or to top off leftovers, usually sticking to the crispy egg method. I switched it up to use up some leftover yogurt (from making these muffins) and tried Julia Turshen's olive oil fried eggs with lemon yogurt. Sounds weird, I know, but they are delicious, I practically licked my plate and did not even miss the crispy edges.
My mom's birthday was last week and I was in charge of dessert. I made a batch of perfect chocolate chip cookie dough (h/t Julia for introducing me to this) a day in advance and then baked off the cookies as we finished dinner (served with ice cream from Eddie's, the best). This recipe uses melted butter so it's totally doable without a mixer. Baking a small batch leaves you with extra cookie dough to freeze rather than extra cookies, making future micro-batches very possible.

Homemade cookies look homemade, taste epic
One of my all time favorite lunches is a sweet potato broccoli bowl with miso tahini dressing. I use kale as a base, top with the roasted veggies, the dressing, some kimchi and something crunchy (cashews or sesame seeds). The dressing recipe is here and you do not need a blender, I promise (I hate using one).
Actually considering using a blender this week to make this summertime hummus now that tomatoes are getting good.
Ian made us pizza again and I'm so lucky to be their neighbor. He uses this dough recipe and claims the secret is getting your oven super hot: turn it on to 500 and let it heat up for at least an hour.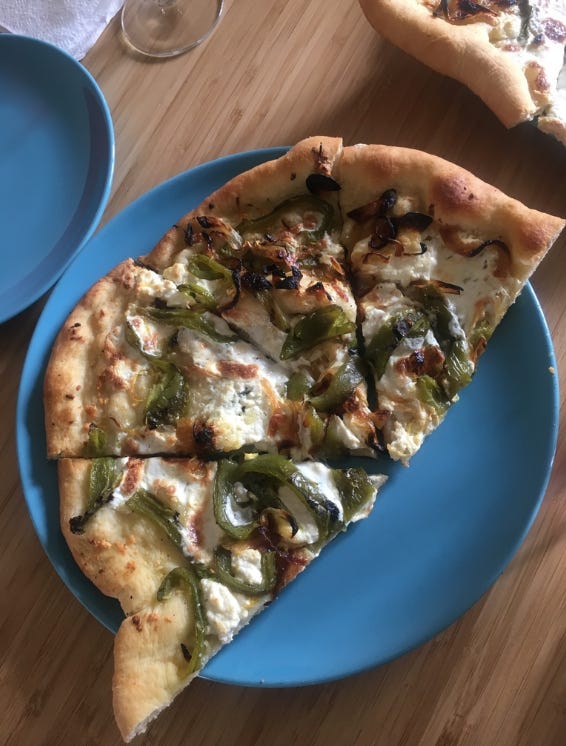 Something to order:
Confession: I went to Win Son twice this week and have no regrets. First, we went for Julia's birthday and saw outside on a humidity free night (!). I love supporting local restaurants on weekdays – it's less crowded and you get to hang with the staff. My usual order is the same (pea shoots, sesame noodles, and either the street salad or the clams and basil). Some updates: The house white wine has changed and is still quite good, the clams and basil dish has shifted to a tomato corn sauce for the summer, all my meat eating friends are obsessed with the big chicken bun (it's huge, definitely share it).
Dale and Julia and I went back on Saturday (his first time) and found a bit of a wait. On the verge of hangry, we ordered a scallion pancake at the bar to tide us over, a very good move. There's dipping involved so you'll have to take turns holding the plate, but teamwork makes the dreamwork.
Dinner was incredible, as usual, and their wait times are always shorter than they say. TLDR: Win Son is my favorite restaurant, you should go!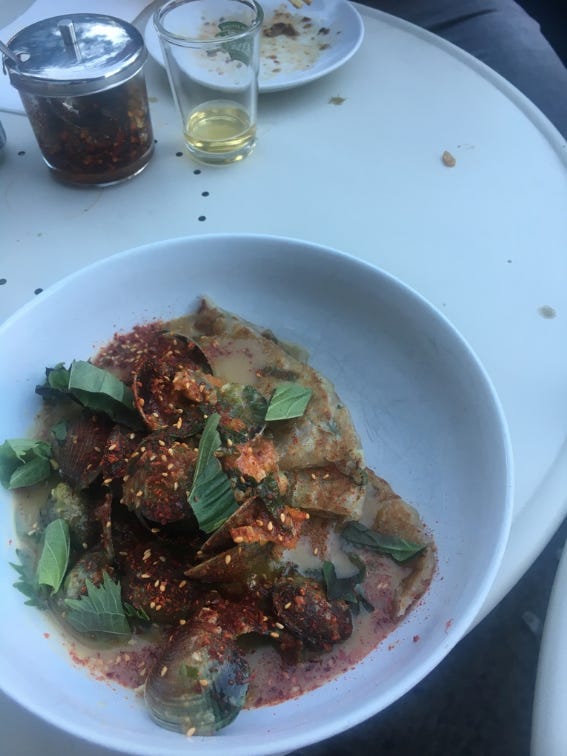 My cousin Lizzi is moving to New York! She came to look for apartments and we got dinner with my dad at Beebe's, a new pizza place from a former Emmy Squared chef at a hotel in Long Island City. As a Queens native, let me just say Long Island City has been a work in progress for my entire life. This restaurant is on a random residential block that's not super close to the subway. But…if you happen to be in the area, it's a pretty space with a nice wine selection and the pizza is very good. We really enjoyed all the vegetables and sides, especially the sumac potato chips and the grilled broccolini with romesco sauce.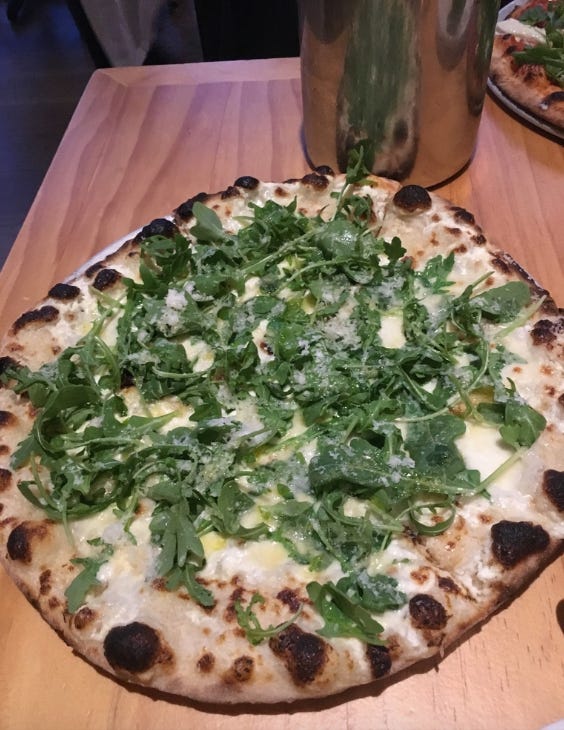 Sage is my go to Thai spot and their green curry hits the spot. Other favorite dishes: the cashew stir fry, the pad see ew, and the tom ka soup if you're dining in. The actual restaurant is lovely too, with a huge backyard.
Coffee Dispatch:
I was scarce on the coffeeshops this week but did discover that Domino Park has wifi! I've heard the signal is not super strong on the lawn but I was able to work for a few hours at the tables in the shade with a strong connection.
Hungry Ghost sent me a 50% off coupon (YES) and I was reminded how good their iced lattes are.
I've been making City of Saints Coffee at home for the past week and it is a game changer. The coffee is great hot and so smooth once it's iced (my version of iced coffee is putting leftover coffee in a mason jar and putting that in the fridge). I also just inherited a pour over from Jesse so will be experimenting with that in addition to my trusty French press. A lesson for everyone: buy coffee beans at a local coffeeshop not the super market. They'll grind them for you, you support a local business, and it's only a few dollars more to feel fancy and drink better coffee.
Something to read:
Five Rules for Dining Out in Los Angeles:
A gem from @thejgold's instagram — his 5 rules for dining in LA. @Laurie_Ochoa told me these were written down by their daughter, Izzy. pic.twitter.com/H98LyuotYD
July 22, 2018
Marissa A Ross is an A+ wine writer and
instagram follow
. I loved
her essay
on making wine and (finally) getting respect from men in the industry.
A complicated story: A white Canadian woman opened a restaurant in Crown Heights and soon drew protesters and boycotts for some racist and clueless decisions (preserving a wall with "bullet holes" for controversy, serving 40 oz rose in paper bags, etc). A year later, the restaurant is packed with local black customers and a young chef from the neighborhood has transformed the place, but some people still won't set foot inside. Find out more on This American Life.
Tejal Rao wrote about King, a Soho restaurant run by three women that changes its menu daily. The result is beautiful.
Admitting I want to see Little Italy, an extremely cheesy looking rom com about a pizza rivalry.
Why Latinos are embracing Vegan Mexico Cuisine
A very fun thread about ice cream

It's mid-July, so that means it's ice cream season! Here are some opinions about ice cream: pic.twitter.com/XUz0wMt2NV
July 16, 2018
Extremely relatable from
this old interview
with Alison Roman: "One thing I love doing, especially if I'm extremely overwhelmed and have no time to do anything, I'll just shut it all down. If I'm past the point of getting anything done, I'm going to go to one of the restaurants I love, order a glass of wine, order some oysters or clams and just say fuck it. Because the day is done. And then I feel much better." (my version of this:
Take Yourself to a Wine Bar
).
Laughed out loud at this column suggesting dinner with an ex at Dig Inn.
On learning to shuck oysters…for work, "Because it's an office kitchen and not a place people generally go to cram a dozen oysters down their gullet in an attempt to get horny, people filtered in and out as I struggled."
On kitchen disasters:
I got such great comments on kitchen disasters that I'm going to split them over the next two weeks. This means there's still time to share tales of kitchen fails. This is a safe space, so reply to this email and tell me all about it.
-From tofu advocate Emma: I was making a tofu scramble but didn't realize the tofu was expired. While I was making it, I noticed a smell but didn't really put two and two together. Then I tasted it and... yeah, I figured it out. Man, is the smell of cooked, expired tofu unforgettable (wish I could forget it!) 
-From my cousin Hannah (her friend is also Hannah): When my friend Hannah and I were younger, we loved to bake together. One night, we were having a sleepover and decided that we wanted cake. Since it was too late to go to the store, her mom said that if we wanted cake, we would have to make it ourselves. We let our two beautiful vanilla cakes sit for a minute after they came out of the oven while we found three containers of Betty Crocker frosting and a gigantic container of colorful sprinkles. We went all out with the decoration. We used half a tub of the frosting to hold the layers together and coated our hands with frosting so that we could put sprinkles on the side of the cake more easily (it wasn't easier).
We also added a pattern on the top with some extra frosting we found and were really proud of our work... However, we were laughing so hard that we failed to notice that the top layer of our cake was slowly sliding off towards the stove. As sprinkles started raining onto the floor, we tried to save the cake. Since we ended up basically mauling it, we decided to start eating it. Unfortunately, we didn't get very far before Hannah's mom came down, took one look at the frosting, flour, sprinkles, sugar all over us and every surface in the room and screamed, "WHAT HAPPENED TO MY KITCHEN!!!"  
Morals of the story: always let the cake cool completely before you stack the layers and don't bake after your bedtime.

The (very colorful) cake just beginning its slide
-From my mom: We receive our CSA box on Tuesdays.  Yesterday's box brought an abundance of zucchini and cucumber.  Staring at the 5 cucumbers, I decide to make cucumber soup for lunch the next day.  It has like 3 ingredients, I've made it before, what's the big deal?  

I overfill the blender to start.  Actually, I haven't cut the cuke into small pieces first.  Transfer to a bowl, try the immersion blender.  Fail.  Cut the cucumber, reload the blender with just a fraction of the ingredients.  Now, the fun begins as the blender leaks cucumber and Greek yogurt out the bottom at an astonishing rate.  I spend the next 15 minutes cleaning up the mess (cucumber bits in the buttons, yogurt on my shirt, mess everywhere.  Wish I had snapped photos.  Joy continued when I entered the kitchen this am and saw yogurt splotches all over the floor - it looked like a crime scene.  

Yes, the blender was assembled correctly.  Yes, it malfunctioned.  Yes, we have ordered replacement gasket and bottom part. Here's hoping for a cuke soup redo next Tuesday night.  
Finally, I can't wait to see you this Thursday, July 26th at Brooklyn Cider House! RSVP here if you haven't already.
Happy eating and thanks for reading.
xo, Abigail