Reader Q&A: Cooking Stage Fright and The Future of Restaurants
Indoor dining, grocery shopping, and more
Hey there,
It's Q&A time! This special edition is supported by paid subscribers! I so appreciate you. Join the lovely group of people who support this newsletter by subscribing today.
You can view past Q&As here and here and send me questions at any time by replying to this email or DMing me on Instagram! I'll answer them in the next Q&A (or within 24 hours if you're a paid subscriber).
---
Q: What do you recommend for someone who has cooking stage fright? I love cooking for myself and my boyfriend, but when other people are watching me in the kitchen I panic! In the past, I've opted for baked dishes that leave little room for surprise and failure </3. Any other ideas for how to please a crowd when you really don't like people watching?  (I'm laughing at myself because it's so ridiculous, but true!)
A: Thank you for this question, you're definitely not alone! Cooking with lots of eyeballs on you is stressful and some pre-party anxiety/anticipation is completely normal. I think the key is remembering that your guests are (hopefully) on your side. They came over to spend time together, sip some wine, and eat something they didn't have to cook. By feeding and hosting them, you're already winning and they're not examining your knife skills or egg separating techniques.
To make the situation more comfortable, get your guests involved. If you have to finish something for a dish, ask the guests to fill up your water glasses, slice a loaf of bread, bring some appetizers to the table or open a bottle of wine. It's an easy ask and will keep everyone distracted (they can't watch you if they're busy). If you put out a cheese plate and sneak off, no one will follow you. I sometimes do a quick ice breaker to get people talking while I go finish something in the kitchen area (this is especially helpful if not everyone knows each other).
And for the menu, you can work on adding more active cooking as you get more comfortable. Maybe bake a pasta and then have a salad you assemble in front of your guests (you can wash stuff in advance and just toss it with the dressing). Or have taco fillings ready to go but warm up the tortillas and make some guac while sipping a marg once people arrive. I do like to make certain things ahead of time so I can enjoy my guests but there's always something to do last minute and that's okay! Happy hosting!
Q: How often are you shopping now vs. earlier in the pandemic?
A: My shopping habits have definitely changed since March (thank goodness), but I still go to the store less often than before. I typically visit a bigger supermarket (Wegmans, Whole Foods, Food Bazaar, Foodtown) every 2 weeks and then supplement that with more frequent visits to Orange Tree, which is my local green grocer/bodega (I'm there about twice a week). At the big supermarkets, we'll get pantry items, cheese, canned goods, household supplies and some produce. I get produce and stuff we've run out of at Orange Tree.
I love browsing grocery stores so I try to go at off times when there are fewer people so I can walk around and look for new products to try. This would definitely be different if I had a car or lived somewhere with higher rates of infection. I've also been ordering some food items online, which is new for me. I've been buying coffee from a different Black owned coffee company each month (this is the latest and it's delicious) and have also ordered tahini and hot sauce from favorite small businesses.
Q: As we head into fall (nooo) what do you see restaurants doing to adapt?
A: Fall (and winter) are absolutely going to be challenging for restaurants. I can speak most to New York, but many of these issues will be a problem everywhere. Here, Governor Cuomo just announced indoor dining at 25% capacity beginning September 30th. It could go up to 50% capacity in November if certain markers are hit. Outdoor dining is currently permitted until the end of October (nearby cities like Hoboken authorized it till the end of the year).
Indoor dining has led to spikes in other places and operating at 25% capacity isn't profitable for anyone, especially when you take into account the extra costs of air filters/purifiers, cleaning supplies, and PPE. Small businesses, especially those owned by people of color, were largely excluded from PPP funding, so these upgrades are coming out of the owner's pockets. Not to mention the small restaurants who will be only be able to seat 2 or 3 tables under this rule.
In short, more restaurants will close. Many will give indoor dining a try, despite the safety risks for both workers and customers. I've already heard horror stories of poor tipping and refusal to wear masks outside and I imagine it will be worse inside, as people try to pretend things are normal despite ample evidence to the contrary. We'll also see more pop ups (a good way for people to collaborate and test new concepts), more takeout and delivery only kitchens, and a few openings that were planning in well advance.
Everyone who invested thousands in their outdoor dining set ups will try to keep going until it gets too cold (who's ready to eat in a jacket outside? I totally will). Some types of heat lamps are banned in the city (FDNY regulations) and the kind that are allowed are very expensive (sense a theme?). There's so much uncertainty around the rest of the year (flu season, a second wave, etc) and restaurants are in survival mode. It could all be shut down again.
Some neighborhoods are likely seeing a return of residents as school starts again which may temporarily help. I think more restaurants will pivot to a grocery store/prepared foods model with limited menus, which allows them to streamline inventory.
As diners, the best ways to support restaurants are still through takeout, tipping well, contributing to staff gofundmes, wearing masks, and being a good customer (be kind, don't go out if you're sick, make and cancel reservations as needed).
Job growth and hiring are stagnant in the industry now, so expanded unemployment benefits would help many restaurant workers and their families. And both residential and commercial rent relief would seriously help (eviction moratoriums are not enough). The state needed to release a plan for this but the indoor dining plan should not be a substitute for increased federal aid to the restaurant industry and its millions of workers.
If you want to dig into this more, Eater did a great package on the future of restaurants, looking at this moment as a big picture time to reimagine and restart. A lot of their ideas look at the world in five years, which is cool, but many folks are working to get through the next five weeks or months.
I'd love to hear your thoughts about indoor dining and the future of restaurants in the comments! And I'll be talking more about it on Instagram today.
Q: Favorite restaurant in Brooklyn?
A: This is such a hard question, so I'll shout out a few.
Lighthouse for oysters, salads, burrata with grilled sourdough, and burgers (everyone who eats meat loves their burgers). Sit outdoors or order directly on their website.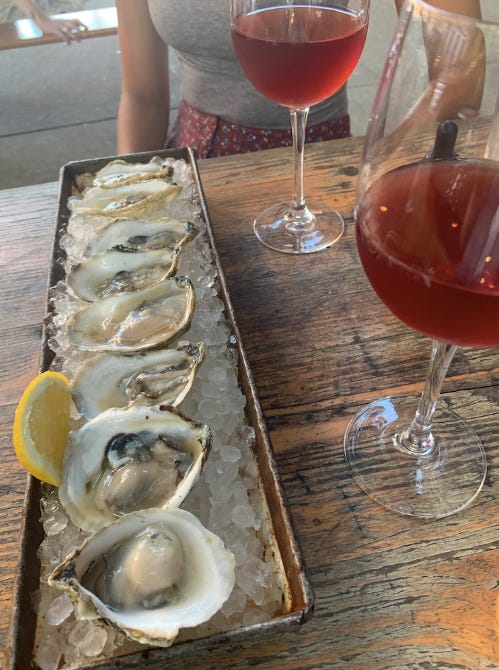 Casa Ora for outdoor dining with great Venezuelan arepas, empanadas, guacamole and cocktails. It's on a side street so the outdoor dining is very pleasant and the owners are so kind.
Mesa Coyoacan for tacos, brunch, and all the salsas. I haven't tried their outdoor seating yet but their huitlacoche tacos are a takeout favorite.
Ops for pizza and natural wine and seasonal salads. Their wine selection is top notch and the special pizza is always good.
Hunky Dory for small plates, cheese storms, breakfast, coffee, and cocktails. They just went gratuity free and are doing great things with their outdoor space.
---
Thanks for all the questions! I'll be back on Monday with all our usual recipes, recs, and more.
xo, Abigail
P.S. If you like This Needs Hot Sauce, why not forward it to a friend or share on social media? And make sure to follow on Instagram.