Small batch brownies and some thoughts on that Alison Roman interview
Plus, our next happy hour and the ways you're making quarantine special
Hi friends,
Welcome back! I know many of us are tired of cooking and dealing with uncertainty about the next few months. It's tough, it really is.
Some things that hopefully will make it better: a virtual happy hour, small batch brownies, and notes on a food media scandal.
First, I'm hosting a long weekend themed happy hour on Thursday, May 21st at 7:30 pm EST. It's right before Memorial Day so this is your moment to wear a sunhat, a flowy dress, sunglasses, etc. Make a fun drink (I'm thinking an Aperol spritz) and come hang. Join meeting here, Meeting ID: 870 6709 4992 Password: 060654
Now, let's dive in.
Something to cook:
After over two weeks, Julia and I restocked our groceries yesterday (thank you for your suggestions here). The few days before a trip are always a bit tough, but we made some surprisingly good things.
On Cinco de Mayo, I made us sweet potato tacos with refried beans, lime yogurt crema (yogurt, lime juice, salt, and a little garlic powder), and one avocado guacamole. Julia made a slaw and used the pickled jalapeño liquid for the dressing and we topped everything with Valentina.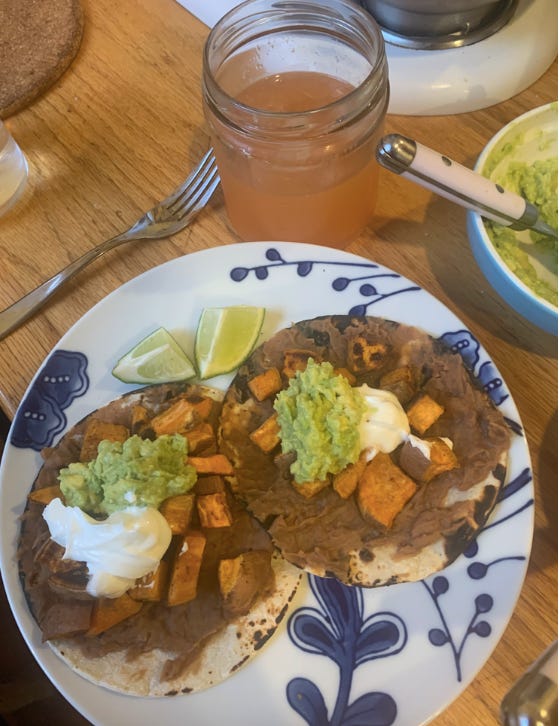 I also whipped up a cocktail loosely based on the grapefruit Aperol margaritas we've made for parties in the past (don't you miss parties). For two drinks, I used 3 oz tequila, 1 oz Aperol, the juice of one orange, and the juice of 1 and a half limes. Shake that together and serve over ice, with a little seltzer float.
With my students, I tried a yeast free challah recipe that turned out pretty well. It lacks the sweetness of traditional challah, but it's quick and still fills that fresh baked bread craving. I made another one with everything but the bagel seasoning on top.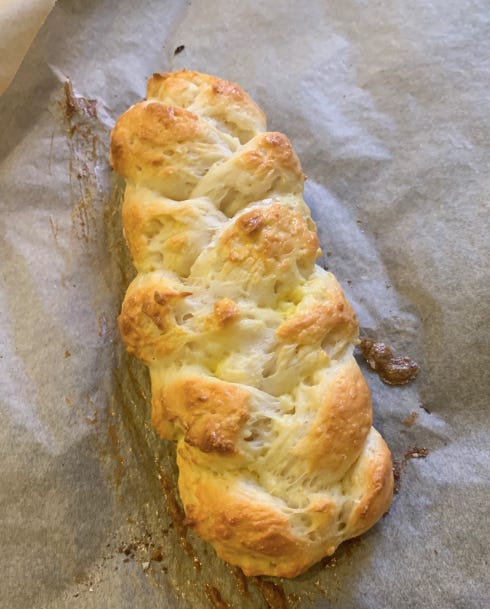 I was about to make this sesame tofu recipe when I realized the broccoli in the fridge was past the point of consumption (it looked purple). Since my tofu was already pressing, I wound up forging ahead with frozen cauliflower, which was not as pretty, but still worked (the sauce is so good regardless).
There's scarcely a week where I don't make chickpea pasta, it's so good for the days you're past due for a grocery run. It uses so little pasta and stretches pantry staples like tomato paste, garlic, and chickpeas. We like to throw in some frozen spinach or kale towards the end for good measure.
Small batch baking has been lots of fun (make the two chocolate chip oatmeal cookies if you haven't already). We turned to brownies on Friday night and made this cocoa powder based recipe in a loaf pan, using coconut oil instead of butter, and chocolate chips instead of m&ms (I've disliked m&ms since childhood). We topped them with flakey salt (had to). This is a fudgy brownie and it gets even fudgier after a rest in the fridge or freezer, so save a few to eat cold the next day.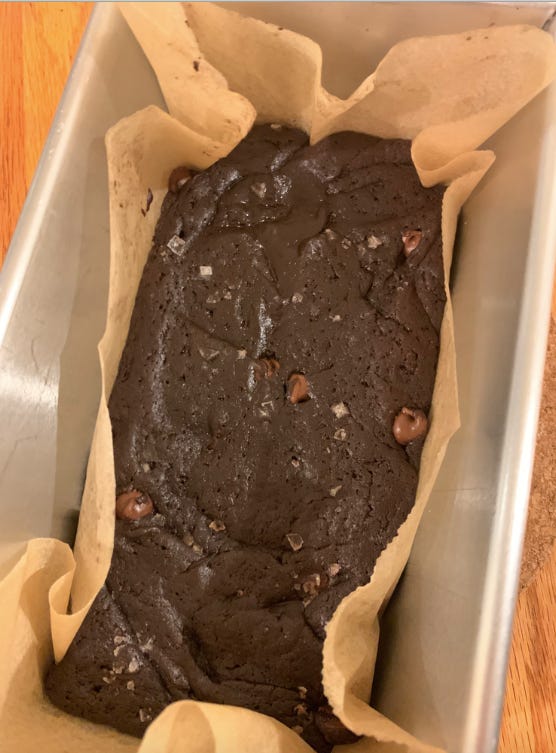 Once I had fresh broccoli, I wanted to cook it immediately, so I made roasted broccoli with white beans and lemon. It's such a simple preparation and so flavorful. I like to eat with an egg on top or a scoop of labneh (someone on Instagram recommended adding an egg and goat cheese). You could also toss it with some pasta or eat it on it's own.
Something to order:
It's hardly cooking, but I assembled a personal cheese plate for my appearance on The Daily Rind, hosted by my friend Charlotte who schooled us on cheese plates two years ago. You can listen to our conversation here—it was lots of fun to discuss cheese parties, the similarities between wine and cheese, and lots more. To taste on air, I ordered cheeses from Campbell Grocery, which has a convenient pick up option. I got a brie, a pecorino, which I plan to use for cacio e pepe, and an Alp Blossom, a new to me cheese with a rind coated in herbs and sometimes flowers. It was really good. I also added some casteveltrano olives to my order and it felt good to have something different in the fridge. Many cheese shops are doing pick up and delivery and it's a great way to support them and treat yourself.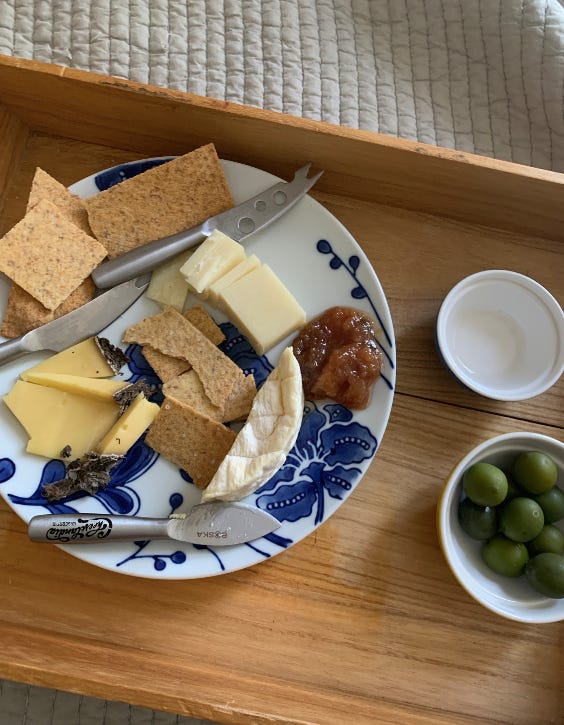 Julianne gave me the crucial tip that Uncle Louie G's was offering cones and Julia and I stopped by on an evening walk. It was so good to have an ice cream cone again! We stepped onto a quiet side street to eat them and I will absolutely be returning. I got the chocolate chip cookie dough and Julianne recommends the cannoli flavor.
One night this week, cooking was just not going to happen so we ordered green curry from Sage. I love Sage and they're always fast and reliable. The curry usually lasts two meals, which is a plus.
Tikka Indian Grill recently reopened (they have locations across Queens and Brooklyn) and Dale and I ordered last night. Order directly from their site for 15% off your first order with code tikkaig15 and make sure to get the saag paneer and garlic naan. I love dining there in person (it's byob) and the takeout was also lovely.
Something to read:
I meant to include this last week but the murder of Jersey City chef Garima Kothari is a tragedy and deserves more attention.
LA Times Restaurant critic Patricia Escárcega interviewed her mother about her childhood in Mexico.
A fun interview with the underrated Christina Chaey from Bon Appetit
How chili crisp is becoming an American pantry staple. Pick up a jar if you haven't tried it yet.
Margarita recipes from 11 Mexican food bloggers
Tilden first sent me Newton Nguyen's Tiktoks and I loved learning more of his backstory.
How becoming a mother helped this writer embrace cooking
Thank you Madi for including me in this article on how women are rethinking motherhood during a pandemic.
What's the difference between a calzone and a stromboli?
Victoria Blamey on Gotham Bar and Grill's closure at the start of the Covid-19 shutdown.
LA's original Ethiopian restaurant struggles to adapt to takeout and delivery (written by a college classmate of mine)
What it will take for restaurants to survive according to Tom Colicchio, son of a union organizer!
Related: immigrant owned restaurants struggle to survive coronavirus
This headline is rough, but it's still worth a read: The Nazi Origins of Your Favorite Natural Wine. I'm always fascinated by how different countries deal with their histories. Erasure isn't the answer, but acknowledgement and investigation are important.
We're all doing hard things right now and it's okay (good, even) to be proud of ourselves.
---
Now, onto the story of the week. A few people asked for my thoughts on this Alison Roman interview (which was edited to remove a racist reference) and ensuing backlash. First off, there are so many angles to this. I think the most urgent one is the angle of whiteness and privilege in the food world. Alison could have given a candid interview about her own career goals without needlessly insulting two woc, Chrissy Teigen and Marie Kondo, and many people are interested in her trajectory. While I have no doubt she works hard, her success is not entirely her own doing: she benefits from being young, conventionally attractive, thin, white, and appealing to the mostly white male editors and gatekeepers. Her first cookbook even has an interlude about shoplifting from supermarkets as a kid and it's presented as "charming." Her apology and initial reaction to this was disappointing as well, glibly wishing she had someone to hold her hand during her first internet backlash and calling on Chrissy to support other women.
A few other thoughts:
-There's a classist element to this as well (Alicia Kennedy explores this more in her excellent newsletter on the subject), dismissing mass market lines and complaining about not making any money during a pandemic in which virtually the entire hospitality industry is unemployed. Succeeding and selling out are slippery concepts. Also, she just sold a tv show and gets book royalties, she is not making "no money."
-Whenever I do a cooking recap on Instagram, Alison's recipes are some of the most popular. I know many of you love cooking them and I don't think you have to discard them forever, especially if you already own the books. I'm personally not a huge fan of her recipes or persona (there's a mocking tone she takes with fans who ask innocent questions about ingredients or substitutions that's really grating). But there are more powerful ways to fight white supremacy than canceling a pasta recipe.
-Some things you can do if you're an Alison fan, or if you aren't: follow, listen to, and amplify work from diverse sources, in food and outside. Recognize this is all structural. Think critically about how someone like Alison can say she has "no culture" and then make dishes like chickpea curry and tofu soup with no nods to their origins.
-This didn't come out of nowhere. The thread below has some context on Alison and is part of the reason I was not entirely surprised at this (though I was surprised at how mainstream it got, mostly due to Chrissy's response). I also have near complete confidence that her career won't be ruined by this. She'll have a better apology at some point and still a New York Times column and over half a million followers on Instagram.
I'd love to hear your thoughts on this! Reply to this so we can chat.
---
Switching gears, let's talk about some special moments from quarantine.
Alicia M. used this time to spruce up her outdoor space: I too hit a cooking wall this week and totally had a tantrum over having to make an omelet for dinner. Dramatic? Yes. Necessary? Also yes. To answer your question, Dan and I cleaned up our balcony this weekend and had a nice dinner on it last night. We had salmon, green beans and potatoes — nothing crazy, but we didn't buy salmon often pre-pandemic, so it felt like a treat. 
Zoe is enjoying the wonders of nature: I'm in San Diego now so I got to see the bioluminescence light up the waves with an electric blue color at night. Would've never been here if not for quarantine so that's a bit of a silver lining. Also, have been enjoying the pool since the weather is nice here!
Jessica had the sweetest way of celebrating her brother's birthday: My younger brother usually celebrates his birthday with friends at Hofbräu Bierhaus near Grand Central. Given that his birthday is the first week of April, that was not going to be possible this year. During a grocery run in late March, I found a six-pack of Hofbräu at my local Fairway. My dad had to go into Manhattan for work on my brother's birthday (my parents and brother live in Queens) and came to my building to drop off some cleaning supplies and home-cooked food. I gave him the six-pack (minus one) to bring back home with him so we could all toast to my brother's birthday. It was a little thing in the scheme of everything, but it brought some cheer to a dark time. 
Nurse/hero Hilary manages to work a ton and dive into some cooking projects: As a nurse I have definitely had much more overtime than downtime or home time during this shelter in place phase. However, when home I have really enjoyed cooking and specifically got into some larger projects, including several that could load up my freezer and lunch box with delicious foods. Tamales were an absolute highlight, both the roasted pepper Mexican grilling cheese and chicken mole versions. I have also re-made the Smitten Kitchen frozen breakfast burrito recipe. I'm excited that I just outsourced a potentially huge undertaking to famed LA restaurant Guelaguetza where I ordered six jars of their mole to enjoy in the near future.
Alicia H. is enjoying some long distance family time: My extended family who I maybe see once every couple of years has started doing a zoom call every two weeks and I am surprised at how much I've been enjoying it. 
---
This week, I'd love to hear about the dishes you know by heart. I never look at a recipe when making chickpea pasta, or sweet potato tacos and I almost have this chocolate chip cookie one memorized. What are the dishes, simple or elaborate, that you make from memory? Reply to this email and let me know!
Happy eating and thanks for reading.
xo, Abigail
P.S. If you enjoyed this week's newsletter, forward it to a friend who's also tired of cooking.