Stews you can use and a new chocolate chip cookie
Plus, I'll see you tomorrow for happy hour!
Hi friends,
I hope you're enjoying your day off if you have one (and donating/reflecting on our country's history and the ongoing fight for justice). I've been battling some congestion this weekend but am very excited for our happy hour tomorrow at Coast and Valley. It starts at 6:30 and we'll have a custom This Needs Hot Sauce wine flight for you to try! Bring friends, roommates, etc. and rsvp via email or Instagram so I can share a headcount with the venue.
Now, let's dive in.
Something to cook:
Tilden and I made pita chip salad for dinner and it's as good as the name would indicate. We used acorn squash and topped it with vinegar and this delicious za'atar oil. As with any squash recipe, it might need more time to cook so be patient and wait till the squash is really tender. I had pita chips so we added those in the last few minutes instead of starting with fresh pita.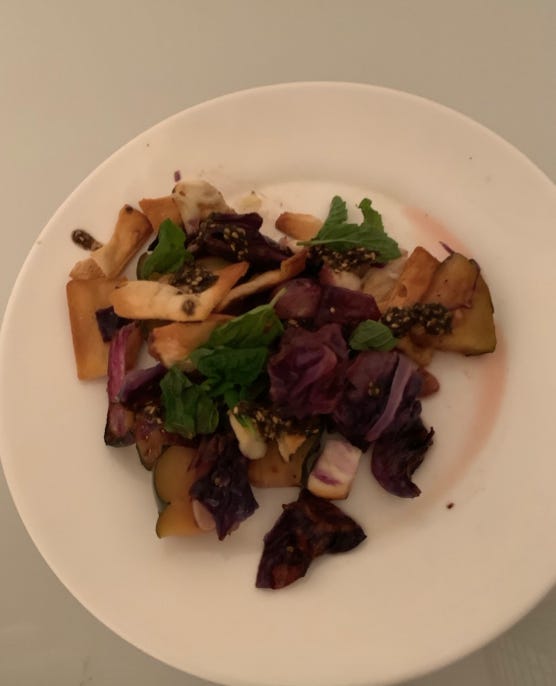 You guys know how I feel about chocolate chip cookies (they're pretty much my favorite dessert). I rarely try a new recipe but was inspired after my mom asked me to bring dessert for a family dinner with Teal on Friday. Their menu was Mediterranean (tahini with pita and crudites, a chickpea stew). These tahini chocolate chip cookies are going to be a staple—the tahini adds a little nutty earthiness and it still has all my favorite cookie elements: salt and dark chocolate (I splurged on Guittard super chocolate chips which are huge and beautiful). Make these!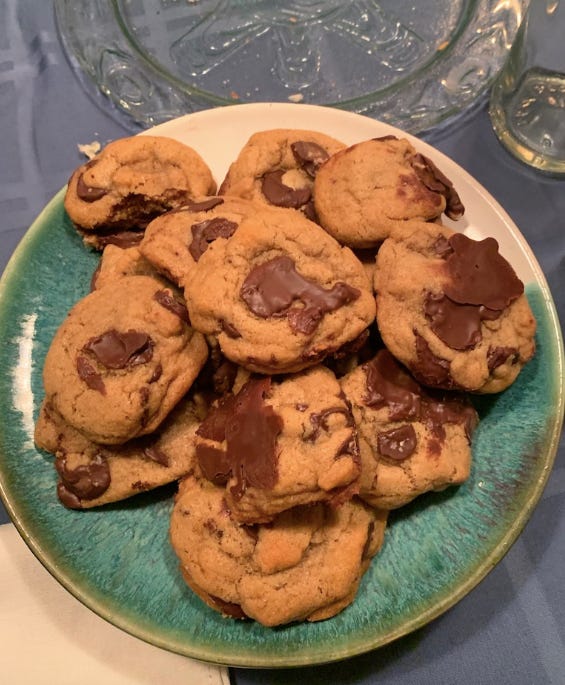 After my stew issues last week, we needed a redemption arc. Julia stepped in and made this red lentil curry stew with sweet potatoes while we watched Cheer (please slide into my DMs to discuss). This is a new favorite and it came together quite quickly. It's a stew with body, but it's not too chunky, thanks to how red lentils fall apart while cooking. It's got a nice kick from the chili and the curry paste and as with all soups/stews, the toppings are not optional. A little lime juice, some herbs, and some toasted coconut take this to the next level.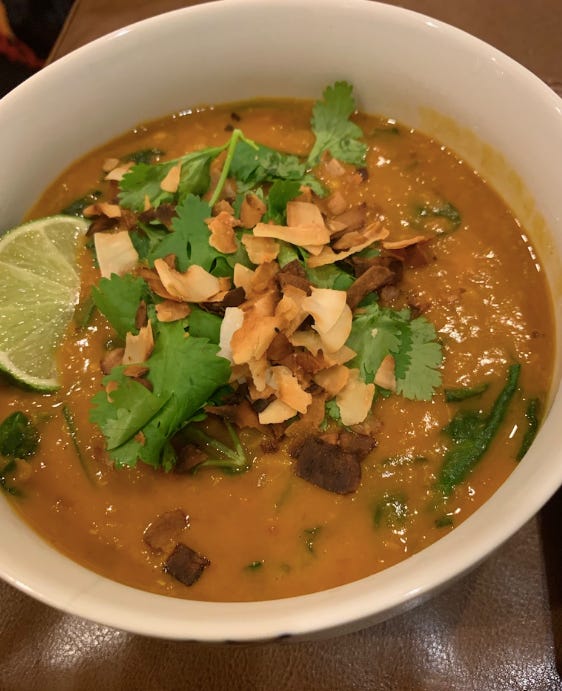 I'm writing about Lukas Volger's new book, Start Simple and I'm so excited to cook through it. I already tried a black bean salad with charred scallions that's so good and flavorful (the dressing has a pinch of oregano in it which makes all the difference) and will be sharing more soon.
Something to order:
Zoe and I caught up over drinks at Caledonia and tacos at the new UWS Tacombi. It's huge and definitely not as crowded as the downtown locations. They still make great guac and have good vegetarian options, like a sweet potato and black bean taco and an avocado tostada.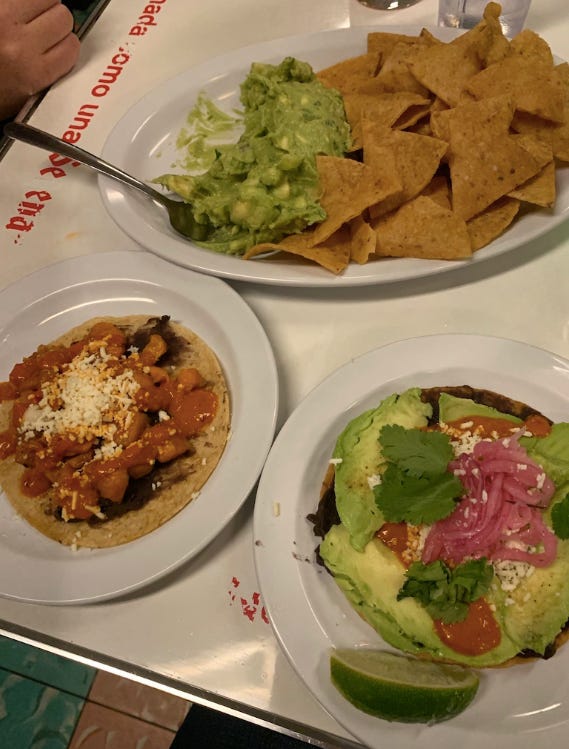 In other tortilla related content, Dale and I brunched at Mesa Coyoacan, where there is no bad order. I had the enfrijoladas this time and we always start with chips and salsa.
Erica and I caught up at Haven's Kitchen, which is a beautiful work spot with pricey, but good food. It's near lots of subways and always has seating if you go during off-peak times and the bathrooms are great.
Something to read:
Soups and stews keep going viral. Meet Roberto, the latest entrant. Have you tried it?
Why do men fetishize skinny women who are big eaters? (Plays the "Cool girl" passage from Gone Girl)
Frieda Caplan, who brought the kiwi to the mainstream, died at 96. What a life.
Of course Brooklyn kids love fancy mocktails
Meet the woman responsible for Whole Foods' cheese selection (thank you for your service)
Julia Turshen is a cookbook icon and activist. Her cold elixir has been a lifesaver this weekend.
The big questions: Is this existential despair or do I just need to drink some water?
My grandmother's rule for love
---
Now, let's talk about when you eat lunch. In offices, it's hard to make this choice because there's often a precedent in place. In Guatemala, we always ate at one and any other time would have been weird.
Julianne finally gets a lunch break: I am so excited to have a lunch "break" in my schedule this semester. Last semester I had class from 11-2 with a meeting right after that went to 3. #LunchFail: one time I brought a Greek salad into one of my classes and forgot my olives were pitted. It was a catastrophe for every reason you can imagine. I am excited to eat lunch between 12-1:30 next semester, which is the IDEAL time! (Note: law school means you eat your lunch in the library with at least one book on each side of your meal, but I'll take it!)
Alicia's schedule sounds very civilized: I eat lunch at 2 p.m.! My work deadline schedule has me filing stories around then, so it's nice to relax a little after filing with lunch. I eat breakfast around 9:30 when I get to the office, FWIW. 
Kaitlin is working with the company culture: Usually, I eat at noon on the dot since that's the culture at Intel. Expected to eat at noon and be done by 1.
Jessica's later lunch helps the day pass: I usually eat lunch sometime between 12:30 and 1:00. My workday is usually over between 3:30 and 4:00, so it's perfect timing to make the afternoon fly by. 
---
This week, let's talk about TV snacks. With awards season and hibernation in full swing, a good snack is more important than ever. Dale and I have been making lots of mini cheese plates (we have a little tray so nothing spills) but I'm always looking for new ideas! And what are you watching these days? Reply to this email and let me know!
---
One more thing: I've started sending out cooking agendas (catchier name tk) to my premium subscribers. It's a round-up of recipes I'm planning to try from sources I trust. Last week's version included the tahini cookies and that incredible stew, plus a few killer baked pastas. If that sounds like something you'd enjoy, consider subscribing below!
I hope to see you tomorrow for happy hour and wish you a great week!
Happy eating and thanks for reading.
xo, Abigail