This Country Needs Poll Workers (and dipping sauces)
Plus, a newsletter workshop and free outdoor movies
Hi friends,
Welcome back to This Needs Hot Sauce. If the election has been on your mind, you're not alone. I want to share an impactful way to participate aside from voting (check your registration here): working the polls. The majority of poll workers are over 60 years old and election boards need an average of only 8 people to staff a polling site. If there's a shortage, that site may be closed, which leads to long lines at other sites and contributes to voter suppression. This year, with COVID, many longtime poll workers aren't able to work and there's a huge shortage. Even before COVID in 2016, 2/3 of jurisdictions struggled to find enough volunteers to staff their polling locations, and this year that task only becomes more difficult.
But you (and your friends) can make a real difference here. If you're a healthy, not at risk individual who is able to take a day off from work (poll workers get paid), I encourage you to join me and work the polls this November (and beyond). I'd love to do this as a community—we're over 1,000 strong and live all over the country/world.
How do you sign up? Click here and find your state. I applied last week and was approved the next day. Before election day, I'll attend training and be assigned a location somewhere in Brooklyn (FYI: if you're working the polls, you'll have to vote early or by mail since you won't work at your own polling place). To learn more, follow The Poll Worker's Project on twitter and Instagram. My friends Isa and Noah started this with friends and are sharing information, resources, and reaching out to college students and other young people who may be interested in working the polls. I'm really excited to participate in this hands-on way and I hope you'll join me. Here's the link one more time.
Now let's dive in.
Something to cook:
I hadn't thought about banana bread in months until I realized two bananas were past their prime. I decided on Cookie and Kate's recipe, which had been recommended several times on Instagram and it's definitely my new favorite (I've also tried the Smitten Kitchen and Bon Appetit recipes). Why is this one the winner? It's not too sweet, comes together in one bowl (due to the oil base), and works perfectly with some chocolate chips added because the batter itself is not sweet. We ate it within three days and it stayed moist wrapped in foil at room temperature.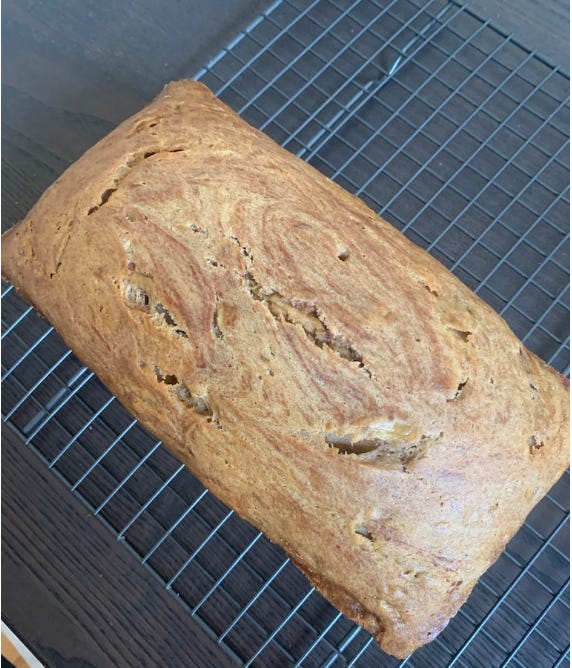 I made another batch of crispy chickpeas with zucchini and lemon yogurt, the perfect lunch or dinner.
Quesadillas have still been on repeat and lately I've been adding chopped up kimchi (I get mine from 19 Cafe).
I'm a huge fan of snack dinners and had a lovely cheese plate of fresh mozzarella, cracked pepper crackers, and some nuts while catching up with Leah on the phone and drinking some Electric Mayhem from CO cellars.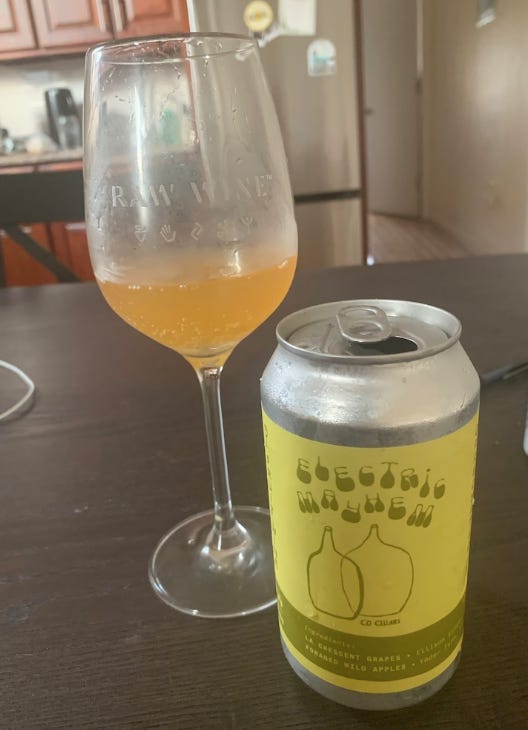 Something to order:
I did more outdoor dining this week than I have in months. I still have some hesitations about it, especially when it comes to worker safety, but I'm encouraged by the steadiness of cases in New York (reopening outdoor dining did not lead to a spike). I suggest scoping out the space in advance, looking for hybrid options (ordering at a counter with minimal or no table service) and giving yourself the option of a nope (Tyler Calder had a great story about nope moments). And as always, I've been tipping well and wearing a mask as much as possible when interacting with workers. I'd love to hear how you're handling outdoor dining these days! Has it changed in the past month?
Klom Klorm has a great lunch special that you can order for pickup. It's a full entree with either spring rolls or salad for under $10. Angely and I ate half of our meals together outside (no contact since we picked it up) and I reheated the rest in a pan with some kale the next day—so good!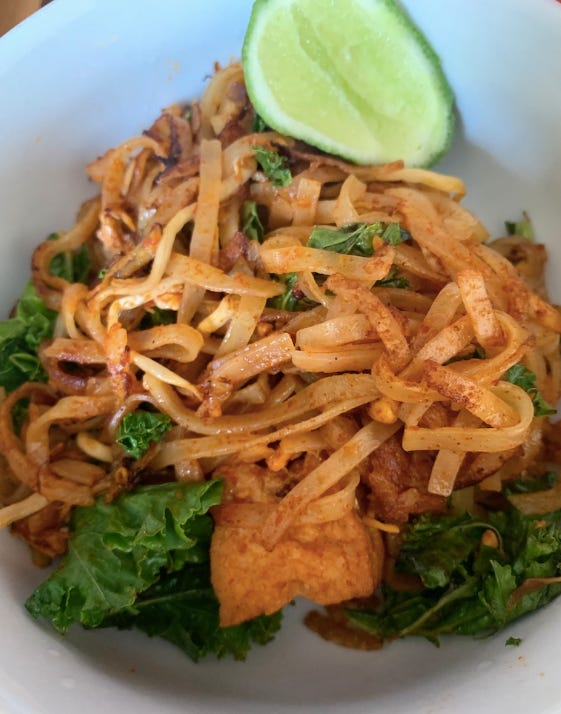 Tilden and I picked up food from Tikka and ate it on her fire escape, which felt very chic. I get the saag paneer, the samosa chaat, and the garlic naan every time I order.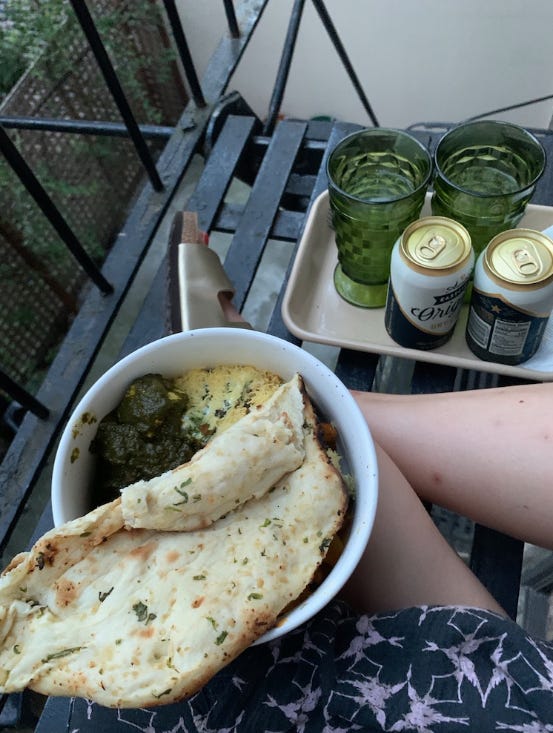 I love outdoor movies in the summer and Syndicated is showing them for free! Julia, Julianne, and I watched Clueless on Saturday and ate dinner. The schedule is here and I recommend arriving at least an hour early (we barely got a table and it was hard to tell who was staying for the movie and who was just there for drinks). Order the old bay popcorn and a pitcher of Brooklyn Cider House cider. You order inside and get a number and then the food is brought to your table.
Yesterday Dale and I went to Gowanus to see Alex and Jane at Lavendar Lake (it was supposed to rain all day so it was nearly empty). Their backyard is super spacious and the mussels and General Tso's cauliflower were so good (I never cook things like mussels or clams or oysters so having them now is such a treat). Afterwards, we went over to Wild East Brewing Co. to try their alfresco kolsch and keep hanging (you get chips with your order and the sweet chili flavor is so good). They don't have food so we grabbed a pizza from the new Public Display of Affection around the corner and ate it there.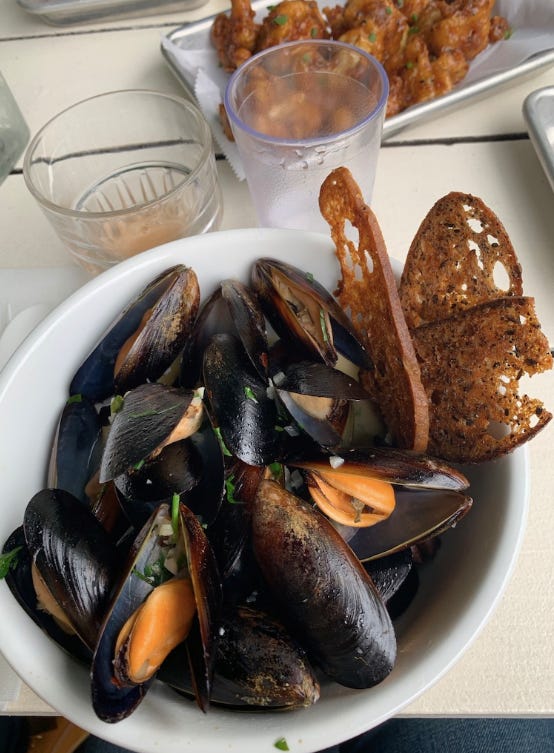 I've been ordering from a different Black owned coffee company each month (past ones are Blk and Bold and Red Bay Coffee). This month, I got beans from Black Coffee Fort Worth, which also sells very cute mugs.
Something to read:
The link to this was broken last week but as the playoffs begin, I'm so interested in the NBA bubble's wine club
A day in the life of Meme's diner, which is staying afloat in all kinds of ways (Meme's was one of the last restaurants I went to pre shutdown)
How this LA institution of Oaxacan cooking is surviving the pandemic
This new Vietnamese bakery in New York looks so good
If you have questions about Covid testing, Julianne wrote a detailed post with all the details. It's easy, free, and highly recommended.
Upstairs it was an oyster restaurant, down below it was a stop on the underground railroad.
These vegetable stamps are a great way to support the USPS and a good excuse to write letters to friends.
4 ways to join the food justice movement as a beginner
Fried fish is a valuable fixture in Black American cuisine
Love this Grub Street diet from Zohran Kwame Mamdani, who eats well in Astoria
Salt and Spine's episode on the importance of non white led food media is definitely worth a listen.
Someone fed his child Indian food and he sought advice. The response is priceless.
Gary He went to Corona, Queens, and spoke with restaurant workers affected by the pandemic. Many are facing eviction, hunger, and more.
Love this profile of Tammie Teclemariam by Nikita Richardson
The $200 per person fine dining dome in San Francisco is America's issues in a nutshell
If you only read one link, please read this Brooke Jarvis story about the cherry harvest in Washington and the workers behind it.
Event alert: Lissette and I are leading a workshop on newsletters on August 25th. It will focus on getting your first 100 subscribers with all kinds of tips on audience growth, freemium content, and lots more (I'd recommend it for both aspiring and existing newsletter writers). Lissette is a social media expert (she was just named one of the top social media coaches of 2020) and I'm so excited to be partnering with her on this. Grab tickets here and check out the buddy pass option if you and a friend have newsletters you want to start or grow. 10% of proceeds will benefit the Okra Project.
---
Now, let's talk dipping sauces for fries!
Julia knows good fries need something special: MAYO AND KETCHUP SPECIAL SAUCE 5EVER
Paige agrees: Fries go in an equal mix of ketchup and mayo - I find it balances out the sweetness of the ketchup which is otherwise too sweet for me! I love a crispy fry - definitely not a steak fry gal. But will do waffle fries or slightly thicker ones as long as the outside is crispy enough.
Becky is a mayo convert: Europe turned me into a mayo dipper. Sometimes I mix in a little mustard too.
Suzanne's response made me hungry too: Sauces are one of my most favorite things!  A french fries (really, specifically: frites) are the best sauce delivery methods.  I'm from the Midwest (Minneapolis represent!) and a really runny, buttermilk ranch is peak fry sauce.  Honorable mentions: aioli of really any sort (the garlic-y the better!), honey mustard and I once had sweet potato fries with miso mayonnaise that I can't stop thinking about... They were topped with scallions, drizzled with a teriyaki-type sauce and were perfection. Okay, I'm hungry now... :)
Ron reminds us of the magic of vinegar on fries: I'll dip fries in dijon mustard, but that's if I haven't already put some black vinegar on them. 
---
This week, I'd love to know what movie you'd like to watch outside this summer. What would you eat and drink during it? At home movies are the romantic gesture of quarantine. Clueless was lots of fun and I saw Dirty Dancing, another classic, outside a few summers ago. Reply to this email and let me know!
Happy eating and thanks for reading. I hope you'll sign up to be a poll worker!
xo, Abigail
P.S. Paid subscribers will get Thursday's cooking dispatch about organizing a small kitchen. Check it out if you're in a similar situation and want to support This Needs Hot Sauce.