We've hit the banana bread stage feat. Garden Variety
Plus, all of your favorite drinks
Hi friends,
Today's newsletter has all the usual recipes, recs, and reads, plus a very special guest, Mallory from Garden Variety, a fantastic newsletter chock full of recommendations. I shared some favorites there on Friday and am excited to have Mallory here today. Find her favorites labeled as Mallory's picks.
Some more about Mal: I'm Mallory Brooks, a person who does a lot of things—one of them is Garden Variety (a newsletter of all things delicious, interesting, empathic, and/or practical). I live in dreamy Greenville, South Carolina, a verdant town in the shadows of the Blue Ridge Mountains. When I'm not working, I'm usually reading cookbooks, eating a salad with a side of french fries, antiquing, or hanging with my coonhound, Edna.
One other announcement: We're having our next digital happy hour on Thursday, May 21st at 7:30 p.m. EST. It will be long weekend themed in advance of Memorial Day so please wear something you'd wear to drink outdoors, preferably near a body of water. Hats and sunglasses are welcome, as are festive drinks and snacks. I'll share Zoom details next week, but mark your calendars!
Now, let's dive in.
Something to cook:
I've been teaching weekly Zoom cooking classes for Hebrew School and last week's menu was a hit. We made homemade pita chips with Israeli salad and hummus. Such a good hearty snack or light lunch.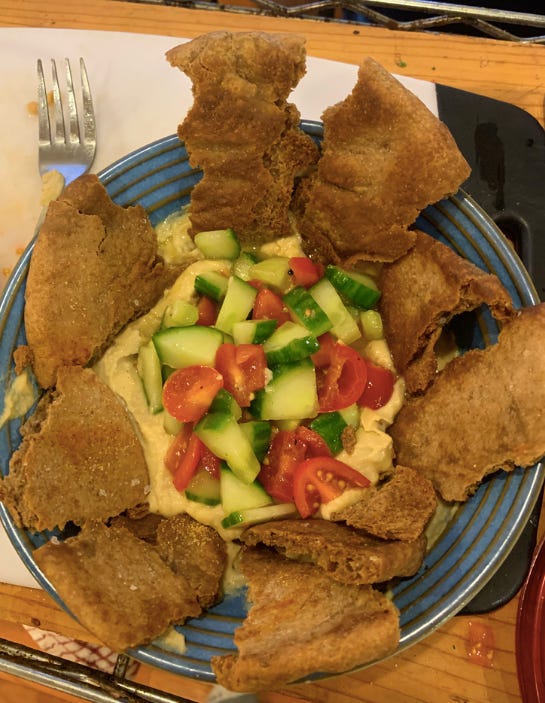 Butternut squash lasts a while, but I had one that needed to be cooked. I decided to make squash toasts with caramelized onions (we have time) and goat cheese (thinned out with a little lemon juice and seasoned with salt and pepper). and they were so good. This dish is a great appetizer or main course and it's worth the time to assemble all the components.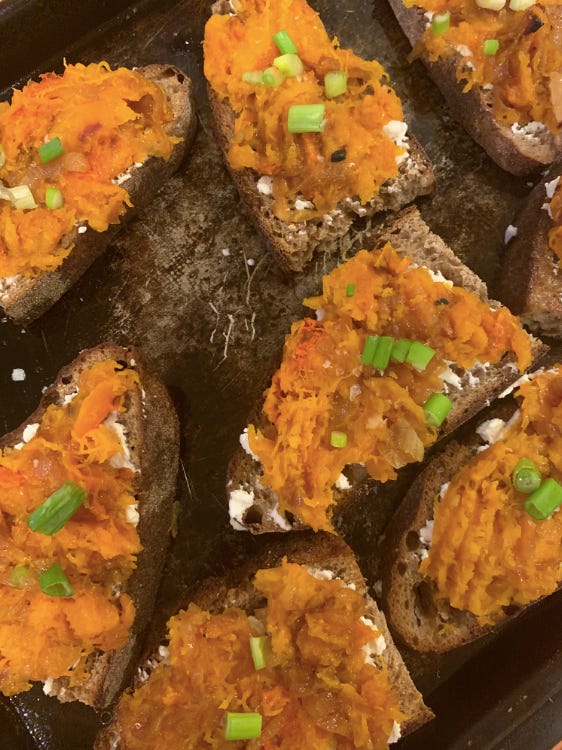 Needing to return the favor of Leah and Lizzi's bagel drop off, I made a batch of tahini chocolate chip cookies, which never fail. Let the dough rest in the fridge overnight and you'll get the perfect texture. I like making the cookies pretty small.
Feeling deeply connected with the lumpy cookie on the bottom right. This week was busy and I'm so tired, but it's Friday and there are cookies.
It took nearly two months, but we finally made banana bread. This recipe uses five bananas and was so moist. Grab a very yellow bunch next time you go shopping and wait till they're ready. The turbinado sugar crust adds a fancy coffee shop vibe to the loaf. It's best the day after it's baked (it takes a long time to cool), and ours was gone in a few days.
One of the best things I cooked last week was a total improvisation. I riffed on a dish from Meme's that I had pre-pandemic and loved the results. Start with a swoosh of yogurt on a plate and then add a ring of sauteed onion, kale, and kimchi with some pumpkin seeds. Finish with two fried eggs and some everything but the bagel seasoning.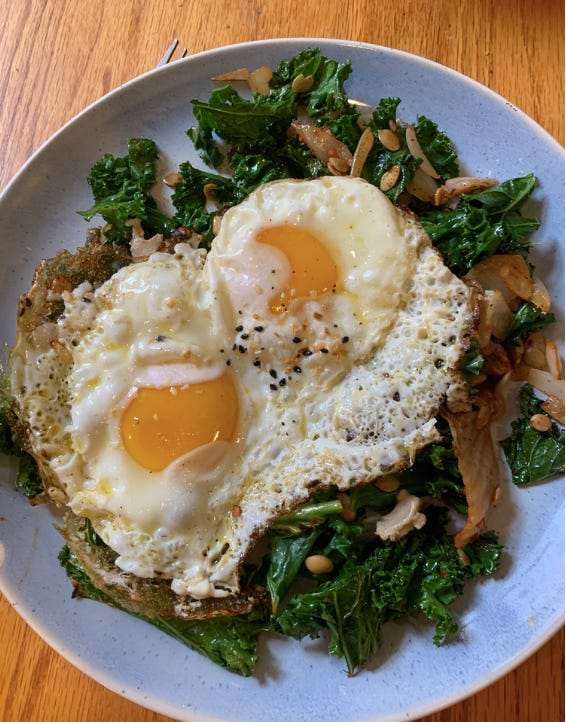 On a night when I had no dinner inspiration, I made a simple baked potato with one major improvement: I rubbed the skin with olive oil before baking at 450 degrees for one hour. I topped it with shredded cheddar and defrosted frozen peas and it was really good. The olive oil hugely improved the texture and it's a comforting no-effort dinner.
Mallory's picks:
The week quarantine started I texted all the humans whose cooking I trust and added them to a GroupMe called "What's for Dinner" so that we could share what we were cooking at home (I live alone and needed some connection other than Instagram). In addition to connection, it's a treasure trove of recommendations and inspiration—we call on each other for ideas on how to use something that's about to go bad and discuss if anyone truly likes Giada. That's a long story to tell you this was my first dish of quarantine cooking and I am still thinking about it. I made a big pot and ate it with sauteed lemony kale and hot breakfast sausage for the *most* satisfying start to the day.
You likely have some, if not all, of these ingredients: soba noodles, cukes, furikake, tamari, sesame seeds, pickled shallots, peanut sauce, avocado, lemony tahini, cilantro.
It makes for the easiest spring dinner, especially if you mis en place all cold ingredients before dinner time. 
Slice cukes and avocado. Pickle shallots. Chop cilantro. Toast sesame seeds. Make this absolutely perfect, five-ingredient peanut sauce and this lemony tahini sauce. I highly recommend soba noodles, but you'll be just fine with whatever you've got on hand!
Something to order:
To be honest, I hit a big cooking wall by Friday. I was still into baking projects but the prospect of making dinner for myself was unappealing. I leaned on takeout this weekend, aided by the nice weather and reopening of many local spots.
For anyone in Queens, Pahal Zan is open again for takeout and delivery. Call them to order a falafel platter, which will easily feed two people. It comes with pitas, tons of salads, and their excellent spicy sauce.
This weekend, Julia and I picked up bagels at Bread Brother's nearby. We called and they were ready in 10 minutes. We also grabbed coffee at Dunwell on the way home.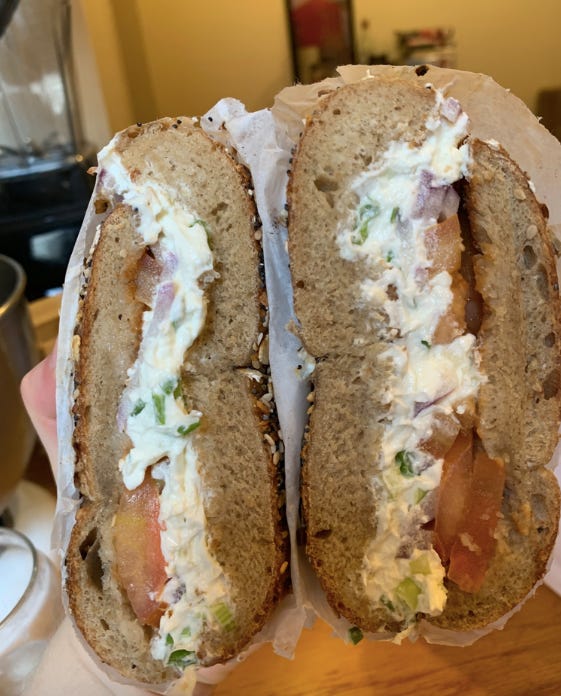 Last night, Dale and I walked all the way to Van Leeuwen hoping for scoops, only to find out it was only selling pints via delivery apps. We still made the most of the outing and grabbed some to-go margaritas at the West (get one and ask them for two cups with ice, it's huge) and dinner at Lighthouse, which now has direct ordering on their website. I got their big salad and we split their guac, which is really good.
Mallory's picks:
A huge, vintage saltbox (This is the same one I bought—but at a much higher price—so search your local antique mall when we're on the other side.)
Yes, they make cute, small ones these days, but when recipes call for boiling water to "taste like the ocean," don't you feel like you need a whole handful? I do. I found this saltbox at an antique mall a couple of months ago (for $20) & highly recommend keeping one by the stove for salting pots of boiling water or sheet trays of veggies.
Something to read:
How Coronavirus threatens Philly's byob culture
Are you becoming more frugal with kitchen supplies and ingredients?
How Hunts Points suppliers are keeping the city fed
The Covid Crisis is reinforcing the hunger industrial complex
I can't keep cooking like this
Related:
Get fat, don't die: how dark humor helped during the AIDS crisis
In LA, taquerias are running out of meat (it's a great time to eat less meat)
What reopening New York restaurants might look like
Here's a recap of last week's IG live with She Spends! Thanks to everyone who tuned in.
Love in the shape of cut fruit
Catherine Cohen's Grub Street Diet promises a laugh
Cheap wine sucks: A manifesto (read the whole thing)
My walks have gotten a lot better since these arrived in the mail
Mallory's picks:
Everything, and I mean everything, you could ever want to know about The New York Times's weekday news podcast, The Daily, lies within this piece. We've got what a workday looks like, Michael Barbaro's personal history, what the podcast brings in each episode (it's more than my yearly salary), and some juice on people's deep love for Barbaro's voice.
A well-written profile is one of my life's greatest pleasures and this one is no exception. (Making sure y'all have read this one and this one. And this one.) Christine Lauterbach is one of those people you think cannot be real, but she totally is. Which is rather how I consider Fran Lebowitz to be, come to think of it. If you need further convincing this is worth your time—Wendell Brock won Best Profile for this piece of brilliance at the James Beard Foundation Awards a few years back.
And a bonus lifestyle PSA:
I'm not usually one to pay $52 for any beauty product, but this stuff is magic. The website copy is a little woo woo but I'll be damned if my pores don't send all the dirt and gunk to the surface because of this stuff. You should know that Shaffali's entire line is this impressive. I also use the moisturizer and face wash, with great joy and glowing skin cells.
---
Now, let's talk about quarantine drinking. I loved hearing what you've been sipping. I got a diet peach Snapple at the bagel store this weekend and it was delicious!
Erica is back on team caffeine: Re: beverages— I'm fully re-addicted to caffeine! I had gone cold turkey about 3 years ago and was having 1-2 decaf beverages pre-isolation, but I'm taking a medication that is dangerous to mix with alcohol, so caffeinated bevs have become my crutch of choice. I'm typically having a matcha in the morning, and my parents unearthed a never-used espresso machine that was gifted to them years ago, so now I'm also having a little cappuccino most days as well! I'm very spoiled and very jittery, but I've decided this is an issue for post-isolation Erica... We all need a lil something to get us through!
Mallory is batching negronis: Batching negronis for the quickest happy hour. I've always loved a negroni, but Brooks Reitz's IGTV inspired me to batch them for a breezy cocktail hour (in and out of quarantine). Additionally, his IGTV right now is a GOLDMINE. I also made a strawberry-lemon-thyme shrub! It's given me a fun afternoon zing (club soda and extra lemon juice!) and a way to zhuzh up gin and tonics!
Teal is staying hydrated in London: In terms of drinking, we normally start the morning with tea, then we've been making fresh juices most afternoons…sometimes we just throw in anything that's in the fridge. The last one was pineapple and ginger and it was delicious! Lots and lots of coconut water too! Since the weather has been warm, I started making Aperol spritzes for a little cocktail hour in the evening and will have wine with dinner some nights as well.
Gemma has a hot tip about hard kombucha: I'm currently obsessed with the hard kombucha options at trader joes- I also bring a backpack to properly load up. I like the Elossa berry ginger (6.5% abv) and Willie's superbrew pomegranate and acai (4.5%) strongly recommend if you like kombucha / tart drinks.. if not, doubt you'll be converted.
Julianne and Ian's cocktail game is strong: Current status: we just received 12 bottles of wine at an INSANE DISCOUNT thanks to a new HelloFresh and WSJ Wines partnership. That was exciting. Also, our quarantine drink of choice is a Spicy Margarita. Finally, I think Union Square Cafe has the most creative take on the old fashioned (Chai Rum Old Fashioneds!) and Ian and I made it our mission to recreate at home. We made our own chai simple syrup and Ian bought a bottle of fancy rum. We didn't have star anise as a garnish so we stuck with the traditional orange twist. I'm pretty proud of our teamwork!
Joy has an amazing new coffee idea: Boston here! A friend of mine had turned me onto a funky coffee shop just outside the city called Reign Drink Lab. They serve up Vietnamese-style coffee, often blended with chai, or coconut milk, and fruit. They also serve other blended drinks that are unique and tasty. During the start of shelter in place, I was shelling out to get their drinks delivered, but that added up fast. I've since been getting my interesting coffee fix trying to emulate one of their drinks by blending home-brewed cold brew with oat milk, frozen blueberries, cinnamon, and a bit of agave, plus throwing in some coffee ice cubes to get it nice and frosty. It's the perfect morning pick-me-up that feels bright while everything else feels so gloomy. 
Sarah knows it's important to have some beverage novelty: We have been drinking so much wine! Mostly ordering pickup boxed/bagged wine from Lil Mo Wine so we can have a glass here or there without worrying about it going bad too quickly, and it is ~economical~ baby. We've also treated ourselves to a nice sauvignon blanc or prosecco. I've taken trips to the beverage mart near me, where they have a huge variety of six-packs and cases of beer, cider, and non-acoholic drinks. I grabbed some ginger beer to make moscow mules, and each time I've bought a fancy craft six-pack and a case of an old standard (so far, Coney Island Mermaid Pils and Peak Organic IPA). 
Olivia is supporting her favorite wine shop: I'm drinking a lot more natural wine and cocktails than I typically do, which comes from both a deep deep love of orange wine and also a drive to support our local restaurants (selling cocktail mixers at their weekly food markets) and our fantastic local natural wine store (crocodile wine, in Asheville, NC).
Rosalie starts each day with tea: pretty much just drink water now, but I've also now been drinking hot green tea every morning. I got the tea leaves from San Francisco's Chinatown one day on a whim. I did try making dalgona coffee but it didn't turn out well. I think it's because I used the wrong kind of coffee.
Raeanne is adding a treat to her shopping: I realized recently that I usually buy myself a fancy fizzy drink or chocolate when I do groceries (pre-corona). Since we have been ordering online or my partner has been braving in-store shopping I haven't been getting them. Last week I realized a local health food store did delivery and had one of my favourite sodas. Having one of those drinks has been a well-enjoyed treat over the last few days.
Isa's drinking schedule sounds lovely:
I've been drinking: 
- homemade cold brew in the morning
- lots of water throughout the day 
- mezcal Negronis (supplies got delivered last week) 
---
This week, I'd love to hear about something special you've done in quarantine. Whether it's attending a virtual birthday party, making a big lasagna, or just spending a day reading and eating your favorite snacks, what's been unexpectedly joyful or meaningful? Some of my best memories from this time include Passover with family across the country, my first latte in months, and Teal's surprise birthday where we all had drinks together and lit candles. I also love the more normal moments, like baking with Julia or cooking dinner with Dale and watching movies. I'd love to hear about yours, so reply to this email and share your special memories from this absolutely crazy time.
---
I hope you stay healthy and safe this week and please mark your calendars for happy hour. Happy eating and thanks for reading!
xo, Abigail