This flatbread is the best thing I've made in quarantine
Plus, a hard seltzer I actually like
Hi friends,
Welcome back to This Needs Hot Sauce. I hope you had some safe fun this past weekend!
Now that it's (sort of) summer, I'm excited to launch cooking classes. The first one will be open to paid subscribers as a test run and then I'll share pricing and a schedule for everyone. I'm moving in with Dale this weekend so I'll get these rolling as soon as I'm set up in my new kitchen.
Now, let's dive in.
Something to cook:
You know the feeling when you make a new recipe that will be an absolute staple? That happened this weekend with these flatbreads with falafel spiced chickpeas and tomatoes from Josh McFadden (the chef behind that delicious kale sauce). I've never made flatbreads and thought it would be quite the process. Instead, it's a quick and fun recipe that doesn't even require yeast (yogurt and baking powder lead to flakey layers). The toppings are great too and worked with substitutions. I had no fresh herbs and used cherry tomatoes, not heirloom ones. Make the recipe in the order that it's written so your tomatoes have some to hang out and you'll have dinner in under an hour (I couldn't believe it). We made three of the flatbreads and then kept the final dough ball in the fridge to eat with breakfast the next day. I'm going to make these all the time now, to go with a soup or eat with a dip. I know I'm rambling, but Julia and I spent most of dinner talking about how good our dinner was. That's rare. Flatbread forever.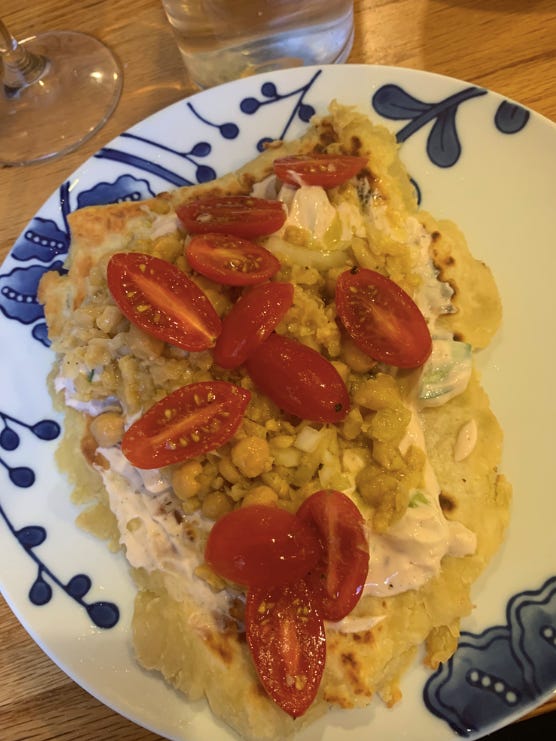 For brunch yesterday, I made shakshuka following the recipe I published a few years ago. It's one I learned from some Israeli teens I worked with and the key is using a mixture of fresh and canned tomatoes. Make sure you let your sauce thicken a bit before adding the eggs.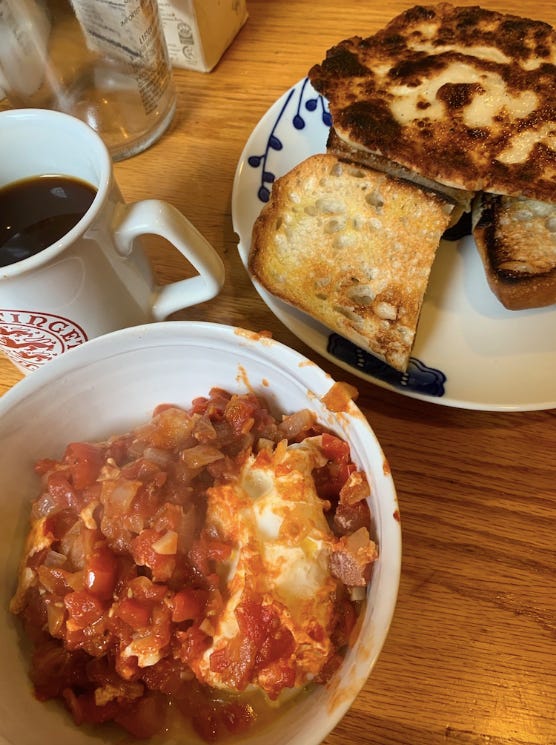 My parents dropped off some broccoli rabe and other groceries and I made the broccoli rabe with lots of garlic and toasted garlic breadcrumbs (followed this recipe without the ricotta). It was the perfect side to some storebought stuffed pasta (frozen ravioli is so good).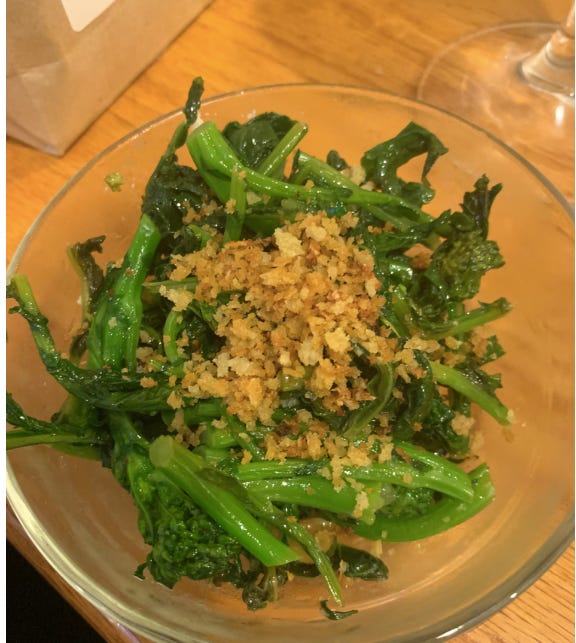 Before this grocery drop off, we were running low on produce, so I had a simple lunch of olive oil fried eggs with lemon yogurt. Never fails.
Julia and I love making fried rice with the help of cooked rice from the Chinese takeout spot on the corner. They're still open, so we grabbed a box and made our favorite broccoli fried rice, topped with lots of chili crisp. The leftovers are so good and you can re-fry them for even more crispy bits.
Something to order:
We kept takeout to a minimum this week, except for a very special Sunday breakfast from Win Son Bakery. Get the fan tuan! Pastry Chef Danielle Spencer is back so you can get a mochi donut and the very underrated date cake as well. Win Son Bakery has a small grocery where you can stock up on soy sauce, chili crisp, and more, so take advantage of that (it's part of the menu on Caviar if you keep scrolling).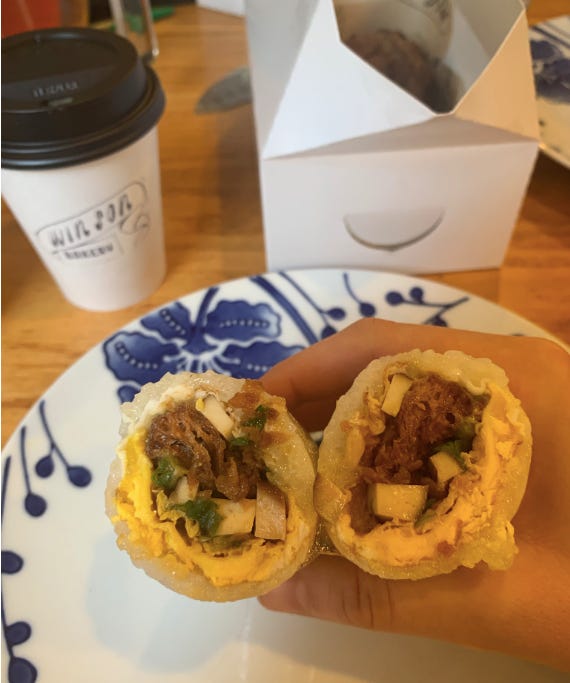 Two wonderful products arrived in the mail right before the long weekend: a case of Willie's Superbrew, a spiked seltzer with fresh fruit and some sauces from Haven's Kitchen. I'm a huge fan of both, the Superbrew isn't too sweet and low ABV (and I'm not a White Claw fan). I especially liked the pomegranate and mango passionfruit flavors. It's sold at Trader Joe's and lots of other places if you want to try a new spiked seltzer. Natalie also recommended the ginger flavor which I'll be on the lookout for.
The Haven's Kitchen Harissa is so good and easy to use. So far I've used it to make a dip with some yogurt (I served it with homemade pita chips), added some to shakshuka, and even added it to the spiced yogurt for the flatbreads. The sauces come in a pouch that's stored in the fridge and can be dressings, marinades, or ingredients. I have two more flavors to try and am very excited. It's at Whole Foods and you can also order online.
After some encouragement, I ordered spices from Burlap and Barrel. I'm waiting to open them but am so so excited to cook with them. I got the 6 spice starter set plus a bottle of the urfa pepper.
If you're looking to shop from more small businesses, check out the series I did on Instagram last week. Each day featured a different category like New York favorites and Wine Wednesday and it's a great round up of excellent businesses to support.
Something to read:
The history of Maldon Salt and how it gained popularity beyond England.
A very important article about sourdough beyond its European framework. I loved learning about Central American bread traditions and really want some pan dulce.
Watch Yewande make a stew
My pals at She Spends have created Pandemic Diary zines to support Freedom America and the New York Immigrant Freedom Fund. They're really thoughtful and affordably priced.
In Chicago, a laid off bartender started a food drive for LGBT seniors.
I met Zoe Francois at a conference and she really does have great hair.
The best instant coffee and some cool info about its origins.
Are to go cocktails here to stay? I hope so
This virtual trivia night supports local bars.
How being home hurts when you feel most at home on the road
I know every state is reopening on a different timeline and am so not an expert, but I found this article about the safety of eating in a restaurant helpful.
An exhaustive guide to cooking with Instant noodles (James Park is a great Instagram follow as well)
For fans of the Home Cooking podcast with Samin Nosrat, What's Gaby Cooking has a new thrice weekly podcast answering cooking questions (episodes are only 15 minutes). I especially enjoyed her episode with the Food Heaven team.
---
Two topics to address this week: Alison Roman's column is on hold. I think this is a perfectly reasonable consequence for her behavior and I doubt it will last very long. She's reviving her newsletter so we'll hear more from her soon. For those who are complaining about the other very problematic voices at the Times (true), remember that it's a huge company and Roman has a different editor than the opinion columnists. White women should not aspire to the impunity from racism that many white men enjoy. We should all be held accountable.
Related: this excellent article about the global pantry examines the whiteness of food media, the lack of context that ingredients get, and issues of ownership, and what gets to be mainstream. I'm glad they mentioned the Bon Appetit Test Kitchen. I love their videos but their blind spots are glaring. Alison Roman is just the jumping off point.
Last week, Sean Feeney, of Lilia and Misi, went to Washington to meet with Trump and other members of his all white, all male restaurant panel (a disaster from the start). Feeney tried to appeal to Trump by saying he's one of us, which he later defended with a reference to Martin Luther King Jr., and called him "a fellow career changer." Feeney used to work in finance (he only quit his day job in the last few years, after Lilia and Misi really took off) and had downplayed the risks of Covid to his staff. I'm not shocked he took this meeting, but I am disappointed. It's so naive and arrogant after nearly 4 years of this administration to think you'll get something out of working with him.
I've eaten at both Lilia and Misi and really enjoyed them. I think Chef Missy Robbins is very talented. On her own, she did not have the capital to open a New York City restaurant on her own and her choices were to partner with investors or work for someone else. She chose to work with her neighbor Sean, who had plenty of $ from working in hedge funds (by the way, his first restaurant experience was with Lilia so it's crazy that someone with under 10 years in the industry is even on this panel). Feeney thought that would somehow get through to Trump, who could be cast in the role of a disgruntled customer. As Angely Mercado said so well, this pandemic is not affecting us all equally. The fact that Trump even had a version of conversation with Sean Feeney without mocking him is because he's a rich, white man. Most of the people who work in the restaurant industry are not rich, white men, though that's hard to see from the panels that are assembled.
With solutions like these, there are multiple calls to blow the industry up and start over. I'd love to know your thoughts.
---
Now, let's talk about long weekends of the past. We had lots of fun reminiscing during last week's happy hour and agreed that eating and drinking outside were key elements to a good long weekend, hence the Aperol spritz I made for the occasion. I'll announce the next one soon.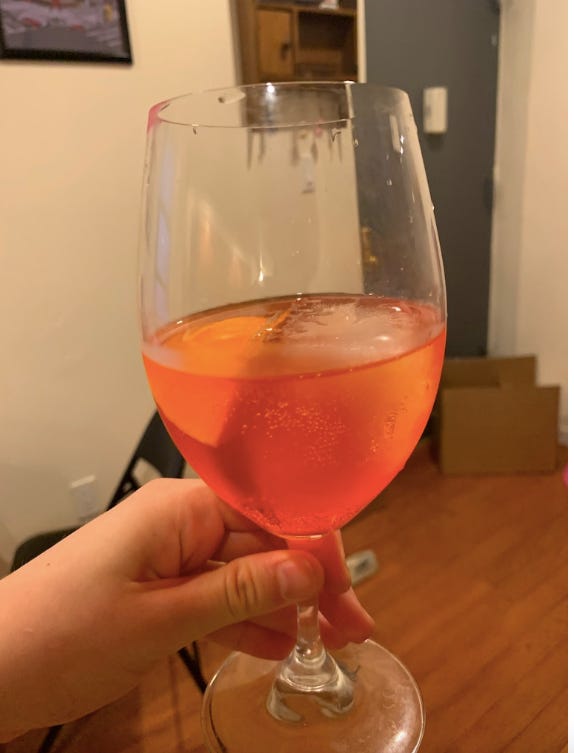 Alicia's plans were bittersweet: Oh this prompt really got me. Normally I go up to my parent's house in Vermont for memorial day with friends and mostly hang out in the house and cook, it's a great time. Last year I remember we made a bunch of honey butter and just snacked on it constantly. This year however I'll be two weeks away from moving up there for the foreseeable future (mix of job loss, COVID etc.) It's bittersweet but I'm looking forward to being up there again.
Jessica knows the beauty of an empty city: I typically enjoy the empty city on Memorial Day, some years when the weather is just right I walk along the East River Greenway from 34th all the way down to Delancey (probably won't do that this year, because taking the train or bus home if I'm too tired to walk back doesn't feel like an option). Since I do Meatless Monday, I always try to find a vegetarian meal that evokes that start-of-summer feeling, which could be a veggie burger or kebabs from one of the Indian restaurants on Lexington Avenue or just straight-up dessert as a meal.
---
This week, I'd love to hear your tips for setting up a kitchen! Moving is a great time to reorganize and I'd love to know the things in your kitchen that *just make sense.* If you have any must have kitchen tools, send them along! Reply to this email with your best tips.
Happy eating and thanks for reading.
xo, Abigail