When in New Jersey...
A Jersey Shore recap, a byob steal and some regular spots
Hi friends,
Welcome to This Needs Hot Sauce, a weekly newsletter about cooking, dining out, and making the most of it. If you're in New York, I hope you're free for Thursday's happy hour at Brooklyn Cider House at 6:30 (full details here, friends are welcome).
Next week's newsletter will arrive on my birthday! If you want to start celebrating early, I'd love it if you shared this newsletter with a friend.
Now, let's dive in.
Something to cook:
I spent a fantastic weekend down the shore with Julia and Julianne. Julia's parents (hi Karen and Rich) recently moved to Long Branch and they were wonderful hosts! We ate most of our meals outside on the patio and took advantage of the Jersey tomatoes.
Some of our best meals were really simple: bagels with fresh fruit for breakfast, tomato mozzarella sandwiches and tuna melts for lunch, and hummus and veggies with drinks before dinner.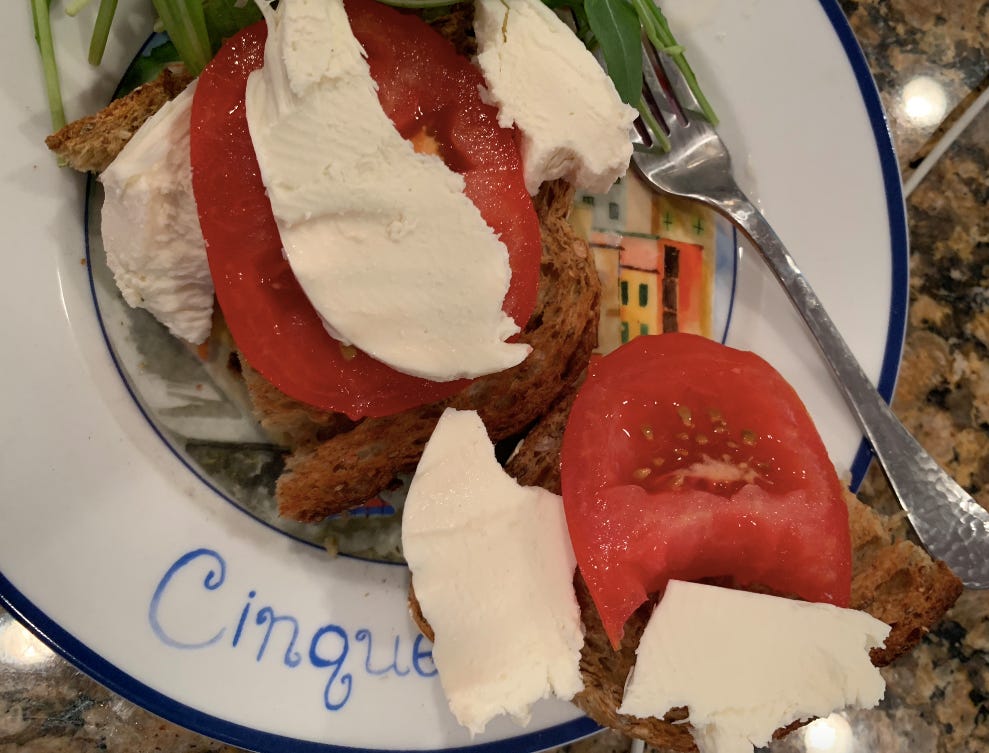 Karen made this delicious farro salad from Charlie Bird for lunch one day and I'm definitely going to make it for lunches one week.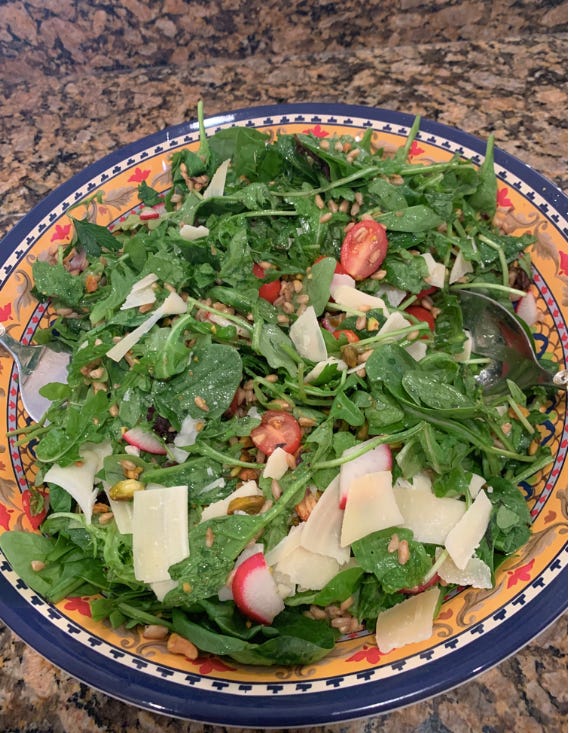 We also invented a delicious summery cocktail perfect for drinking on the beach. Their beach is very social, so we filled a big pitcher and went around with cups and ice making friends. It's called The Red Flag (a surfing/dating reference) and spoiler alert: it will be making an appearance at my birthday party.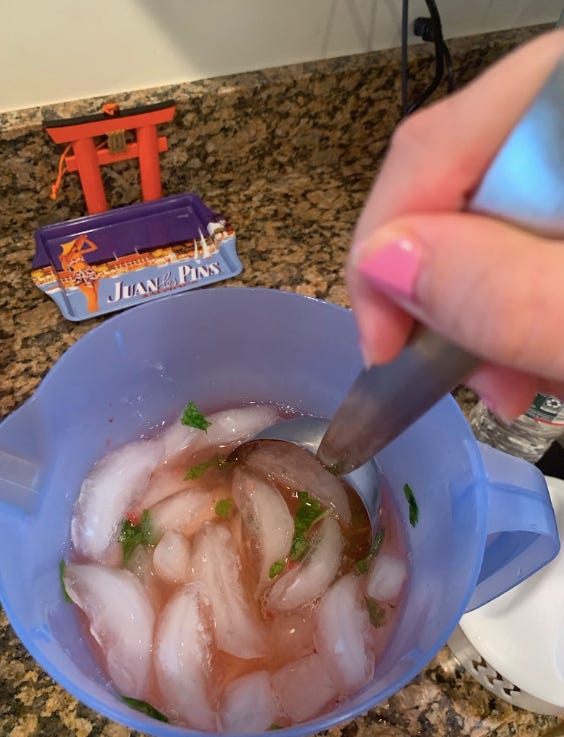 The Red Flag
In the bottom of a large pitcher, muddle 1 cup of mint leaves, 1/2 cup of raspberries and 1/2 cup or 3/4 cup of sliced strawberries. You can use the back of a spoon for this. Add in one liter of seltzer, the juice from 3 limes and lots of ice, almost filling the pitcher. Top the pitcher with gin (about one and half cups) and stir to combine. Taste to see if you want more lime or fruit. Serve over ice with an additional lime wedge. You could also make the base and add the gin to each person's drink individually if some people prefer a mocktail or want vodka or another spirit.
And this week for lunch, I'm making a go to: roasted broccoli with white beans. It's quick to assemble and endlessly versatile, topped with an egg or added to a bowl of pasta or a salad.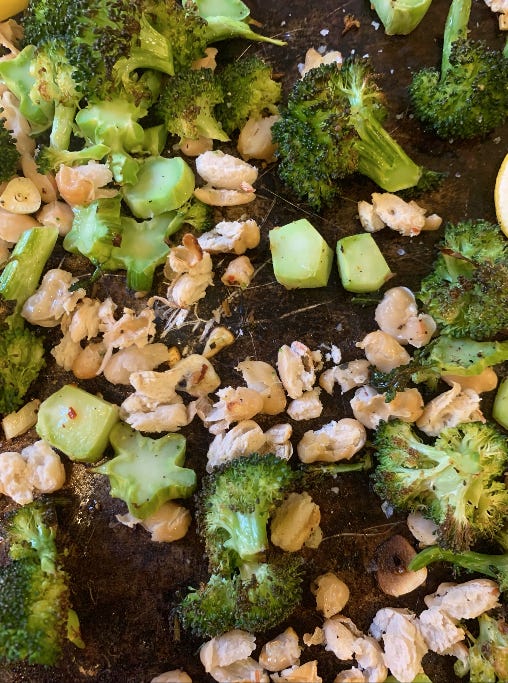 Sarah had a birthday picnic in Prospect Park and her friend Molly brought a a jar of mojitos AND a whole watermelon with a knife and cutting board. It was an expert move. Other great things to bring to picnics: grapes, chips and salsa, cheese plates, vinho verde (it's less than 10% alcohol and perfect for summer sipping), and pop corners (how are they made?).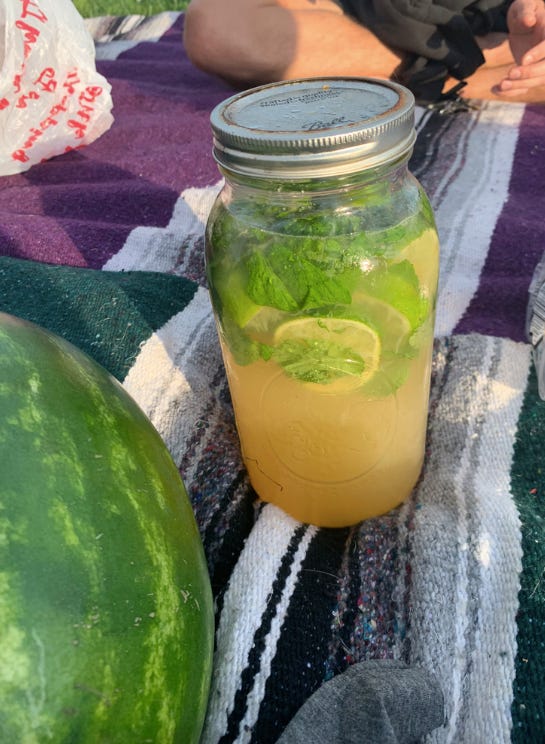 Something to order:
First I'm sharing my shore finds from Long Branch and the surrounding area, then we'll get back to NYC (I spent a weekend in Point Pleasant last summer if you're looking for recs around that area and this guide is also very thorough). The Shore is changing a lot (more info in this article).
Getting there: We took the SeaStreak Ferry from Wall Street, which serves $5 rose on board. Have one friend go to the bar while the rest of you save a spot. Stand on the upper deck for views and don't forget to put on sunscreen.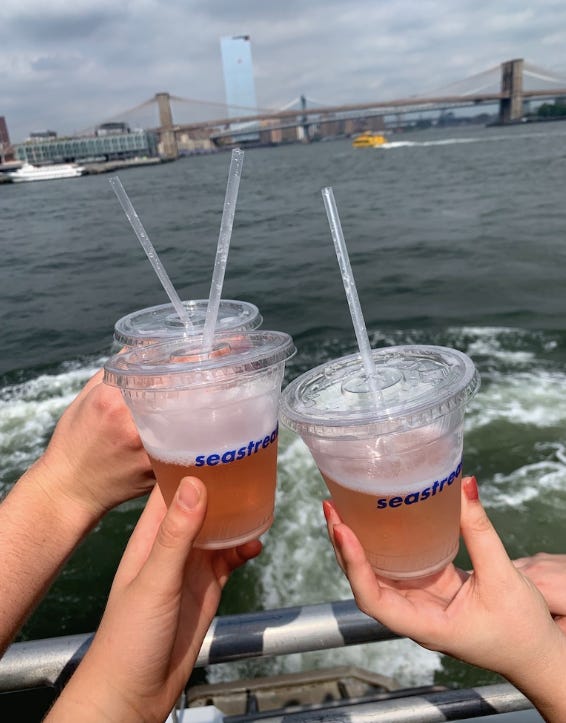 In Asbury Park:
We had dinner with Julia's parents at Pascal and Sabine (make a reservation). The space is gorgeous with high backed round booths and the food was so delicious. We shared moules frites, a crazy good mushroom tart with sherry, cacio e pepe agnolotti, salads, and rosé. And the beignets are really good if you want dessert (Karen also recommends Cookman Creamery if you want ice cream after dinner).
After dinner, we walked the boardwalk and visited the Asbury Hotel's rooftop, which has extremely reasonably priced drinks (we got three for $24) and great views. Another section of the rooftop plays movies. A side effect of leaving New York is finding prices to be a steal outside of the city.
We ended the night at Johnny Mac's, which has a playlist full of pop punk and throwbacks (they played Breaking Free from High School Musical, which is an extremely important film). We met some characters in the line for free pizza (you get one with every drink) and had a very Jersey night.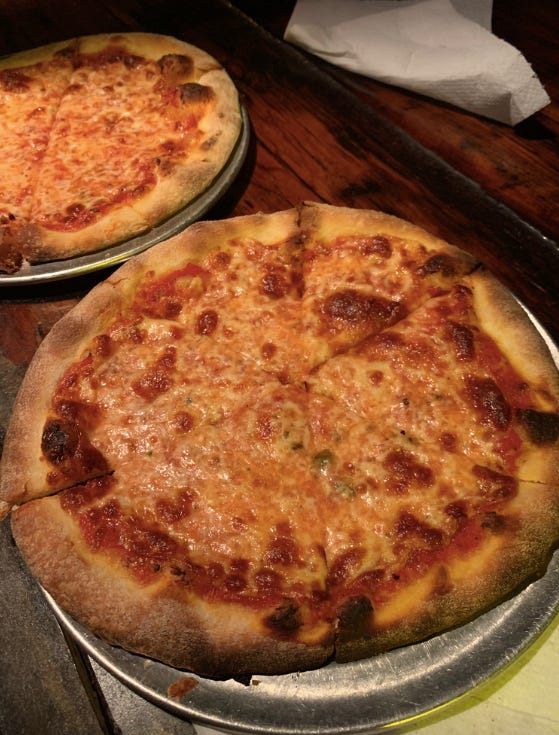 In Long Branch:
Casa Reinstein is tough to beat, but there were lots of great options within walking disance.
We heard a cover band called Run for Cover (iconic, tbh) at Ocean Place Tiki Bar and people watched the multigenerational dance floor.
Then we visited the brand new Whitechapel Projects brewery. It opened this year and has multiple bars and a full restaurant. The food was really good, especially the watermelon salad and special tomato flatbread (tomatoes forever). The signature item is their fried burger, which should be shared. Julia and Julianne said it's very good, but heavy.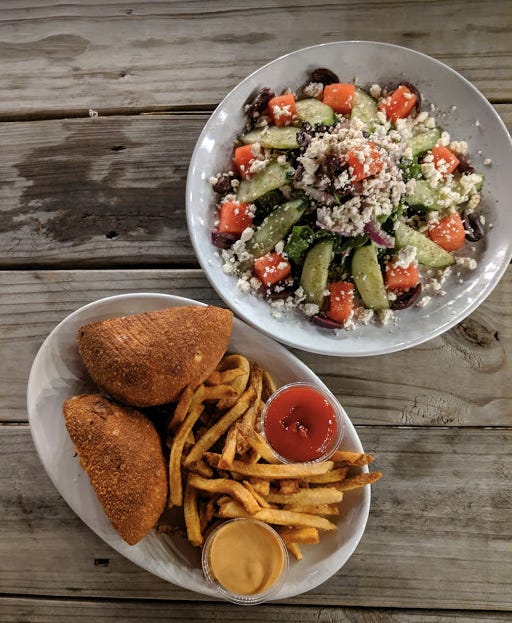 You know my vacation ice cream policy, so the night had to end with ice cream at Lighthouse (aka Strollo's) Italian Ice. We ran into Rich and Karen with their friends Lisa and Steve and they saved us a table while we waited in line. Bring cash and order a kids size, which can fit up to two flavors. They have Italian ices in about 8 flavors and soft serve as well. I got the peanut butter and vanilla (the peanut butter is a must). Sit outside and relish the rapidly passing summer.
It was a really lovely weekend and I hope all of you get to spend some time by the body of water of your choice (a kiddie pool on a patio counts) before summer ends.
---
In New York, Zoe, Julia and I got dinner at Kings County Imperial on the Lower East Side. They have great weekday specials before 7 pm, including a dinner special where you can share a bunch of dishes for $15 a person. The dumplings were great, as were the sesame noodles and mock eel, which is made with mushrooms and the free pickled cabbage is a spicy starter.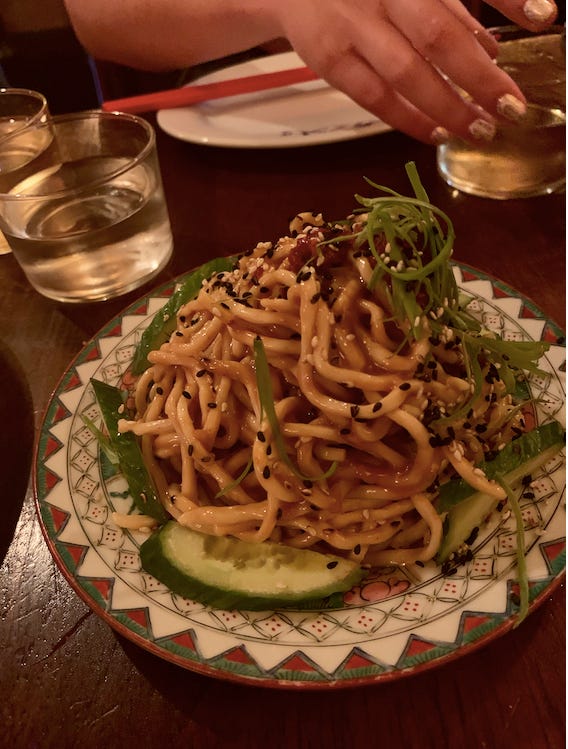 I went back to Pizzette with Julianne, Ian, and Julia and we had such a good dinner. Their special happy hour includes a free pizzette with the purchase of a cocktail. There are four types, so we got one of each and ranked them. The four cheese was a favorite and I also love the red hot chili pizza. They serve dollar oysters and clams all day every day, so start your meal with some of those.
Lissette held an event with Real Havana Club rum at Grand Republic in Greenpoint. The bar is right near Transmitter Park and has a killer backyard. They also have a robust snack menu with old bay popcorn, important for every bar
Birthday week officially kicked off last night with dinner at Montesacro. Dale got the hot tip that it's BYOB until they get their liquor license, so we stopped at his local wine shop Bibber and Bell for some Portuguese Rosé and got a table in the covered garden, which is gorgeous and temperature controlled.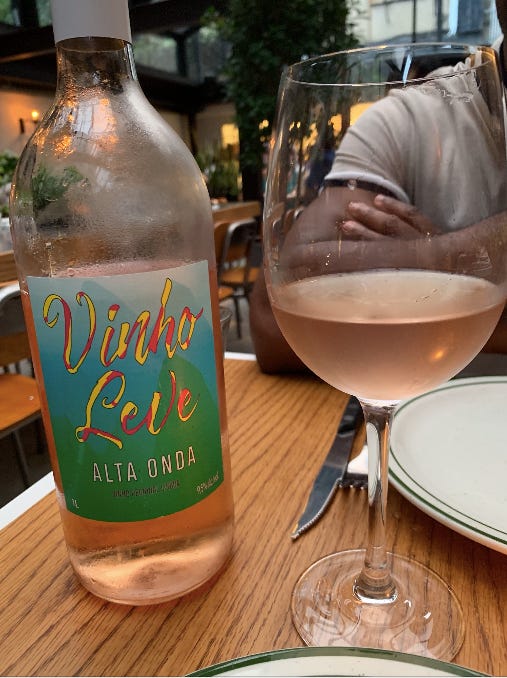 Montesacro specializes in pinsa, which are hand shaped Roman flatbreads made from a combination of rice, wheat and soy flour. They're only made at a few places in the US (there's one in San Francisco) and are perfect to share. We also had a homemade cacio e pepe pasta which had a great kick to it and a tomato appetizer stuffed with arborio rice (tomato season 4 eva). If you've been wanting to try this place, go soon! Once they get their liquor license, it will be a more expensive evening. For now you can spend $30 or less per person and have a really nice date with excellent service.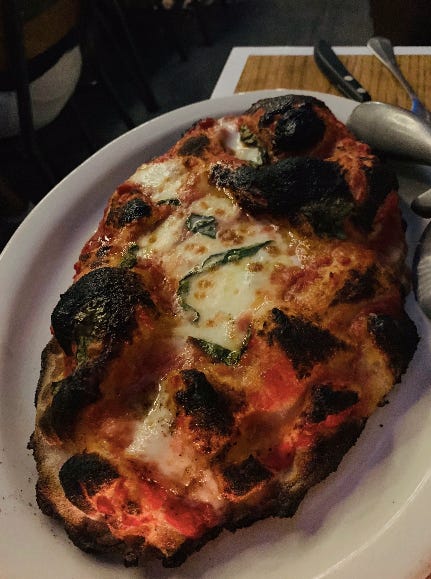 Something to read:
45 vegetarian recipes that pack well for lunch
How much of the water you drink all day actually gets absorbed? Not so much of it, according to this.
In Queens, this refugee-run catering company makes food from around the world.
How oat milk took over the alt milk scene
Why people are so excited about tomato season this year (it's dark)
Loved this article about SoCal aesthetics trending in restaurants. It features Rose Cafe, my first stop from the airport.
In praise of stuffed crust pizza
Just order the cheapest bottle of wine (or byob if you can)
Checking in on Jackson Diner in Queens. I used to go here as a kid and even wrote a high school paper about it. Overdue for a visit.
11 Things That Are Amazing When They're Good, Terrible When They're Bad
Jenny & Francois wines are reliably delicious (and their instagram takes you into vineyards around the world). Jenny was the first woman wine importer in the US and wants people to drink great wine.
How photographing and Instagramming food is like saying Grace.
---
Now, let's talk about being a regular. You had great stories about your local haunts, thank you for sharing.
First let's set the tone (thanks Alicia for sending this)…
Alicia is a studious regular: I'm a regular at Bushwick Public House, where I spend my weekends (and some week nights) working on studying for my CFP exam. I drink iced coffee and eat a croissant on the weekends, and at nights, I'll order a chai latte with oat milk or iced green tea. The folks there are awesome, and often punch my coffee card extra when they're feeling nice. 
Julianne is a regular around the neighborhood: I love that bodegas in NYC make you *feel* like a regular. The employees always ask how I am, what I've been up to since the last time I came in, and if I'm hopping on my bike next. Either they do it to be friendly, have no idea who I am but it's good for business, and think it's a safe bet in Williamsburg to assume customers are getting on bikes, OR they genuinely are good at remembering their neighbors. 
Duck Duck. Obviouslyevery out of towner is brought here and meets the bartender of the night. Orange Tree employees know me too well at this point (I'm a routinely-forgot-something-again shopper) & I'm obsessed with Jessi's Coffee Shop! They're closed this week for their annual family vacation but next week I'm ready to get a burrito with you!
Mya's a West Coast regular: My regular restaurant is Revolutionario in LA. I'm from NorCal, and when I moved down here for school I learned an online friend's family owned a restaurant right by me! I don't eat out often to begin with, so I feel very lucky to have this relationship with a local restaurant.
Anna Claire is a regular at two incredible spots: I'm a regular at a few places in Pittsburgh: Commonplace Voluto, the coffee shop kitty corner from our apartment where I make a point of learning all the baristas' names because I'm there 3-5x a week, and Taquitos, a fabulous family-owned and -operated taco truck in Garfield (up the street from me). Voluto was the first coffee shop I fell in love with when I moved to Pittsburgh. The very first time I went was because a new (and now incredibly dear) friend told me they had homemade poptarts -- I never saw them, that day or since, but the folks who work and go there are so friendly, and the coffee and baked goods so good, that I couldn't stop going. It's a true neighborhood hub, and the folks who started the roasting and coffee company here in western PA really care about both the communities where their beans come from and the communities where those beans end up.
Taquitos is hands-down the best Mexican food I've ever had from a truck (and better than a lot of restaurants I've been to). Homemade chips, a plethora of vegetarian options (huge fan of a hibiscus filling they make), and a goal to make the parking lot where they park their now two trucks (one dessert, one dinner) a "Mexican corner", my partner and I try to go at least once a week in the summer, something we started once we moved here and realized how good they are. The owner Ray is the nephew of Edgar Alvarez of Edgar's Best Tacos fame here in Pittsburgh. Taquitos has become as much a neighborhood "watering" hole as Commonplace is. And I make my friends join me there all the time. Here's a bit on their story.
Sarah knows what counts in a relationship: I've become an accidental regular at Barboncino in Crown Heights over the last few years. I started going regularly to visit an old friend who worked there, and I actually met my partner, Alex, because they worked together at Barbs. Dating someone who makes pizza is an excellent relationship perk!! 
Isa is a legendary regular even when she moves across the country: Currently I'm a regular at "Yo Tambien Cantina", a lovely little coffee shop a block away from my apartment. I popped in before they opened to say hey and met Isa and Kensey, the two incredible women who own the place. isa is Venezuelan so we quickly bonded by speaking in Spanish. I go every weekend to grab an iced coffee and if I'm in the mood to treat myself, one of their amazing jammy egg sandwiches. It's so great to have a place where everyone knows your name and it feels like home. Plus, they offer a $.50 BYOC(up) discount), as well as community member discount of 10%! Needless to say, I was also a regular at Copa during most of college, an honor which I achieved by literally going there during any of my free time and giving them all my money. Nicole the manager still gives me a hug whenever I go, though I've been out of college for over five years. Cheers to that. 
Bethany is a daytime regular with some new personal connections: Re: being a regular, does it count if only the daytime staff knows you? I live right around the corner from Saraghina and between the bakery and restaurant I'm there at least twice a week, but it's so busy during dinner and brunch that I only really know the weekday breakfast/lunch team. I also find myself at Bohaus, a cafe/flower shop right across the street from me, almost every day because it's just such a pleasant place to start the day. I think I've officially gone from a regular to a whole other level because my roommate is now dating the barista (which I found out the other day when I walked in and she said "I finally know what your apartment looks like!" It was weird).
This week, I'd love to hear about your birthday traditions. My birthday falls when lots of people are out of town and I've celebrated it lots of different places. Do you do the same kind of cake every year or put a candle in a wheel of brie? Reply to this email and let me know! I'd love to hear about birthday triumphs and messes as I get ready for mine (and make sure you're following me on Instagram as a birthday giveaway is coming up)!
Can't wait to celebrate and hang out with you all on Thursday at Brooklyn Cider House.
Happy eating and thanks for reading.
xo, Abigail