Discover more from This Needs Hot Sauce
A newsletter and community by Abigail Koffler about cooking, dining out, and making the most of it.
Over 3,000 subscribers
Your new favorite dessert
Meet the tahini blondie...plus grilled cheese and easy weeknight dinners
Hi friends,
Welcome to This Needs Hot Sauce, a weekly newsletter about cooking, dining out and making the most of it. I wanted to share that our next two events will be April 25th and May 19th so save those dates if you like happy hours and new friends.
Now let's dive in.
Something to cook:
Last week I made tahini blondies from Cooking with Friends, a new cookbook from Tasting Table about entertaining. It comes out next month (preorder it here) and I really like it. The recipes are organized in menus for different kinds of parties including park picnics, a cheap dinner party, and more.
These blondies are a great dessert to bring to a party and the leftovers keep well in the freezer. I added sesame seeds to the top once they came out of the oven and can't wait to make them again.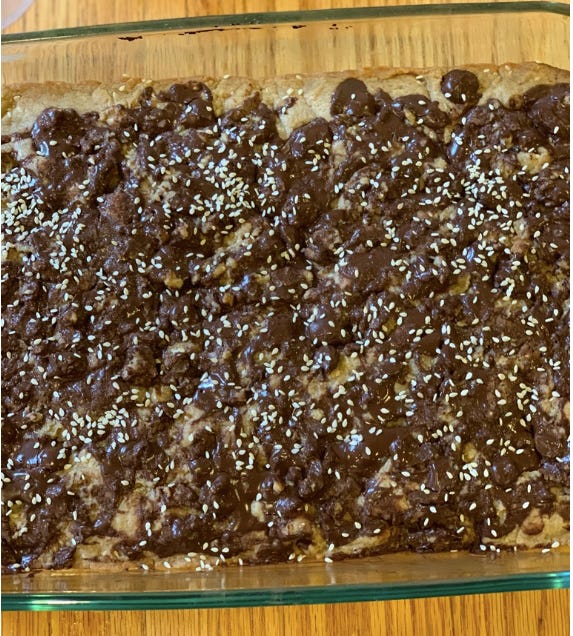 Tahini Chocolate Blondies
Blondies are those coffee-counter staples who think they're brownies' clever cousins. They've never really done it for us, with their one-note sweetness and air of superiority. But this recipe upgrades the typical blondie by adding tahini and sea salt to provide the depth and complexity that their character has lacked. You'll gain some brawn to match blondie's new brains as you struggle to combine the chocolate chips into that thick batter. Keep swirling: This recipe is worth the arm workout.
½ cup (1 stick) unsalted butter, plus more for greasing the pan
2 cups all-purpose flour, plus more for preparing the pan
1½ cups light brown sugar
½ cup well-stirred tahini
2 large eggs, beaten
1 teaspoon vanilla extract
1½ teaspoons baking powder
¼ teaspoon fine sea salt
¾ cup semisweet chocolate chips
2 teaspoons sesame seeds, plus more for garnish
Maldon salt
1.     Preheat the oven to 350ºF. Butter and flour a 9 × 13-inch sheet pan.
2.     Melt the butter. In a large bowl, mix together the butter, brown sugar, and tahini and let cool to room temperature. Beat in the eggs and vanilla.
3.     In a medium bowl, whisk together the flour, baking powder, and fine sea salt. Add the dry ingredients to the wet ingredients and mix just until a smooth batter is formed. Add ¼ cup of the chocolate chips and sesame seeds to the batter and stir to combine. Transfer the batter to the prepared pan. Sprinkle the remaining 1/2 cup chocolate chips on top.
4.     Bake for 3 minutes and remove from the oven. Using a butter knife, swirl the chocolate chips into the batter (this will be difficult, as the batter will have started to set). Sprinkle a with sesame seeds and pinch or two of Maldon salt. Return the pan to the oven and bake until lightly browned and toothpick inserted into the center comes out clean, about 20 minutes. Cool for 15 minutes before cutting the blondies into squares, then cutting each in half into triangles.
Reprinted from TASTING TABLE COOKING WITH FRIENDS with permission from Flatiron Books. Copyright © 2019 by Geoff Bartakovics. All rights reserved. Printed in the United States of America.
---
In other cooking news, I really liked these warm chickpea bowls. I stored the leftovers in separate containers and it lasted for multiple lunches. I doubled the cauliflower and chickpeas and roasted them on separate cookie sheets since cauliflower takes longer.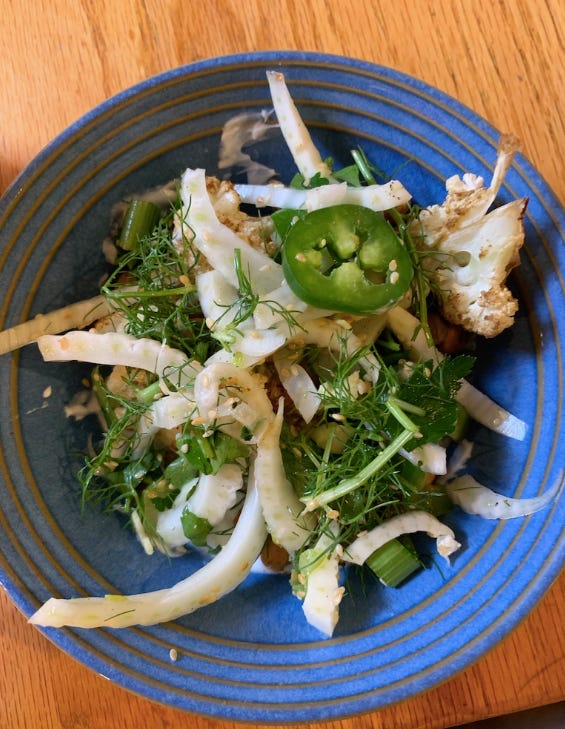 Julianne came over one night and we made crispy rice bowls with ginger scallion dressing, using our special takeout rice method. For recipes that call for leftover rice, Julia and I grab it from the chinese restaurant across the street. It saves lots of time and also works for this fried rice recipe.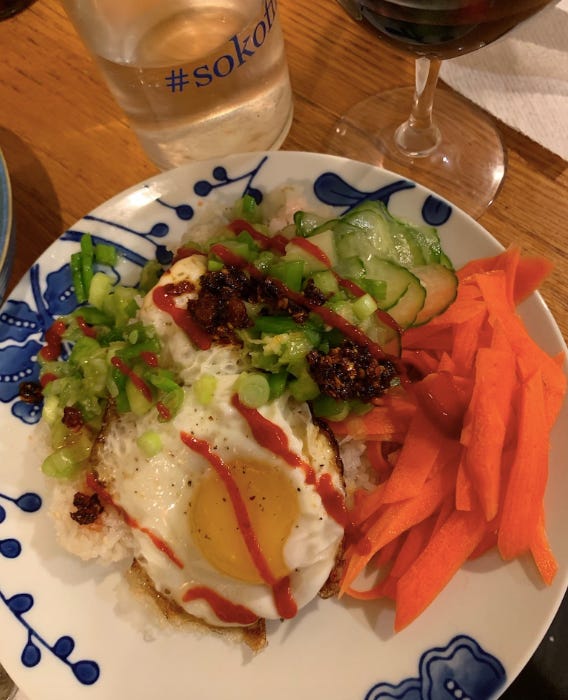 Yesterday, I made this baked feta with chickpeas and kale and I'm excited to eat it for lunch this week. It came together really quickly and is a fun excuse to eat more cheese.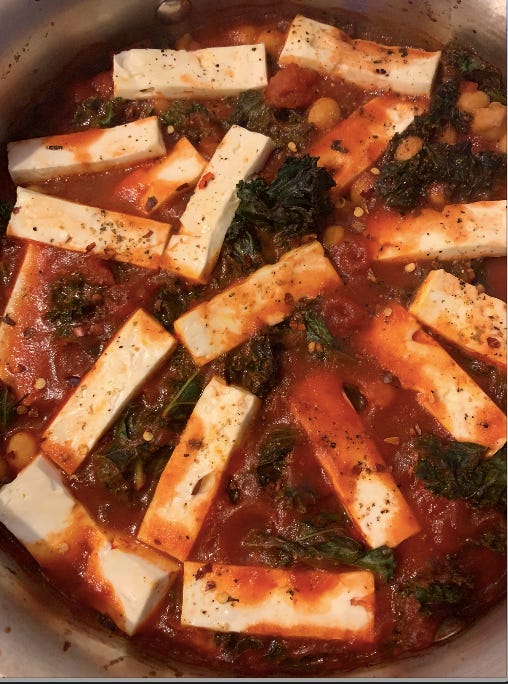 Passover starts friday and I am excited. Some seder menu highlights: this kugel, this must have dessert, and these cookies. Would love to know what you're making!
Something to order:
I didn't eat out much last week but I did enjoy a wonderful cocktail and grilled cheese at the Topaz. I hosted an event there last year and love stopping by for an old fashioned, a negroni or an aperol spritz (weather permitting). They also have a very good grilled cheese that comes with spicy jam for dipping.
I worked out of Mountain Province Espresso Bar on Friday and really liked their grain bowl, which had lots of eggs, pickled vegetables, brussels sprouts and rice. Coffee shop food is hit or miss so it's great to find a hit.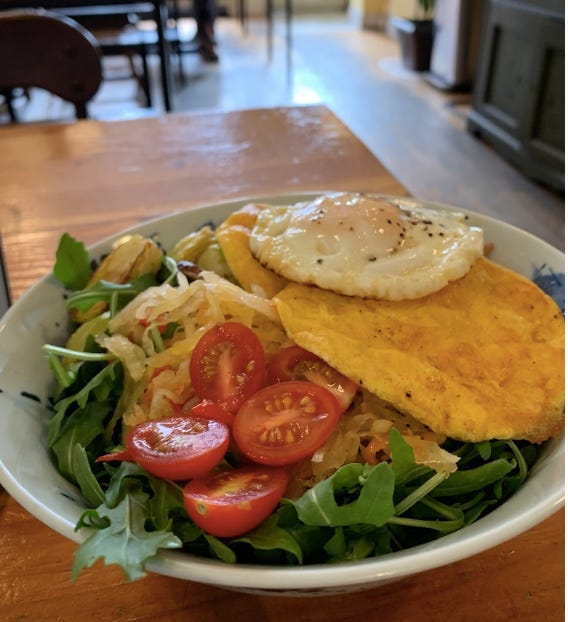 I've been spending time at Riverside park with someone I babysit and this weekend we tried the cafe at Pier i while his brother played little league. He gave the burger a 10/10 but would add more pickles next time and I loved the fries with herb salt. The lines gets long but it does move. They also have tons of beers on draft if you're um, not babysitting.
Something to read:
Ridgewood's only Peruvian ice cream shop is open for summer!
This article has an unnecessarily sexual lede but it's an interesting look at the world of mukbang videos.
So sad to hear that Hominy Grill in Charleston is closing. My family went there in 2006 and I still think about the biscuits and jam.
In planning for a crisis, Switzerland wants to declare coffee non essential for human survival. Good luck with that.
A package I look forward to every year: The Food and Wine Best New Chefs.
What's it like to be in charge of the food for Bon Appetit videos.
Meet New York City's best tortilla makers. These women work hard.
A new coffeeshop dedicated to Vietnamese coffee just opened.
Charlotte Druckman's deep dive into the world of high end ice creams (Jeni's, Van Leeuwen, Ample Hills etc.) is 100% worth a read. I learned so much.
I love coffeeshops and I love this essay about spending $20k at Starbucks with no regrets.
Speaking of chain coffee, Dunkin 4ever: inside the cult of Dunkin Donuts.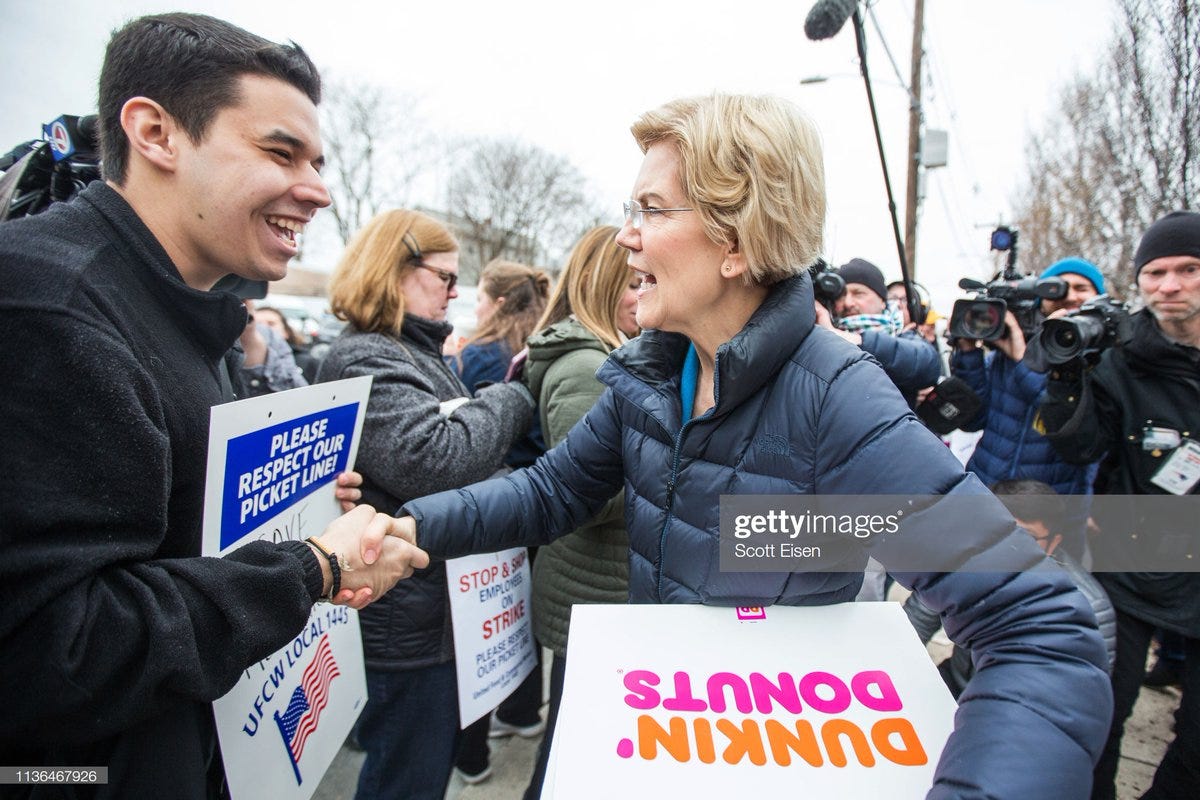 Has anyone tried Japanese soufflé pancakes? They're now being served in San Francisco and this article includes a recipe.
Lucky Lee's, a "clean" chinese american restaurant opened by a white nutritionist, was a disaster from the start. Eater covered the controversy and Gothamist confirmed that the food is awful.
Related: The Salad Giant Sweetgreen Has Used Hip Hop to Turn Lettuce Into Gold. But if the salad giant is so woke, why are 95 percent of its shops in majority white neighborhoods?
She told us she loved bread and now she can make all the avocado toast: Oprah owns an avocado orchard.
Why Everyone Should Care About the L.A. Times' Brand-new Food Section
In that new food section: this wonderful story on the would be wines of Game of Thrones featuring the lovely Jordan Salcito (thanks for sending, Nicole!)
One more thing to miss about Game of Thrones: the food.
Last week, I asked about changes you've made in the past year and got some wonderful answers about big and small changes. Thanks so much for sharing!
Teal: While I'm not a vegetarian by any means, I'm making more of an effort to eat more plant based. I just feel so much healthier and my mood feels lighter. Involved in that is cooking more at home. I love eating out and trying new restaurants, but again, I always feel healthier and better when cooking a ton of veggies and love trying new recipes. Just started using the Deliciously Ella app and loving it. She does is all plant based but don't skimp on taste at all.
Jessica: This is super recent, but the lunch room in my office reopened last week after being closed for renovations for over two years. Being able to spend half an hour in the middle of the day with my work friends at a table in a space designed for eating just makes such a huge difference when for so long we had no choice but to eat at our desks (and while the lunch room was closed, if we wanted to heat up food we had brought from home the only microwaves were in the basement).
Hilary: In the past year I have finally embraced noodles after a hiatus due to considering them boring. I love taking my chosen not-too-plain blank slate shapes (orecchiette!) and varieties (soba!), in particular, and masterminding a delectable, versatile bowl based on my cravings (and what's in my kitchen, let's be real), simply by adding veggies/protein and herbs/spice/sauce and ending up with a quick and generally nutritious meal that's always scrumptious to the last bite.
Isa: The past three months have been a major food change since going on this diet (Isa was on a really strict diet for medical reasons). I will spare the complaining to say that I've learned how you can cook delicious food even with really intense constraints. I've also gotten pretty good at making curry at home, which has been a silver lining to this whole thing. 
This week, before we say goodbye to bread for Passover, I want to know about your favorite sandwich. Is it a grilled cheese, an Italian hero, a banh mi or something else? Reply to this email and tell me all about it. Also, are bagels sandwiches?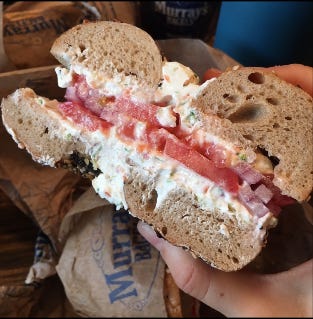 And remember to follow along on Instagram where I'll be sharing your cooking victories all day!
Happy eating and thanks for reading.
xo, Abigail