Are you dining out? and other reopening thoughts
Plus, summer produce, a summer event, and delicious vegan cookies
Hi friends,
Welcome back to This Needs Hot Sauce. I'm going to send out more details later this week, but save July 12th at 5pm for a cooking class/happy hour! We'll make something fun, have a drink, and raise money for the Hattie Carthan Community Market in Bed Stuy, a grassroots, people of color-led agricultural revitalization project.
Now, let's dive in.
New York City began phase 2 of the reopening last Monday, which includes outdoor dining (here's a list of what's open). Overnight, sidewalk structures have popped up with makeshift dividers, ikea furniture and string lights, creating ambiance on busy sidewalks and crowded streets. At the same time, outdoor dining, which includes table service, adds a new level of risk, especially for workers who have to serve diners who are not wearing masks, manage sometimes drunk crowds, and wash potentially contaminated spit covered dishes. And that's before we get into the harassment that restaurant employees are facing for wearing masks, the issues with tipping, and the question of what happens when it rains. Yes, I miss restaurants dearly, like so many of you. But I still have qualms about rushing back.
While New York's rates are in a steady decline (for now), the rest of the country is experiencing dramatic rises in new infections. And it could easily come back here as people continue to travel and ease up precautions. It will take a few weeks to tell. In the days leading up to outdoor dining, it felt like food media was cheering for restaurants, with guides to snagging prime reservations, and recaps of just how good it felt to be back at the table. It's not that simple, so I went on Instagram to talk about it. The responses from you (saved in the Reopening highlight) made me feel less alone and included the perspectives of diners, servers, and chefs from all over the country, many of whom expressed fear and trepidation to going out again. One person in Louisiana had gone out to lunch the day before and wrote to me that she just found out a server at the restaurant had Covid and was now getting tested. If you don't think Covid is serious, you can read about my mom's experience here.
The safest option is to not go out and to continue supporting restaurants through gofundmes (one reader donates a small amount to a restaurants on nights she stays in and cooks) and takeout (order directly, tip extra and ask how tips are being distributed to back of house employees). If you're living somewhere with a spike and being pressured to dine in at a restaurant, you are making a smart choice to say no.
If you do want to go eat outside at a restaurant, here are some ways to make it safer (I went out to dinner on Wednesday to get a sense of things and celebrate a decade of friendship with Julia). 1) There is no zero risk option. 2) Do your research. Walk or bike by a restaurant to see how well spaced out their tables are (or check their Instagram/website). The city should close more streets. You can also call with specific questions or to make a reservation, which helps with crowd control. 3) Keep your mask on until you're eating or drinking and ask if the food can be brought all at once to minimize interaction. See if you can get a water carafe for the same reason. 4) Go out on a weekday if you can, as there will be fewer people. 5) Don't linger and don't cluster while waiting for a table. 6) Don't go if you're sick (obviously) and dine out with members of your household or pod. Sitting across a table and sharing an appetizer is not social distancing. 7) Tip well (30% is the absolute minimum).
I hope New York pauses phase 3 given the nationwide spikes (California is ordering bars to close) and I have no plans to eat inside or go to bar for a long time. Please reply to this email with your reopening thoughts!
There's a bunch of food media drama that I'll discuss in the Something to Read Section, so scroll down for problematic white men.
Something to cook:
The sourdough/banana bread phase of quarantine is long gone. Our kitchen stamina has been tested and we have a long road ahead of us.
The good news: the produce is finally getting good. I had a peach in my oatmeal this morning and made a tomato mozzarella plate yesterday afternoon, topped with salt, pepper, and olive oil.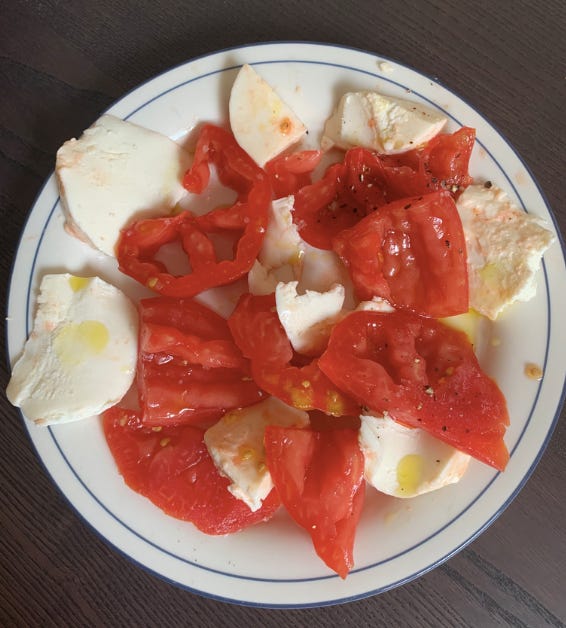 To end the week, I tried Jenné Claiborne's life changing cinnamon tahini cookies, which come together very quickly (I had all the ingredients on hand and added chocolate chips). They're really good, vegan, not too sweet, and it's a small batch appropriate for a two person household.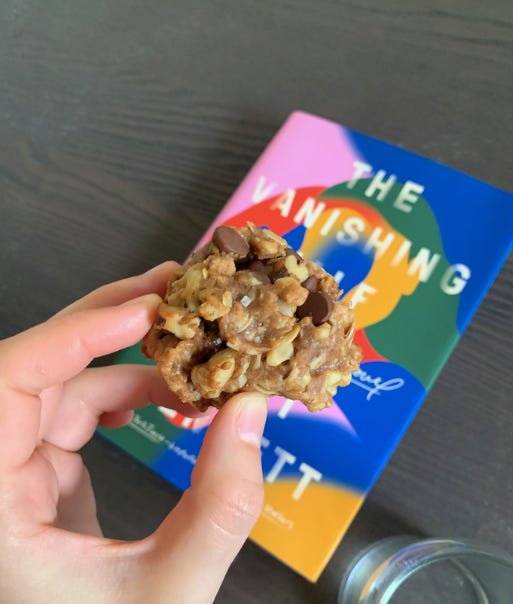 I love a peanut sauce and made Smitten Kitchen's again last night, over some crispy tofu and rice (I use peanut butter instead of peanuts and just stir it together). Next, I want to try this tofu recipe.
Frozen foods are super helpful for nights you don't feel like cooking. I got some frozen tamales from a family friend and they've been a perfect lunch with a side salad. Steam for 30 minutes, it's super hands off. I've also been using frozen rice to make fried rice, loosely following this recipe, with a longer cook time to let the rice thaw. Frozen fries also get nice and crispy.
Something to order:
If you're in Brooklyn, Venezuelan spot Casa Ora is doing a great job with outdoor dining. Their location on a side street allowed them to space out the tables and it looks so pretty. Make a reservation and get the guacamole, which comes with warm plantain chips. The arepitas and empanadas are so good, they make great cocktails, and Julia and I loved the beet salad.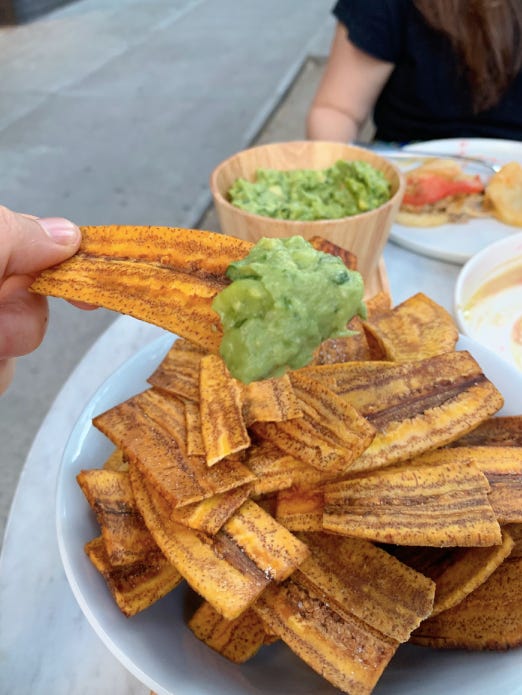 Some personal news: I went Manhattan for the first time since March 3rd and it was to get pizza. Dale and I took the empty subway (!) to Scarr's (this video of their pizza making process will make you hungry) in the Lower East Side and ate on a bench. We called ahead to get a pie and the vegan caesar salad (a salad so good that Dale says you should get it even if you'll be eating your meal standing up). Once we were there we added two Sicilian slices (so good with hot honey on top) and drinks. Heads up that Scarr's is next to a pretty crowded bar, but the staff handled things well and the hair salon across the street has a clutch bench. While it was technically takeout, it felt like a night out.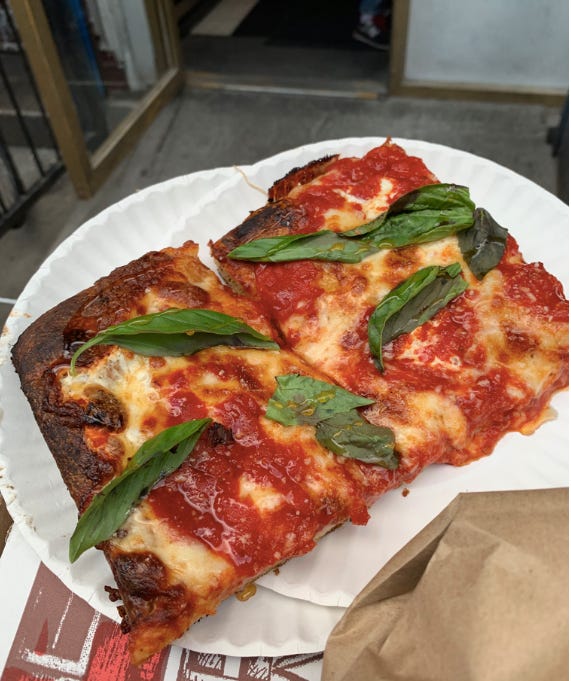 Another special takeout item is ice cream! Uncle Louie G's is open late and walking down the street with a melting cone really feels like summer.
Dale and I picked up breakfast at the West on our way to the grocery store (2020 fun!) and I was reminded at how good their avocado toast is. There's a thin layer of a goat cheese beneath the avocado and it's topped with lemon, olive oil, red pepper flakes, sliced cucumber, and salt. So good.
Picnics are the new parties. Sharing food is a bit of a challenge so I've been bringing paper plates and disposable utensils so people don't all dip in the same chip bag. Pour some on a plate. Another workaround is ordering pizza to the park and Archie's delivers to McCarren, fwiw.
I got a question on Instagram about whether it's better to order takeout less often and tip more or more often and tip less. I would err on the side of fewer orders and more tips. You can do donations throughout the week for less than the cost of a full meal. And again, if cooking has been a struggle lately, frozen ingredients can really help.
Something to read:
My body is a confederate monument
From Miguel de Leon, it's time to decolonize wine
Started at moscato, now we here.
Serena Dai is headed to the SF Chronicle. Her reflection on the past five years of NY dining is very thoughtful.
Are meal kits the future for restaurants or a stop gap?
Breonna Taylor and Black women are not memes.
Should I buy a cast iron pan just to make this pan pizza?
We can't talk about farming without talking about race.
Let's all stop worshipping Danny Meyer
An interview with Paola Velez, the founder of Bakers against Racism.
The New York Times published an absolutely ridiculsou article about Thai fruit and Osayi Endolyn dissected it.
Longread: the brilliant Nikole Hannah Jones lays out a case for reparations and centers economic justice in this current moment.
A New Culinary Collective Aims to Empower LGBTQ Makers
Loved learning about Vertamae Grosvenor's life in Philadelphia.
Food media must work harder to fix racism (for sure). Two action items on that front: Stephen Satterfield called for John T. Edge to resign after his remarks in a James Beard talk. And Tammie Teclemariam shared allegations of bad behavior by Peter Meehan, the food editor of the LA Times, who somehow gets away with not living in LA, among other things. And Conde Nast suspended Matt Hunziker, a white video editor who was speaking out against the company's racism. Cool, very cool.
For every story we hear, there are many that never get told. Nicole Taylor's column about silencing Black women with NDAs partially explains why.
Illyanna's newsletter about Puerto Rican food is great (and the reason she lost her column is BS).
Julia Coney spoke with Paul Grieco about Black Wine Professionals, her career, and lots more.
Just for fun: are you an Ample Hills person or a Van Leewen person?
Watch Ziwe interview Alison Roman and learn more about her series Baited here.
If any of you need a logo design, I can't recommend Emma, who did mine, highly enough. Tell her I sent you! The process was fun and collaborative and I love the results!
---
Now, let's talk about Black shows/podcasts/Instagrams etc. that you've been enjoying/learning from. I just finished two great books: The Art of Showing Up by Rachel Wilkerson Miller and The Vanishing Half by Brit Bennett.
Joy shared a podcast and a youtube series: Last week, I wrote about THIS IS NOT A DRAKE PODCAST on my podcast recommendation newsletter, Hear Me Out. The show was produced by CBS, but if you listen to the prologue, you'll find the host, Ty Harper, talking about how he felt about being approached to host the show in the first place. It infuriated him that the CBC suddenly cared about Hip Hop now that Drake was the best artist in the world, but for the twenty years prior, they were reluctant to even create a dedicated channel for covering and playing music that appealed to their black demographic. I also recently came across this newly launched channel which may prove powerful.
Aisha started following @itsholly on Instagram! (Her recipes look so good)
Bernadette has a TV rec for cartoon lovers everywhere: I really enjoyed the sketch show Astronomy Club, available on Netflix. It's 6 episodes which are about 20 minutes each and include sketches interspersed with the whole team living in a reality show style house. I'd recommend it if you like silly comedy with LOTS OF JOKES (a personal pet peeve of mine is a comedy that doesn't have jokes, just moments that make you say "hah, that's funny"). Couple of good laugh out loud moments and I look forward to seeing where the whole team goes next!
Outside of the media space, Julianne is working for two Black women in the legal field this summer, which is so important: I'm just really grateful to have two internships this summer where both my bosses are Black women! That is HUGE for my field which is predominantly white and male. I just really want to do my best to support their work and be a good legal intern! My entire law school class this year had only 13!!!!! Black students. I am glad that who I am and will be as a lawyer will be shaped by my two mentors this summer.
Thank you all for sharing! This week, I'd love to hear your thoughts on reopening, if you're going out and what it's like where you live. Stay safe and wear your masks!
---
Hope to see you on July 12th and thank you for reading.
xo, Abigail