At least there's time to caramelize onions
Plus, all the Passover recipes, wine & cocktail delivery, and how to make weekends feel special
Hi friends,
It's a gross rainy day in New York and I'm absolutely skipping my daily walk. Last week was an exciting one, as we celebrated Passover. I also really enjoyed friday's Q+A and I'm planning to do another one (maybe this should be a monthly thing, send me your questions anytime and I'll save them).
Next Thursday, April 23rd is our third remote happy hour, pushed back to 8 p.m. so some west coast friends can join! See details below, I hope you can make it!
Join Zoom Meeting
Meeting ID: 984 233 800, Password: 048749
Now, let's dive in.
Something to cook:
I cooked so much last week, much of it for Passover. We went to four stores to find matzoh and had a really lovely zoom seder with relatives and friends from New Jersey to Michigan to California. These recipes are good all year round, so give them a shot even if you already celebrated or don't celebrate.
Seder Eats:
My favorite Passover dessert, chocolate caramel matzo crackers, is such a treat. It's amazing as an ice cream topping too. This is a recipe that requires your full attention: caramel moves quickly. But it's worth it!
I never really cook potatoes but I loved these crispy roasted ones, which filled the potato kugel void since I don't have a grater or food processor here. Cut the pieces bigger than you think, they do fall apart a bit.
Julia made matzo balls using the recipe from the box (they were perfect) and veggie stock using all of our sad produce (another miracle).
I also made this springy salad and the zippy citrus dressing is lovely.
And one apple yields a surprising amount of charoset. I used pecans instead of walnuts because that's what I had and I don't love walnuts.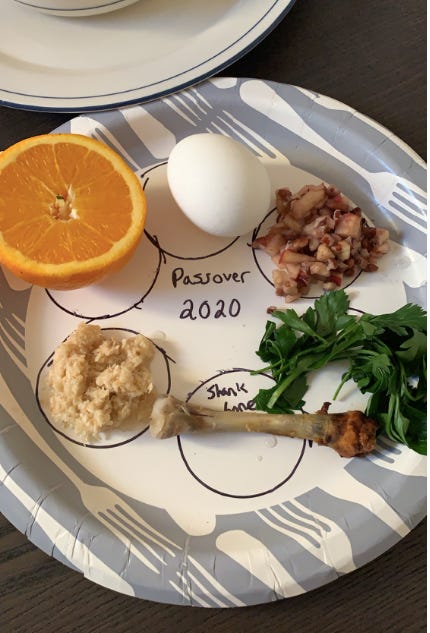 On Friday night, we made matzo pizzas with such fun toppings. I caramelized an onion (we have time, let's face it), Julia pickled some about to go bad jalapeños (we improvised a brine with apple cider vinegar, sugar, salt, and water), and we sliced up some jarred mushrooms. I really am enjoying these excuses to get creative with groceries. Wasting has a higher cost than ever before and I hope we can keep these habits for a while. Why throw out your jalapeño or onion if you can make them into pickles or a delicious caramelized topping for eggs/pizza/potato pancakes?
Make your matzo pizzas on a foil-lined baking sheet and go light on the sauces since matzo has no structural integrity. Bake at 400 for 6-8 minutes or until the cheese is melted. Finish with a little parmesan cheese and red pepper flakes.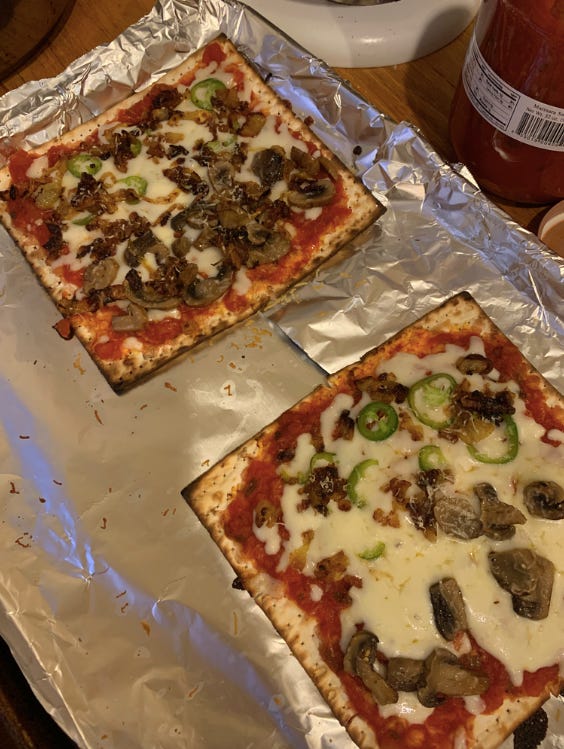 Other Cooking:
Raise your hand if you've been struggling to get through a whole bunch of greens. (Hi). I had seen kale sauce on Mollie Chen's Instagram and Bon Appetit recently did a kale pesto based on it. It was the night before Passover, Julia and I wanted pasta so I gave it a shot. It's SO good. I know a sauce made of garlic, kale, olive oil, and water doesn't sound exciting, but it's so flavorful (and you get to add cheese). We had it with spaghetti and some blistered cherry tomatoes and I used the leftovers on toast. It would also be great with some farro or rice or with eggs. I will definitely make this again with my sad kale.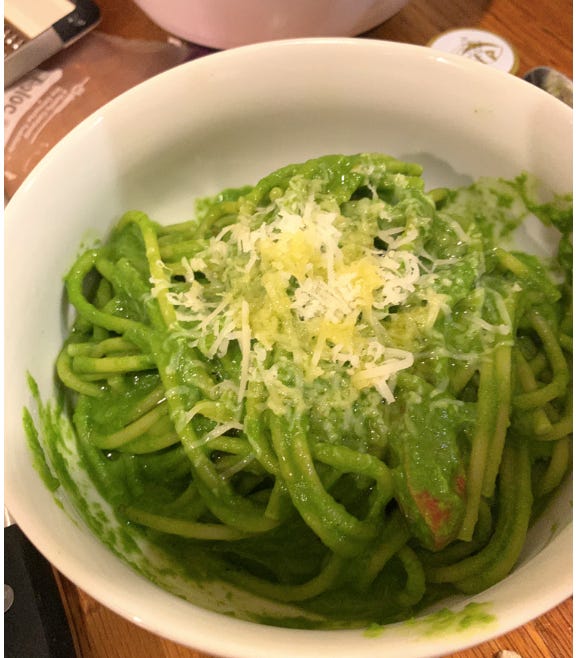 I can't eat my usual oatmeal during Passover so I've been starting the day with vanilla chia pudding and a variety of toppings: peanut butter, banana, berries, coconut flakes, pecans, flakey salt, etc. It's a great make-ahead option.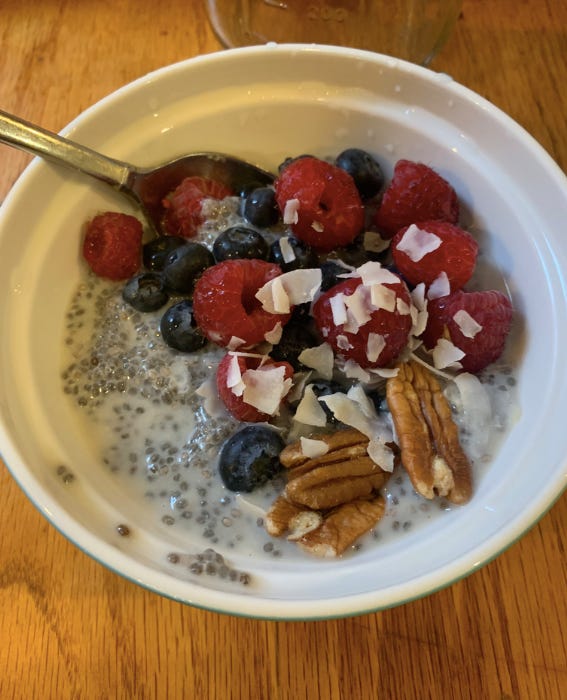 I also made one of my all-time favorite lunches last week: crispy chickpeas with lemony yogurt. I used broccoli this time (check out the #chickpeacrew highlight on Instagram to see just how flexible this recipe is).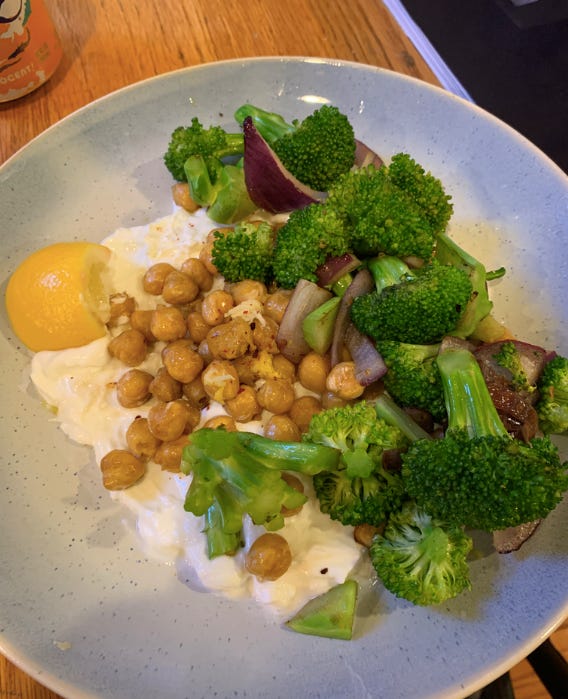 More kitchen victories: tacos with roasted mushrooms, turning frozen rice into fried rice with some garlic, ginger, soy sauce, sesame oil, rice vinegar, and lots of quesadillas with black beans.
Put this on your grocery list: oven fries! They're a fun thing to add to a brunch or dinner and easier than making your own, which I might try too.
Something to order:
My friend Jeffrey, who is also a bartender at Win Son, is doing cocktail delivery in Brooklyn a few days a week. Check his Instagram for the menu and DM to order. We got the peach margarita on Friday night and it was so good.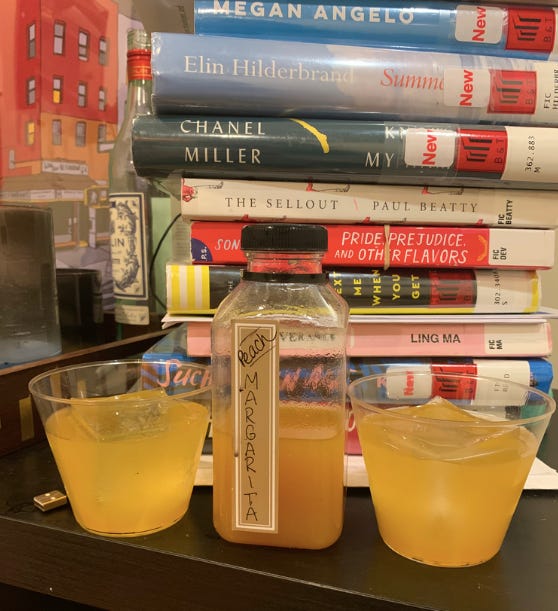 Dale and I picked up wine at Bibber and Bell on Saturday night. They also do free delivery so I'll be placing an order today. The contactless pick up is easy and they have a great selection of affordable natural wines (we got a slightly sparkling Austrian rosé and watched Gossip Girl). Irving Bottle Shop also just reopened for delivery.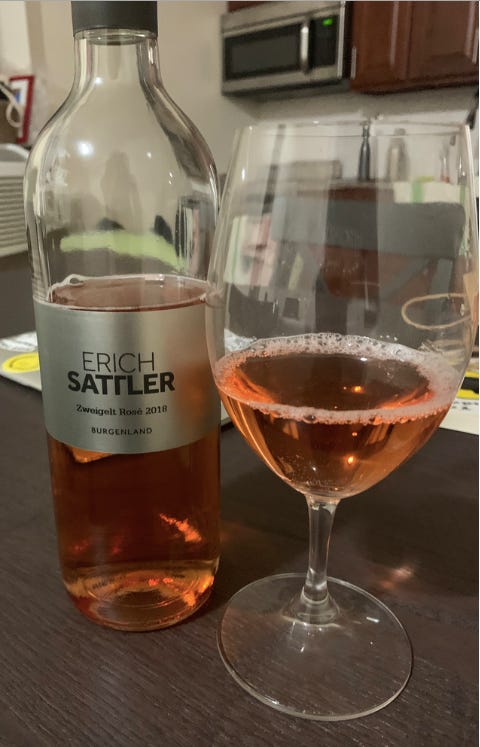 We also picked up dinner at Los Tacos, which is only accepting grub hub and seamless orders right now. You can pick up in person, too and you should get a side of their spicy red sauce.
And I haven't ordered yet (waiting for Passover to be over), but Win Son and Win Son Bakery are back in business. They've been selling out and dealing with some delays (it's hard to manage demand on Caviar) so order on the early side. Win Son Bakery is open till 2 so do that for breakfast and lunch. Some must orders at Win Son: pea shoots, cucumber, eggplant, sesame noodles, wine. At Win Son Bakery, get the fan tuan!
Something to read:
Two thoughtful articles about seder in quarantine from Eater and Food52.
My friend Erica is a private chef whose work stopped when all of her clients left the city. She shared a peek at her cooking in quarantine and her family is very lucky to have her!
How coronavirus is hurting independent winemakers
Restaurant work is not a fallback job.
How grocery stores in different neighborhoods have been affected.
I worked at Ovenly way back in 2016 (I was working there the day after the election, which was memorable) and hope they can pull through. This story beautifully portrays the team.
How to make date night feel special inside the house.
Non Corona Stories:
I found this delightful cereal review series on Serious Eats and is a great distraction. See Jamelle Bouie try Jolly Ranchers and Cinnamon roll cereals.
A beautiful piece from the New Yorker about baking bread in Lyon (tough to read during Passover though).
A labor history of US bartenders (fascinating!)
---
Now, let's talk about weekends! You guys had the most helpful suggestions for making that time feel special and different.
Dedicated student Julianne gets a little extra sleep on the weekend, very important: Weekends for me consist of a workout and maybe a walk, and a dedicated day of homework. The only difference for my weekend is that I don't set an alarm and breakfasts are more of a fun production than during the week. Rotating virtual happy hour triple dates have become a fun tradition for the evenings! 
Kendra's weekend routine is perfect if you live alone: Re: weekends, I have a (somewhat nerdy?) tradition on Saturdays that always makes it feel like a proper weekend day. At 11a.m, "Wait Wait Don't Tell Me" airs on WNYC (you can listen via the free app or stream from their website). By this time I've usually had breakfast and at least one cup of coffee, so put it on my little Bluetooth speaker, pour another cup of coffee, and use the time to clean up the kitchen, do dishes, organize the fridge and generally putter around while I shout out answers to the questions. It's satisfying to have the house spiffed up by the time the show ends at noon. Then, at 6 p.m., "Live from Here" with Chris Thile comes on. (It's the variety program that replaced Prairie Home Companion and they're booking such interesting musical guests, speakers, and comedians. Obviously live performances are on hold for a while, so they've been re-running older shows, but it's still great.) I always plan to make Saturday night dinner during this time; it's a therapeutic (and often hilarious) background soundtrack while chopping and stirring things. I like to take my time cooking and sit down to eat around 8 p.m. when the show ends, and WNYC transitions into "New Standards" which is four hours of jazz, Broadway hits, and other classic music. It all makes for a pleasant and relaxing Saturday, especially if you live alone / are quarantined alone - it's comforting to have the radio on and hear voices in the house.
Bernadette uses the weekend to get a little time alone and get spiritual: I am isolated with my fiance, so we spend almost every waking moment together except that he sleeps in. This means I've watched our church's live/prerecorded service by myself. We only joined this fall and will be married there (god willing!) in November. Seeing the physical space even though I'm not there has felt transporting, even though it also makes me sad. Food-wise: gotta go for pancakes on Saturdays. This week was lemon ricotta, a Smitten Kitchen recipe.
Tina is strategically ordering delivery on weekends, a pro move: On weekends, we've been ordering one decadent meal and cooking something lighter to balance it out. This Saturday we ordered an Archie's pie topped with kalamata olives and tucked in with red wine for a 3pm brunch. The next day, we prepared avocado + egg on a toasted bagel half (all from the deli downstairs) and some roasted garlicky broccoli tossed with grated parmesan and lemon juice. Blasting Twitch DJ streams through the apartment is also a fun reminder that it's the weekend and nobody is on a call for work!
This week, let's talk about getting out of our comfort zones, food-wise! What's something you've cooked or purchased for the first time in quarantine? I want to hear about your bread baking, your homemade soups, your impulse buys (I kind of want to buy cereal soon), all of that. I've been trying to find new ways to cook vegetables like this week's kale sauce and have also gotten creative with frozen foods. Hosting a seder was another big first for me, I thought I'd get to wait a while to do that. Reply to this email with your firsts!
---
~Shameless plug time~
Last week, I wrote for Eater about how ceramicists have been affected by restaurant closures due to coronavirus. There are also some beautiful dishes you can buy to make eating at home more exciting.
I'm also very much looking for additional editorial or marketing work, so please be in touch if you're hiring/accepting pitches/need help with a project. You can email me at abigail.koffler@gmail.com.
I'm also extremely appreciative of all the paid subscribers to This Needs Hot Sauce. You're supporting me during this uncertain time and allowing me to spend many hours on this newsletter. I've gotten meaningful feedback that this newsletter is helping you through the quarantine and that means so much to me.
If you're able, consider subscribing or gifting a subscription to a friend! Every person helps. It's $5 a month or $50 a year.
---
Thanks for bearing with me through all of this! I'll see you at happy hour on the 23rd.
Wash your hands and stay home.
Happy eating and thanks for reading.
xo, Abigail