How to grow a newsletter from scratch
We've got two events and the perfect summer pasta
Hi friends,
Welcome back to This Needs Hot Sauce! I can't believe it's July already.
I'm hosting TWO exciting events this week and I wanted to share them with you.
1) A Workshop with Substack on growing a newsletter audience from scratch on July 9th at 2 pm EST. Register here. There will be a time to ask questions and I can't wait to share what I've learned over the past few years.
2) A Cooking Class/Happy hour on July 12th at 5 pm. This is a fundraiser to support the Hattie Carthan Community Market in Brooklyn. Sign up here and I'll send you the Zoom details and the recipe information (it will be a simple vegetarian recipe). I know there are many fundraisers these days so it's a pay what you wish situation.
Now, let's dive in.
New York is officially in phase three, which does not include indoor dining, thank goodness. So far, I haven't dined outdoors except for that visit to Casa Ora but I have noticed more places with creative limited contact set ups. At the Ainslie, for example, there are a few tables where you can get takeout and eat it there, with no table service. They also have QR codes at each table to order online. Pies and Thighs has you order online, pick up food at a window, and bus your own table. You get to eat hot food outside, but you're in minimal contact with a server.
I wanted to address something from last week, where I encouraged you to tip at least 30%. I still believe that, but I want to be sensitive to the pressure to spend money right now. Individuals are mobilizing to restart the economy and repair centuries of racial oppression in the middle of a pandemic that has led to mass unemployment. Meanwhile, billionaires continue to get richer and give away next to nothing of their fortunes. It's far from an ideal system (and is a government failure on many levels). If tipping a certain percentage feels intimidating, start small and add an extra dollar or two on small orders (say a breakfast burrito or coffee). If you or someone you know is food insecure, there's no shame in finding a community fridge or looking into local meal pick up options. And if you're not in a position to donate money, spread awareness, volunteer your time, talk to your family about July 4th, phone bank for an upcoming election, look up a local mutual aid organization (they need people to do errands for others and will reimburse you), etc. It all helps.
This week, I attended a virtual conference called Gimme Brown, hosted by Radical Xchange. The panels focused on different products: coffee, chocolate, rum, and whiskey and BIPOC were centered throughout the day (Radical Xchange is founded by Ashtin Berry, an activist and bartender). I took a lot of notes but a few things stuck out: on the coffee panel (one of the panelists hosts this podcast), they talked about making a space welcoming and that specialty coffeeshops shouldn't have a playlist full of Beyoncé and zero Black employees. (The Sporkful did an episode on the question of whether or not a restaurant can be for everyone that's worth a listen). I also heard Ian Burrell, the founder of Equiano Rum, the first Afro-Carribean owned rum brand, speak about who owns a spirit and the responsibility companies have to all parts of their supply chain.
This ties to an Instagram story I saw from Miguel de Leon, Wine Director at Pinch Chinese, who recently wrote about decolonizing wine, challenging the axiom that the customer is always right. Especially as we see cases of customers harassing workers for wearing masks, it's a great time to question this. de Leon made the point that if you were a bad guest at a diner party, you wouldn't be invited back. Whereas restaurant workers have faced abuse from customers and their employers and it's been tacitly accepted, "it comes with the territory." We've all heard horror stories from working in the industry but so much is changing now, it's an opportunity to reimagine a better world and a better system. I would love to hear what you think about this. From his story: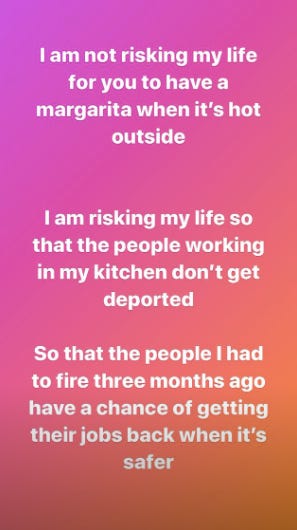 Something to cook:
It's summer and Lizzi got an abundance of squash from a visit to a farm. I used some of them for a side dish last night: crispy parmesan squash rounds. It's super easy and delicious. I used garlic powder and salt instead of garlic salt.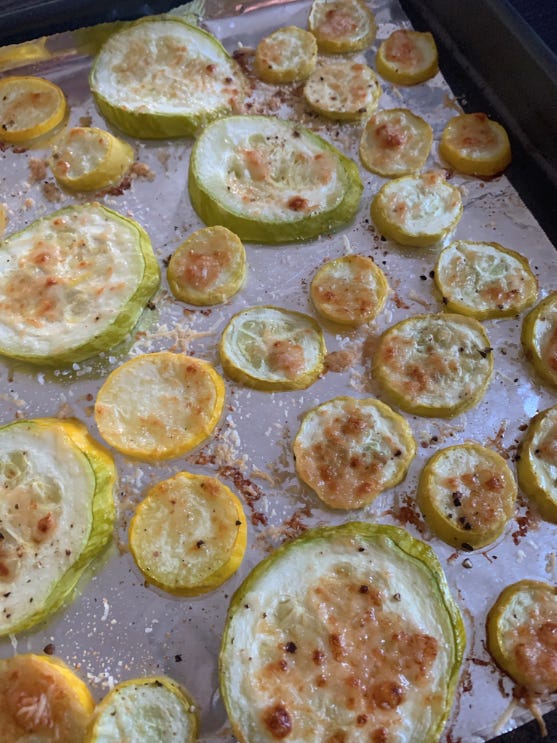 If you also have an abundance of zucchini, make the very popular chickpeas! Or zucchini quesadillas. Or zucchini fritters. Or muffins (Julia made these). Or a cake. Options abound!
Every summer, I make a cherry tomato pasta sauce at least once (see the first time here, which was one of the first times I cooked for Dale). We had a box of cherry tomatoes that were just starting to wrinkle so I knew it was time. I loosely follow this recipe and it's so simple. In a pan large enough to toss the pasta and sauce, sauté a small onion in olive oil until translucent, then add 3 cloves of minced or grated garlic, salt, herbs (I used dried thyme and you could also use basil or fresh thyme), red pepper flakes, and pepper. Toast for a minute or two and then add halved cherry tomatoes, about 4 cups. With the tomatoes, add a splash of white wine or vinegar to deglaze the pan. Let the tomatoes fall apart until they get saucy, over medium heat. It takes about 20 minutes, depending on the tomatoes. Cook your pasta once you add the tomatoes and then add it to the pan with some pasta water and parmesan cheese and stir together until the sauce thickens a bit. Serve with parmesan cheese and basil if you've got it! I've used spaghetti in the past, but I think shells are even better (orecchiette would be great too) since the tomatoes nestle inside.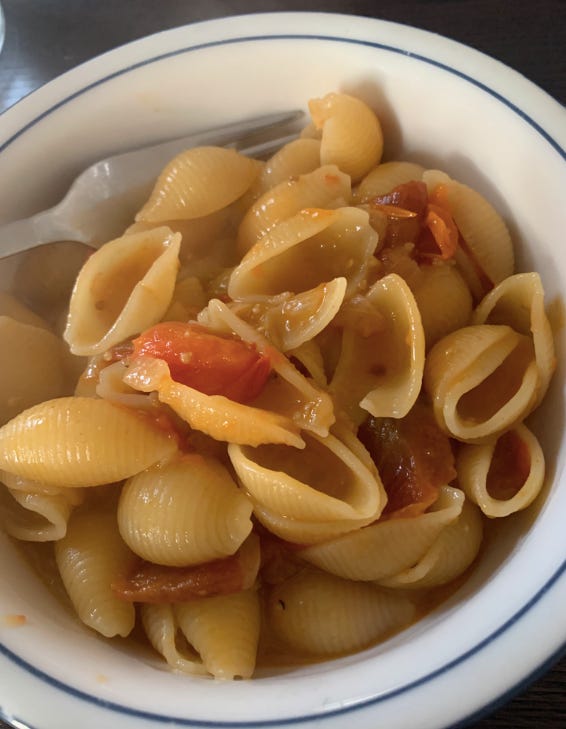 For Leah's birthday, I made blondies to bring to a distant picnic. I pre cut them so she could have a candle on her own piece. This recipe is a crowd pleaser (I skip the nuts and add some flakey salt).
And friendly reminder that working from home means you can make breakfast tacos on a Wednesday morning! You deserve it.
Something to order:
Lizzi is leaving us for law school on the west coast so we got some quality time in with takeout from Lighthouse (order direct on their site), which we ate in the park. Their burrata brings me so much joy and their takeout wines are half price. Now is a great time to own non glass wine glasses like these.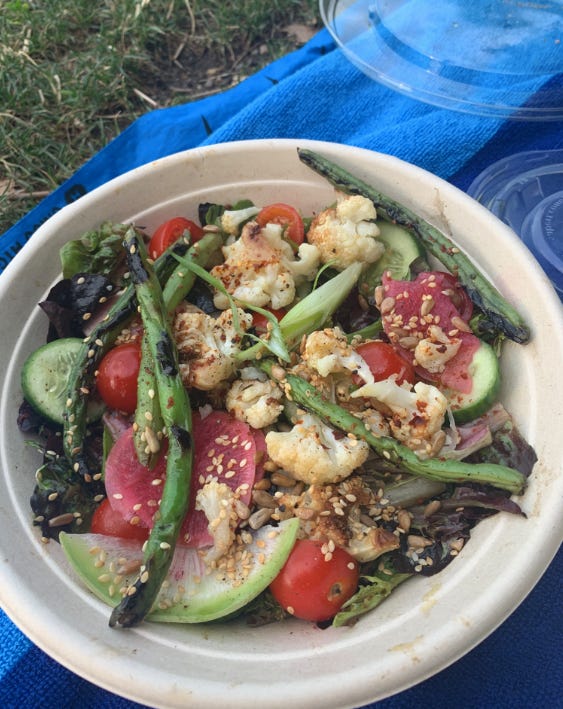 I've been starting my day with coffee from Blk and Bold and it's so good. Already planning to order more.
I saw my parents this weekend in their backyard for Leah's birthday (and sat at a separate table to keep distance). We ordered brick oven pizzas from Nick's, drank Martha Stoumen rosé, and finished the night with ice cream from Eddie's Sweet Shop, which is the best.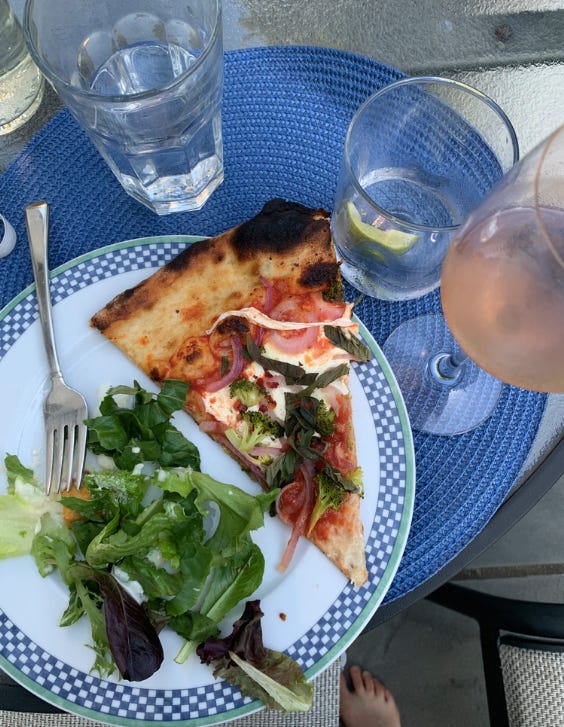 Tilden and I got takeout arancini and margaritas at the Ainslie and were very impressed by their set up. Quiet streets really help with distancing.
For Leah's actual birthday, we got takeout at Five Leaves and ate in the park. Their dinner menu is better than their brunch and the spicy anchovy kale salad is so good. The meat eaters vouched for the burger and I was happy to steal a few fries.
Dale has been the best roommate this past week—he keeps returning from runs with breakfast from The West: a breakfast burrito for him, and avocado toast for me.
Something to read:
I've been really impressed by the restaurant critics who are not dining out, and outlining their reasoning. Tejal Rao, Bill Addison, and Ryan Sutton summed it up well.
Julia Coney launched Black Wine Professionals, an incredible resource and platform. She was featured in the New York Times, alongside other talented people, in a story on Black wine professionals.
Paxx Caraballo Moll on working through the pandemic in their all queer kitchen
On hiring a diverse staff (this is about a coffee shop but it applies to so much)
A Black owned delivery service in Philadelphia
Chef Leah Cohen lost her father to coronavirus and writes beautifully about what he taught her.
In the Bronx, Arthur Avenue is creating a street piazza for outdoor dining.
Loved this interview with Klancy Miller and I can't wait for For the Culture magazine.
24 hours at Veselka in the East Village
The fullest look at the racial inequity of Coronavirus. Absolutely enraging.
Delia captured the insane reality of looking for guidance about how to safely exist in Covid times from many different places.
A new scholarship just launched for brewers and distillers of color
Hundreds of workers may have contracted Covid to get your meal to the table. Our food system is so very broken.
Condé Nast used a racist system for vetting video content. Keep following Tammie Teclemariam for more updates.
And in Peter Meehan news, he resigned from the LA Times with a weak statement and past employees have spoken up. David Chang has barely said a thing (which doesn't shock me) but Lucas Kwan Peterson's apology was really well done: it centered women of color and acknowledged the disparities in abuse. They were all in the same house but in different rooms.
Sophia Roe (follow her) on the inextricable ties between racism and wellness.
---
You had some thoughts on restaurants and some thoughts on the Van Leeuwen vs. Ample Hills debate (related: the Davey's in Williamsburg appears to be closed, which is sad) .
Jessica is staying out of restaurants and I agree with her on the crowded neighborhoods: As much as I love going to restaurants, it just doesn't feel safe right now, and the burden this is placing on people working at restaurants just feels so wrong. Anecdotally, it feels like the parts of NYC where we're seeing big crowds in front of bars are the same neighborhoods where a large percentage of the population left town 3 months ago when things were at their worst here. Perhaps people who don't have those visceral memories of what that time was like here feel more able to throw caution to the wind. I'm very relieved that NY is taking a look at what's going on in other states (I just saw that 85 new cases have already been linked to ONE bar near the Michigan State campus!) and reconsidering phase 3. 
Jamie had a change of heart when it comes to ice cream: I must add to the van leeuwen vs ample hills discussion. I used to be team van leeuwen, then a friend and I shared a vegan chocolate and we BOTH felt really nauseous after and had bad stomach aches!!!!!! This could be a coincidence, but I think not. Also, their prices are insane and one time I asked if I could put a flyer up for a planned parenthood fundraiser happening around the corner and they SAID NO!!! Ample hills said to go ahead and put the flyer on their COMMUNITY BOARD like a supportive community establishment who loves their neighbors. I also used to think ample hills flavors were too complicated and like there wasn't one that perfectly suited me. Overall I'm a simple gal. Then I found one that was dark chocolate with chocolate pieces or something in it? I forgot but it was amazing. So now I'm an ample hills person!
This week, I'd love to hear about your summer cooking. What are you doing with the tomatoes/squash/peaches/berries near you? And do you think the customer is always right? Reply to this email and let me know.
---
Don't forget to RSVP for events, wear a mask, and wash your hands!
xo, Abigail