Juneteenth
Plus, the latest at Bon Appetit, a great natural wine podcast, and hot sauce
Hi friends,
Welcome back to This Needs Hot Sauce. In the past week, we've seen continued protests against police brutality, mass gatherings in support of Black Trans lives and the resignation of editors and founders at Bon Appetit, Man Repeller, Refinery 29, and the Wing (I wrote to them to cancel my membership, which I had for a month before Covid).
As I mentioned last week, Adam Rapaport's Halloween photo opened a conversation that was way broader, about the treatment of Black employees (of which it seems there were never more than two) and POC at the magazine, who were shoved in front of the camera for diversity without compensation. In particular, Ryan Walker-Hartshorn, his assistant was paid $35K (sadly standard for Condé, where generational wealth is presumed) and treated like the help. She makes the essential point that it took the killing of George Floyd for these issues to come to light. Matt Duckor, the head of video, also resigned and Alex Delaney is on leave (probably paid). Given Condé's history and culture, it's hard to imagine a Bon Appetit that's representative and values its employees. And for all of us fans, it's a good reminder to not glorify workplaces.
For minute by minute updates, follow Tammie Teclemariam, who is doing important investigative work (she was the first to find that photo) and is a wonderful writer.
To hear a firsthand account, listen to this episode of the Sporkful, which included interviews with Nikita Richardson and Sohla El-Waylly. And if you haven't watched this supercut of Sohla saving her coworkers' asses, it's an infuriated must watch.
Beyond media, this culture affects restaurants and food businesses. A feature in a national magazine can have a real impact, an almost all white staff and editorial lens affects coverage (this month's editor's note is about a barbecue last summer at Rapo's Hamptons house). This, from the founder of Diaspora Co, sums it up nicely.
As for what's next, there have been lots of names floated around to replace Adam Rapoport. Without significant changes to Conde leadership and business model, it's hard to imagine them walking into a supportive environment. And as Alicia Kennedy points out, Amanda Shapiro, the interim editor, is unlikely to lead sweeping changes. I'll be watching for updates (hope they're unionizing) and looking to read and support more indie publications. If you work for a big company, share your salary, especially if you're a white man!
---
Juneteenth is this Friday, June 19th. This year, many companies are making it an official day off. It commemorates the day in 1865 when news of emancipation finally reached Texas. This date is more than two years after the signing of the Emancipation proclamation.
Why did it take two and a half years for the news to reach Texas?
"Often told is the story of a messenger who was murdered on his way to Texas with the news of freedom. Another, is that the news was deliberately withheld by the enslavers to maintain the labor force on the plantations. And still another, is that federal troops actually waited for the slave owners to reap the benefits of one last cotton harvest before going to Texas to enforce the Emancipation Proclamation. All of which, or neither of these version could be true." [1]
Shanika Hillocks recommended this site, which has resources on Juneteenth's history and ways to observe.
Michael Twitty shared more context on slavery in Texas in this post.
Nicole Taylor spoke with many Black chefs about how they're marking the occasion this year.
I signed up for this free chat between Toni Tipton Martin and Veronica Chambers on the eve of Juneteenth.
On the day itself, I'm attending a talk by Michael Twitty about Juneteenth and African American foodways. I'm also planning to have a small dinner on a friend's roof. We'll get takeout from a Black owned restaurant nearby (Sweet Science has great fries and cocktails) or do some cooking. I'll also do some reading and probably take a yoga class with Chelsea Jackson Roberts, who is new to the Peleton App (I have a free trial and really like the yoga and strength stuff).
As a white person, I certainly don't want Juneteenth to become another random three day weekend marked by furniture sales and beach trips. I'll continue to think about an appropriate way to spend this day as we all need to reflect on our nation's ugly history and the ongoing struggle for freedom.
---
Something to cook:
I'm am challenging myself to cook less from mainstream sources like Bon Appetit (especially the recipes from white Test Kitchen staff) and cook more from Black chefs and bloggers (which I failed at this week). I linked books through the Lit Bar's Bookshop page, a Black owned bookstore and cafe in the Bronx that I can't wait to visit when it reopens.
That being said, I did make flatbreads, which are a Josh McFadden (a white chef from Portland) recipe published in Bon Appetit. The recipe is also in his cookbook, Six Seasons. Julia, Julianne and I cooked together with a rosé from Vyneyard Wines, owned by André Mack, a Black sommelier and winemaker. It's in Prospect Lefferts Gardens and they deliver for free to Williamsburg (don't forget to tip). Once again, the whole dinner took an hour, start to finish, and we took many breaks.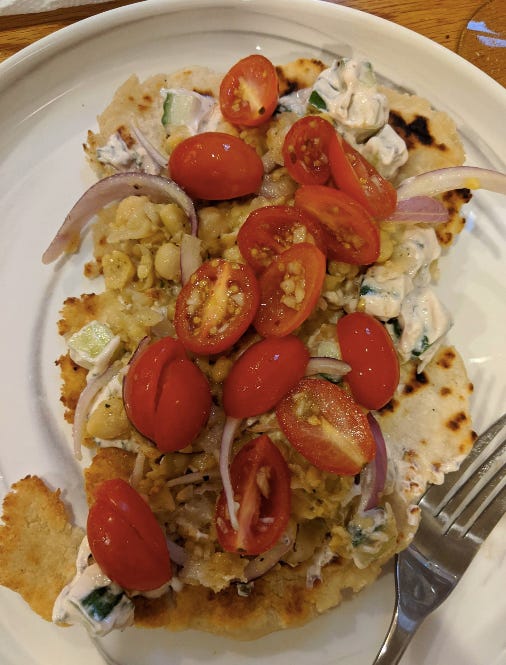 On Saturday, I made us crispy tofu, roasted broccoli, and rice. It needed a good peanut sauce, so I riffed on one from Smitten Kitchen Everyday (I'm trying to cook more from my cookbooks). It's online here (I subbed 1/4 cup peanut butter for the peanuts, used extra garlic, and skipped the sesame seeds and mixed everything with spoon)
I made a batch of chocolate chip cookie dough on Saturday and baked yesterday. Next time I make cookies, I want to make these chocolate chip pistachio cookies from Joy the Baker that I made a few years back (her summer water is a seasonal must).
For those of us looking for quick lunches and dinner, I have an update to my quesadilla method. Since quarantine, I've had a little trouble finding refried beans so I've started making my own, based on a method from Lukas Volger's Start Simple. In a medium sized pot, sauté a diced half onion in olive oil over medium heat. Once it's softened, add 2 minced garlic cloves and season with salt. Once the garlic is toasted and the onion has a tiny bit of color, season! I use a mix of cumin, smoked paprika, garlic powder, and a little more salt. You can also use cayenne or chili powder. Toast the spices for a minute and then add a rinsed and drained can of black beans. Crush the beans with a spoon or the back of spatula and then add about 1/2 cup of water. Cook the beans down, continuing to crush them, for about ten minutes, until you have your desired texture. They won't be as smooth as a canned version, but they're so good. Use in a quesadilla with shredded cheese and serve with salsa and sliced avocado.
Something to order:
My Blk & Bold coffee is out for delivery and I can't wait to try it. Molly also recommended Red Bay Coffee in Oakland, which I'll try next.
I mentioned Burlap and Barrel a few weeks ago and am such a fan so far! The cinnamon makes my morning oatmeal so much better and I've never had better paprika. The glass jars are pretty and their single origin model supports farmers around the world.
Lizzi introduced me to Shaquanda's hot sauces and I just ordered another bottle of the green sauce, which is great on eggs. It's a bright, citrusy sauce, inspired by Barbados.
There's a movement to support Black people in publishing by ordering at least two books by Black authors. I recommend: The Cooking Gene, With the Fire on High, The Idea of You (not about food, but life changing), The Mothers, Homegoing and Notes from a Young Black Chef. Reminder: if buying books/shopping is the only action you are taking, that is not enough.
Something to read:
I've been asked for recs of Black food folks to follow and I don't want to just make a list. I'd rather give personalized recommendations, so feel free to contact me with requests (so far I've recommended bakers and food bloggers to different people). You can always DM or email me and I'll make recs based on your interests. This offer also extends if you're ordering from a Black owned wine shop (try Happy Cork, Vyneyard Wines, and Urban Grape) and want some help navigating the selection.
Jess and Wendy from Food Heaven had a really good podcast episode about how to amplify and support Black people. Some of their suggestions include leaving reviews for Black podcasts, following people because you actually like their content, and paying people for their time (duh!). They shared a ton of quick meal ideas, which are very helpful for right now.
A Black chocolatier was tired of being fired and created his own chocolate company
A short history of housing segregation (the video is something)
Portraits of New York City's Black vegan movement
How a Black Filipino Chef is feeding protestors at McCarren Park.
I've gotten so into Sam Sanders this past week. He interviewed Adam Serwer about the similarities between this year and 1868, not 1968 and he spoke with Vann Newkirk about how Black farmers were robbed of their land in Mississippi.
A look at ethnocentrism in US media's coverage of Puerto Rico
How Marcus Samuelsson is feeding protestors in Harlem
The West Philly chefs making sure everybody eats
There are only 16 lesbian bars remaining and here's how to save them, from Danielle.
How New York's bodegas are weathering Covid-19, from Angely Mercado.
Being Black in the white world of wine
Systemic change requires we have a seat at the table, from Theodora Lee, a Black winemaker in Northern California.
White People need to figure this out for themselves, says Adrian Miller.
Some organizations to support this week: Glits, Grow Dat Youth Farm and Soil Generation, the Okra Project, and National Bail Out.
For all my fellow natural wine fans, Whetstone's Point of Origins podcast has two great episodes exploring the subject, with interviews from winemakers around the world.
Actionable ways for the wine community to step up, from Miguel de Leon, of Pinch Chinese.
Digorgeous, a wine podcast, turned over the mic to four Black women in the industry. Their conversation touches on experiences at events, at wineries, and in restaurants.
Here's something infuriating: Kristina Gillford, a Black expert on Italian food, co-authored and photographed Tasting Rome with Katie Parla, a widely cited white expert on Italian food. Gillford was shut out of the process, including the book tour and did not receive an offer to do another book. Her contributions were minimized the entire way by Parla and the team at Clarkson Potter. Follow and support her so she can do her own book soon.
Jenna Wortham and Wesley Morris did a live Still Processing and it's SO good.
Want to Support #BLM? Start with the Black Lives in Your Own Restaurants
I found Harleigh Reid through Chloe and her Box vs. Baker series is so much fun.
---
This week, I'd love to know what you're doing for Juneteenth and how you'll be marking the day. Most of my friends have the day off, but even if you don't, there's time to observe it off the clock. Reply to this email with your plans.
Thanks for reading and take care.
xo, Abigail