Outdoor dining, outdoor movies, and outdoor oysters
Plus apple muffins, low fiber foods, and ways to take action
Hi friends,
Welcome back to This Needs Hot Sauce. I woke up quite ready for breakfast after yesterday's fast (and bagel break fast) and have lots to do this week. Make sure you read all the way to the end for action items based on last week's newsletter. Such good ideas!
Now, let's dive in.
Something to cook:
Dale is temporarily on a low fiber, lactose free diet so we've been adapting our cooking. The whole grain lobby is powerful because it is surprisingly difficult to find fiber free cereals and breads. He also can't eat our apple picking harvest in raw form. Saddest of all, our weekly pizza tradition is on pause for now.
I share this in case you have low fiber tips (we're all ears) and to remind anyone struggling with food right now that you're not alone. It's frustrating when something that's typically a source of pleasure becomes very difficult, especially now, when pleasure seems to be in short supply.
Of course, I've gotten creative. Here are the biggest hits so far: apple muffins with cinnamon sugar topping. I peeled the 2 apples and used almond milk (butter is extremely low in lactose). These muffins are so tender and I love the topping, though you need less butter and sugar than the recipe says (a 1/4 of a stick would have been enough). Julia made the same recipe and used turbinado sugar in the topping which adds a nice crunch.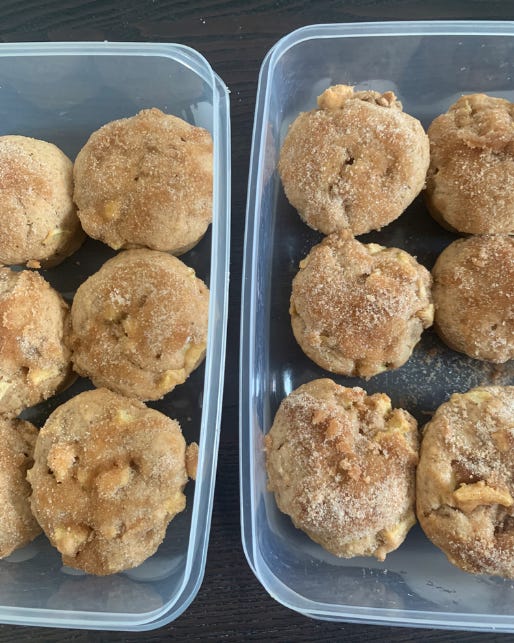 My family's traditional pre Yom Kippur dinner is spaghetti and meatballs. Cacio e pepe seemed easier so I gave it a go (my second time). I tried a new method that involved making a paste with grated (lactose free) aged pecorino, black pepper, and ice water. It worked really well.
Dale didn't eat this but I roasted my first delicata squash of the season with lots of spices and used it in a big kale salad with apples, pecans, cheddar, and scallions. I made a mustard vinaigrette and stored it separately so it would keep in the fridge. Delicata squash is also a flavorful side for last minute dinners like an egg on toast.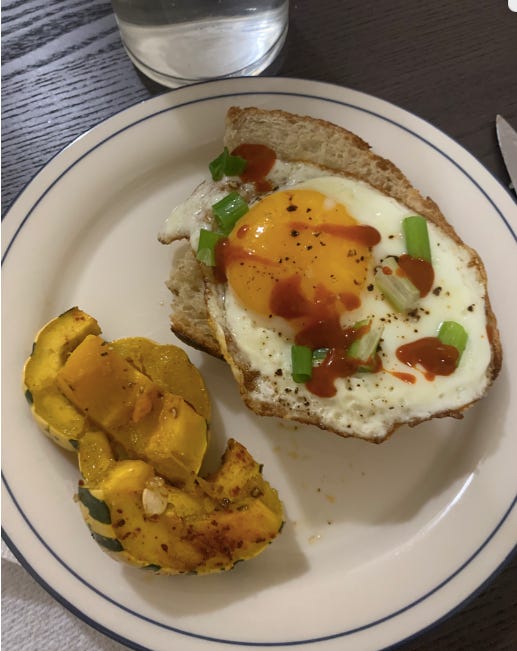 Here's a surprisingly good dinner: rinse and drain a can of black beans, then mash them with a fork and add sazón (or spices of your choice). Mix with rice and top with avocado and sour cream or greek yogurt and Valentina. Rice and beans, it never fails.
Something to order:
Syndicated has become my most frequently visited restaurant. Their October movie schedule is out and it is spooky. Last week, I saw Mamma Mia with Julia, Julianne, and Lu, which ended with dancing in the streets. On Saturday, Tilden and I stopped by for a drink to see Leah and Erika before Titanic started and of course, wound up staying for the entire film (I spent so much time on the Titanic wikipedia after). There's a real sense of community in watching a movie together.
Here's the deal: get there early to get a table (I recommend over an hour especially if you're coming from another neighborhood) and bring a jacket. Movies start around sunset and you can get drinks and food while you wait and watch. They have a weekday happy hour, Wine Wednesdays and affordable pitchers. The vegetarian options are mostly fried, but I like the empanadas and the kale salad if you need some greens. And my meat eating friends really love the hot mess chicken sandwich. Split waffle fries, tater tots or old bay popcorn for the table.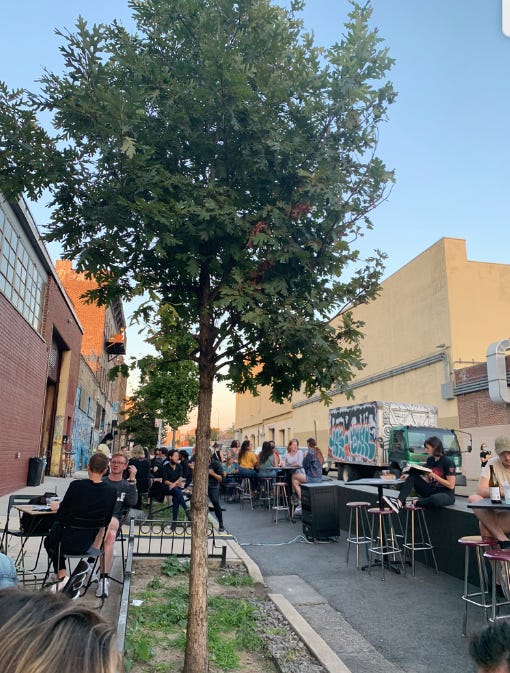 Julia hadn't had oysters since February and we had to fix that. We headed to Lighthouse for dinner on Friday and had a great time. Their outdoor seating is very well spaced and the food is so good. We had the freshest oysters, creamy burrata, and grilled eggplant over tahini sauce. And we loved this chilled red from Portugal.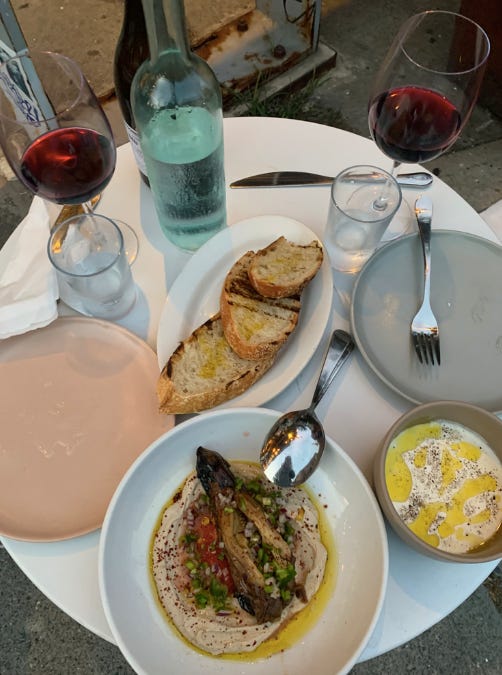 Getting a fun lunch is a real treat these days and the Paris sandwiches at 19 Café fit the bill. It's a version of a Bánh mì with the protein of your choice and the tofu version is so good. It's a generously sized sandwich and the bread is the perfect texture: crunchy outside with a pillowy interior.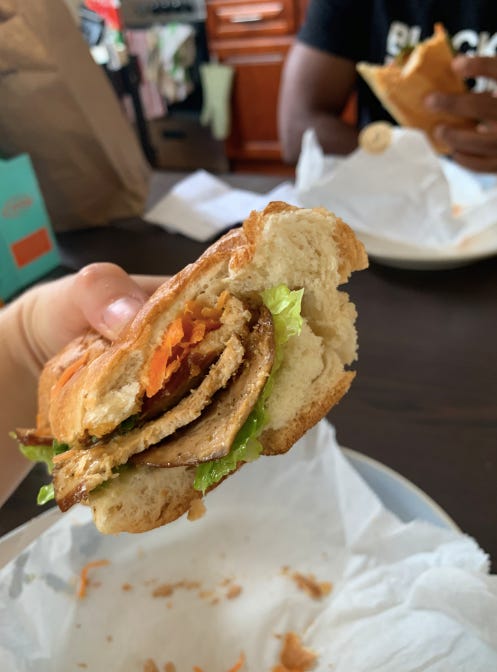 Something to read:
As we prepare for winter, the Norwegian concept of outdoor living and secrets to enjoying a long winter.
Devita Davison's thoughts on the future of restaurants are well worth a read (I loved her conversation with Alicia Kennedy earlier this year)
What's the difference between soup and stew?
How restaurant adjacent businesses (like florists, valets, and beer distributors) are struggling right now.
I just finished André Mack's memoir (affiliate link) and loved learning more about Maison Noir's success in this piece on Black winemakers in America.
Why Andre Springer of Shaquanda Will Feed You embraces spice (I love their green hot sauce).
Two laid off Penn Dining chef launch a kosher food truck (this project has been in the works for years and I'm so glad it's launching)
Next time I'm in Philly, I want to visit Mina's, a community focused coffeeshop in West Philly that never turns away a customer.
The history and evolution of pet-nats via Lizzi
Okra Soup is American food from Samin Nosrat featuring the wonderful Amethyst Ganaway.
The rise of the venmo bar tab after media layoffs
Outdoor dining was extended indefinitely, along with the open streets that accompany it. We talked about this more on Instagram but I think it's a good decision, though not a replacement for federal rent relief.
Rates in NY are rising and it's a very good time to make regular testing part of your routine. I've had great experiences at Woodhull hospital and Julianne has more details here.
In Memory of David McAtee And Breonna Taylor, Healing Through Cooking And Community. The Breonna Taylor verdict was heartbreaking, if not surprising and we need to destroy the system that let this happen.
Laurie Woolever misses daily grocery shopping (same).
I love the Korean Vegan's TikToks and this article shares more about how she got started and her goals of making people less racist.
Eric Kim on banchan, which make you feel like you're dining like a king
Solha El Waylly has her own show! The first two episodes are out now and she has a lot more freedom to flex her culinary skills and I hope she's getting paid a lot.
Two exciting updates from me:
I profiled Martha Stoumen for Food & Wine's October issue. It's in print (!) and online as well.
I also shared my thoughts on indoor dining with Eater NY (I won't be doing it, especially as positive test results reached their highest level since June). Thanks to Luke for including me.
---
Now, what we're doing next! Thank you all for sharing your plans.
My mom is working hard: I signed up with Vote Save America months ago and also adopted PA. I don't love phone banking and I don't love their script, but it is what it is. Download google voice so you don't use your own # while making calls. I spent way too much time trying to make phone calls with a different organization yesterday and will probably just stick with Vote Save America. I also signed up for text training through the Biden campaign. Training isn't til the 29th, though. I'm doing letter writing though votefwd.org.  You need to be approved (a day or so), a printer, envelopes and stamps. I emailed and wrote letters to Senators re Ginsberg vacancy. Lastly, I donated to a handful of campaigns: McGrath, Kelly and Gideon.  I refuse to go down without a fight.
I love Emme's reminder to pay attention to local races: In response to what else we can do to help, my friend made this list awhile back with important/flippable races that need volunteers that could be useful to share.
Another thing I wanted to highlight — a lot of the terrible laws (especially abortion restrictions) that make it up to the Supreme Court come from state legislatures. In these races, a small donation and any sort of volunteer hours can go a really long way. In addition to focusing on important Senate races (which, again are VERY IMPORTANT), I'd suggest folks look into any State House, State Senate, or other statewide or local candidates near them running in close races (for example, I'm in NC and just discovered we have an amazing candidate running to unseat a Republican incumbent for NC Commissioner of Agriculture, a position which I recently learned has a lot of power!). Elizabeth Warren's website also has a really helpful tool to search through her endorsements for races in your state.
I know this is a lot, but another cool volunteer opportunity I've found is Vote Forward, which provides you with templates to handwrite letters to targeted lists of likely dem voters in swing states. Apparently handwritten letters are proven to significantly increase turnout! I helped my grandma get set up to write letters for them since she isn't quite tech-savvy enough for phone or text banking.
Elizabeth is also writing letters! Wish I had a printer to join: One thing I recently found out about is writing letters to encourage people to vote through Vote Forward - I just signed up to write 20 but am hoping to write even more! It does require a printer but seems like a great opportunity to support the USPS and democracy while also getting me off my phone for a bit! 
Jamie is educating her neighbors, love it: I put a chalkboard in front of my house with voting registration info for my neighbors, and am going to start doing postcards to voters this week!
Noah is working so hard and I'm so proud of him: There is so much out there and so many people, organizations, and causes that need help, I'm keeping my list short and accessible:
This week, I want to talk about nice things we are doing for ourselves. Self care is a political act, particularly if you are part of a marginalized community and we need to actively counteract the despair and oppression. Some things I'm doing: trying to get more sleep, deleting Instagram from my phone most Sundays, and reading lots of fiction. So, how are you showing up for yourself? Rachel Miller has way more advice in her fabulous book.
---
Take care my friends! I'll be writing about hunger later this week for paid subscribers so sign up if you'd like to read (and if you're a student or need a free subscription, please reach out and I'll set it up, no questions asked).
xo, Abigail