Prepare for a long weekend with cacio e pepe
Plus, one delicious way to reduce your food waste
Hi friends,
I can't believe it's almost the end of May. I'm going to take Memorial Day off (!) so next week's newsletter will arrive on Tuesday.
This week, I'm hosting a long weekend themed happy hour on Thursday at 7:30 p.m. We're making Aperol spritzes and I can't wait. Dress in your finest weekend outfits. Join meeting here, Meeting ID: 870 6709 4992 Password: 060654.
Friday's bonus edition will be another Q+A. Send in your questions by replying to this email or message me on Instagram by Thursday night.
Now, let's dive in.
Something to cook:
I made muffins last week with my students and am so glad to have them in the freezer (let them cool and then wrap individually). This recipe is a favorite because it's very adaptable. I used bananas and chocolate chips for my mix ins and made one batch with butter and one with olive oil.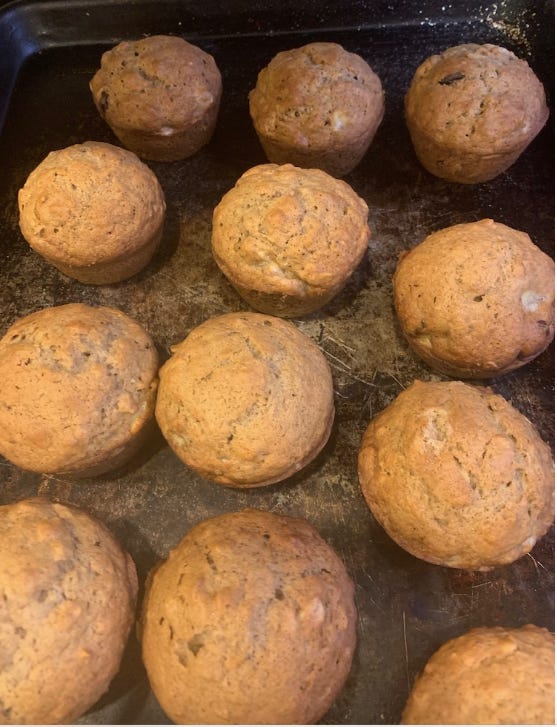 For lunch on Wednesday, I needed to use up a bunch of veggies. I riffed on this quesadilla recipe and cooked down some grated zucchini, cabbage, spinach, and scallion. Then I tossed that mixture with shredded cheese and used it as the filling. It was so good! I had one leftover that reheated well the next day.
Crispy chickpeas never fail. I made a batch for dinner and had the leftovers for lunch the next day. I usually use broccoli instead of zucchini cause I don't love zucchini. The sound of the chickpeas crisping in oil always reassures me something good is coming.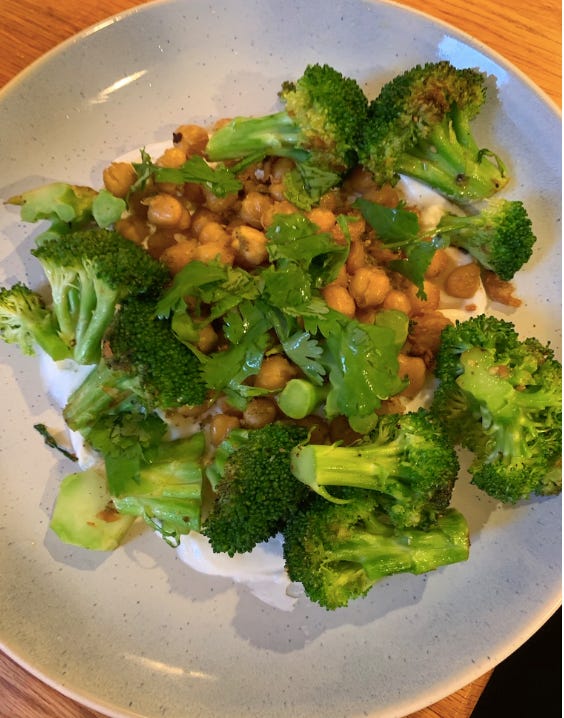 Since buying pecorino cheese for last week's cheese radio show (listen here), I knew I wanted to make cacio e pepe but I was intimidated by the technique. Some people add butter, some say that's a crutch (this video about specific Italian pastas really made me laugh). There's a risk of clumping, it could all go wrong. Courage is a key ingredient, or maybe I'm being dramatic. I wound up riffing on this Epicurious recipe except I skipped the butter. I had some on hand in case something went wrong, but it was fine. There was a little bit of clumping at the bottom of the pan and some cheese got stuck in the tongs, but we still got a rich sauce that coated the noodles. And if it clumped, it still would have tasted good: it's cheese and pepper and pasta.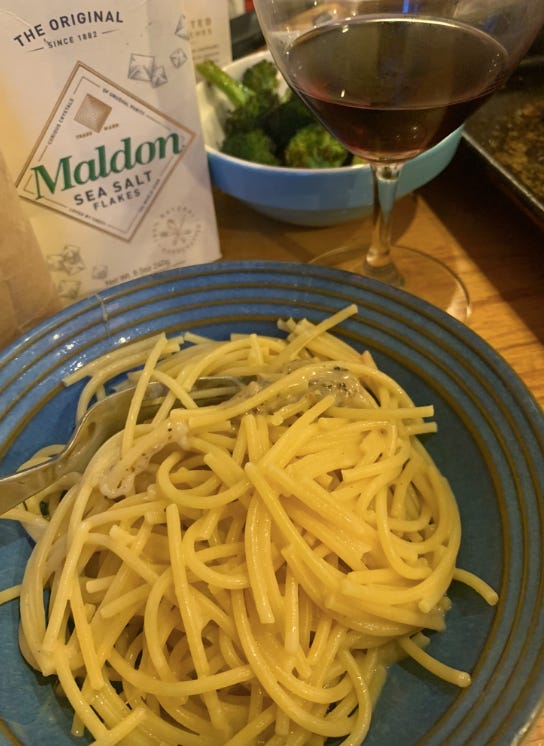 Some tips if you try this: Read a few recipes all the way through (I also watched a tiktok) and get everything prepped in advance. Believe in yourself. Salt your pasta water and make sure to pull the pasta shy of al dente. Grate your cheese (I used mostly pecorino with a little parmesan) before you start cooking. I bloomed the pepper in some pasta water and then added more water once I added the pasta and cheese (turn off the heat at this point). Julia and I had this with some roasted broccoli (roasted it at 425 for 20 minutes with olive oil, garlic, red pepper flakes, and salt) and red wine. Then we watched the Riverdale finale and made cookies. Ideal friday night.
Yesterday, I chopped up the very ripe pineapple that had been sitting the fridge for at least a week. I was left with the core and the peels and couldn't bring myself to throw out either. I thinly sliced the core and froze it for smoothies. With the peels, I made a version of agua fresca, which I used to drink all the time in Mexico and Guatemala. Based on this recipe, I filled a pot with water, added the peels, a cinnamon stick, some ginger, and a few peppercorns, then brought it to a boil and simmered for an hour. The result is so tasty—not sweet but so refreshing. I've been drinking it over ice and it would also be great with tequila or rum and honey. You could add sugar as you're cooking for something more similar to a lemonade. If you have fruit that's seen better days, make an agua. For more exact directions, google agua de "the fruit you have" and you should find instructions. Some recipes call for blended fruit, but work with what you have.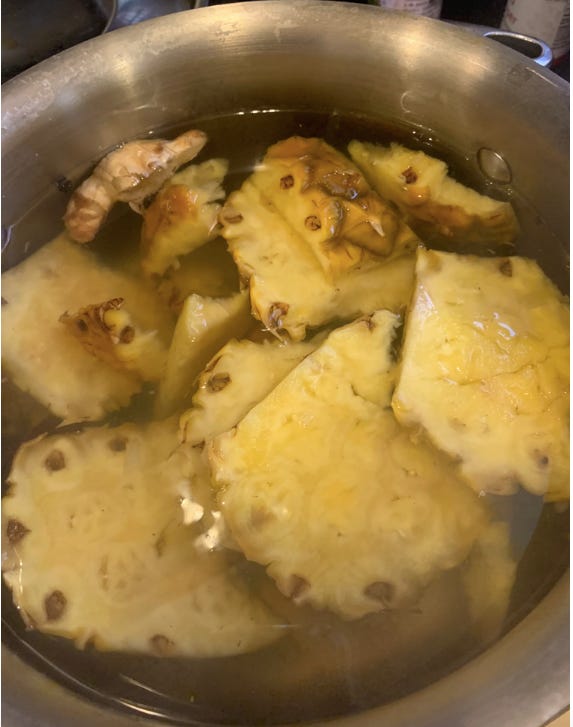 As for the pineapple itself, I used it to make our favorite tofu cabbage wraps with pineapple salsa instead of mango. It's such a refreshing meal for a warm day and the peanut sauce would be good on anything.
Something I didn't realize until writing this is how much I cooked last week. I remember just a few short weeks ago feeling so burnt out by cooking, hitting a wall and turning to takeout. I don't know what changed, but I hope we all show ourselves some grace when we struggle and remember that no mood lasts forever.
Something to order:
My one takeout experience this week was Ops on Saturday night, which is such a treat (order early especially on weekends). They had a special pie with charred broccoli and chili crisp that was made for me.
I've also been very into the takeout cocktails at the West, especially the margarita, which Dale and I split for our anniversary dinner. Prices and serving sizes vary widely in the to-go cocktail world so it's worth doing a few research laps around your neighborhood. In Williamsburg, Berry Street is newly closed to cars so there are a lot of takeout cocktails there as well. Julianne recommended Gran Torino.
I'm moving in a few weeks and seriously contemplating upgrading my spice rack with a set from Burlap and Barrel. Have you tried their spices? Worth the investment?
Something to read:
The return of the barter system
Thank you, Ron, for sharing my take on the Alison Roman interview.
A palate cleanser: Stanley Tucci's life in lockdown. Cooking for 8 people sounds so exhausting.
Hillary Kerr interviewed Alison Cayne, founder of Haven's Kitchen (love the cafe and bathrooms). She talks about her privilege (which I appreciated) in a very vague way and it turns out her dad was one of the Bear Stearns guys.
I hope kids learn about Duchess Quamino in school soon
A new source for Asian vegetables and groceries.
Didn't read the Robert Pattinson profile but I did read this attempt at making his pasta recipe.
If you're not tipping generously right now, what are you doing? On being an essential restaurant worker.
Loved learning more about King Arthur Flour and its three CEOs
I hope this LA taco shop can open soon in New York (h/t Clare). Also Philly people, the food from here looks incredible.
$800 takeout sushi is absurd, but I'm so glad Gary got and photographed this.
What do you cook on a first date?
Tabitha Brown in the New York Times! So excited for her.
What New York can learn from California's restaurant reopening plans
In Denmark, Noma is reopening as a burger bar. Read for the list of reasons why this won't work here.
I wrote about small batch baking and Rebecca reminded me of her just one giant cinnamon roll recipe, which looks so good.
Pour yourself a cup of coffee and settle in with Jerry Saltz's upsetting and somewhat hopeful story.
I so admire Nikole Hannah Jones and loved reading about her self care routine days after her Pulitzer win. Women are multifaceted!
If you're in New York, request an absentee ballot for June's primary. It's super quick.
Food and Wine's Best New Chefs is here! I worked on this project last fall and am so happy to see the final list. Trigg Brown from Win Son is so deserving of this title and it's a great group.
---
I wanted to thank you all for your thoughts on Alison Roman and the issues her comments brought up! I don't think her apology changes anything (it was written by a team and not in her voice) but am curious to see what she does going forward. These issues come up again and again in the food world. If you're looking to follow more POC, Klancy Miller shared this list.
---
Now, let's chat about dishes that we know by heart!
Alicia has her sauce down pat: To answer your question, I make red sauce with sausage in it about once a week, and it's mechanical. Start pasta water, salt it. Chop garlic, fry in oil with chili flakes, add sweet sausage that has been removed from the casings. Brown the meat, add in crushed tomatoes, simmer, then add fresh basil, oregano, salt, and pepper. Stir in pasta & a little water. Done. 
Nikki fought her cooking burnout with some help: I also hit a cooking wall this week but being vegan and in a small, south jersey town to escape the NYC mayhem makes takeout difficult. My bf has been a trooper in stepping in when I just can't fathom being in the kitchen. Which tbh has only happened like twice since quarantine. I make this crispy sriracha tofu and it is divine! Similar method, different sauce. 
Bernadette has a great vegetarian meal formula: As the only vegetarian in my family growing up, I am a fan of the 2-veg 1 starch meal formula-so I have simple methods I like for most of my favorite vegetables. Broccoli, kale, carrots, potatoes. And my favorite comfort meal is pasta with red sauce and a side of really garlic heavy sautéed broccoli. No recipe needed for that one!
Julianne is soaking up the sweet moments of quarantine: Belated, but I am really enjoying all my quality time with Ian and realizing I need to slow down when this is all over to have more sweet moments together. I've also been able to reconnect with some of my long-distance childhood friends I miss dearly and we have incorporated more "hang outs" than what has been possible since like…2014! It's soooo nice! And for dishes by heart, Ian just created a baked ziti recipe (literally a light-bulb-moment-of-inspiration on Saturday) and I guess that is both knowing by heart and by cerebellum right lol.
---
This week, let's talk about Memorial Day and things that signal the start of summer. Do you normally grill, drive to the beach, or enjoy the empty city? I'd love to hear your traditions and favorite foods. And we'll chat more about this during happy hour!
Happy eating and thanks for reading.
xo, Abigail
P.S. Starting tomorrow, I'm going to be highlighting lots of my favorite small businesses on Instagram so make sure you're following there!