What comes next?
Fall, an election countdown, and lots of apples
Hi friends,
Welcome back to This Needs Hot Sauce. Some housekeeping: next week's newsletter will arrive on Tuesday as Monday is Yom Kippur. Wishing an easy fast to all who observe.
I spent a lot of last week thinking about the Jewish new year, preparing to answer the 10Q (and reading my past answers), and making challah. My family set up a beautiful Rosh Hashanah dinner in the backyard, with a Brooklyn table and a Queens table for safety. We were midway through the meal when we found out. Ruth Bader Ginsburg's death is a huge loss for this country, for women, for the Jewish community (we said Kaddish for her), and for all the marginalized people she helped through her work. It's left many of us heartbroken as we immediately start considering the political implications of this loss (which RBG herself was very aware of, per her final wishes). I know her legacy will be long, no matter what happens in the next few months (this tribute from her friend of five decades was very moving).
Here's what I'm doing next (and I'd love to hear your action items): I checked my voter registration, (worth doing even if you think it's all set), signed up for text banking training (via the links in this post), and signed up to adopt Pennsylvania through Vote Save America (I went to Pennsylvania twice before the 2016 election and it's a swing state close to my heart). My poll worker training is coming up and I filled out my census back in April. Williamsburg's completion rate is only 55% right now so if you are my neighbor, please get on it! I have a voting plan (going to vote early and in person, here are some options). I'm going to donate money as well, even though I hate giving to campaigns because the impact is much less direct than giving to say, a mutual aid fund, and money plays way too big of a role in our political system. However(!), the candidate with the highest spending is usually the winner and we saw how much elected officials at all levels affect our lives this year (think COVID relief packages, police budgets, reproductive health, and so much more). So if you're able to give, give to senate races and local elections (this fund will split your contribution among flippable races). Once I'm a trained text banker, I'll share the times I'm doing it on Instagram if you'd like to join me.
Now, let's dive in.
Something to cook:
About that Rosh Hashanah meal: I made fig challah, Ian made such good rugelach, Julia made apple crisp (she doubled the spices, browned the butter, and added some fresh ginger to the topping), and my parents outdid themselves with appetizers (my mom says this five minute hummus takes more than five minutes), chicken with plums, roasted carrots with tahini yogurt, and all the wine.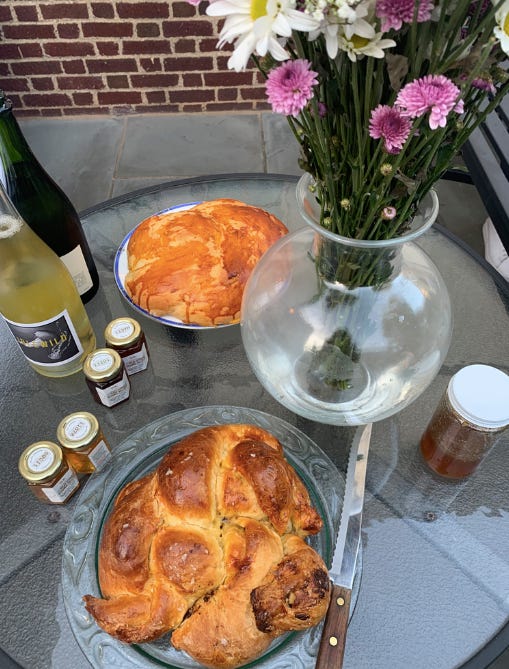 On Saturday, we went upstate to pick apples and stop looking at our phones (more on that below) and I am so excited to get cooking with my harvest. While many of them will be eaten on their own, on cheese plates, with peanut butter, or in oatmeal, I'm excited to make muffins, salads, slaws, and crisps. I'm dreaming about a fall salad with toasted pecans, goat cheese or cheddar, lettuce, and apple chunks. We picked a lot of apples so I'll keep you posted.
I got a delicata squash, which is a real sign of fall (which has officially begun). It's one of my favorite squashes and you don't need to peel it. I love to roast it with spices and a drizzle of maple syrup or use it in Deb's fall-toush, a delightful salad with pita chips.
Nadiya's Time to Eat gave me so much joy last week (read more here) and I finally tried Nadiya's egg wraps one very tired evening. They're so good and easy!
Leftover challah is a prime excuse for challah french toast. I made some misshapen slices yesterday with a simple custard of egg, almond milk, vanilla, cinnamon, and honey. It's so good and makes any day feel like the weekend.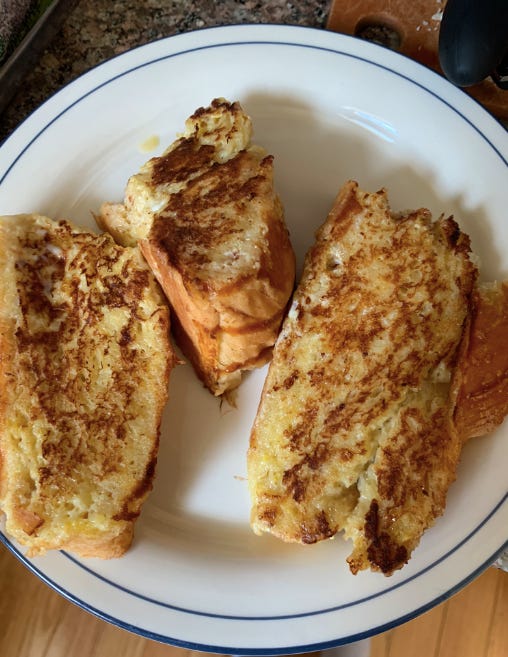 My weekday lunches have been a struggle lately. On Wednesday, I managed to get a tray of roasted broccoli, cherry tomatoes, and white beans in the oven (used this recipe and added halved cherry tomatoes) and it turned things around. I ate it once over leftover pasta, once over salad, and once on its own.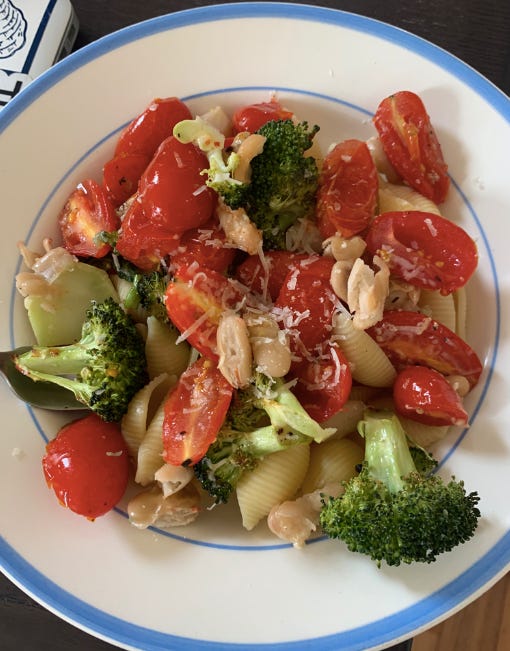 Something to order:
Dale and I used to go to Le Fanfare for semi regular nice dates (birthdays, new jobs, etc). We haven't been in ages but finally caved and got takeout last tuesday. Of course, we were on the couch watching the NBA playoffs, but it still felt special. Their pasta is insane—get the trofie with pesto and the bucatini cacio e pepe.
There are many places to go apple picking, but Twin Star Orchards/Brooklyn Cider House might be my favorite (I also went in the early days of this newsletter). BCH closed their Brooklyn restaurant due to COVID, but in New Paltz, they are thriving. In addition to apple picking, you can taste ciders outside and eat wood fired pizza at outdoor picnic tables. I recommend starting with the (free) cider tasting and some cider donuts to fuel your picking. My biggest apple picking tip is to bring a knife (pocket or swiss army) so you can taste the apples before picking. Don't bring home a huge bag that you don't like! Slicing them allows everyone in your group to taste first and pick accordingly.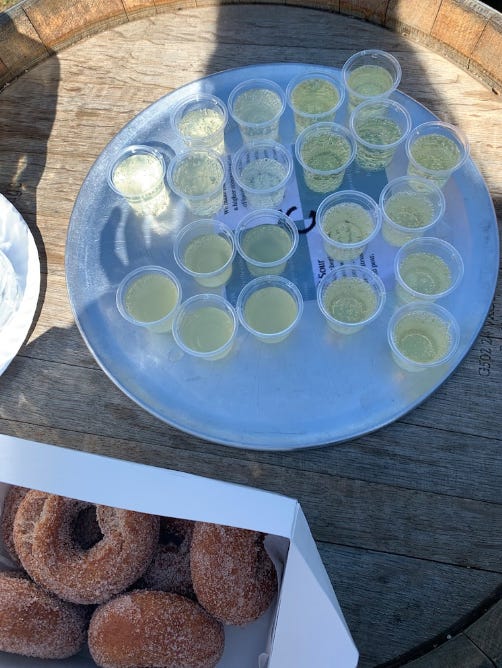 Order the pizzas in advance online to avoid a wait —they're so good (we gave ourselves two hours to pick apples and walk around the orchards). And make sure to bring some cider home, my favorites are the raw and the half sour. COVID wise, everything felt safe. There were a lot of people there but there was great mask compliance and everything was outdoors except for checkout. Overall, it was easy to keep distance and so much fun.
After dropping off my parents' car, Julia, Julianne and I decided to get dinner in Forest Hills. I'd heard about some street closures for outdoor dining and wanted to check it out. Well, it's awesome! 70th road is going to be car free for a while and the whole road is full of restaurants (even before COVID, it was known locally as restaurant row). We did a few laps and settled on MoCA Asian Bistro, a mostly Japanese spot with great seating and a big menu (Julianne and I got sushi and Julia had a delicious looking wonton noodle soup).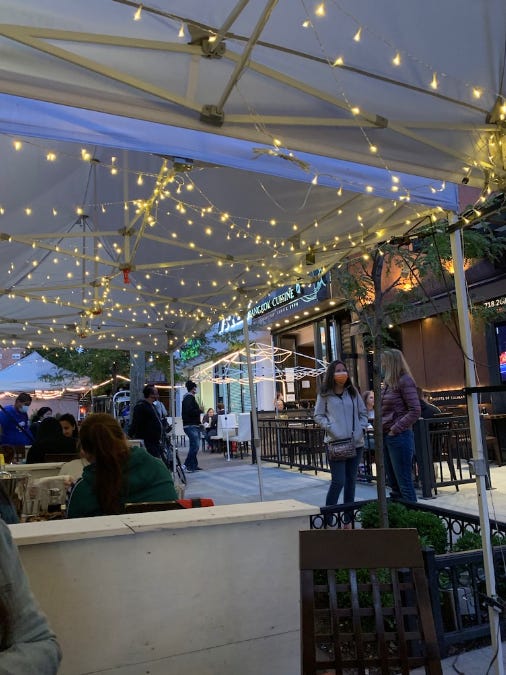 Local coffee shops need our support more than ever and I'm always here to support 19 Café. I cherish my weekly visit for an iced coffee and a hot chocolate for Dale (will have to switch to hot coffee soon) and never mind waiting in line.
Something to read:
This Digital Cookbook Showcases the Beauty of African Diaspora Cooking
People who've quit their jobs in protest this year, including Priya Krishna quitting Bon Appetit video, which is returning soon.
The etiquette of eating outdoors during a pandemic
Regulations for indoor dining in New York fail to protect workers
In NYC, restaurants will soon be allowed to add an up to 10% COVID surcharge to bills.
This coffee shop in Crown Heights sounds great
Restaurant workers share how things have changed, six months after the initial shutdown
If you run a local business in NYC, this site will make you a free YouTube commercial (thanks for sharing, Hannah).
My secret cooking ingredient is my playlist
A family run watermelon business in Philly
Fannie Lou Hamer's food activism is endlessly inspiring
What snacks are cool these days?
I shared my fall recipe and takeout recs in Madison's newsletter, your weekly w(h)ine. Don't miss her fall wine picks from last week.
Jordan Salcito of Ramona has a new podcast called Opening Up on Spotify. I enjoyed the episodes with Ally Love and Eden Grinshpan (skip the first episode).
Do you have a kitchen candle? Oset convinced me I need one.
Gary He's newsletter has a good overview of the past six months of restaurant closures, with a focus on Michelin starred spots.
Try this anti stress tincture if you've been scrolling too much.
So excited for Toni Tipton Martin, who will lead Cook's Country.
My first flight when things are safer will be to LA and after squeezing my family tight, I want to go on a vegan taco crawl.
---
It's fall! Here's what you're looking forward to…
Kanika is all set for fall: I can't wait for cute boots and my very soft cashmere madewell sweatshirt and going back to red wine as the default! 
Tina reminded me to buy cocoa powder: For fall I'm looking forward to stepping on crunchy leaves, roasting sweet potatoes in the oven, and whipping up lots of hot cocoa at home! (Have already begun that last one, actually.)
---
I don't have a fun question this week, but I'd really like to know what you're doing next, both to stay sane and to help others and have an impact. I know this community is full of smart and passionate people so I'd really love to hear (and I'll share the answers next week).
Take care and thanks for reading!
xo, Abigail