Soup and hope
Let's do this.
Hi friends,
I know there are probably other things on your mind this week, so take what you need and leave what you don't from this newsletter. I'm squeezing as much as possible into the next 36 hours—phone banking this afternoon before I pack up my snacks and meals for my poll working shift. I report at 5 am tomorrow and I hope it's a good day. Good luck to my fellow poll workers! I talked with W about why I decided to work the polls this year and am so glad so many of you joined me! I can't wait to hear about your experiences.
Now, let's dive in.
Something to cook:
Today is a good day to buy groceries, even some snacks, so you're set for the next few days. Dale and I got our fridge replaced this week after lots of issues so I was happy to stock up after having some items spoil. We took the bus to Wegman's in the rain and it was 100% worth it.
I made some roasted cauliflower, which I used in a quesadilla with refried beans from A Dozen Cousins, which are so good and less salty than most canned brands.
For dinner last night, I made a big pot of chickpea tomato soup from the Hungry Hutch. I added some extra spices, white wine to deglaze the pan, frozen kale for some greens and half a can of coconut milk to make it creamier. Serve with any bread you've got (we had little brioche rolls) or a grilled cheese and eat the leftovers all week. Find more soup recipes right here.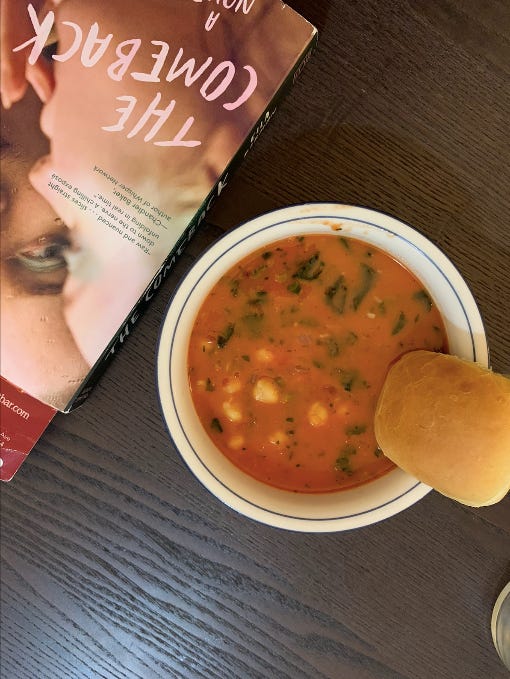 I tried a new tahini blondie recipe, from Adeena Sussman's Sababa, and I still prefer my other one. The new one is quicker to make, but a bit more crumbly and dry.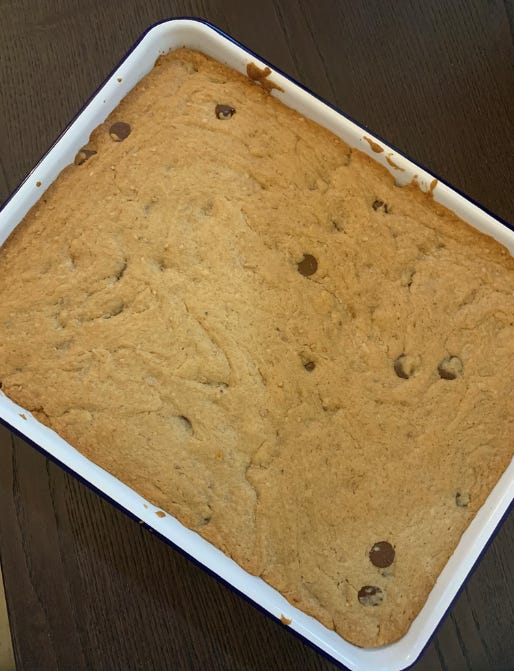 We had two sad bananas which meant more banana bread, this time with some silan in place of the honey because I ran out of honey midway through. I'm going to bring some to the polls tomorrow for a snack.
If cooking seems like too much this week, don't worry. Frozen gnocchi really hits the spot after a long day and a box of pasta or a thing of ramen can be nourishing and comforting. I made egg quesadillas for breakfast yesterday which I might do for dinner soon with some avocado. Takeout is always an option (and if you have a friend who's struggling or working late, a venmo for dinner on election night is super thoughtful).
Earlier this year, I spoke with Alicia from She Spends about eating when you're really stressed. It's okay if you're struggling with feeding yourself this week. Try to stay hydrated and do what works for you. Maybe that's two bigger meals or maybe it's a bunch of snacks throughout the day.
For the polls, I'm packing mostly snacks that don't need to be refrigerated because I'll go home if I get a longer break (my site is 2 blocks away). I channeled school field trip vibes when creating my menu. On my list: peanut butter and jelly sandwiches, persian cucumbers, apples, a bag of trail mix, a slice of banana bread wrapped it foil, a jar of coffee, and a water bottle.
Something to order:
Melissa and I took a walk and wound up at L'Industrie, which I've ordered from before. The slices are even better fresh. We sat on opposite ends of a bench with burrata slices and people watched. Having excellent pizza is a real perk of living here.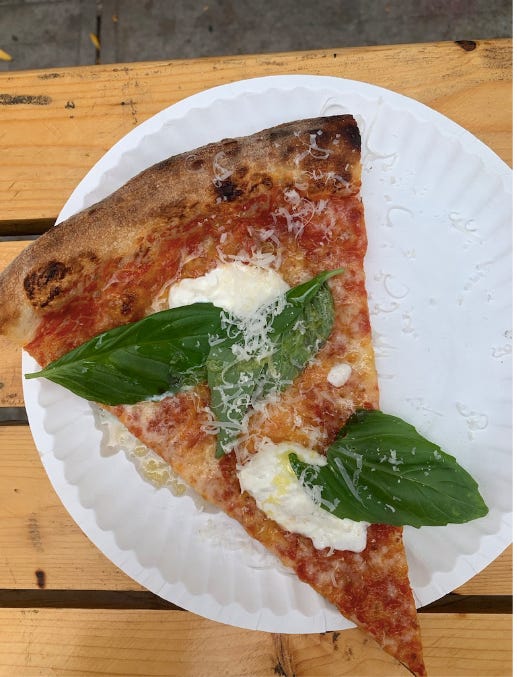 On Friday night, Dale and I went to a hotel for his birthday. We had reservations at Vic's (outdoor) and kept them even though it was in the low 40s/high 30s and quite windy. The experience was tough, I'll be honest. If it hadn't been his birthday, we would have rescheduled. The restaurant was doing their best, but there were so many variables: some tables had heat lamps and some tables were covered by a partial tent (reminder that fully enclosed outdoor structures need to follow the same rules as indoor dining). But heat lamps can't be under the tent (it's a fire hazard) so it was one or the other. If you're making plans that you can't change, I'd call and ask lots of questions. A place might have heat lamps but that doesn't mean they're near every table. Outside of birthdays, most plans are flexible, which I think we'll have to embrace this winter. Backup plans are great.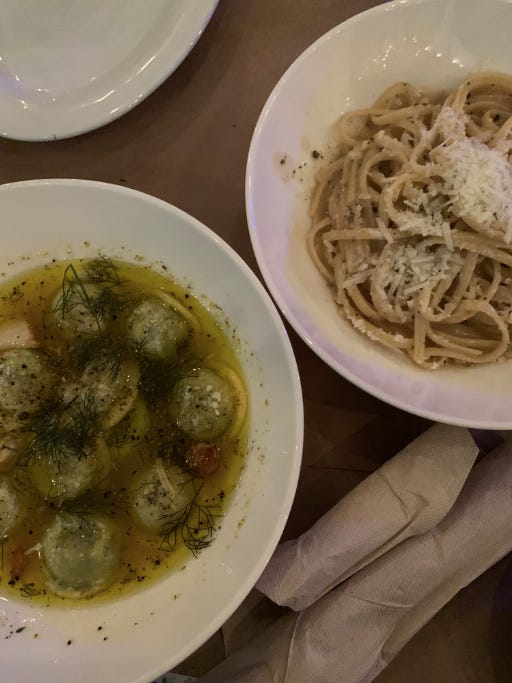 We wound up purchasing the $5 blankets they were selling, which will definitely come in handy for future meals. The food and service were excellent even in the cold. Get the cacio e pepe, the whipped pecorino with pizza bianca, and the delicata squash, which was so warming. They put a candle in some rainbow cookies, which we took to go.
The next day, we walked around Soho and did some shopping, then grabbed udon from Raku to bring home. I'm so impressed with Raku's to-go set up. They had the udon packaged in multiple compartments and included all the necessary utensils. The mushroom tempura was kept separate so I could dunk it at home and everything was clearly labeled. It's easily enough for two meals and at $13, an incredible value. I get the Sensai, which you can have with veggie broth or fish broth and the agedashi tofu (can be made vegan) is my favorite appetizer.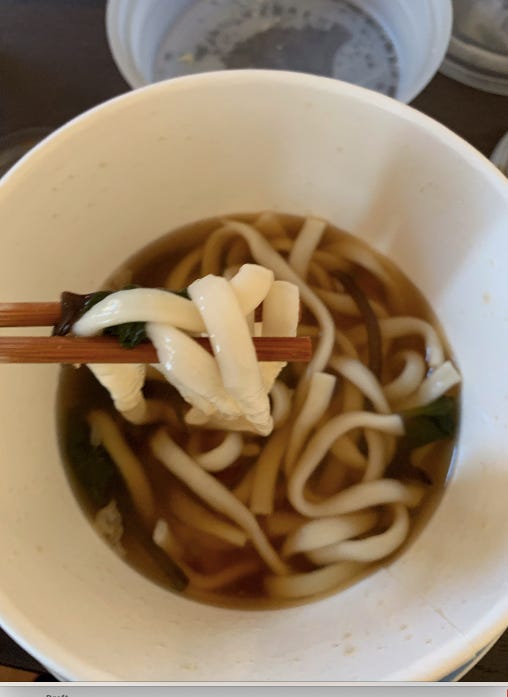 On Saturday night, Julia, Dale, and I sat outside at DuckDuck and watched people in costumes go to parties (noooo). Hot cocktails are going to have a moment this winter and DuckDuck has two, a hot toddy and a spiked apple cider. I need to work on my layering game and just got a new beanie. Next up, some warmer socks so my ankles can stay warm. Even if you're used to walking in the cold, you get way colder when not moving. On my list this week is researching some groups working with unhoused people to support this winter, because no one should be cold and without shelter.
Not food related, but I used a website called Tribute to create a birthday video for Dale. It was really easy to use and made the process so seamless by automatically sending reminders to people. If you're spending holidays apart from family, it could be a really special gift. And people of all ages were able to record, so it's very user friendly.
Something to read:
How indigenous communities in Canada organized an exemplary public health response to Covid.
A recipe only gets you so far.
So glad to see Rick cooking in beautiful Mazatlán on Food52. His Instagram stories are a delight.
In Forest Hills, Austin Street has fewer vacancies than other main streets.
Whetstone founder Stephen Satterfield drove across country this summer and was generous enough to share the journey.
Romance author Jasmine Guillory shares her family's traditional stuffing.
Samin Nosrat recommends escaping through cookbooks (I also escape through her excellent podcast, Home Cooking)
Crisis Cava and other forms of coping. Alicia Kennedy's drinking diary from San Juan is excellent.
I have a bag of almond flour and I have no idea what to do with it. Here's a helpful guide.
What we can learn from the harvest of 2020 (the design on this is beautiful if can view on desktop).
The New York Times had a very classist quiz where you could guess if a fridge belonged to a Biden or Trump voter. The myth that Trump's base is low income is so annoying (his voter had a higher income than a Clinton voter in 2016) and there's literally no reason for the Times to do this! This op-ed has more.
You all know how I feel about the NYTimes Cooking newsletters (very out of touch and written for a luxury audience). I'm glad Alicia Kennedy's critiques were included in this piece on Sam Sifton, who still believes cooking will help any situation. Also in the NYTimes Cooking facebook group, there has been drama over whether posting reminders to vote is out of bounds.
Four brave women spoke out about the harassment they experienced through the Court of Master Sommeliers. There is rampant abuse in fine wine, an industry still dominated by white men and I stand with the women who came forward. So much change needs to happen.
Podcasts are such a great escape and I loved this one with the McBride Sisters (If you already listened to their How I Built This, this conversation, with a Black woman who also works in hospitality, is even better, really good and revealing).
I wrote about RomComPods, a scripted romcom podcast. Season two is an election trail romance, set in an alternate universe. Highly recommend.
Walter Wallace Jr. was killed by the police in West Philadelphia. As a Penn graduate and former Philly resident, I'm livid and so heartsick for the families impacted. Penn's impact on Philly has been destabilizing for Black communities and the police literally bombed a whole block in 1985. I donated to the Philly Bail Fund and would love if you joined me.
---
Now, I'm excited to share your voting plans. Dale and I voted last Wednesday. If you're voting on election day, I hope it goes smoothly!
Alicia's experience in Vermont sounds so smooth: I'm in VT where they sent a ballot to every registered voter (you either have to bring it with you unfilled out if you vote in person or sign an affidavit saying you haven't already voted) and I submitted my ballot at the town clerk drop off box a few weeks ago.
Hilary early voted in Massachusetts: My plan is to vote in Cambridge on October 27 on my way home from my work at the hospital. I'm grateful my hours this week are conductive to getting to an early polling site during open hours because not every week is like that for hospital life and I'm a bit leary of mail-in if I can avoid it.
Christine is a poll worker in North Carolina! Yes!!: I voted early two Saturdays ago in North Carolina, and I picked up two Sunday early voting shifts as a poll worker. I'm also working on election day! NC has seen a great turnout for early voting and I hope it continues straight through election day. :)
Rachel has the right idea with a democracy treat: My voting tradition since moving to New York has been to treat myself to what I call a "democracy donut." My polling place is across the street from my apartment and the Dunkin Donuts on the corner. Depending on the line, I might get the donut before so I can eat it in line, or I get it after as a reward for doing my civic duty. I've already sent in my absentee ballot and am waiting for my volunteer assignment if they'll use me but I imagine I will need plenty of alcohol both that Tuesday and Wednesday.
Jessica had a smooth absentee experience in New York: I applied for an absentee ballot as soon as it was announced that concern about COVID was a valid reason for the general election just like it was in the primary, received it at the end of September and mailed it back right away.
---
I'm doing my cooking recap later this week on Instagram and hope you're taking care this week! Stay safe, be a thoughtful news consumer and take some breaks from twitter.
xo, Abigail