The Last Day of a Bar
Plus, birthday celebrations and breakfast burritos
Hi friends,
Welcome back to This Needs Hot Sauce! It's been a heavy week, full of celebrations and mourning.
I spent Saturday afternoon at Trophy Bar with Dale, Julianne and Ian. The bar closed for good after a friends and family service on Sunday. It was a very good bar, near the Hewes subway stop, with a large backyard, affordable prices (a margarita is $6.50), and 13 years of good times lingering in the air.
Being at a bar on its last night has a special energy, like the last semester of high school, you might talk to someone in line, reconnect with an old friend or get a little drunk. 
I'm not trying to romanticize this experience because it's awful. This city and this country is failing our small businesses and our people with no rent relief, ever shifting eviction moratoriums, and healthcare that continues to be tied to our employers. Once the "Why I'm Leaving New York essays" die down, our city is going to be different. Over 180,000 are dead nationwide, including over 23,600 in New York City. The MTA is in a funding crisis, receiving none of the bailouts the airlines got. Life here is changing. And beloved institutions are closing (some estimate that 40% of small businesses in New York won't survive).
In line, we spoke to others with fond memories of the place. Girls who lived across the street years ago came back to pay their respects. As a native New Yorker who met her boyfriend at a bar, I'm invested in the survival of both bars and cities, that are welcoming and livable for people from all backgrounds.
There are so many reasons why restaurants are struggling right now (to name a few: the ordinance to serve "substantial food", the lack of rent relief, no timeline for indoor dining, the terms and limitations of PPE funding, the unpredictability of summer rain, construction and crowded sidewalks, mass unemployment that leads to less consumer spending, the behavior of customers who believe masks are optional, abusive kitchen cultures) and there's no singular solution. Voting, especially at the local level, can help, since so much of this is based on policy, but that won't solve all of it. I lack a bow to tie this all up but will just urge you to think critically about how you're spending however much you're spending right now and how you're participating in your neighborhood. And reach out to your elected officials to express your concerns. If possible, visit the local pharmacist instead of CVS, tip as well as you can, support some GoFundMe's and believe that a better world, and a better city is possible.
Now, let's dive in
Something to cook:
Dale loves the breakfast burritos from the West but we didn't want to leave the house yesterday morning. I decided to try making them for the first time and it went really well. I used scrambled eggs, leftover rice, refried beans, salsa, and shredded cheese. The key is using a sheet of aluminum foil to keep everything together—put your warmed tortilla on the foil, stuff and roll the burrito and then wrap in foil. You can freeze them or eat immediately by heating in the oven (in the foil) for 5 minutes to melt the cheese and warm things through. Deb has a great explanation on her site with lots of photos.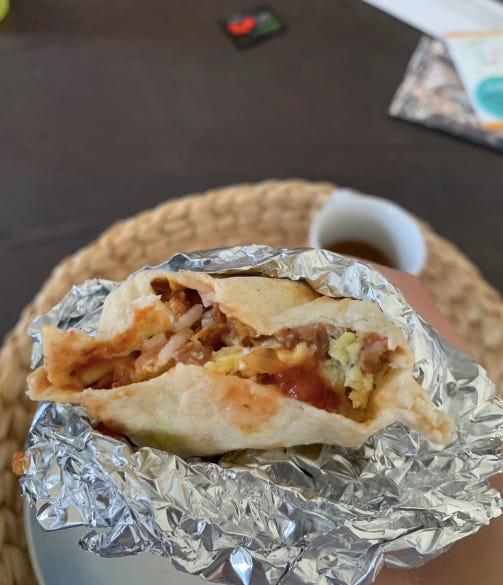 For my birthday, Julia brought over a cookie cake! She used our favorite cookie dough and shaped it into a large circle on a cookie sheet. She baked it at a lower temperature for longer. It was so good and easy to cut up—everyone can pick their favorite slice: crispy edges or a softer center. We also ordered Tikka (order directly on their website for a discount) and Ian made boiled peanuts (SO good).
My lunches last week leaned on the produce I picked up at Linvilla Farm Market and some goodies from Wegman's. The Brooklyn Wegman's is a delight. I always buy nuts, cheese (their french feta in brine is so good as is the fresh mozzarella), and seltzer. Their beer selection is also great. I made a greek salad with cucumbers, tomatoes, feta, olives, lettuce (not traditional), bell pepper and a nice herby lemon dressing.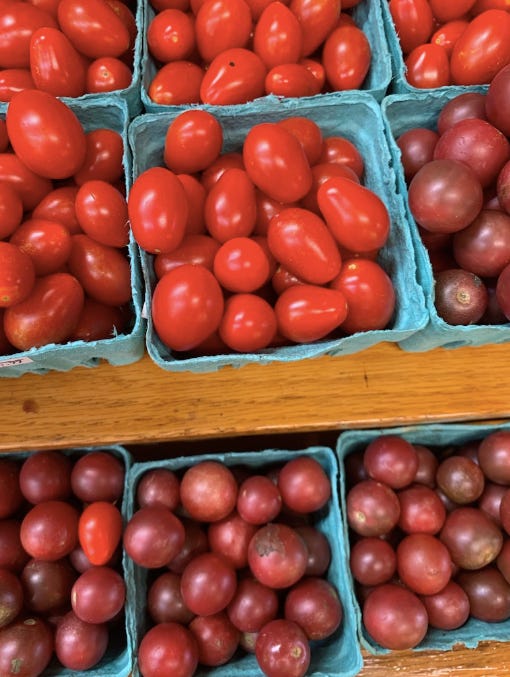 I used the rest of my cherry tomatoes for this favorite summer pasta. I've made it many times with supermarket cherry tomatoes and it was remarkable how much better it was with farm tomatoes. They released so much more liquid and the sauce was incredible. It's so simple and fits so well with mini shells.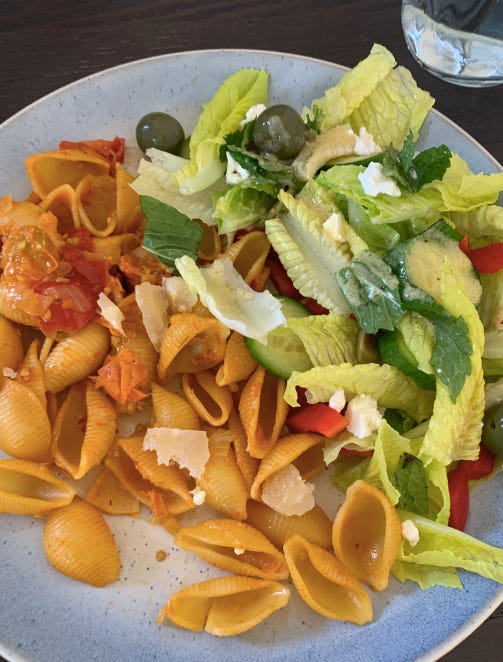 Something to order:
On my birthday, Julia and I got outdoor pedicures at Lili and Cata in Greenpoint. They have a great set up with ample spacing and the yard is lovely. There's also a bar/coffeeshop for refreshments. Afterwards, we stopped at Ovenly for afternoon cookies. I worked at their Manhattan location for a few months back in 2016 and miss eating a daily cookie. The peanut butter is my favorite (you can make it at home here) and their new hot chocolate cookie is SO good. It's made with black cocoa powder and has marshmallow throughout.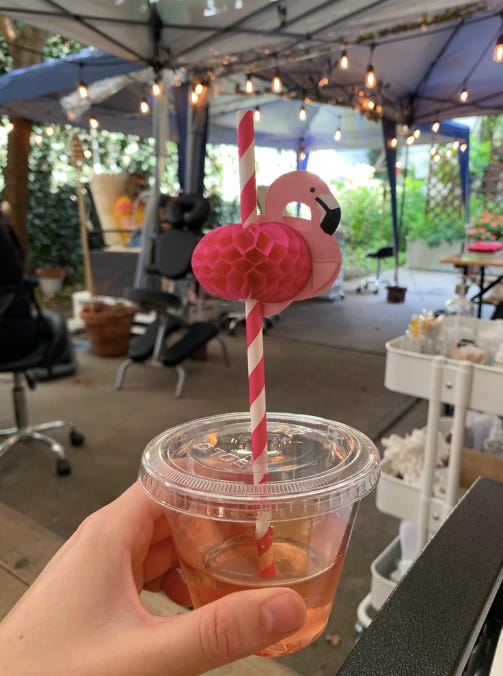 That night, Dale and I went to Dumbo for dinner at Gran Electrica (the backyard is gorgeous but the portions were a little small). Luckily, Brooklyn Ice Cream Factory is right across the street. It's a local institution and so delicious. And eating under the bridge on a summer night is such a treat. My real favorite ice cream comes from Eddie's Sweet Shop in Forest Hills and I was lucky enough to have some last night at our family birthday celebration.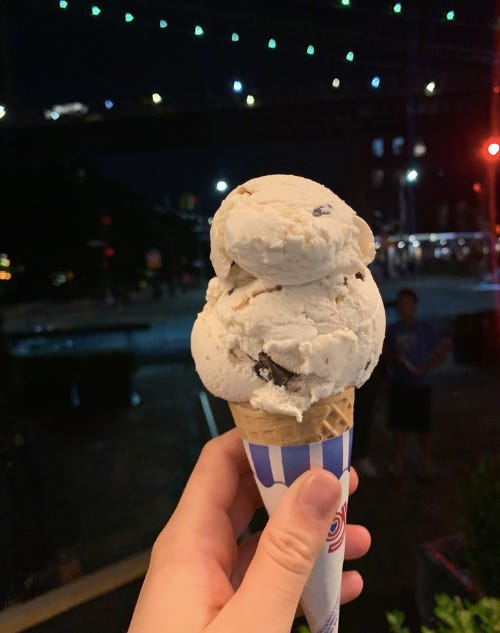 Oset, Natalie and I went to the HiHi Room for dinner (and narrowly beat the rain). They have such a good backyard set up with QR code ordering, self bussed tables, and bug spray available. Try the riff on patatas bravas, the very green Mantis salad, and the sliders with a bottle of very affordable orange wine. It's walk in only right off the F/G which is convenient for many people.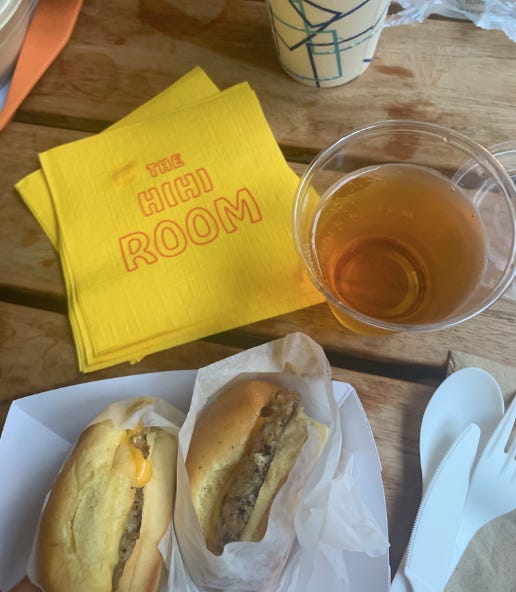 Finally, a moment for Trophy Bar. We spent a few hours there eating grilled cheese and burgers and sipping beers and margaritas. Tables were on a 2 hour time limit and no one wanted to leave. It was an emotional visit but I'm so glad we were there. (I first went to Trophy Bar for Sarah's birthday in 2018 and only have good memories there). We continued the night at Duck Duck, a neighborhood bar that I would truly be devastated to lose. Stop by and sit outside.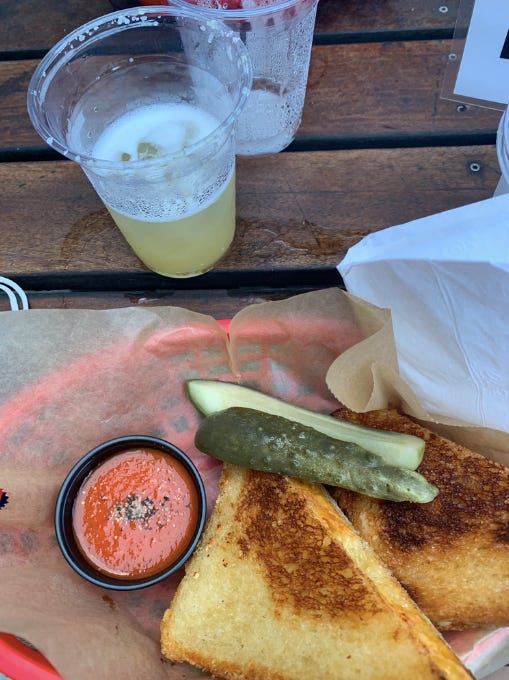 Something to read:
Gemma shared the wild story behind Khyber Pass Pub's name.
Shanika Hillocks is hosting the new season of Pineapple Radio and the first episode is out now with Moonlyn Tsai and Yvette Leeper-Bueno
A moving interview with Mahmoud "Mike" Tarabih, who worked at B&H Dairy for 14 years
Loved this piece about Mexican curanderos, which reminded me of sipping atole in Guatemala
Hee Sook Lee, founder of BCD Tofu House, dies at 61
How noise complaints affect longstanding businesses in gentrifying areas
The pandemic has forced pizza shop owners to rethink everything, even the slice.
How silence and speaking quietly can reduce COVID spread
The price poultry workers pay for chicken
I'm not quite ready for fall but I am ready for chile en nogada season (in Brooklyn, Mesa Coyoacan serves them year round)
Love seeing Klancy Miller in this piece on chefs who are feeding the revolution. Beautiful photos, too
New Orleans Chef Nina Compton navigates a pandemic in a city with deep history, 15 years after Katrina.
Nothing is perfect, but the way burnout and wellness are treated in Berlin sounds great.
Both customers and business owners miss free samples
Which takeout foods best survive delivery?
How twitter helped me use up buckets of spinach
This article about pizza farms in Wisconsin is very disconnected given what's happening there. Pizza farms do sound lovely and I think many apple picking spots will step up their food offerings this fall.
Dawn Davis is the new editor in chief of Bon Appetit. She comes from the book world and has written food books too. She's the fourth Black EIC in Condé History (lots of articles say third, but Teen Vogue's current EIC Lindsay Peoples Wagner is Black). She'll start in November and is a strong choice! The biggest concern is whether Condé leadership, which has mostly remained unchanged, will give her the authority to lead and create change.
---
Now, let's talk about gas station orders.
Frida's Texas snacks were top notch: Growing up in Texas and driving to Mexico multiple times a year, I have fond memories of grabbing peach rings and diet cokes from rest stops. I haven't been on a road trip in years, but living next door to a gas station in Bushwick a few years ago meant I would always pick up a seltzer, an ice cream bar, or some Reese's Cups on the way back from the train or the laundromat.
Alicia keeps it classic: This one's easy, twizzlers classic.
Julianne (and Ian) love boiled peanuts (which are so good and messy): In North Florida we would get boiled peanuts, Cajun style of course. After all, This Needs Hot Sauce (or in that case, a hot seasoning in the water the peanuts are boiled in).
---
This week, I'd love to hear any questions you have! I'm putting together a September Q&A (read past ones here and here). They can be about food, kitchen stuff, restaurants, New York, newsletters, truly anything (they'll be anonymous)! I'd love to know what you guys are worried about/planning for the rest of the year so I can try and help.
Some housekeeping: Next week's newsletter will be sent on Tuesday so we can all have labor day off. And paid subscribers will get a bonus edition on Thursday with late summer ideas for the long weekend!
Stay safe, take care of each other and thank you for reading.
xo, Abigail