Your Fall Wines Starter Pack and a Brand New Year
Celebrating jean jacket weather and the start of red wine season
Hi friends,
Welcome back to This Needs Hot Sauce. It's been a heavy week (I feel like I say this every week) and I'm thinking of everyone out West affected by the fires. If you want to help people in Colorado, Angelica Florio is collecting donations via venmo until the 18th and distributing them to those in need, faster than many bigger organizations.
The Jewish New Year, Rosh Hashanah begins Friday night. Celebrations are going to look different this year but I'm still looking forward to filling out the 10Q, a totally secular series of questions. Your answers go into a vault until next year and they're always a trip to look back at. Highly recommend (I think about this answer a lot).
Now, let's dive in.
Something to cook:
I absolutely love the broccoli cottage cheese pancakes from Adeena Sussman's cookbook Sababa (that's an affiliate link). They come together so quickly and the cottage cheese makes them nice and light.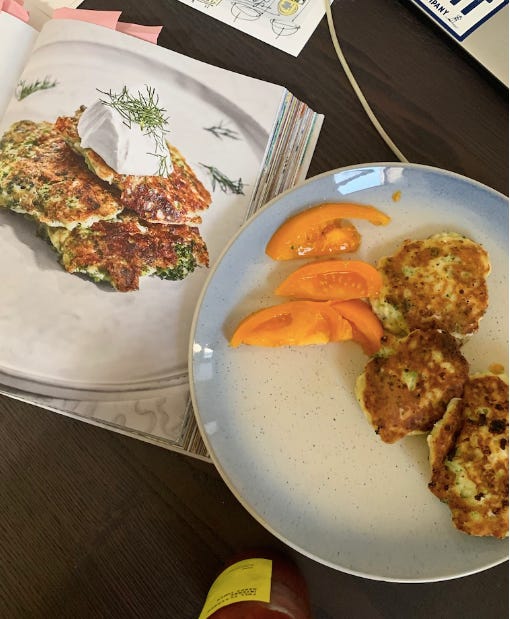 If you've recently felt a chill in the air, you might be thinking about baking. Banana bread is a good bridge into pumpkin season and this recipe has now earned rave reviews from my grandma, my mom, myself, and Dale. It's very flexible and so good with chocolate chips because the batter isn't too sweet.
We're celebrating Rosh Hashanah in my parents' backyard and I'm on fig challah duty, per tradition (check out previous Rosh Hashanah menus here and here). Jake Cohen has some good braiding tutorials on Tiktok and Instagram.
I made the tofu from last week for dinner on Tuesday and it was once again a hit. There are also so many good dinner ideas in the comments on this post.
While veggie burgers can be enjoyed year round, they do feel a little summery. We made another batch of Jeremy Scheck's black bean burgers and served them on Martin's potato rolls with all the fixings. So good and the leftovers reheat well.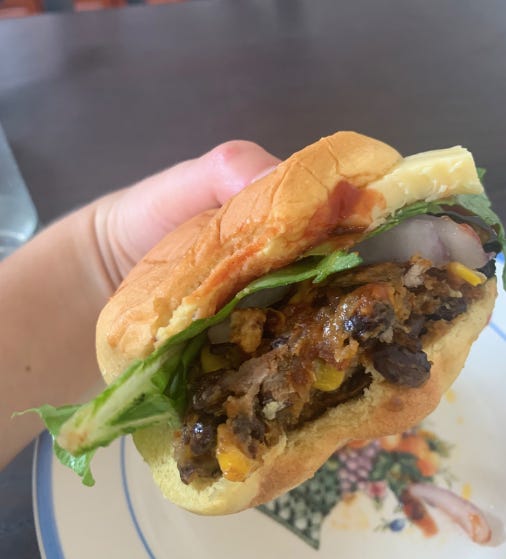 Lissette had a birthday picnic in Central Park and I had to make cookies for the occasion. I like to let the dough rest in the fridge overnight and I'll freeze the leftover dough in balls so we can have cookies anytime.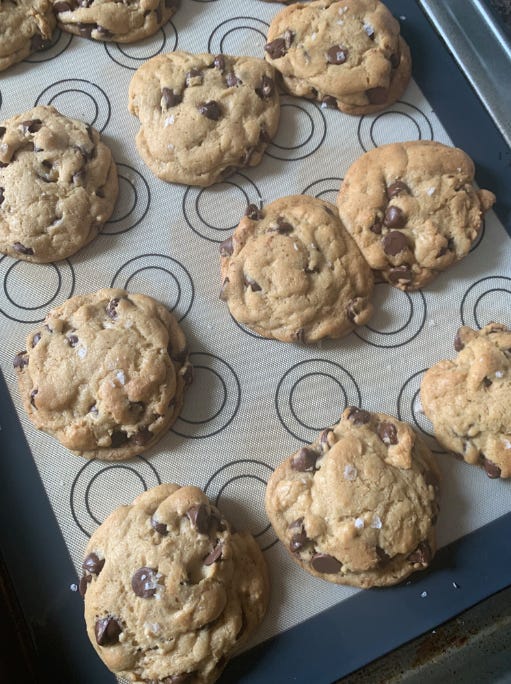 Something to order:
Hillary and I caught up with oysters and wine at Ten Bells, where someone once ordered 120 oysters (make a reservation via email because it gets crowded). The street is closed to traffic and it's so lovely to see people walking around and supporting businesses while the weather allows it. Get there before 7 for happy hour and order the papas bravas in addition to the oysters.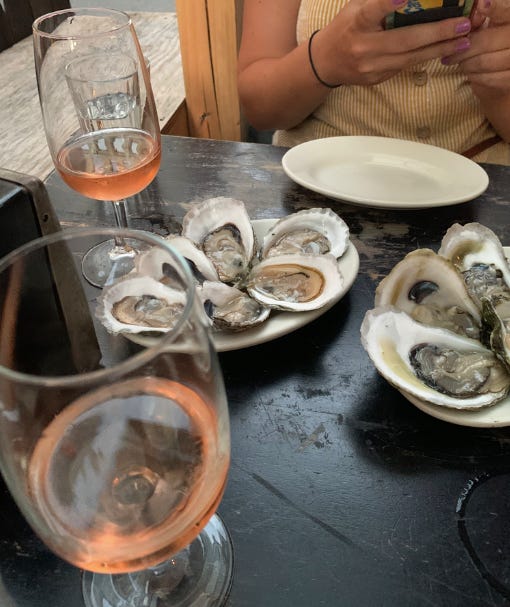 After oysters, we walked down to Scarr's for Sicilian slices. Everything at Scarr's is so high quality and fresh, from the sauce to the flour in the crust, which is fermented (I've watched this video showing their process at least five times). It's so good.
Dale and I went on a Sunday morning journey to the West for breakfast burritos. It was perfect jean jacket weather and I even got hot coffee. The West runs out of breakfast burritos every weekend, so get there early—they're worth it, stuffed with eggs, beans, mozzarella cheese, and salsa (and if you're staying home, make these instead).
~Special Section Alert~: Something to drink with Madison from your Weekly W(h)ine:
With fall (and red wine season coming), I was thrilled to collaborate with Madison, who I met through Alicia of She Spends. Madison is based in Washington DC and writes your weekly w(h)ine: a Monday morning newsletter of wine knowledge + all the dog content you need to get you through to Friday happy hour. Sign up for Your Weekly W(h)ine and follow along on Instagram too! I'll let her take it away…
Building the perfect fall wines starter pack...
I'm excited to be here today sharing my perfect fall wine trio pack.
Nebbiolo. 
To me, this is the perfect wine to transition back into fall with. Nebbiolos are fun because they deceive you in a way from the first pour-- they are quite transparent, which you'll notice immediately as you pour, and have a lot of delicate floral aromas. But wow, don't be fooled as once you take your first sip you'll be shocked-- this wine packs serious acidity and tannins. 

These characteristics make it: a) super with a slight chill, when you're finding yourself in that weird early fall slightly warm weather and b) so good with a solid bowl of red pasta sauce (instant fall comfort food). Or, Friday night pizza night!

Nebbiolos can get super pricey, depending on where they come from, and are not typically good young, so I find this bottle to be fantastic in both taste and value (and may have about a half-dozen in my wine fridge to prove it…)
Cabernet Franc.
Nothing says fall to me like that characteristic green pepper kick that you get on the back end of a sip of Cab Franc. 

They've got flavors of plum, raspberry, and can be super earthy tasting. That might sound odd to you, but go with me here, that's a great tasting note for the fall (fall leaves on the ground outside + earth in your glass = perfection).

For this one, I have to point you to a local favorite and do a local-pride brag that Virginia wines are gaining a lot of attention these days for the Cab Francs they are producing!
Syrah.
Once you have fully embraced fall, pick up a bottle of Syrah. It's full-bodied (no playing around here), full of tannins, and is full of flavor: think dark red fruits, but also smoke and pepper. 

This is a serious favorite of mine. The 2014 seriously tastes like a straight up campfire in all of the best ways, and anytime I think of fall wines I immediately think of this particular wine. I also love this Syrah blend a lot, and believe it to be perfectly fantastic on its own by the glass (or two, or three…)
If you're in DC, Madison recommends ordering from Domestique (natural wine) and Gran Cata (Latin American wines).
In NYC, I'm a fan of Bibber & Bell (natural wines), Vyneyard Wines (Black owned and offers fast delivery in Brooklyn), Irving Bottle Shop, and Astor Wines.
Something to read:
James Beard was anti-elitist and would hate the awards that bear his name
More on awards from Alicia Kennedy and Cynthia Greenlee
Really admire Nikita Richardson's career (and she's pro union)
I think of my grandfather every time I make kofta (my parents tried the recipe and enjoyed it)
The Auxilio Space in Brooklyn is going to be such a great resource!
A very cool map documenting the history of Mexican food in New York
Remembering Sylvia's in Atlanta and the City's Bygone Black Owned Restaurants
From Omar Tate, how block parties look different this summer
The Wine Director of River Cafe retires after decades of service
What have we learned about yeast during the home baking era?
How to battle kitchen burnout, six months into this thing
Indoor dining is returning to New York City on September 30th. We talked about this a lot on Instagram and I shared my thoughts in last week's Q&A.
Priya Krishna's piece about worker led restaurants shows examples of a different path forward
If you're stressed about cooking for Rosh Hashanah, consider ordering pizza.
Have you tried a pizza sandwich? Kiera Wright-Ruiz wrote about how the dish connected her to her mom's side of the family
The McBride sisters have a movie worthy story (they didn't know each other for the first half of their lives, serious Parent Trap vibes) and their wine supports female entrepreneurs.
Building an Inclusive Digital Drinks Community Requires Genuine Care and Commitment
Watch Sohla cook again on the NYT Cooking YouTube Channel:
I was honored to curate some smart reads for Hitha Palepu. Check out her newsletter and be sure to follow her on Instagram for #5smartreads and lots more.
---
Here are your thoughts on food rules!
Julianne's rant is everything I needed to hear: Ok my strong food opinions are also re: with diet culture... It's toxic to share replacements for "bad" foods because food is not inherently moral or immoral! If I want to eat a pizza, it's not bad, it's amazing! Maybe it's high in calories, but you can't frown while eating pizza and that counts for something way more than macros! Don't call it a "cheat day" and please don't make me think my cheat day should have been on cauliflower pizza dough. I don't want to close my eyes and pretend I'm eating something "bad" when it's actually "good." If you're going to eat a cookie, don't replace it with vegetables or "healthy" ingredients; just eat a delicious cookie! Can we, especially on social media, please remove the guilt associated with foods and just let people eat? It's a global pandemic and we deserve to not hate our bodies when they're literally vessels keeping us alive! Thanks! Rant over!
---
This week, I'd love to hear something you're looking forward to for fall (food related or not). I know I'm not alone in my dread of winter but actively planning things to look forward to, like baking pumpkin muffins and watching the Holiday for the umpteenth time, really helps. Rachel Miller's guide to preparing is also very helpful. Reply to this email with your answers and I'll share them next week.
---
Happy eating and thanks for reading.
xo, Abigail