Who doesn't like a taco?
On Taste the Nation, unconscious bias, and a really good tomato soup
Hi friends,
Welcome back to This Needs Hot Sauce, a weekly newsletter by Abigail Koffler.
I marked Juneteenth by voting early (if you haven't done that or mailed an absentee ballot, show up in person tomorrow—the lines in New York likely won't be bad and poll workers are enforcing social distances) and attending a workshop with Michael Twitty. He's the culinary historian behind the Cooking Gene and you can get a taste of his work, which focuses on genealogy and the roots of African American culture, in this article. He's working on a book about Jews of color, called Kosher Soul, that will be out next year. I can't wait.
For dinner, Julia, Julianne, Ian, Dale and I gathered on their roof with takeout from Sweet Science. I've been going there a lot during quarantine, initially for the to go cocktails and was thinking about why I hadn't really visited before. The reason is so dumb: someone (a white male) in my social circle who used to live in my neighborhood told me it wasn't good, a little over three years ago. For reasons I've been interrogating, I trusted his opinion over what I saw each day: a packed restaurant with a lively crowd that offered discounts to teachers and other essential workers. I returned over and over to another nearby restaurants rather than giving this one a shot. Before quarantine, I had only been once. Now, there are other reasons I wouldn't go all the time: the vegetarian selection is limited and sometimes I want a quieter vibe. But there's no denying that my unconscious biases, which were reinforced by that one guy's opinion, influenced my avoidance of this Black owned business and I want to own that and do better in the future.
Padma Lakshmi's show Taste the Nation premiered last week on Hulu. It's gotten rave reviews and I'm glad to see Padma getting this opportunity. The show leans into the political aspects of foods, but doesn't go far enough. I'll watch a few more, but took issue with the first episode, which takes place in El Paso. They interview a Trump supporter who owns a Mexican restaurant and gesture at food as a salve to racism with comments like "who doesn't like a taco?" It ignores the power imbalances in these situations and the dynamics of imperialism and colonialism. Colonizers were happy to take cacao and tomatoes back to Europe and also commit a genocide and steal land. Trump eats taco bowls and wants to build a border wall. Later episodes feature a Native American community in Arizona and the Gullah Geechee in South Carolina. By looking at these indigenous, formerly enslaved, and immigrant communities as the best of America, it ignores the terrible policies the US has perpetuated that make life so difficult for these communities. We're not the greatest nation on earth (which is such an arrogant thing to believe anyway) and that belief is used to justify so much. Eric and Alicia both wrote about this and I recommend their pieces. And yes, it's a mainstream show on Hulu, but we're allowed to ask for more from the media we consume!
I've seen lots of posts on allyship recently which point out that it's not a quality you can claim for yourself. It's a practice, not a label, and it requires continuous action. Jamila Robinson moderated a talk between Tunde Wey and John T. Edge, from the Southern Foodways Alliance. At multiple points, Tunde called for John to resign from his role, which he's held for more than 20 years, arguing that the best way for change to happen is for white gatekeepers and leaders to quit their jobs. John's response was disappointing—he referred to himself as a gradualist and called the American South a biracial creation, a euphemism if I've ever heard one. To me, that proved Tunde's point—someone with those attitudes is not fit to run an anti-racist and inclusive publication or foundation about the South. With the resignation of Adam Rapoport a few weeks behind us, it's worth thinking about who else needs to cede power so things can change in lasting ways (they're offering his successor a much lower salary of $150K, he made $750K, not a good deal). There's a recording of the conversation here if you're curious.
Something to cook:
Aaron Hutcherson aka the Hungry Hutch is a finance guy turned food blogger who I've met a few times at events. This week I made his spicy chickpea tomato soup. It comes together so quickly and made great leftovers. I stirred in some kale and ate it for dinner and a few lunches with some toast or goldfish crackers. I didn't have Italian seasoning so I used dried thyme, which worked just fine.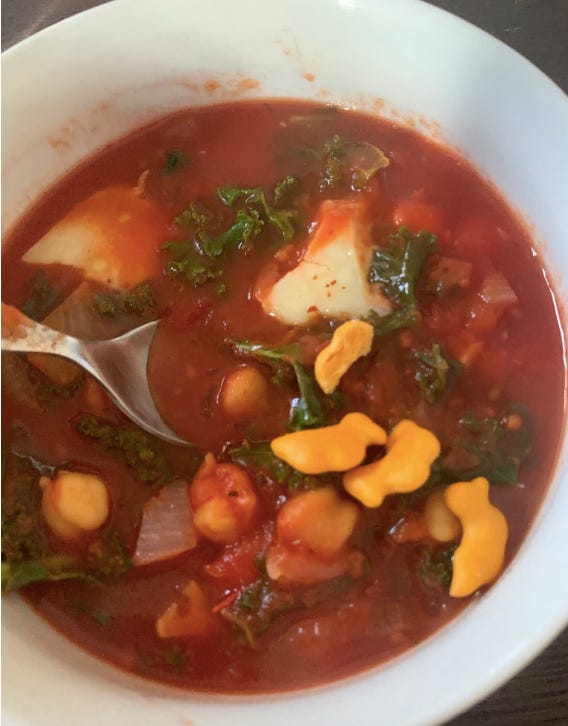 For dinner one night, I made sweet potato fries (roasted matchsticks of sweet potato with a heavy spice rub with paprika, garlic powder, salt, and black pepper cooked at 450 for about 30 minutes) which turned out better than I expected. My new oven runs cold so I would try these at 400 if you have a normal oven.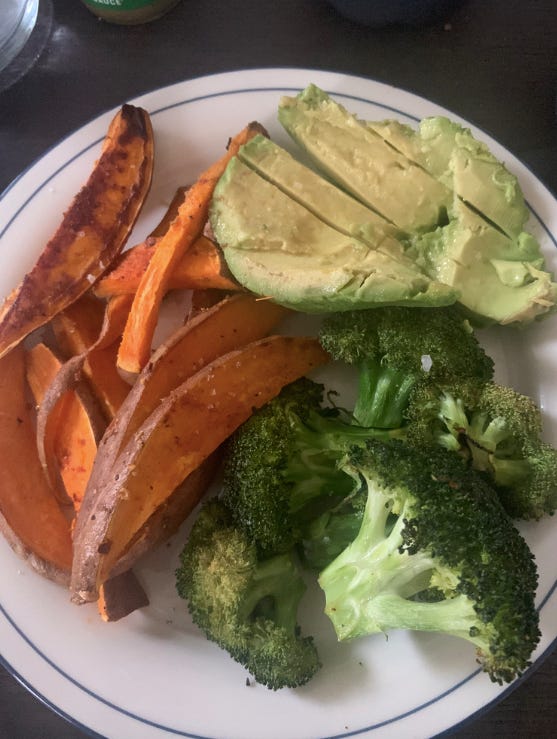 Something to order:
Jeffrey's cocktail delivery service is back. The charred pineapple margarita is so good. Follow him on Instagram and DM to order on select days of the week.
As I mentioned above, you should order from Sweet Science. Their strawberry lemonade with mint (and vodka) is so refreshing and their veggie burger is good too. Dale recommends the dry rub wings and Julia loves their burger.
I first tried Willie's Superbrew over Memorial Day weekend and it's the best hard seltzer/kombucha hybrid I've had. Zeke asked me to pick up White Claw for Sandra's goodbye hang and I got a six pack of the lemon ginger flavor instead. Everyone loved it and we wound up going back to the bodega for more. They also carry it at Trader Joe's.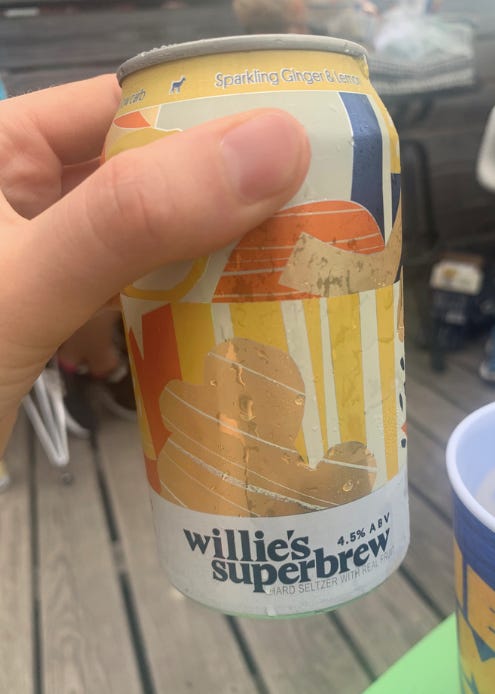 Chef Kwame Onwuachi shared this Nigerian food delivery service on Instagram and it looks so good.
We got my dad an annual subscription to Whetstone for Father's Day and I can't wait to borrow the first issue.
Rebekah recommended a Black owned chocolate company, Sol Cacao and Cup of Jo shared more food gifts from Black owned businesses.
Brooklyn Cider House is permanently closing its Bushwick location and I'm going to miss it (and our happy hours there). The orchard in New Paltz is still open and you can order their ciders for local NYC delivery. I like the bone dry and the half sour.
For my Queens readers, this site is a great resource for supporting restaurants in Forest Hills with frequently updated info. I connected with the team there last week and they especially recommend Dee's and Acey Ducey's. In the neighborhood, I love Nick's Pizza and Metro Taco.
Not food related, but my friend Hannah's book Head over Heels is out tomorrow! I got to read it early and loved it. It's a fun read about the 2020 Olympics, starting a second act, and lots more.
Something to read:
A look at the history of Garifuna cuisine.
What being an ally in the wine business really means
Haymarket Books is hosting a sliding scale webinar on 8 can't wait and abolition. Sign up with a family member to get the conversation going.
From Nigerian American recipe developer Yewande Komolafe, the problems with palm oil don't start with my recipes.
This woman just discovered burrata and it's now her entire worldview.
How Covid is affecting nutcrackers, a summer staple.
As part of a Juneteenth package, Toni Tipton Martin shared her journey towards appreciation of her grandmother and other Black women cooks in light of the end of the Aunt Jemima brand.
Writing about Bourbon while Black
Stephen Satterfield on Juneteenth's origins and mythology
A virtual potluck showcases recipes from Black food bloggers
Tasting Sauvignon Blanc in Chile amid mass protest
Dan Pelosi, one of my favorite food people to follow, launched a website with lots of recipes.
Black publicists evaluate solidarity statements restaurants rushed to post on social media (thanks for sharing, Morgan)
The important of Black mentors for Black chefs
Julia Tushen's cookbook Small Victories is four years old. Loved this interview revisiting the book, which I still use all the time.
Alexis and I went to college together and her letter reminds us all that this isn't spirit week.
Eater's Vince Dixon talks about data journalism and its future.
Mayukh wrote about Diana Kennedy and the new film that reckons with her legacy as a white British authority on Mexican food.
How community fridges address food insecurity during Covid
Run it Back is a newsletter about forgotten Black history (the author, Victor Luckerson, is working on a book about Tulsa's Black Wall Street). This week's issue about Black infrastructure is particularly great.
Sam Fore shares her experience being featured in Bon Appetit.
The Food Heaven podcast has some great ideas for cooking when you're sick of cooking
Alexander Smalls on the ties between race, culture, and cooking.
Two LA chefs feeding protestors and the community (thanks for sharing, Clare)
Chef Nikkia Rhodes' mission to honor slain cook David Mcatee
The historical connection between Black Americans and cognac
From a college professor who taught me so much, the confederacy wasn't what you think.
Protests are still happening and they produce results. Anushka has a beautiful account of the rally for Black trans lives.
Talking veganism and self care with Tabitha Brown
Phase two begins today, which means the return of outdoor dining. Gary He captured the restaurants who got a head start.
Watch Danni Rose make Black power brownies and listen to Sam Sanders interview James McBride, author of Deacon King Kong.
---
This week, I'd love to hear about a new piece of Black produced media or Black owned company you've watched or supported recently. It could be a podcast, a show, a wine label, etc. As I've mentioned, big lists have their limitations so please only share things you've personally tried. Reply to this email and I'll share your answers next week.
---
Remember we're still in the middle of a pandemic, so wash your hands, wear a mask, and practice social distancing (it's very easy to do in a park).
xo, Abigail
P.S. If like this newsletter, and hopefully you do, I'd love if you'd share it with a friend! You can also follow along on Instagram.