Blueberry Muffins, Greek Food, and a Pool
A perfect weekend getaway and a newsletter workshop
Hi friends,
So many of you have signed up to be poll workers since last week and I'm so thrilled! Most poll workers are at a high risk for COVID so others need to step up to the plate. You can sign up here and follow along for more info. I love knowing that so many of us will be helping to ensure fair elections on November 3rd.
This week is a busy one. Last night I got back from a trip (more on that below), my birthday is Wednesday and tomorrow is Your First 100, the workshop I'm hosting with Lissette (sign up and get details here, 10% of proceeds support The Okra Project).
To start the week, I donated to the Milwaukee Freedom Fund, which is supporting protestors mobilizing after the shooting of Jacob Blake by police officers in Kenosha, Wisconsin.
Now, let's dive in.
Something to cook:
Roasted broccoli is an evergreen side dish (This 2008 blog post changed my life). I like mine crispy with some lemon zest, red pepper flakes, and parmesan cheese. Roast at 425 for about 20 minutes, tossing once or twice.
My parents celebrated 30 years of marriage and I brought over tahini blondies to celebrate in their backyard. This recipe is always a hit and it's great if you like a savory, salty note in your desserts.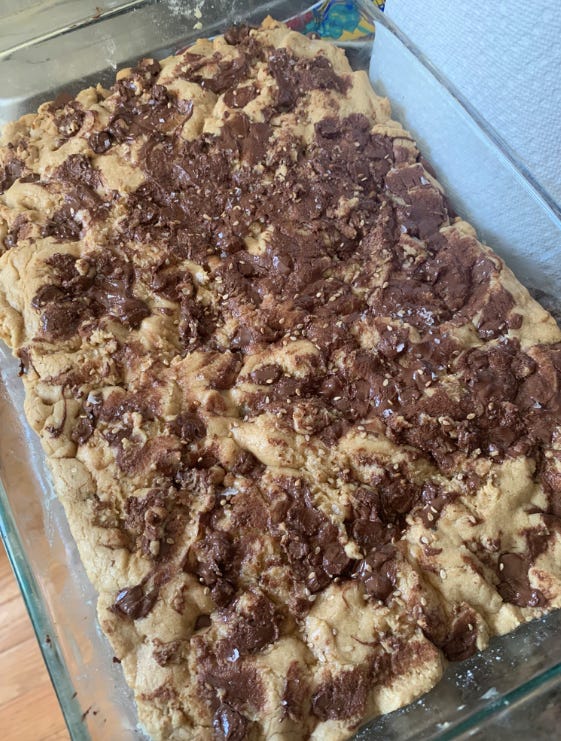 In Pennsylvania, we stopped at the Linvilla farm stand. Berry picking was closed due to rain, but we nabbed fresh blackberries, sweet as candy cherry tomatoes, and some local honey. I'm planning to make pasta sauce and eat some of the tomatoes on their own with some mozzarella or feta.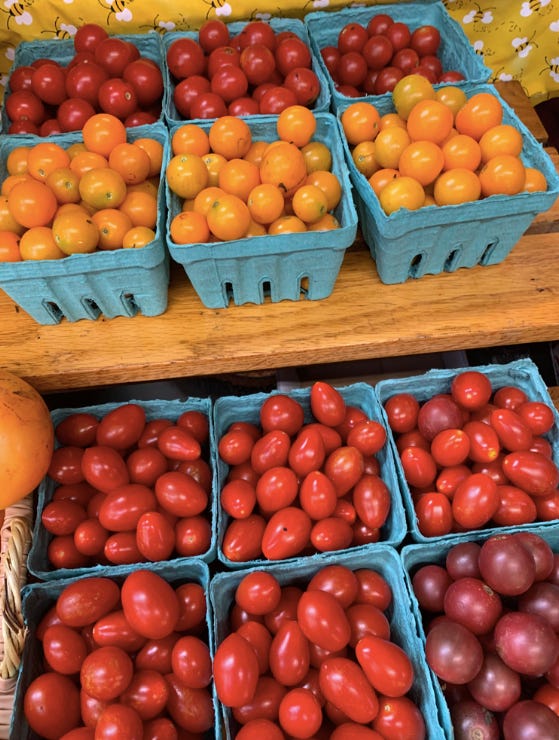 I made a quinoa salad for a video I'll share soon chock full of green things (spinach, parsley, avocado, watercress) with a delicious dressing of lemon juice, pomegranate molasses, olive oil, cinnamon, and chili powder. The store didn't have pomegranate molasses so I made my own, following this recipe. It took longer than an hour to reach a syrupy consistency but otherwise worked well. I now have a bottle of it, so let me know if you have any favorite ways to use it.
The breakfasts at our Bed & Breakfast in PA were top notch. The owner, Roland, bakes scones and muffins every night and then cooks eggs, pancakes, french toast, or waffles to order. The highlight was the blueberry muffins, which use the King Arthur Flour recipe with extra frozen blueberries. I need to make them asap (and also acquire a muffin tin).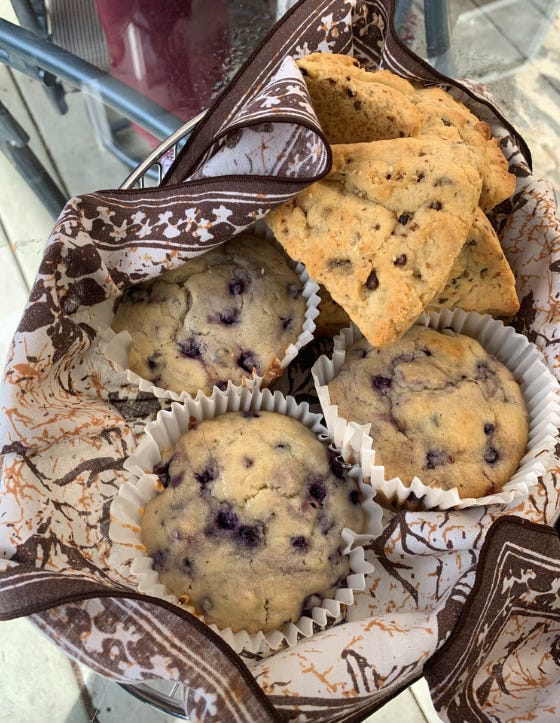 Something to order:
Trying a new pizza delivery spot is a risk, but I had heard great things about L'Industrie. Their pizza is so good, super high quality with premium toppings like burrata (we just got a Margherita) and it's a bit smaller than a standard New York pie, which is nice.
Cava is my favorite of the fast casual lunch chains and it had been months since I'd had it. Julianne was in Union Square and brought some back (what a friend). Do you miss your office lunches?
A few days away: Julia, Julianne, and I took a weekend trip to Media, PA, a town 30 minutes outside of Philadelphia. We wanted something not too far away, ideally with a pool, and this overdelivered. Through a friend of Julianne's, we found Alpenhof Bed & Breakfast, which was fantastic. It's a 17th century barn that's been converted into a beautiful B&B with a large pool, a terrace where you can eat breakfast, and the most hospitable owner. Of course, we took COVID into account, getting tested before we left, researching rates in our destination, talking with our various roommates, and sticking to outdoor activities in PA. Roland, the owner, also takes COVID very seriously and only books one room per floor, serves breakfasts to each group individually, and wears a mask whenever he's interacting with others. We only saw other guests once, at the pool, and it was easy to sit far apart and take turns in the water. Before booking, we called to ask tons of questions and felt confident in the answers. If you'd like to visit (it's a roughly 2 hour drive from Brooklyn), I'd recommend calling to book directly as other sites take a healthy cut (tell them I sent you). The space was beautiful and so relaxing and I really hope we can go back someday.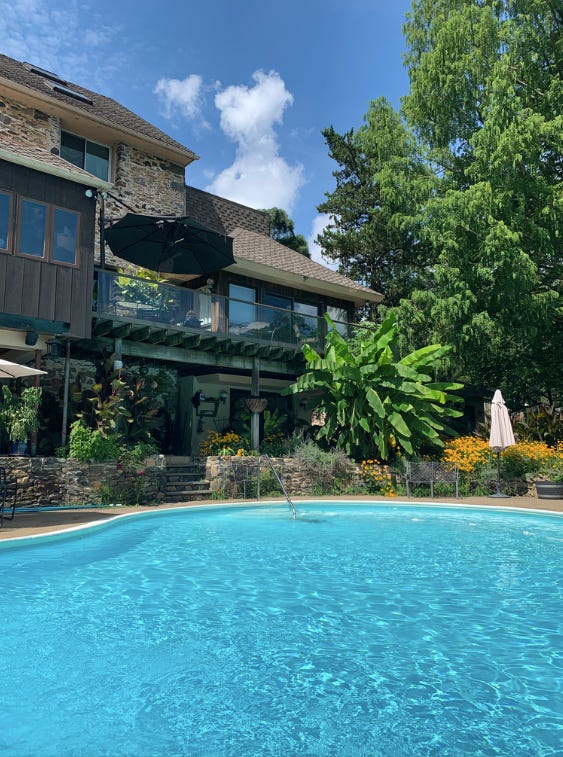 Media is a pretty normal suburb (we agreed that it would be comparable to vacationing in Westchester, NY) with a cute downtown on State Street. We got Greek food for lunch (the pita sandwiches were really good) and Italian food for dinner (the homemade pasta was so good and we had a hilarious interaction with our waiter—we asked him which pasta was his favorite and he responded in a total deadpan, "capellini" before asking if we meant an actual dish on the menu). Some places offered limited indoor dining, which we did not do.
On Saturday, we took the bus to the subway to Philly, where we had such a nice day. I love Philly (read about previous, pre Covid trips here and here) and it was great to see all the outdoor dining set ups. Philly is about the same level of reopened as New York, with retail and outdoor dining, but nothing indoors yet. Our first stop was Goldie for tahini shakes, which are one of my favorite foods, period (order online for pick up).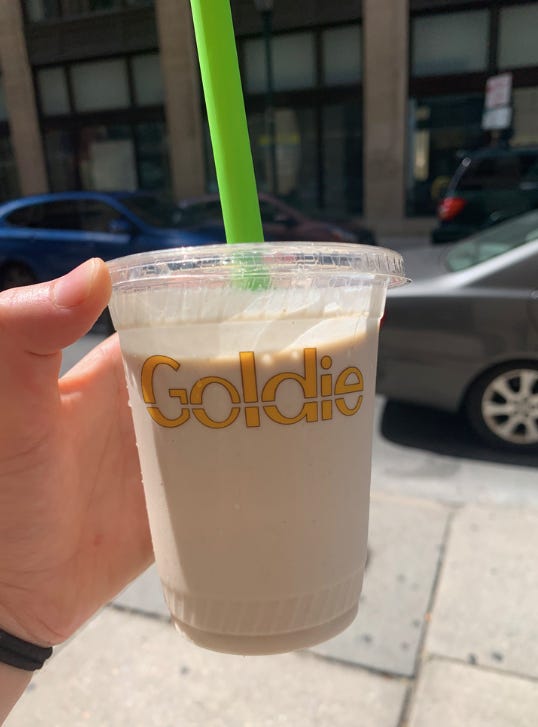 Then we walked to meet Sandra and Jake and our other friend, also named Jake, in Washington Square, picking up sandwiches from Middle Child on the way (they shut off their online orders when it gets busy so keep trying on weekends). Their seasonal BLT (I got mine without bacon) is a sight to behold, with tons of heirloom tomatoes, lettuce, and herbs, and mayo. It's a messy sandwich that should be eaten immediately, with many napkins.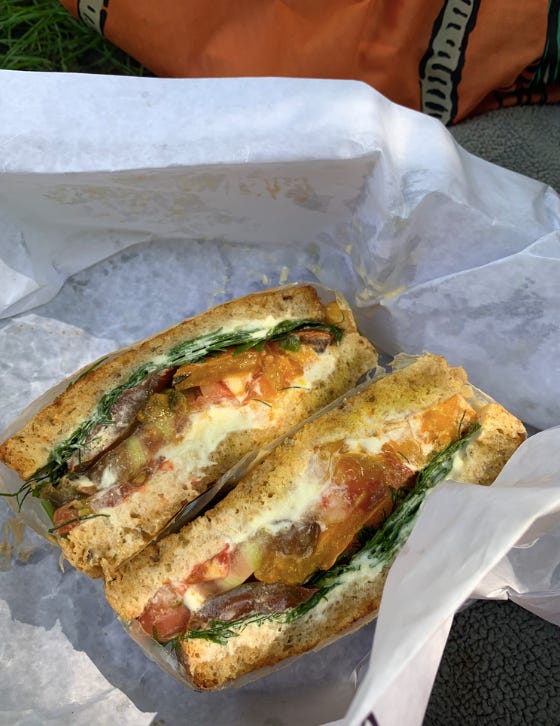 Next, we walked to Old City, passing two very packed beer gardens, and grabbed beers at the lowkey Khyber Pass Pub. A block of 2nd Street was totally closed to traffic and full of bars with spaced out seating. So cool (would love to see that in New York).
For dinner, we headed to Effie's, a byob Greek restaurant with outdoor seating in an adorable alleyway. It's no longer cash only and you've gotta try the spanakopita, the dolmades, and the mussels, served in a lemon feta broth I could drink. Especially now, you need a dinner reservation on weekends in Philly. Then we caught the last train back to Media from the beautiful 30th Street Station. It was lovely to get out of town for some quality friendship time and absolutely worth the extra precautions, research, and conversations required to make it possible.
Something to read:
Not so beautiful: James Blunt developed scurvy after adopting an all meat diet
Meet the activists participating in hunger strikes for Breonna Taylor. No justice, no feast
Everyday novelties are so important, put burrata on everything
Eater's Escape from 2020 package looks at travel during COVID. I particularly loved this piece by Carmen Maria Machado about a Philadelphia staycation and Alanna Bennett's about renting a house in Palm Springs.
Chaat is more than a recipe, it's something to crave.
So glad to see this story on Black Jam makers and it was cool to learn that Shakirah Simley also went to Penn.
NYU students in quarantine shared their inadequate meals (think chicken watermelon salad and vegan meals that weren't vegan) on Tiktok and the University had to issue an apology. What a 2020 sentence.
The Extra Spicy podcast spoke to the folks behind Mission Meals and the SF Community Fridge and it's a must listen, examining the optics behind these free fridges and the potential for them to go wrong or become highly performative.
Restaurant workers fear for their safety and their livelihoods. Related: what do we actually miss about restaurants?
If you enjoyed last week's link about the Black Oyster King of New York, this piece goes more in depth into Thomas Downing's story.
This piece details the toxic work culture Peter Meehan created at the LA Times and Lucky Peach. I'm glad he resigned but it's disturbing to see how long he lasted, especially as the food editor for a city he did not live in.
In more Bon Appetit news…Rachel Karten resigned as Social Media Director. Her statement, unlike Alex Delany's recent one which I won't link to, centered her BPOC colleagues and made some good points about social media and Conde's decision to double down on racism.
---
Now, let's talk about outdoor movies!
Neil is ready for some classic summer fun: The outdoor movie choice for me would be Jaws.  The original summer blockbuster and exceedingly well done.  Lots of parallels to Covid as I've read.  Snack would be popcorn with za'atar and sparkling wine.
Bernadette knows outdoor movies need to be enjoyable: I recently watched Bad Boys (a consensus choice among friends, narrowly avoiding a serious documentary viewing...phew). The ideal watch just should be more FUN than any other attribute-a blockbuster, a bad scary movie, a baseball movie. Hippie summer camp left me with a soft spot for an outdoor screening of a beautiful nature movie (tops: Winged Migration, Microcosmos), so factual is allowed but it's a no-bummers programming slot. I'm a big s'mores fan even though they're messy, but our usual movie snacks still apply outside-buttered popcorn and M&Ms are the best combo! Basically anything that pairs well with a cold coke or a shandy.
Rachel recommends an alien movie: There is a newish film on Amazon titled The Vast of Night and it is about ~aliens but also feels like an homage to some old timey americana and I would looove to have seen it at a drive in! Some elevated popcorn, or a sweet/salty mix would have been perfect. Also Jaws. I could crush a kimchee burrito (had one out in San Francisco) or tbh fish tacos while watching it.
Alicia's been appreciating the drive in: As for movies one of my great joys recently has been discovering the Drive In. We went to a Nightmare on Elm St/Fri the 13th double feature, which kicked off a watching all the Nightmares on Elm Street, which is fun. I also have a projector and have been meaning to set it up to do outdoor screenings. Other friend movie nights have been musicals and Birds of Prey.
---
This week, I'd love to know your gas station order (inspired by a Tiktok trend). What do you grab at a rest stop? On this drive, we had honey roasted cashews (so good), chocolate covered pretzels, and a diet peach snapple. Reply to this email with your order.
Have a good week and I hope to see you at tomorrow's workshop!
xo, Abigail